"Why then the world's mine oyster,
Which I with sword will open." —The Merry Wives of Windsor
Smiling at these words, you put down your book of Shakespeare and fall into a deep sleep. Now begins a remarkably vivid dream that fuses the quote with your other favorite subjects: golf and travel. The dream begins in England—not far from Windsor—but you have traded the sword for a set of golf clubs, and it is the world of golf that has become your oyster.
Familiar with the nine courses currently on the Open Championship rota, your dream is 18 related rounds: nine at the finest championship courses close to them (each a worthy Open venue itself) and nine on nearby courses where character and charm are as significant as challenge. A "Dream 18" if ever there were one.

Your opening drive is at Royal Cinque Ports. Located on the Kent coast at Deal, by which name it is commonly known, you're only a few miles from Sandwich, the home of Royal St. George's. It's the logical place to commence since not only will St. George's host this year's Open, but the championship was twice held at Deal—more than 100 years ago.
By the time you reach the 12th tee you will be thinking that Deal is a first-class links but perhaps without the teeth of a (modern) Open Championship test. The next seven holes will change your mind: Played into a headwind, the links is defined by its supremely difficult closing stretch, with the 16th one of the best par fives you're ever likely to play.
For the next round, travel 50 miles southwest along the coast to Rye.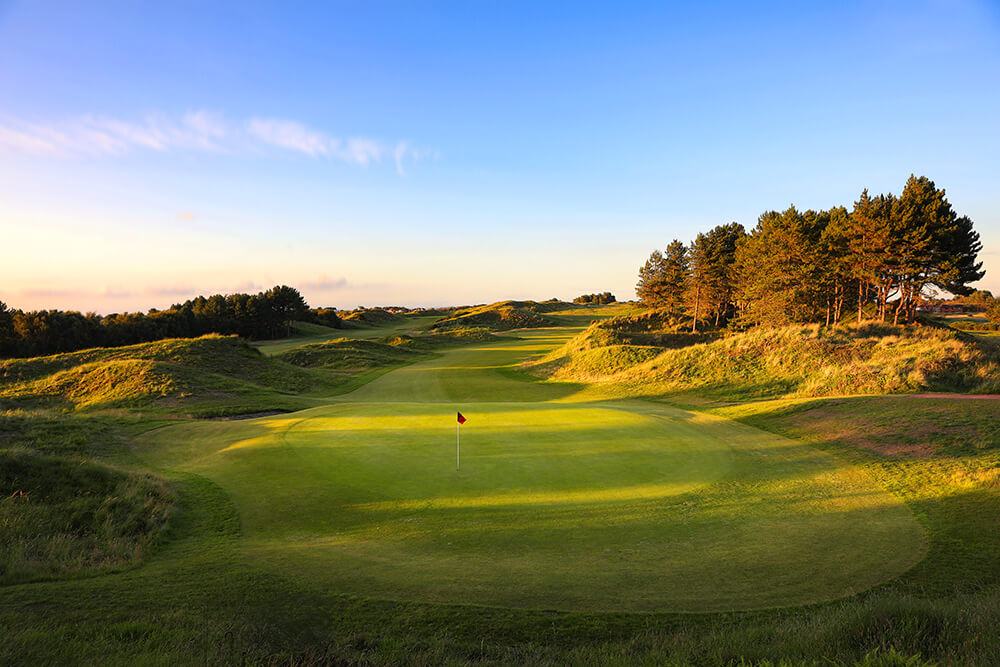 "My golfing daydreams revolve most frequently around Rye," wrote Donald Steele. "No other course can stand comparison in terms of character, setting, and atmosphere."
Strong words, but then Rye is exceptional. It feels as if the entire links, including clubhouse, is caught in a time warp. You may not enjoy the experience if you dislike foursomes golf (alternate shot) and would prefer that a round takes more than three hours. But if such phrases as "classic, fast-running links" and "traditional, old-fashioned club" appeal, Rye will captivate you.
Spellbound or not, leave southern England and head to the northwest. The area's three Open venues—Royal Liverpool (Hoylake), Royal Birkdale, and Royal Lytham & St. Annes—are often described as being on the Lancashire coast, but only Lytham is actually within that county: Hoylake is in Cheshire and Birkdale in Merseyside.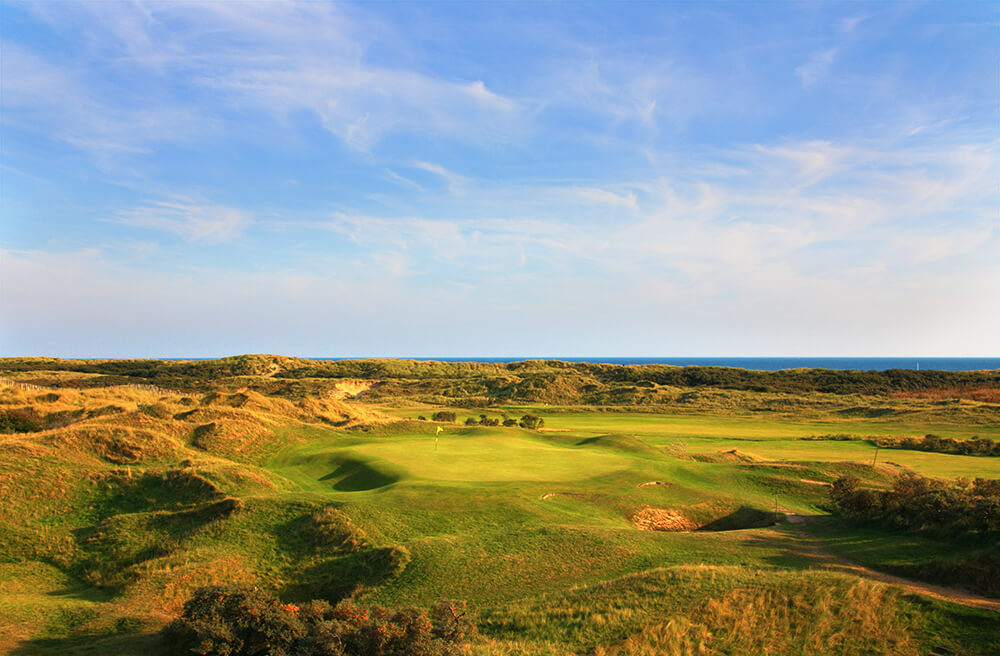 Hoylake is located just west of Liverpool on the Wirral Peninsula. Also there, overlooking the mouth of the River Mersey, is the links at Wallasey. Not possessing quite the challenge of Hoylake, Wallasey does boast two strong sequences, holes 2–5 and 16–18.
Leaving windswept links golf, your dream heads 30 miles inland to play the delightful Delamere Forest near the Roman town of Chester. Despite its name, the course is essentially heathland. More open than Sunningdale or Swinley Forest, similar to Walton Heath; however, the land rises and falls significantly, lending the course something of a St. George's Hill feel. Not a bad quartet to be likened to!
Next door to and occupying the same terrain as Birkdale, Hillside could stage the championship at any time. Its front nine is sometimes described as modest, but only in comparison to the sensational second nine, which roller-coasters through towering sand hills and has caused Hillside to be described as "Ballybunion without the Atlantic."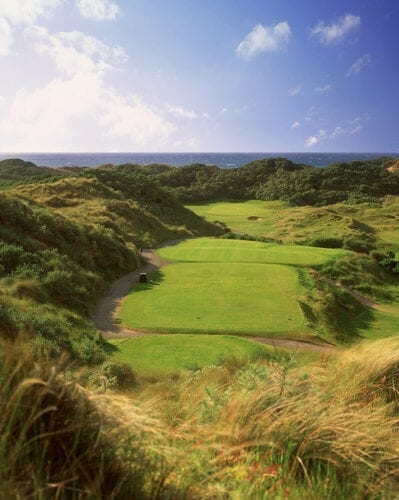 Southport & Ainsdale (S&A) lies adjacent to Hillside but is quite different. The dunes aren't as spectacular, but with a plethora of blind shots, pot bunkers, plateaued greens, and, on the 16th, a giant railway sleeper-faced cross bunker, S&A is a throwback to an earlier age.
"Real Lancashire" beckons at St. Annes Old Links, which, as its name suggests, is close to Royal Lytham & St. Annes. Similarly surrounded by suburbia, the course appears underwhelming at a distance; however, close inspection will reveal an array of interesting holes including the par-three 9th with its dune-framed, stage-like green.
Whether reached by dream or ferry, the Isle of Man doesn't feature on many golfers' todo lists, but it should, with Castletown Links the destination. Occupying an extraordinary,  triangular-shaped peninsula called Fort Island, this is where you will tee it up on a course bordered by water on three sides.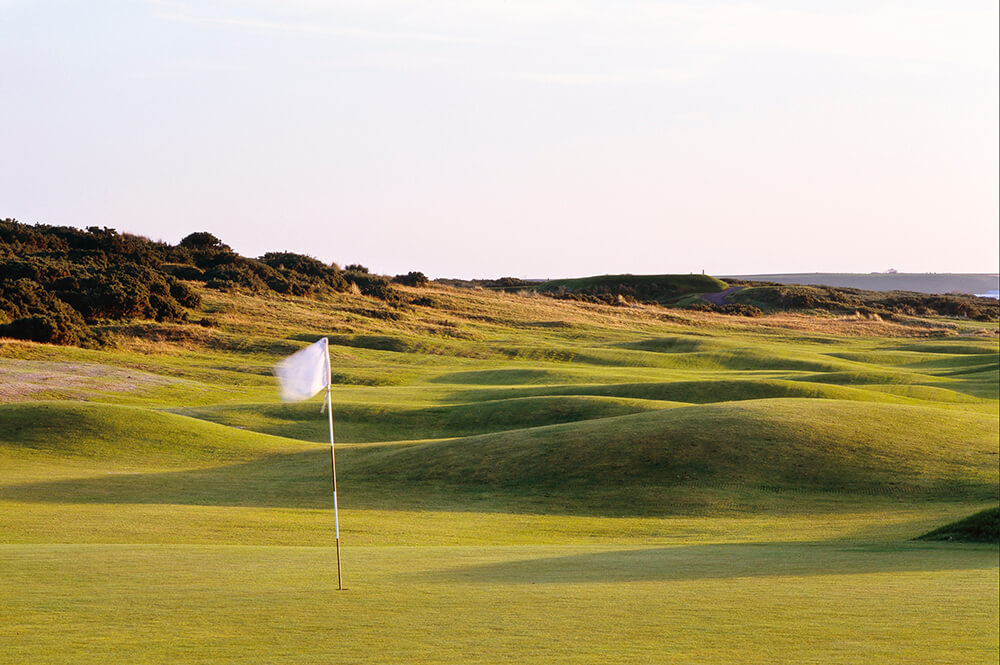 The late Scottish golfer Sam McKinlay once commented, "Western Gailes represents to the true golfer, to the connoisseur of the game, something approaching the ideal in golf."
Demanding but fair, and more scenic than nearby Royal Troon, the only thing Western Gailes lacks is an Open pedigree. It is the venue for your first game in Scotland and, since this is your dream round, you will doubtless birdie the magnificent par-three 7th.
A uniquely characterful course on the Ayrshire coast has to be Prestwick, birthplace of the Open. The sense of history is tangible and the links, a classic Old Tom Morris creation, is fascinating. This is where you'll find the original Alps and Himalayas holes and the infamous Cardinal bunker.
Switching from west to east, the star attraction near Muirfield is undoubtedly North Berwick. It is difficult to play this iconic links without wondering how exciting it would be to see it host an Open Championship: Imagine the world's best pitching to the green over the stone wall at the 13th and figuring how to play 15, the original Redan hole.
The next round is on even more historic turf. The nine-hole Old Course at Musselburgh is sometimes called the cradle of golf because the game was played there in the mid-16th century. Musselburgh also staged six Opens between 1874 and 1889. (Fittingly, your dream round here will be played with hickory clubs.)
An hour north to the Kingdom of Fife, where the two courses near St. Andrews couldn't present greater contrast. The would-be Open venue is Kingsbarns, a 21-year-old tour de force that exudes beauty, brawn, and brains in equal measure. Accompanying it is Elie, Fife's answer to Rye—a quaint, charmingly old-school golf club with a links that bristles with personality. Different as they are, they have one feature in common: their 12th holes—Kingsbarns's a swooping dogleg-left par five along water; Elie's a similar dogleg-left along the beach, the longest hole on a course without par fives—are the ones you'll remember most.
Located 20 miles north of Carnoustie, Montrose is home to the fifth oldest golf course in the world. Called The 1562 Course, it is an archetypal Scottish links where you'll battle the elements, face the occasional awkward stance on firm, rippling fairways, and be encouraged to play imaginative pitch-and-run shots to greens nestling in dells and sitting on natural plateaus.
Just 20 minutes inland, Edzell is one of Scotland's most scenic courses, backdropped by distant mountains. Anticipate a very pleasant game, highlighted by the superb run of holes from 14 to 17.
Before waking up there's one last special place to visit, the Giant's Causeway Coast of Northern Ireland, where Royal Portrush successfully staged the 2019 Open. That country has two links courses appearing on many World's Top 10 lists, but those promoting the game have long been saying it has more to o er than Royal Portrush and Royal County Down. You will be convinced after visiting Portstewart, the venue of the 2017 Irish Open, and Castlerock.
Just as you fell in love with Tralee and Ballybunion in southwest Ireland, you'll lose your heart to Portstewart. Maybe as early as the first tee, with one of the most exhilarating downhill drives imaginable, or perhaps on the 2nd, which begins a world in which massive dunes frame dramatic, devil-may-care golf holes. If Castlerock has a less swashbuckling personality, its pure links challenge is sure to tease and torment.
Upon awakening, you find your favorite book laying open. Almost immediately, another quote jumps off the page:
"We are such stuff as dreams are made on, and our little life is rounded with a sleep." —The Tempest