Bold risks, dramatic comebacks, Amen Corner roars, and heroic victories are integral parts of the Masters Tournament's lore. Unfortunately, so are splashed approaches, missed putts, Amen Corner groans, and titanic tumbles.
Over the past 89 years, Augusta National has seen it all. Here are the seven most unforgettable Masters disasters.
7. Rory McIlroy's prayers go unanswered in Amen Corner (2011)
Nursing a four-shot advantage going into the final round, 21-year-old World No. 7 Rory McIlroy maintained his lead with a shaky 37 on the front nine. Then something snapped. Teeing off on the 10th, McIlroy snap-hooked his 3-wood towards Peek and Berckmans cabins. (Veteran observers couldn't recall ever seeing anyone in that vicinity.) Rory eventually made a triple-bogey 7. He then three-putted the 11th, four-putted the 12th, and drove into Rae's Creek at the 13th. His closing 43 gave him an 80 for the day. It dropped him to 15th place, 10 behind champion Charl Schwartzel, and left him in tears. It is good to be young, however. Two months later, McIlroy captured the U.S. Open by eight shots.
6. Ken Venturi three-putts away his chance at history (1956)
One of the nation's greatest amateurs, 24-year-old Ken Venturi led wire-to-wire for three rounds. Had he finished the job, he would have been the first amateur to win the Masters, which would have given the greatest amateur of all, Masters co-founder Bobby Jones, immense satisfaction. Unfortunately, Venturi's four-shot lead wouldn't survive a savage Sunday. A 40 on the final nine holes would have won Venturi a green jacket. Instead, he shot 42. In fairness, he didn't play that poorly. On a brutal day, the scoring average was 78.26. Only two players bettered par: eventual winner Jack Burke Jr. and Venturi's playing partner, Sam Snead, who shot 71s. Venturi hit 15 greens in regulation. However, he three-putted six times, on his way to a final-round 80, to finish one shot back. That doesn't sound like choking—just a severe, untimely case of putting yips.
5. Jordan Spieth drowns his chances to repeat (2016)
At age 21, Jordan Spieth stunned the golf world at the 2015 Masters, going wire-to-wire to win by four, tying Tiger Woods's all-time scoring record of 18-under-par 270 in the process. He seemed poised to accomplish the same feat a year later. Following four straight birdies at holes 6–9, he led by five shots, and stood on the threshold of becoming the first player ever to win the same major championship wire-to-wire in consecutive years. Then poor shots, bad judgements, and perhaps fate knocked him off the threshold. After sloppy bogies at 10 and 11, Spieth imploded at the par-three 12th. His tee shot found Rae's Creek, and his subsequent wedge from the drop area was chunked horribly, resulting in another splash—leading ultimately to a quadruple-bogey 7. Spieth climbed back with birdies at 13 and 15, but a missed eight-foot birdie try at 16 and a bogey at 17 sunk him for good. His final-round 73 left him three shots behind Englishman Danny Willett, who in fairness did post a superb 67.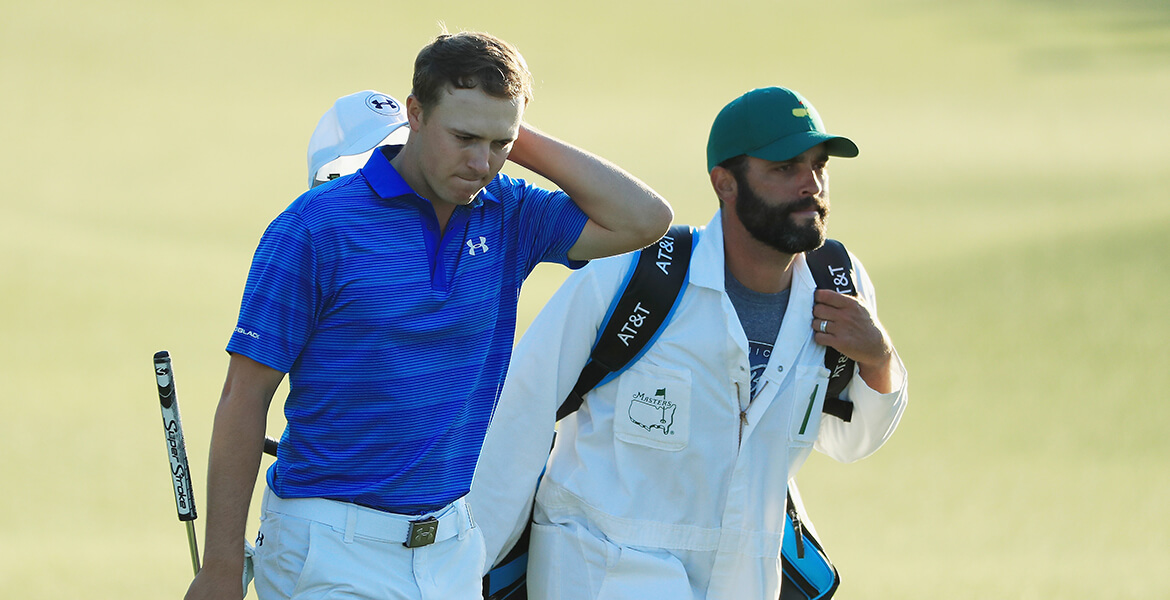 4. Ed Sneed fritters away a life-changing victory (1979)
Staked to a five-shot lead after 54 holes, Ed Sneed held onto a three-shot margin from his closest pursuers with only three holes to play. Alas, a three-putt at 16, three from the edge at 17, and a missed six-foot putt for a third straight bogey at 18 left him crying the "Cancel My Coronation" blues. Already a three-time winner on the PGA Tour, Sneed did qualify for a playoff with Fuzzy Zoeller and Tom Watson, the first at sudden-death in Masters history. Fun-lovin' Fuzzy doused Sneed's last hope by pouring in an eight-foot birdie at the 11th, the second playoff hole, to win in his Masters debut. Sneed had never previously finished better than 18th at the Masters, and he never came close to these heights again.
3. Roberto De Vicenzo's scorecard blunder costs him a Masters playoff (1968)
Popular Argentine Roberto De Vicenzo had been enjoying a stellar Sunday, not only having Masters patrons serenading him on his 45th birthday, but cheering him on during a phenomenal final round. Even a bogey at the 72nd couldn't mar a brilliant round of what he and everyone else thought was a 65. Except that it wasn't. The assumption was that De Vicenzo had tied Bob Goalby and the two would play 18 holes the next day for the title. Incomprehensibly, however, De Vicenzo's playing partner, Tommy Aaron, mistakenly marked that Roberto had made a par (four) on the 17th, instead of the birdie (three) he actually made. De Vicenzo signed his card without noticing the error. Moments later it was brought to light. The Rules of Golf then in effect stated that he had to keep the higher score, once he signed for it. There would be no playoff—De Vicenzo finished solo second. "Such a stupid I am," said the 1967 Open Championship winner, who never again came close to donning the green jacket.
2. Scott Hoch misses a two-and-a-half-foot putt to win (1989)
Scott Hoch had the 1989 Masters in his grasp, and let it slip away. Yet, few remember that Nick Faldo roared back with a Sunday 65, or that Faldo curled in a 25-foot birdie putt at the second playoff hole in the mist-filled gloaming to seal the victory. No, what haunts the memory is the first playoff hole, where Hoch had his green jacket yanked away. After Faldo chopped his way to a bogey at Augusta National's par-four 10th, Hoch faced a two-and-a-half-foot (by most estimates) par putt to win. Unsure of whether to hit it firm or play the break, he did both. He pulled it badly, the ball never touching the cup, and his ball scooted four feet past the hole. Somehow, he converted the comebacker, but lost to Faldo on the next hole. Years later, he confessed to the media what it already knew: His name rhymes with "choke."
1. Greg Norman blows a six-shot lead (1996)
Following his record-tying 63 in the first round, Greg Norman's coronation seemed inevitable. After three rounds, he led by six. Then it all crumbled. When he spun his wedge off the 9th green, his lead shrunk to two over his playing partner, Nick Faldo. After he splashed his tee shot into Rae's Creek at the 12th, he was now two behind. The Shark was still alive at the 16th but found another watery grave with his tee shot. That did him in. Faldo shot 67 to beat Norman by five. The walk up 18 resembled a funeral procession. Norman's 78 wasn't the worst final round by a contender in Masters history, but it was surely the most painful to watch.
What Masters meltdowns did we miss? Let us know in the comment section.