No Laying Up—that's not just the name but the attitude of the golf media company started by Chris Solomon and a group of his golf buddies
Ahead of the 2016 Ryder Cup at Hazeltine National Golf Club, Chris Solomon had been beating the drum for Dustin Johnson and Brooks Koepka to play together for Team U.S.A., pleading his case on "No Laying Up," the fledgling podcast he and three college pals had started two years earlier.
Lo and behold, in the final team session, Captain Davis Love III sent out Solomon's proposed partnership in the lead four-ball match against Rory McIlroy and Thomas Pieters. Sitting behind the 9th tee, Solomon watched as the Euros raced to a 3-up lead. (The Euros would win the match, 3&1.)
What happened next is a story he'll be dining out on for years. After McIlroy teed off, he sat down next to Solomon, nudged him in the side, pointed at the American duo, and said, "Hey, you got your wish."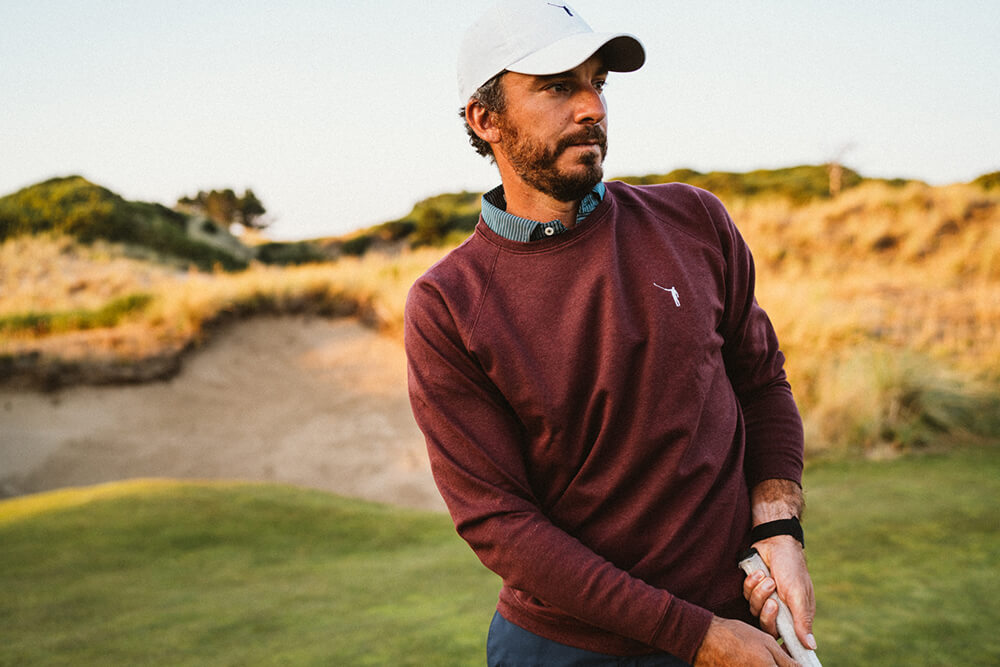 Solomon, 35, remembers McIlroy's sly grin and thinking, "What is going on? Rory is talking [crap] to me in the middle of the Ryder Cup and actually is following our stuff."
A few days later, Solomon texted McIlroy inviting him on the podcast. He heard nothing for three weeks, then McIlroy responded that he was free to do it—the next day. But Solomon, then an Amsterdam-based auditor for KPMG, had a meeting scheduled. So he did the right thing—he called in sick.
"I'm living this double life, traveling the world for a Big Four accounting firm, yet also moonlighting as a golf blogger and podcast host," Solomon says. "But when we posted that podcast everything changed."
No Laying Up, now a popular community for hardcore golf geeks, began as an email and text thread among Solomon, Phil Landes (nicknamed "Big Randy"), Todd Schuster ("Tron Carter"), and Schuster's younger brother Neil. In January 2013, Solomon created the No Laying Up Twitter handle.
A year later, they built a website, entertaining themselves with the same bits, jokes, and hot takes they'd previously done in private.
If McIlroy's initial appearance validated NLU's efforts, his second was an inflection point. Asked why he was spending an hour of his time doing a podcast with the new kid on the block, McIlroy's response was unforgettable: "You guys have made golf fun to follow again… I think you're the future of golf coverage and anything I can do to support, I'm here."
"That was the first time I ever actually contemplated quitting my job," Solomon recalls.
Could this really go from side hustle to full-time gig? Solomon and his crew were outsiders who didn't pretend to be journalists in the traditional sense, dubbing themselves "fanalysts."
"The only thing we're experts in is making fun of ourselves," Big Randy says.
But they brought an authenticity, earnestness, and passion for the game that went way beyond the catchphrases they coined. Callaway Golf became No Laying Up's first sponsor, allowing Solomon to advance his timeline and quit his job.
NLU's cult-like popularity soon exploded: 391,000 followers on Twitter, another 182,000 on Instagram, 109,000 subscribers on YouTube, and more than a half million listeners to their multiple podcasts. Their content also expanded into video series such as "Strapped," in which Neil and Big Randy search for budget golf and good times all over the U.S.
No Laying Up became more than just a company name, it became a metaphor for a bunch of friends who went for it, placing a bet  on themselves that has paid off handsomely.