By Tony Dear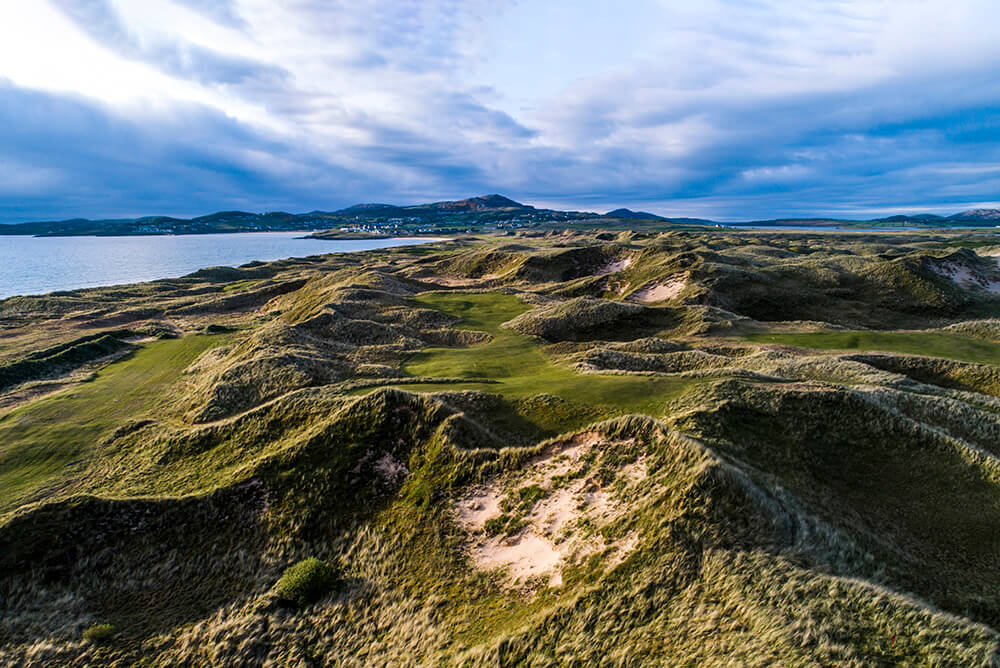 In 1993, Tom Doak made a handshake agreement with the owner of Old Head in County Cork, Ireland, to design 18 holes but, for one reason or another, the plan fell apart. A decade or so later, another opportunity arose at Castlegregory, 10 miles west of Tralee on the beautiful Dingle Peninsula. Doak and Bill Coore looked at a site large enough for 36 holes and both completed routings. The client feared the permitting battle would be long and expensive, however, so he pulled the plug. "And that burned all the bridges locally, so no one else could pick up the pieces," Doak laments.
A few years after that, renowned course photographer Larry Lambrecht introduced the designer to Frank Casey, owner of the Rosapenna Hotel and Golf Resort in County Donegal at Ireland's northwest corner, who hired Doak to reshape a few greens and add some bunkers to the resort's Old Tom Morris Course, first laid out in 1891 and renovated by Harry Vardon and James Braid in 1906, then Harry Colt in 1911.
At long last, Doak was moving dirt on the Emerald Isle, albeit not very much.
Casey and his two sons—John, who manages the hotel, and Frank Jr., who is the resort's Director of Golf—stayed in touch with Doak and a mutual respect was established.
"We were really pleased with how that first collaboration worked out," says John. "And we've been big fans of Tom's ever since."
It was only natural, then, that when the Caseys purchased a dunes-covered, 370-acre parcel adjacent to their own 800 acres in 2012, they should consider Doak a favorite for the job of turning the sandy terrain into the resort's next great course.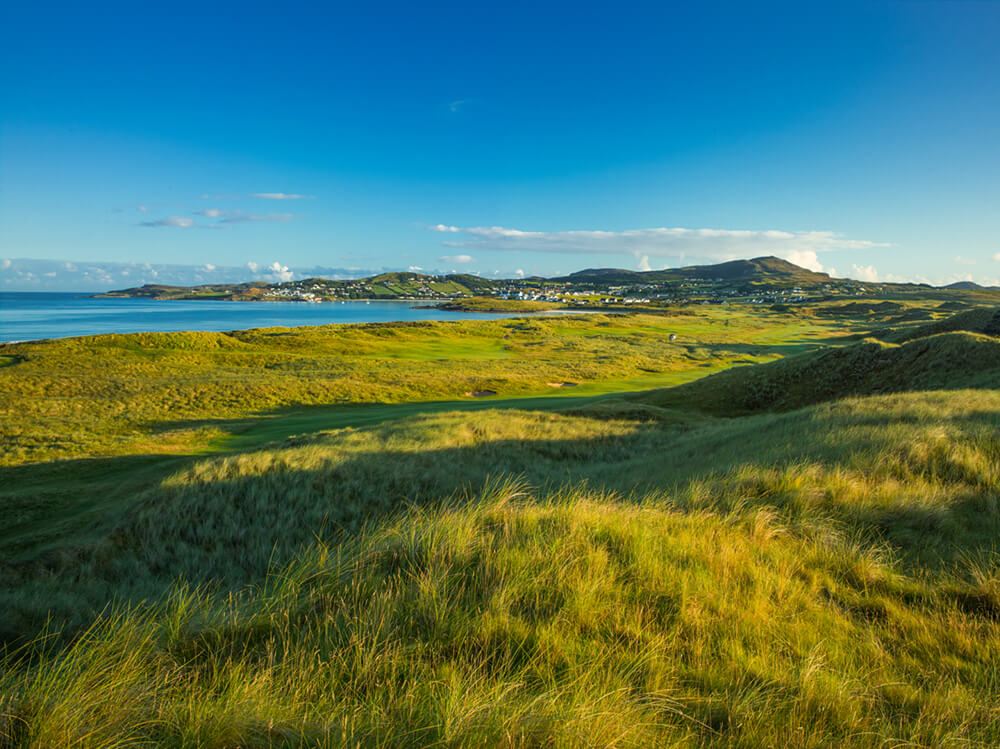 Two layouts existed there already—an Eddie Hackett design called Maheramagorgan that was completed in 1982 but didn't open until 1996, and Trá Mór, designed by an assistant professional at Royal County Down named Joanne O'Haire, which also opened in 1996. Together they formed the St. Patrick's Golf Links.
In early 2006, the courses' owner hired Jack Nicklaus's firm to renovate all 36 holes with a view to creating a five-star resort to rival Rosapenna, but by December all work had ceased following struggles to finance the project. The land was later taken over by the National Asset Management Agency (NAMA), which was established in 2009 to "address the serious crisis in Irish banking."
Casey bided his time, eventually paying NAMA between 1 million and 1.5 million for it, something of a steal considering it had reportedly cost the previous owner upwards of 12 million. He then needed to decide who best to shape Rosapenna's new golf landscape. Several firms showed great interest, but Doak was always the frontrunner.
"I've been going there since the Caseys bought the property," he says. "I actually finalized the routing with Eric [Iverson, Doak's associate] on a trip in the summer of 2014, but it took a while to agree on a business plan."
Despite that early routing and last summer's creation of the 14th and 15th greens, it wasn't until June of this year that Casey announced he had chosen Doak to build the new St. Patrick's. Doak persuaded his client to abandon the 36-hole model, dismiss the idea of building 27 holes, and, instead, devote a good chunk of the 370 acres to just 18 stellar holes.
"It didn't take long to convince him," says Doak. "I invoked Mike Keiser's philosophy that the only goal should be to build the best 18 possible. There will be some land left over, obviously, but it doesn't make sense to compromise the main course."
Frank Casey Jr. is likewise certain 18 is the way to go. "To be honest, we never really entertained the idea of building two golf courses," he says. "We felt cramming in too much golf would diminish much of what makes the site so interesting and appealing. By building one course on such a large acreage means each hole will almost stand alone, and a fourball will at times feel like they're the only players on the course, which is a really cool feeling for those visiting an Irish links."
Doak, who says the site's protected pastures and extensive dune system are so attractive the golfer is more likely to look at them than the bay on which they sit, is making two more visits to St. Patrick's ("I advised Mr. Casey to keep the name because it will have instant appeal to overseas visitors") this year to work on the greens, and will visit again in winter and spring next year to craft the fairways and bunkers.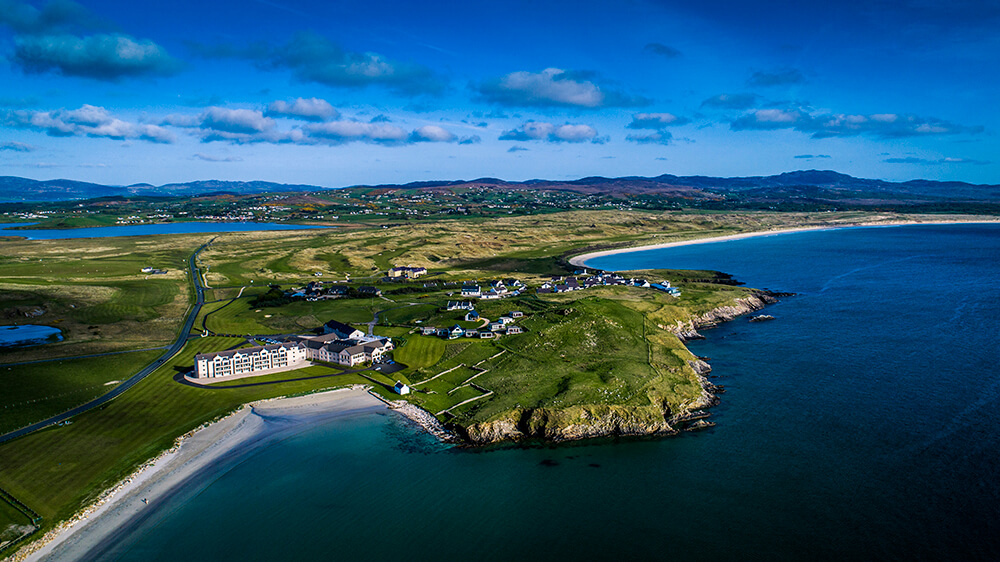 St. Patrick's is set for a soft opening sometime toward the end of next year, although the Caseys say they are in no rush to open the course, meaning Doak will just have to be patient to see his first Irish links in play.
Once it does start welcoming guests, Rosapenna will become one of Europe's largest golf resorts with 63 holes (Old Tom Morris, Pat Ruddy's Sandy Hills, St. Patrick's, and the Coastguard Nine) and will surely appeal to a far greater number of American visitors who currently tend to move en masse around the Kerry coast.
"It will give Americans another great option besides the southwest," says Doak. "It's more remote so you won't see tour buses full of golfers… for a while at least. And it's not far from other great courses." Indeed, Ballyliffin, Portsalon, Narin & Portnoo, Donegal, and Cruit Island may not be on the Republic's most-trodden path, but each will delight all comers and all are within easy driving distance of Rosapenna and St. Patrick's, which, Doak insists, will help Ireland's northwest become a much more compelling destination for overseas golfers. "It's another reason why I'm so excited about this course."