Tom Fazio says it's shocking that a golf course even exists on the Las Vegas Strip, and he's the one who built the unlikely oasis in the Wynn Las Vegas's backyard. Built and rebuilt it, actually. After getting a chance to play the second-coming of the reinvented Wynn Golf Club, it's tough to disagree.
You'd be hard-pressed to find a better example in the golf world of the dirt itself being worth more than the grass, which is why the property was earmarked for development when it closed at the end of 2017. The pristine fairways and greens Fazio created in 2005 were to be bulldozed in favor of Wynn Paradise Park, a $3 billion project with plans that included a 38-acre lagoon and white-sand beach for water activities, a 1,000-room hotel tower, a new convention center, and multiple dining and nightlife options.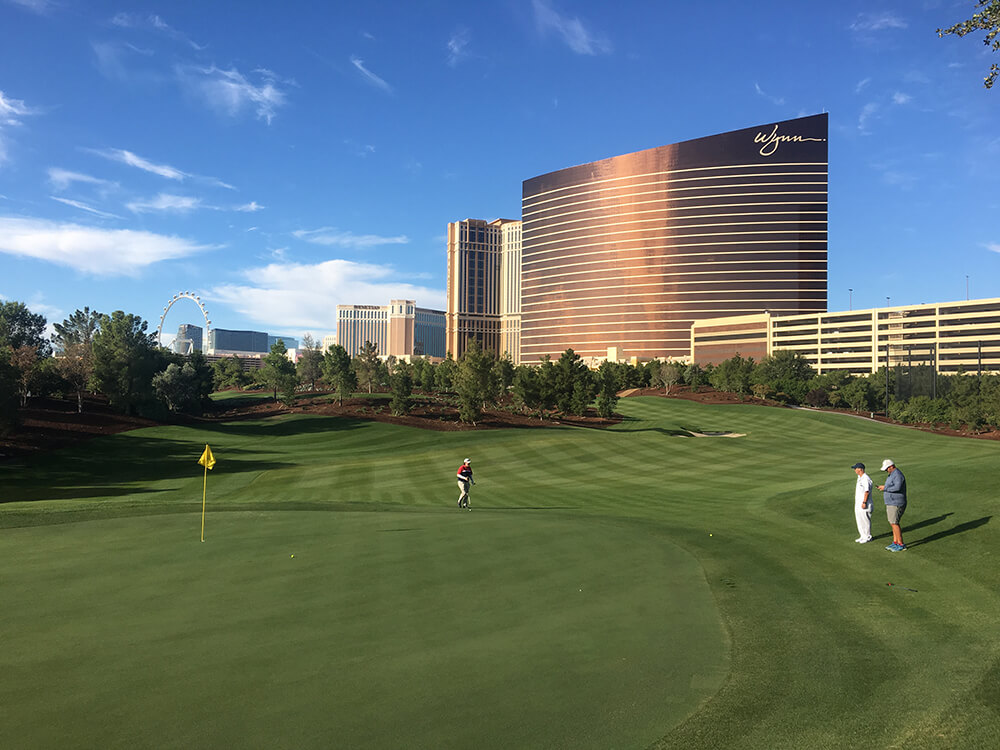 But now, high-end golf is back on the Vegas Strip. Wynn Resorts realized it had lost more than revenue from 16,000 annual rounds with the closure of its Fazio course, which actually traces its roots further back to the 1950s and the old Desert Inn days. Wynn also lost as much as $15 million in domestic casino business, as the high-rollers who came to Las Vegas for golf trips or to squeeze in a unique escape from the hustle and bustle of downtown were opting to go elsewhere.
Fazio and his son, Logan, were brought back to reimagine the course after the property was tightened to 129 acres to make room for 400,000 square feet of new convention space as well as pavilion for entertainment events. The course was shortened by about 300 yards and is now a par-70 layout that can play from 4,810 yards to 6,722 yards. Ten of the holes were revamped and eight of the holes are completely new, most notably the 18th.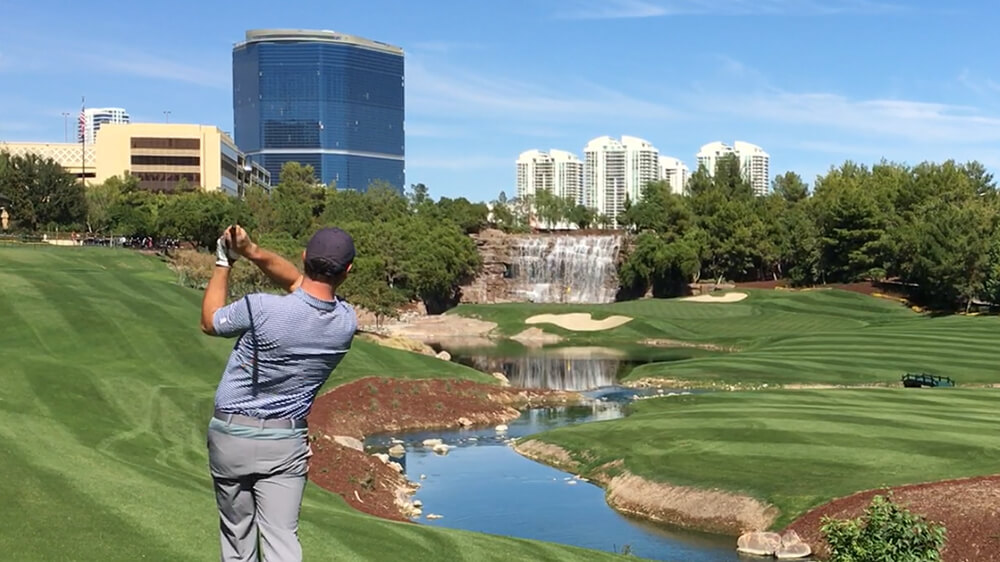 Formerly a par four, the 18th is now the most impressive of six dramatic par-three holes at the Wynn. The first par-three finisher ever on a Tom Fazio-designed course, the 18th stretches to a whopping 250 yards from the back tee and plays at around 200 yards from the resort tees that most guests will use. In the nation's gambling mecca, many heated matches will no doubt come down to this memorable finishing hole, which features a waterfall behind the green that's 35 feet tall and 100 feet wide. There's also the potential of a prize up to $20,000 for anyone who makes a hole-in-one.
It's a fitting finish to a surreal experience. And make no mistake, that's exactly what playing golf at the Wynn is, as you're treated throughout to views of the surrounding hotels and casinos just outside the golf oasis, not to mention the 550-foot tall Ferris wheel known as the High Roller. At the same time, the course feels like a complete escape, with idyllic streams, around 7,000 mature trees, and more than 100,000 shrubs. The holes have an intimate feel to them, framed in by rolling hills and pine trees that, for most of the round, give you the feel of being in North Carolina instead of Nevada.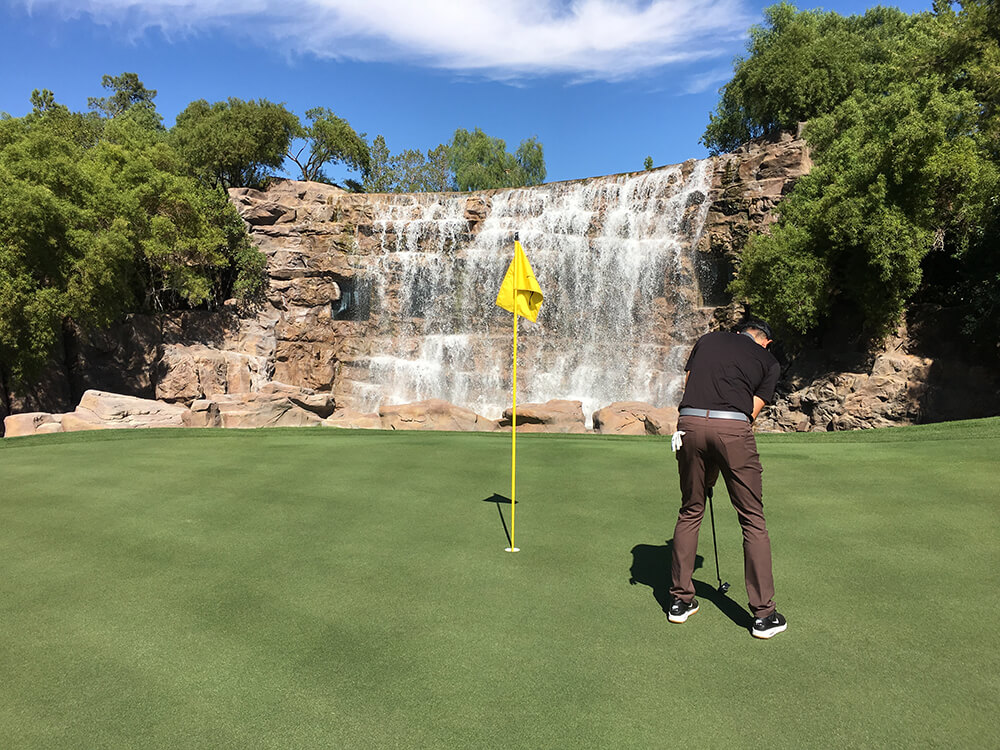 This is Las Vegas, so you'll pay for the experience, of course. The in-season rate is $550 USD, one of the highest playing fees in the game.
It's not for everyone, clearly, but it's important to keep that cost in the proper context—no different than the shows, rooms, gambling, and fine dining that visitors also enjoy when coming to Vegas. At that price, there are also plenty of add-ons to make you feel like a high-roller: attentive locker room attendants and staff, plush golf carts loaded with water, sports drinks, and sodas, and a professional-grade caddie staff with men and women who are experienced players themselves, many at a competitive level. The caddie in our group, John, competed on mini tours and is among 11 former Wynn loopers who returned when the course re-opened.
As for the course itself, it's immaculate, with barely a blade of grass out of place and perfect greens that roll fast, smooth, and true.
If guests need to rent clubs, that too is included in the fee. And as Brian Hawthorne, the Wynn's Executive Director of Golf Operations, is quick to note, "If you keep somebody from gambling for four and a half hours, we might be saving people money."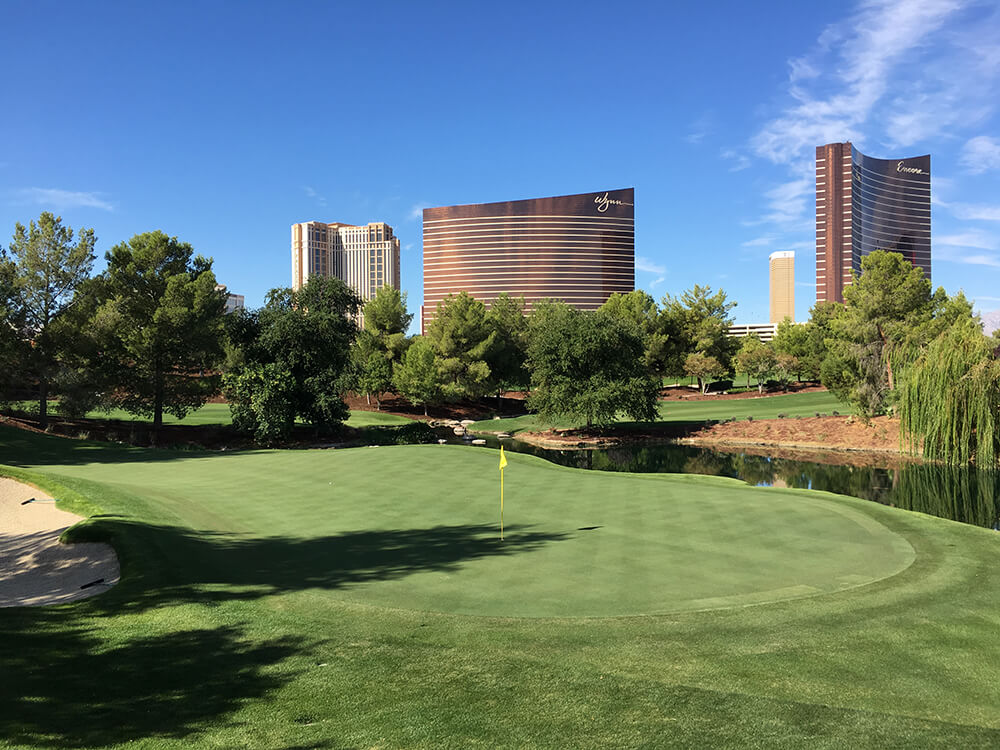 For Fazio, the price has to take into account the value of the real estate and the cost to build and maintain a high-end course on the Las Vegas Strip.
"It's one-of-a-kind, unique, maybe never-to-be-duplicated again in that kind of location," Fazio says. "That's what makes it so special."
So, will the Wynn Golf Club close again someday?
Fazio says he honestly doesn't know. He's just happy it's back. Golfers should be too, even if it's just one for the bucket list or, you know, when you hit it big in Vegas.
Have you played Wynn Las Vegas?