Bountiful Barrens: Less than five years old, Sand Valley is already America's next great golf resort—and so much more
Gazing out on an August evening from the back porch at The Lodge at Sand Valley, I found it difficult to imagine what this land must have looked like just 10 years ago, before more than two million red pine trees were removed to make way for two top-100 golf courses, a 17-hole par-3 course, three lakes, 15 grass tennis courts, 97 guest rooms, and more spread across 10,000 wide-open acres in the middle of Wisconsin.
To understand how the resort came to be what it is today, you have to go back to around 16,000 B.C. That's when an ice dam protecting a 150-foot-deep glacial lake burst, igniting a seismic flood that exposed the sandy lakebed in 48 hours. Over time, nature ran its course, blowing out the valleys and pushing up the 80-foot-tall dunes that allowed this to become a "Dream Golf" playground.
"It's like playing golf in a national park," Sand Valley General Manager Michael Carbiener explained to me.
It's a sufficient simile and a common narrative echoed by Michael Keiser, son of Bandon Dunes visionary Mike and co-owner of Sand Valley with younger brother Chris.
"We're building a national park—this will just be a resort within the national park," says Michael. "In the next three years, we're going to be at 20,000 acres of habitat that we're conserving and putting back to public use. Our goal is 200,000 acres."
The goal is ambitious, but after seeing the vastness of the property and experiencing all that Sand Valley has to offer, it feels fated. And it's driven by two factors: golf and fun.
"GOLF IS THE ENGINE"
Sand Valley is one of three resorts that make up the elder Keiser's Dream Golf portfolio, alongside Oregon's Bandon Dunes and Cabot in Inverness, Nova Scotia. The trio promote "Golf as it was meant to be," although I would argue Sand Valley is, "Golf beyond what you thought it could be."
Like its sister properties, Sand Valley is somewhat remote, although it's easily the most accessible of the three: Its location in the heart of Wisconsin makes it a less-than-four-hour drive from major cities like Milwaukee, Chicago, and Minneapolis.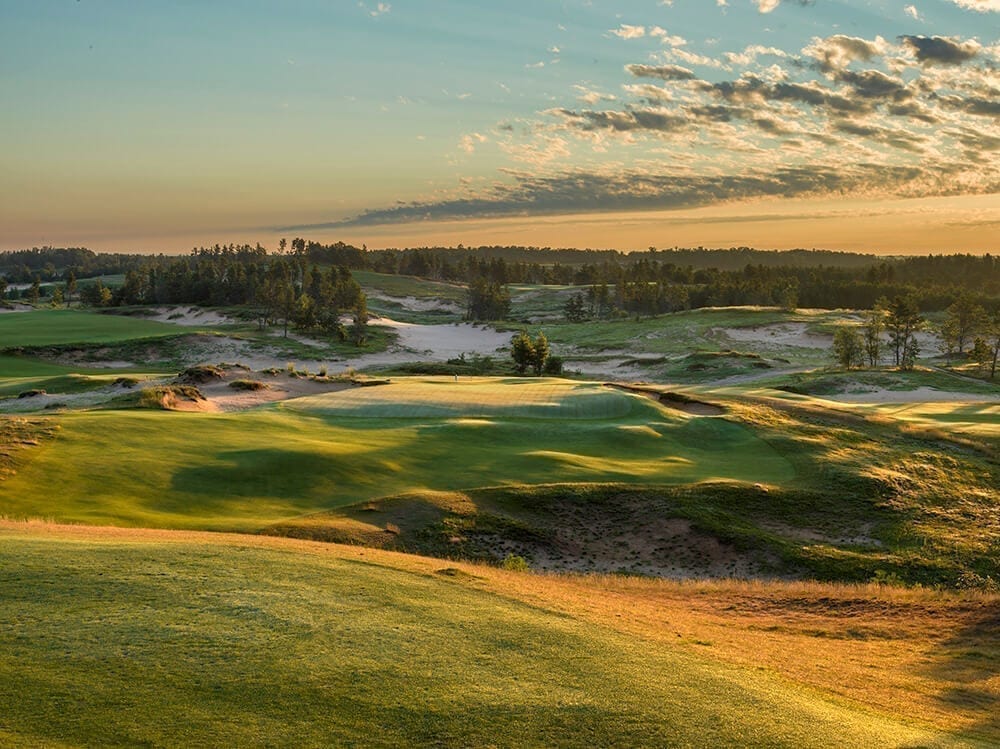 Also in sync with the other resorts, Sand Valley hired three of the game's premier architects to plant its first flags and build a foundation of unique and exceptional golf. Bill Coore and Ben Crenshaw (trusted from their work at Bandon Trails and Cabot Cliffs) designed the original Sand Valley course that opened in 2017; David McLay Kidd (architect of the original Bandon Dunes course in 1999) created Mammoth Dunes, which debuted a year later.
But unlike the other two, no oceans border Sand Valley. The biggest fear was wondering if it could compete.
"We had brilliant architects and lots of sand, and we were thrilled to see what reemerged out of the dormant sea bank is just as inspiring and beautiful, in its own way, as an ocean," Michael says. "People who have spent their whole lives in Wisconsin get here and say, 'I've never seen anything like this before.' Or people come from out of state and say, 'This isn't what I expected to see in Wisconsin.' It's such a unique landscape— sand, prairie, savannah, golf—that's the key difference."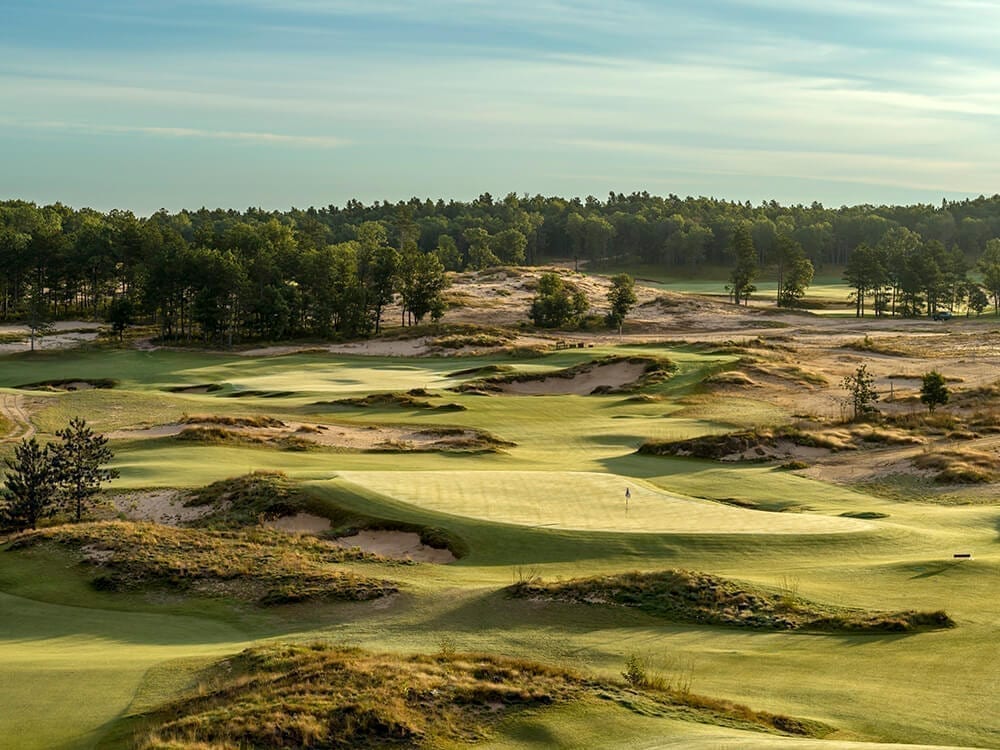 A short shuttle ride from The Lodge—the resort's centerpiece that includes the clubhouse, a farm-to-table restaurant, the Mammoth Bar, and 14 guest rooms—to one of the highest points on the property brings you to Craig's Porch (go for the sunsets, stay for the ice cream sandwiches), the combination starter's hut and halfway house for the original course that overlooks the 1st, 10th, and 18th holes of the course. There begins a plunge into a firm and fast heathland style of play modeled after London courses like Sunningdale and Walton Heath. The roller coaster twists and turns, a par-72 layout with five par fives and five par threes.
After a steep drop to the green at the par-three 5th, players will notice they can take one of two paths: Bear right to continue the traditional 18-hole game or stay straight for an alternate 6th hole with a fescue green playing back toward Craig's Porch. History aficionados can experience the "6-Hole Loop" with a set of rented, authentic hickories.
A pitch shot away from The Lodge, Coore & Crenshaw built The Sandbox, Sand Valley's 17- hole par-3 layout, in 2018. With tees for both regular play and a putting-only option (try playing one ball from each) and classic "template" holes ranging from 40 to 140 yards, it was the most fun I've ever had playing golf. The food truck patio overlooking the short course is the perfect place to end a big day with a basket of cheese curds and a pint of Spotted Cow while watching showdowns among groups often consisting of many more than four players.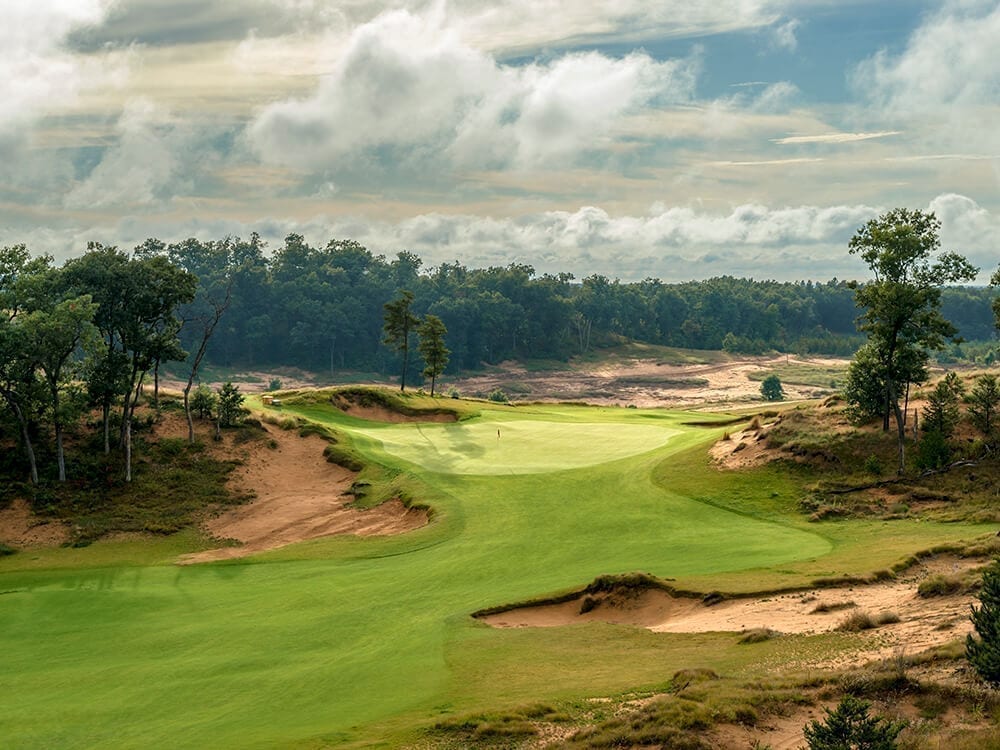 Speaking of big—or should I say mammoth?— Kidd's par-73 design is on an other-worldly scale. Beginning with a tee shot from the practice putting green, its extra-wide fairways and generous greens "engender confidence, reward bold, aggressive play, and offer the chance of recovery," says the architect himself, placing a heavy emphasis on the ground game. Amusing wooden signs scattered around the layout— "Putter = Friend"; "Enter at Own Risk" to a particularly deep bunker—are Kidd's personal post-it notes. Mammoth Dunes's whimsical nature makes 18 holes feel too few.
BEYOND GOLF
The Keiser boys have the inherited wisdom of knowing how to foster a great golf destination. From day one, the focus had to be entirely on the golf and, as their father has been known to preach, there needed to be at least two courses to make it work.
But in a place like Central Wisconsin, they quickly realized it could be a four-season resort. "I saw immediately how stunning it was every season. The opportunity to capitalize on that was apparent from the start," says the 39-year-old Michael, who began living at Sand Valley full- time a year ago with his wife and two children. "These seasonal businesses are tough, and our inventory sits empty all winter so there's also an economic incentive to think about. I was proud of the discipline of staying 100 percent focused on golf until this business was off the ground and very steady."
With the golf courses established and the masses making the pilgrimage to see what the buzz was about, the resort has begun to bring more to the table.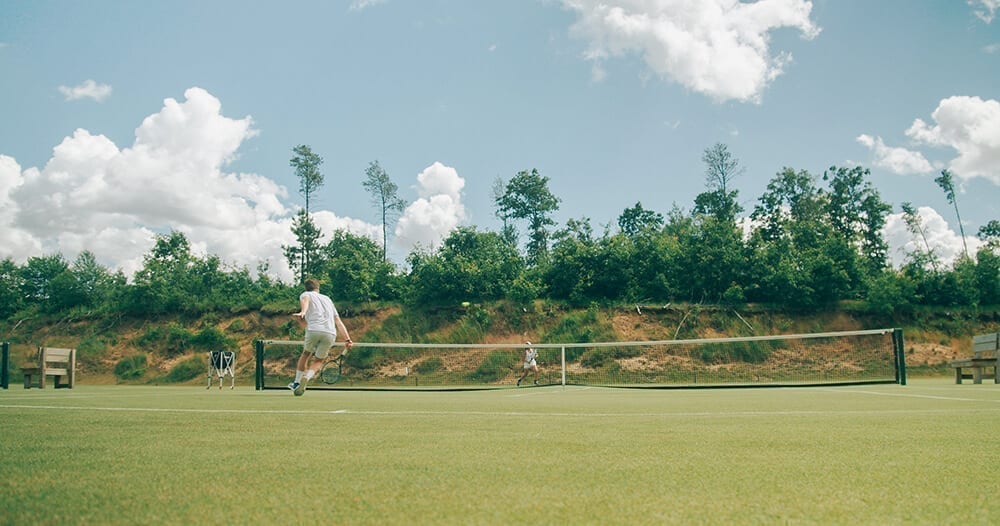 Adjacent to the driving range is a tennis facility in the dunes beyond one's wildest dreams. Wimbledon in Wisconsin, it's one of the few public grass-court facilities in the U.S., complete with five fescue and 10 ryegrass courts and ball persons by request.
A series of trails winds around the courses, encouraging golfers to take other opportunities to enjoy nature via hiking, yoga, birdwatching, or fat-tire biking. The onsite lakes are stocked for fishing and allow swimming for guests who stay in Sand Valley's four- or eight-bed cottages.
Beginning last December, Sand Valley became an all-season resort offering fall and winter activities for the first time. Guests can go snowshoeing or cross-country skiing; utilize the frozen-over lakes for ice-fishing, ice skating, hockey, and sledding; even participate in a Winter Wellness Weekend that introduces outdoor fitness activities in sub-freezing temperatures.
WHAT'S NEXT
The next golf course will be The Lido, projected to open in 2023. Tom Doak and Renaissance Golf will recreate C.B. Macdonald's legendary New York design (which closed after World War II) on a sandy adjacent site north of the resort. While it will operate as a private club, The Lido will allow Sand Valley guests on for daily play.
Kidd has been commissioned to design and build a three-acre putting course on a site to be determined, filling a missing link that has become a popular offering at golf retreats across the country. Potentially built in conjunction with a new dining facility, the goal will be to offer two distinct 18-hole routings each day.
Plans for Doak's Sedge Valley, a proposed sub- par-70, 6,000-yard routing, were temporarily tabled in favor of The Lido, but are still promised to be carried out. Other full-length and par-3 options are also part of the plan; Michael says that with the vast amount of land at their disposal, there are "wonderful contours" for a variety of as many as eight golf courses.
"There's not a limit to the amount of golf we can build; there's a limit to the amount of spectacular golf we can build," Keiser explains. "We're going to take it one course at a time. We have to focus on what's immediately in front of us, and if we do it right, people will come, and if they keep coming, we'll keep building."
Have you been to Sand Valley? Tell us about your experience.