I'm standing on the tee of the downhill 13th at the new QuickSands Course at Gamble Sands in central Washington, thinking that putter is probably the play. No question, actually.
Really, the 13th sums up the tantalizing challenge of QuickSands perfectly. The hole may be playing 92 yards, but the tee sits about 50 feet above the green and, besides a drop-off at about 60 yards towards some intriguing contours and mesmerizing early morning shadows, there's nothing between the drinks-holder tee stand and flag but the firm, flawless fescue that covers the ground here. The fact the hole's named 'Putt' is also a strong indication your flatstick is a sound choice.
Every one of its 14 holes has some quirk, oddity, or caprice that you'll remember for next time. As with all the best short courses, the David McLay-Kidd-designed layout requires vivid imagination, sublime touch, and a good sense of humor if it is to be conquered.
But it won't be—not on a visitor's first attempt anyway. At some point on his maiden 50/60-minute trip around the 25 acres (15 of them maintained turf) some slope, hump, ripple, undulation, dip, gash, or mound will get the better of him, and he'll need to try it all again.
Holes will range in length from about 60 yards to 150, and tee positions will change every day to spread wear on the turf and ensure you won't play exactly the same course on consecutive days. Sunday bags, able to hold a couple of short irons and a putter, will be available and though a final decision has yet to be made, McLay-Kidd suspects the green fee will be $60 a round with free replays all day. So, play it three times and each circuit costs you $20! Rest assured, though, there will be plenty of golfers for whom three rounds won't be enough.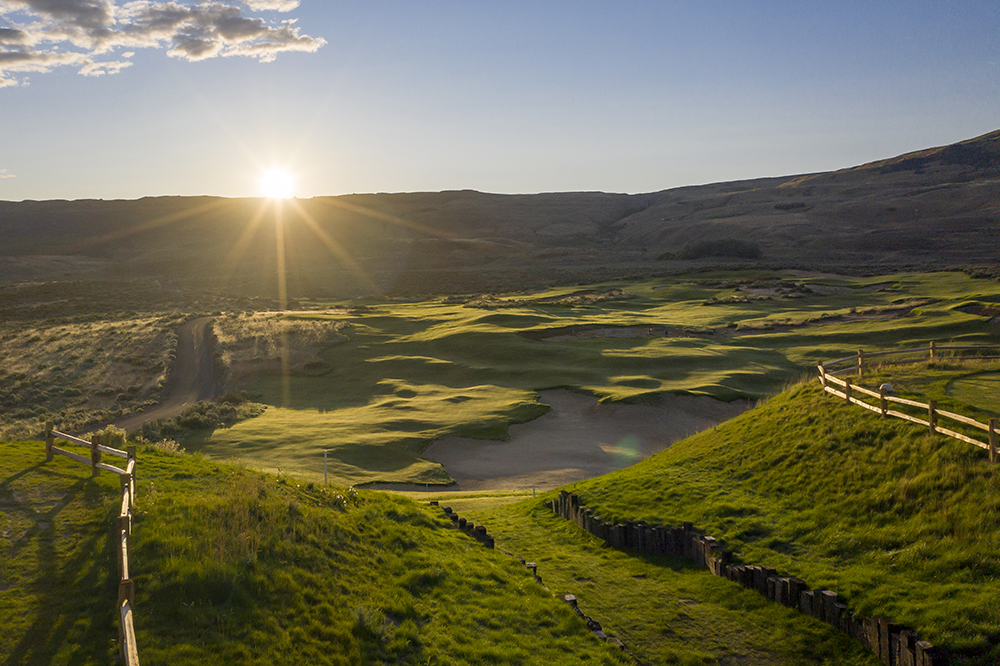 The idea for a short course at Gamble Sands isn't recent and didn't arise solely as a result of seeing other golf resorts make successful additions to their list of amenities.
"It was actually part of the original masterplan eight or nine years ago," says McLay-Kidd. "The owners (the Gebbers Family—fruit farmers and cattle ranchers) weren't experienced golf course/resort developers, though, so wisely built Gamble Sands gradually. We revisited the short course option about three years ago, and decided the time was right."
The question, though, was what this short course was going to look like. It somehow wouldn't be right, McLay-Kidd concluded, just to create a scaled-down version of his 7,227-yard Sands course that opened at Gamble Sands in August 2014.
"Obviously short courses had become a very desirable part of the most successful golf resorts, and there were some really great examples," he says. "The Cradle (Pinehurst) and Sand Box (Sand Valley) were both extremely fun, but it was really the Preserve (Bandon Dunes) that opened everyone's eyes to the possibilities. I wondered how on earth we were going to compete with them all."
The Scotsman, a resident of Bend, Ore., for the last 14 years, decided that, rather than aim for
"Sands Course-lite," he would make QuickSands, "Cascade-heavy." The heaving Cascade Putting Course overlooking the Columbia River and just yards from the five units (37 rooms) that compose the Inn at Gamble Sands opened in April 2018 and was modeled on the Himalayas Putting Course in St. Andrews.
"I just felt the others were shorter versions of the main courses, and I saw that as a limitation," says McLay-Kidd. "So instead of scaling down the main course here, I wanted to scale up the putting course. The only difference between Cascade and QuickSands is that shots leave the ground at QuickSands."
Construction began early in March and the dozers were powered down just 90 days later—a remarkable effort considering the small, socially distanced construction crew McLay-Kidd and associate Nick Schaan had to work with.
From now until the course opens in the Spring of next year, Quicksands will endure its first winter (cold, wet, and often white), and Superintendent Josh Truan will work on producing surfaces every bit as good as those on the main course. Management will also need to decide on a more suitable playlist for the on-course sound system than that which it offered during September's preview round when the music on KCNW 99.3 FM was interspersed with ads.
"Don't worry," says McLay-Kidd. "We were just testing the system. We'll have it sorted by opening day. And if visitors want to bring their own tunes, we'll play them."