The golf is heady and the bars sublime—or is it the other way round—in Ireland's wonderfully welcoming capital city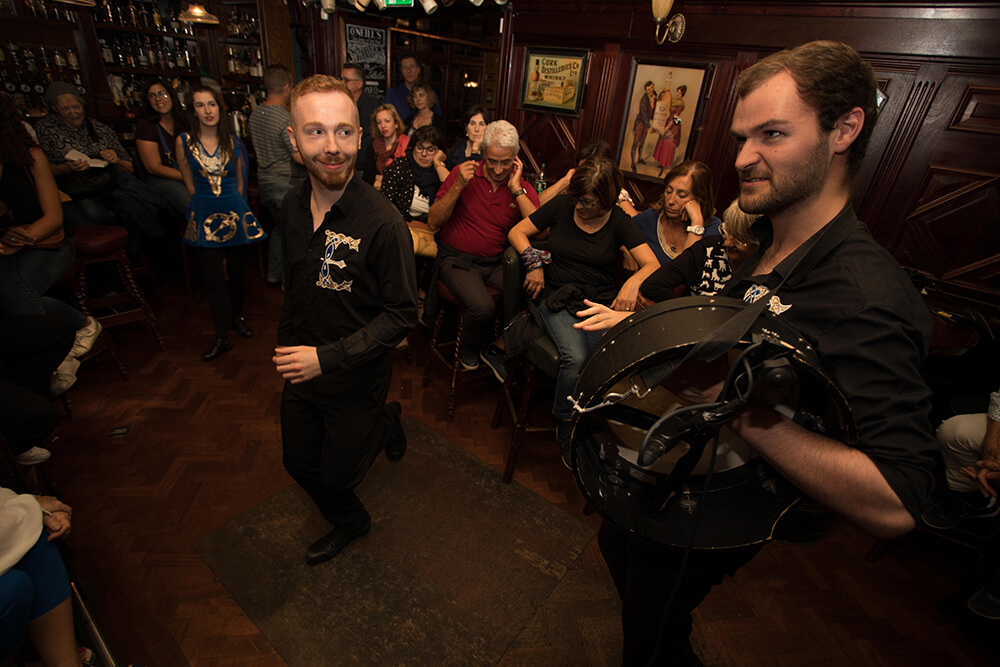 The first time I visited Dublin's boisterous Temple Bar neighborhood after a windswept day on the links, I thought its name fitting—maybe even redundant. Bar-going is a religion in Dublin, as it is throughout much of Ireland. The often-labyrinthine pubs of Dublin are part town hall, part living room, part watering hole—and part house of worship. The care with which Dublin's publicans beget perfect pints of Guinness from their taps is devotional in nature. And that's wholly appropriate, since Dublin on a whole exudes an air of heady spirituality that extends well beyond its bustling pubs and into every aspect of society. Including its golf.
Dublin's selection of top-shelf courses, combined with its legendary sites for quaffing strong drink, make it an ideal destination for a golf trip. We'll start our tour with the golf, then delve into the equally appetizing task of identifying which Dublin pubs offer the most authentically Irish post-round experiences.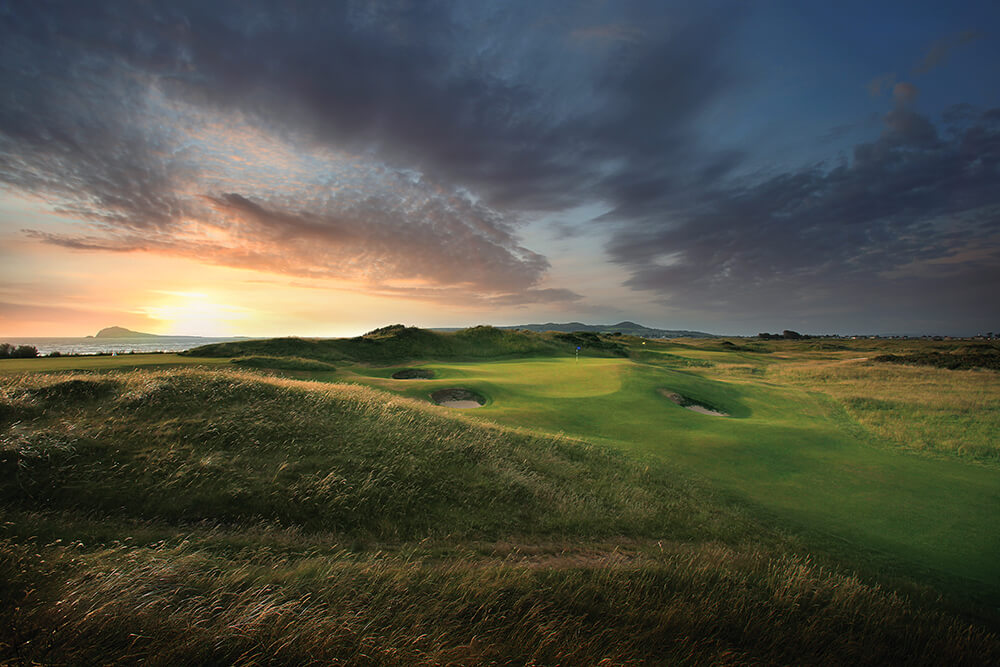 At the top of the course list is Portmarnock Golf Club, a subtly brilliant links just 10 miles north of Dublin City that dates back to 1894 when Mungo Park supervised the design of the first nine holes. A serpentine routing stretching to over 7,400 yards on a narrow thumb of gentle dunesland, Portmarnock has hosted events like the Walker Cup, Canada Cup, and Irish Open. It's a seemingly straightforward links devoid of trickery, but one with plenty of opportunity for drama. As you thread your way down its rumpled fairways with a gallery of gulls overhead, keeping out of the heather-rich rough that borders the narrow playing corridors and avoiding the perfectly placed pot bunkers will be your chief challenges. But the task doesn't get easier near the greens, which are well guarded and usually elevated just enough to make successfully getting up and down a rare achievement.
Similarly named Portmarnock Golf Links should not be confused with its illustrious neighbor, but it's a worthy course nonetheless. This Bernhard Langer/Stan Eby-designed track and its affiliated hotel are situated on the former estate of the Jameson whiskey family, making it a luxurious place to stay and play. The first nine holes occupy fairly pedestrian terrain, but at the turn you creep into higher dunes set closer to the sea and the course comes into its own.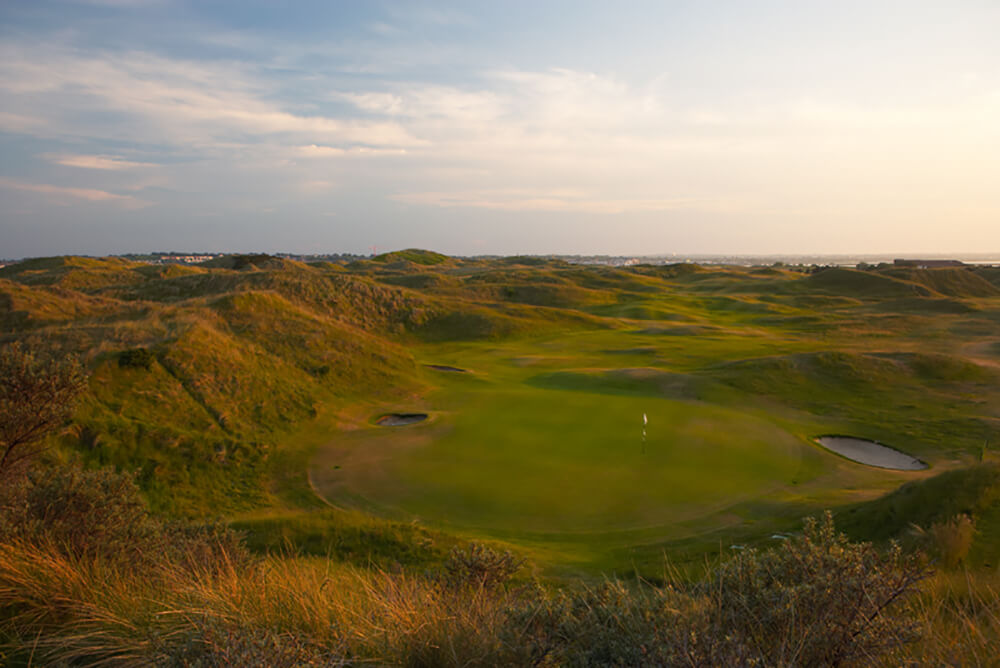 Farther north, The Island Golf Club is a splendid links overlooking Malahide Beach and fresh off a 2020 makeover by Mackenzie & Ebert. The round begins in primordial dunes and includes many special moments: the upturned-saucer green at the par-three 4th; the risk/reward tee shot at the 10th; the tee shot over the beach at the long par-three 13th; the impossibly narrow fairway at the 14th; and the stroke-index-one finisher up through a valley to the deepest green on the course.
Several people had a hand in creating today's Royal Dublin Golf Club, including Harry S. Colt in 1920 and Martin Hawtree in 2006. This traditional links is located just three miles east of the city on Bull Island, an isthmus formed when the Bull Wall was completed at the mouth of the River Liffey in 1825. An out-and-back links that has hosted Irish Opens and many other trophy events, it features one of the toughest closing stretches in Irish golf, culminating in the 463-yard dogleg-right 18th, with out-of-bounds and a ditch running the length of the hole on the right. A plaque near the 16th tee commemorates former RDGC head professional Christy O'Connor Sr.'s run of eagle-birdie-eagle in the 1966 Carrolls International. Make sure to enjoy a pint and peruse the memorabilia of "Himself" in the Christy O'Connor Room.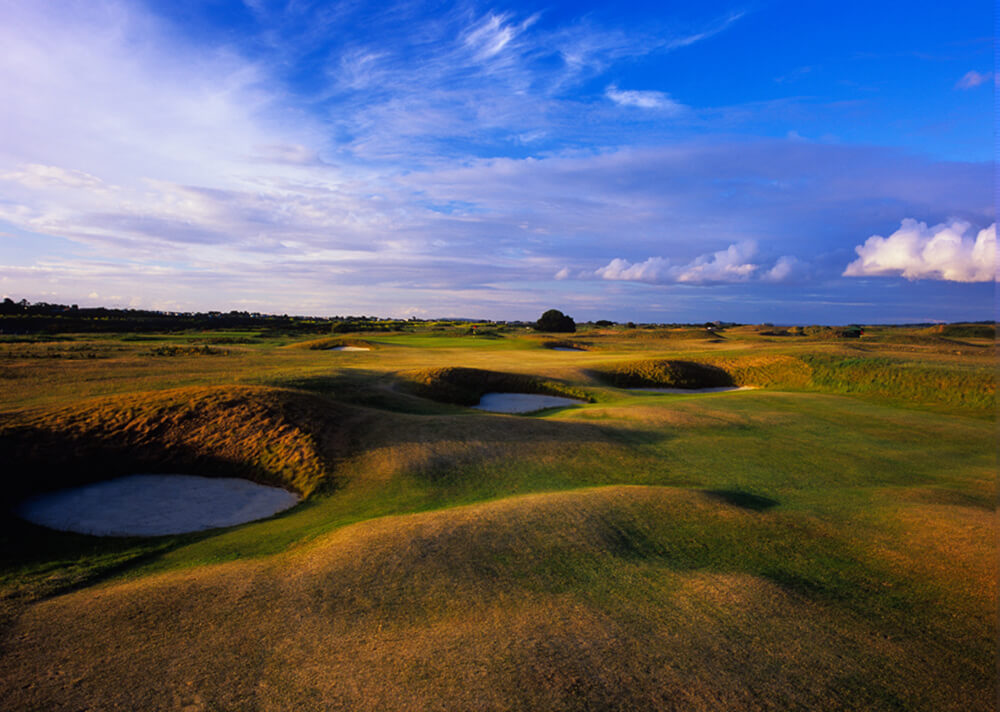 There's excellent parkland golf near Dublin, as well. The course at Luttrellstown Castle Resort enjoys a bucolic setting on a 15th-century estate that exudes elegance and charm. Luttrellstown tips out at over 7,300 yards and includes several holes running along the banks of the Liffey. Keeping your ball dry is a challenge here, playing down oak-and hickory-lined fairways under the watchful eye of a centuries-old castle. Three par threes measure over 200 yards, and the par-four 17th plays 505 yards from the blues—testament to the course's championship pedigree.
Other Dublin-area courses well worth their green fees include the 27-hole Dun Laoghaire Golf Club in Ballyman Glen, just south of the city. Dun Laoghaire hosted the 2016 Curtis Cup, and its three nines—Upper, Middle, and Lower—all have features to commend them, with the Upper nine the most scenic, the Middle nine with its many water hazards the toughest, and the Lower the trickiest to putt. Also south of the city is Grange Golf Club, a parkland club that's home to Paul McGinley. Its 24 holes have been configured into two different 18-hole routings plus two 12-hole layouts. The Phillip Love course, its championship routing, begins with two par threes, and though it only measures some 5,900 yards, it's a robust challenge. The short (and inexpensive) seaside course at Corballis Golf Club, with seven par threes and one par five, is the quintessential locals' club. A muni with some quirky holes and protective netting here and there, it offers a genuine links experience in miniature and is perfect for that warm-up round fresh off the airplane.
There's stellar golf just over the horizon from Dublin, too. Within an hour of city center is The European Club, a mind-blowing, 7,500-yard links that's an exhilarating test set in towering dunes; the parkland-style East and West Courses at the luxurious Powerscourt Estate; Carton House's O'Meara and Montgomerie courses, the first an easier parkland offering and the second more linksy, with lots of deep bunkers; the two courses at the five-star Druids Glen Hotel and Golf Resort in County Wicklow, Druids Heath and Druids Glen (Glen is closed until 2023); and The Kildare Club (aka The K Club), whose championship course hosted the 2006 Ryder Cup and several European Opens.
Should you feel like hoisting a few after beating your mates out of a few Euros, you'll find that Dublin is the best city in the world for doing so—beginning with the warren of people-packed pubs in Temple Bar.
Temple Bar's roots stretch back to 1599, when a visionary named Sir William Temple built a home on land reclaimed from the Liffey. His son later installed a sea wall, or barr, and by the early 1700s the neighborhood was rife with taverns, theaters, brothels, and other amusements of the day. Today, Temple Bar draws mostly tourists and stag parties to its narrow cobblestone streets, but it's worth visiting at least once during any trip to Dublin. Enjoy a pint and the traditional Irish music (aka trad) in the eponymously named Temple Bar or one of the neighborhood's other historic haunts such as The Stag's Head. You'll have dozens of choices, hundreds of different whiskies to sample, and loud new friends to make through every door.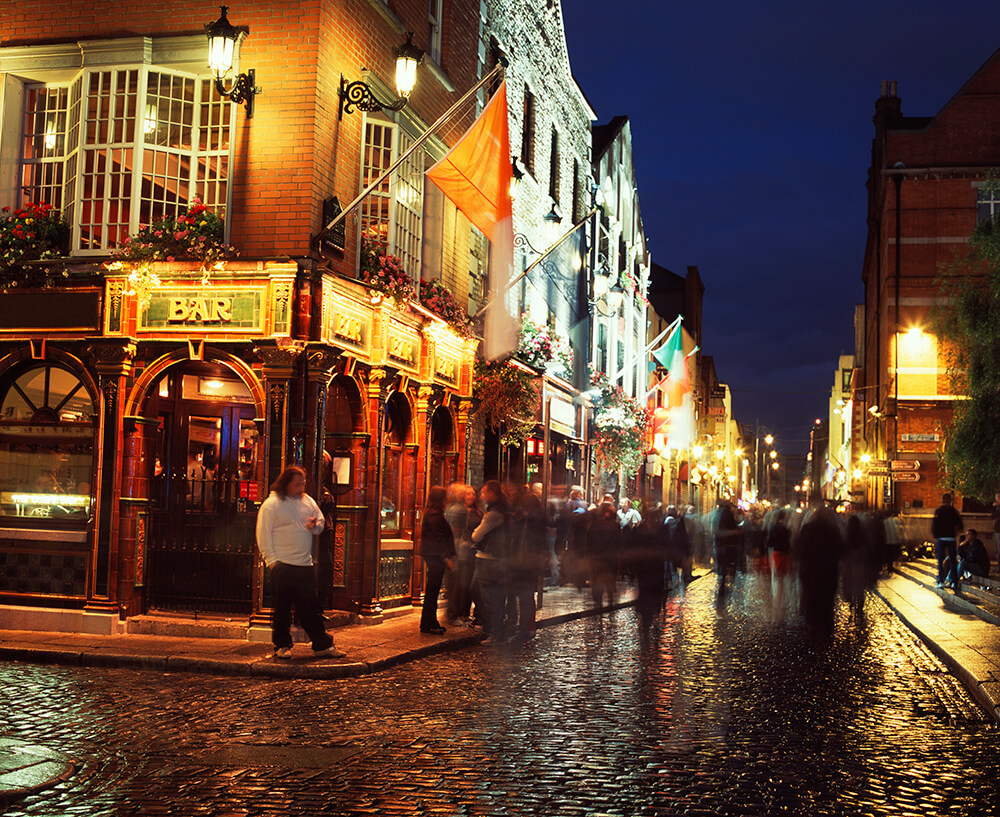 For a more authentic Dubliner pub experience—at the kind of pub James Joyce or Oscar Wilde would have frequented—you'll need to be more selective. Near Temple Bar, just around the corner from Trinity College, sits O'Neill's (circa 1713), whose nooks and crannies both upstairs and down are warm and welcoming spots for locals and visitors alike. Like many of Dublin's traditional local pubs, it's characterized by leather-topped stools, stained-glass windows, a flickering fireplace, and inquisitive bartenders who are actually interested in conversation and not just tips.
Another prime spot is Mulligan's on Poolbeg Street. The present Mulligan's dates back to 1854, and crossing its threshold is like stepping back in time. Joyce drank here and it's mentioned in one of his short stories.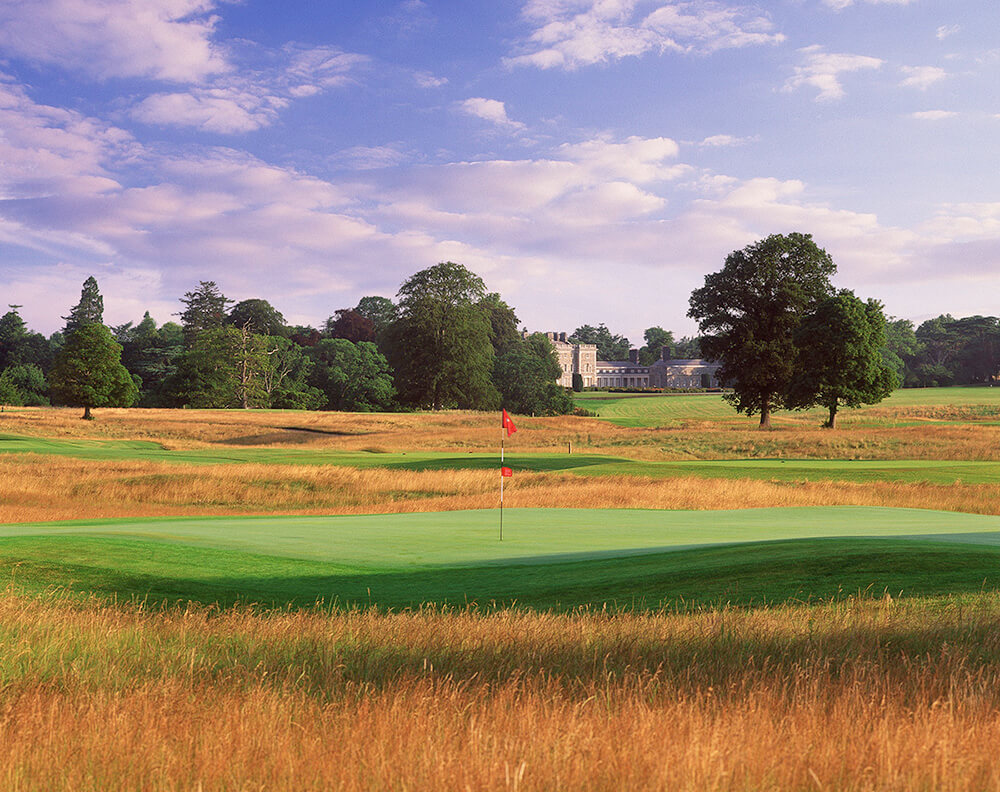 At Ryan's—a classy Victorian bar located near Phoenix Park, within sight of the Guinness brewery—the oysters are legendary, and given its proximity, you know they produce the perfect pour.
Of course, every Irish golf club has its own cozy 19th Hole, and you should patronize them for a wee sharpener before a night on the town. But no Irish golf trip is complete without the full local pub experience, and no place does it better than Dublin. Sláinte!