For high-rolling on the greens by day and the green felt at night, it can only be Las Vegas
Let's dispense with the hackneyed slogan first: The only thing that actually stays in Las Vegas is your bankroll. Tony Bennett didn't leave his heart here: There's little romance to spare in this hard-lit, hard-luck town. And you don't leave memories behind, not if you're wasting away in proper wretched excess. Why even visit Vegas if there's no chance of winding up in a drunken fist-fight or a dodgy wedding chapel?
As for me, elusive Lady Luck was on my side during a recent venture to Babylon on the Mojave. Drove in early from L.A. and was fortunate to be paired with local golf griot Ray Beallo at Billy Walters's notorious, strip-adjacent Bali Hai Golf Club. The starter said Ray was 85, but had done some time on the Senior Tour back when and could still knock it around pretty good. What he failed to adduce was that the wily veteran would soon play Virgil to my Dante, leading me sagely round the devilish, tropically landscaped course whilst spinning tales of Rat Pack-era folkways, when men were men and your word was your bond. Capisce?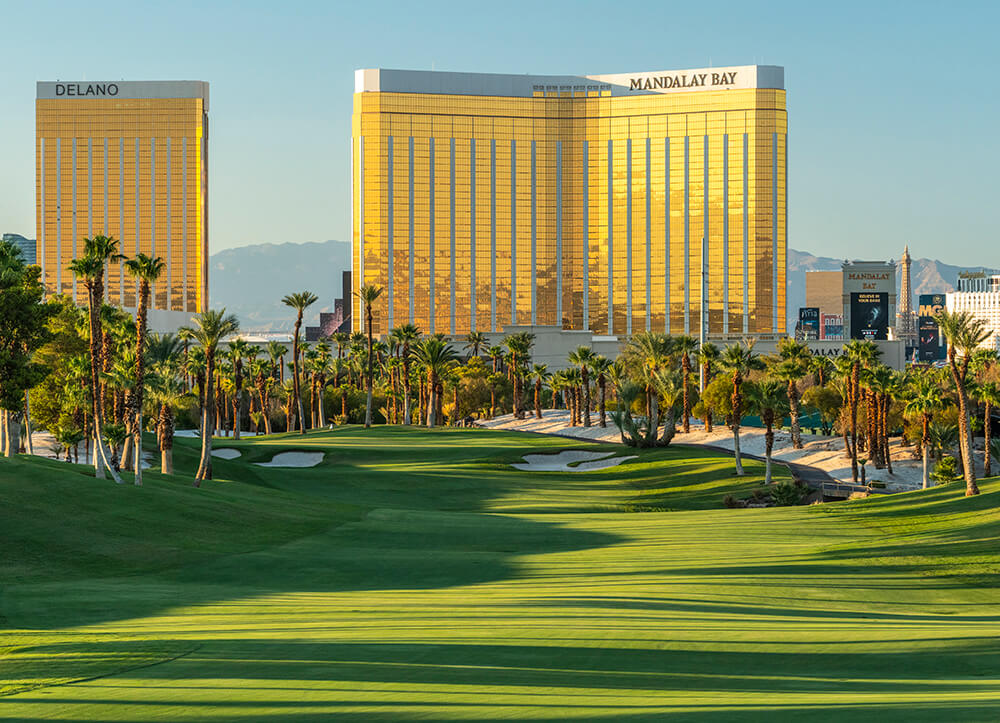 Some of what Bali Hai's "Golf Ambassador" (per Ray's business card) shared cannot be repeated here lest I find myself in the trunk of a '67 Buick Riviera on a moonless desert night. Let's just say some savory golf gossip was on the menu, seasoned by names like Palmer and Sarazen and Doug Sanders (not a fan). Ray also made passing mention of storied wise guys like Moe Dalitz and Tony Spilotro, whose local safe place was the gin rummy room at the Las Vegas Country Club. Sorry, no Feds allowed: Rules is rules.
Fortunately, the golf at Bali Hai was equal to the ballyhoo, and not just as a Bacchanalian answer to stodgy tradition. Female caddies—dubbed "Parmates"—are popular with bachelor parties: raking bunkers, mixing drinks, even providing "information about the hottest clubs." They are less likely to help select which club to use on the course: You're on your own targeting the tiered-and-tilted Schmidt/Curley greens. Busy Harry Reid International Airport is a 5-iron away, and a Penn & Teller billboard flanks the 4th fairway. But hey, this is Vegas, not Bandon Dunes. Undo that top button and start swinging, man!
In keeping with the Goodfellas ethos, I checked into the venerable Sahara Hotel, where, alas, Sammy Davis Jr. was no longer on the marquee, nor prickly Don Rickles or the Chairman himself. Rooms have been gussied up with a shabby-chic, surprisingly casual un-Vegas vibe, augmented by a borderline spooky view of the towering Strat Hotel (formerly the Stratosphere) that makes you feel like an extra in an alien invasion flick. Thank goodness for blackout drapes.
I starved myself the day long to make room for an epic supper at the hotel's resident steakhouse, Bazaar Meat by José Andrés—rather a mouthful in itself! The tender Texas ribeye headlined, but it was the chef's "molecularly gastronomic" small plates that lingered on the palate: especially the tomato tartare and Andrés's signature Iberico ham. Refined tastes and way above my gustatory pay grade. I'd have been happy with the timeless 99-cent shrimp cocktail downtown.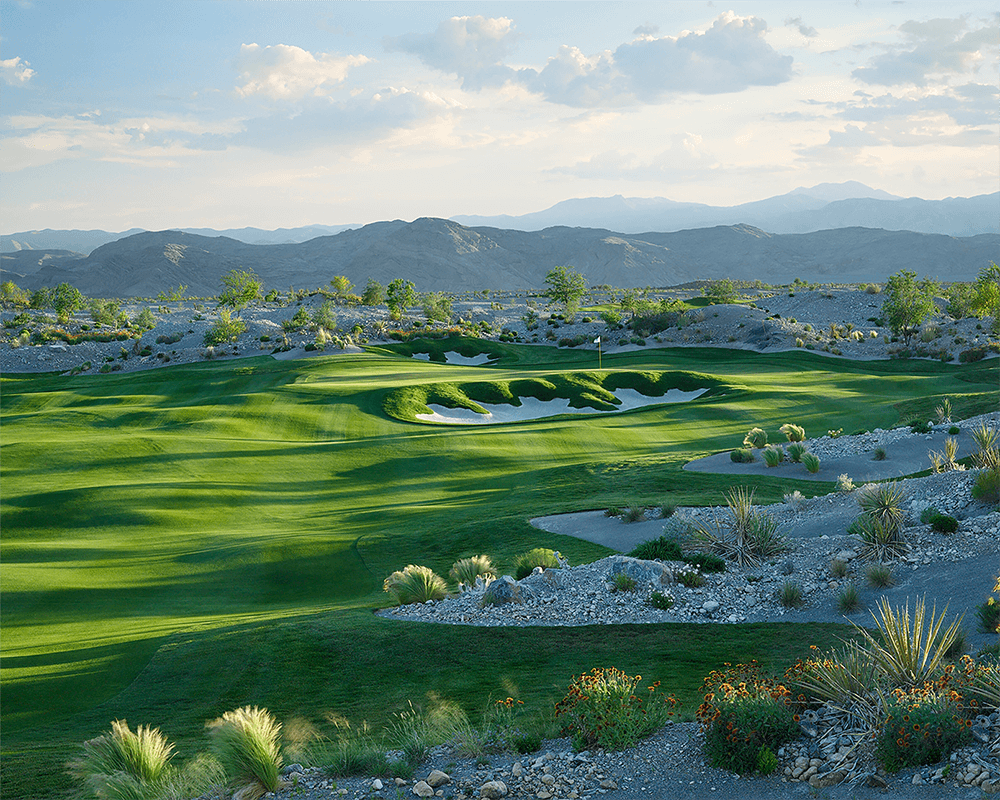 Waking up early in Las Vegas is to find oneself in a quiescent, sun-drenched limbo. What is there to do except sit by the pool and try to remember how you got back to the hotel last night? Which is why this glitzy desert outpost is a dandy place to hitch up the stallions and golf the day away. Either that or read a book and really look like a whale out of water.
Fortunately, plenty of fast, hard, and sometimes wind-throttled championship tracks abound—and yes, can tend to be on the pricey side. Word is that Steve Wynn's celebrated Shadow Creek will now set you back $1,000 a round, and that the tee sheet is jammed all week long. Thanks to the pandemic, green fees are up considerably, as are rounds per annum. Now if only Scotty Cameron could develop a vaccine for the yips, all would be well with the world.
I failed to play the next day due to morning temperatures in the low 40s and wind speeds gusting around the same, which is why advance planning is paramount when golf-tripping to these parts. March through May is a good bet, and September through the new year is also quite hospitable. Local knowledge? Drink plenty of water and don't tempt the rattlers looking for a stray Pro V1: You're better off counting cards and risking the ire of the reptilian pit boss.
Settling on a golf itinerary that still leaves spare change for Keno might prove a challenge, but affordable options are available. Tune up at the family-friendly Angel Park facility, where two Arnold Palmer 18s surround Bob Cupp's ingenious Cloud Nine par-3 course, which memorializes famous short holes. The lighted Cloud Nine can be played day or night, as can a 9-hole natural grass putting circuit. And either course up at Anthem's Revere Golf Club, Lexington or Concord, is wallet-friendly yet extremely well maintained and easy on the eye.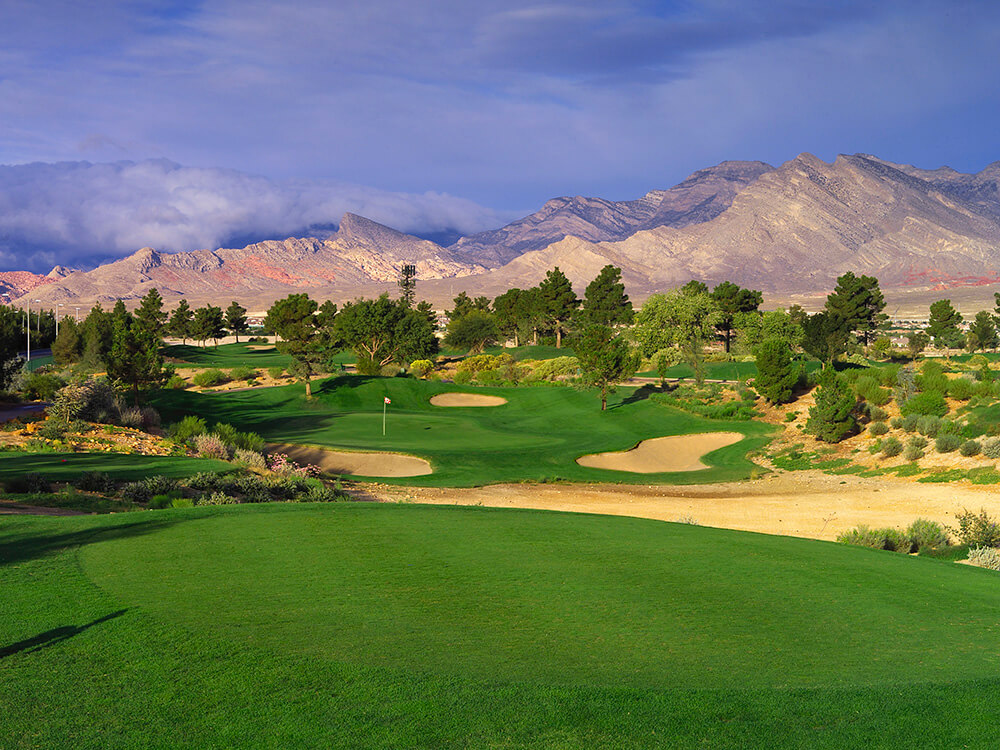 Loosened up a tad, move on to where the big boys do battle. Rio Secco is ever a tough test, despite architect Rees Jones's 2017 effort to soften the layout for "enhanced playability." The Open Doc recontoured greens and added new forward tees to give mere mortals a fighting chance. The dramatic, canyons-and-cliffs routing snakes through an ancient riverbed while offering Instagram-worthy views of the Strip some 20 miles distant. And Butch Harmon's flagship school awaits those in need of swing maintenance or repair.
A triple dose of 100-proof Pete Dye can be "enjoyed" half an hour northwest of the city at Paiute Golf Resort, including the fearsome 7,604-yard Wolf course, a hard-and-fast desert design with ample risk and damnably little reward. The upside to all that glorious pain and suffering? No 18-wheeler traffic or garish mob mansions girding the fairways, and massive landing areas that compensate for the raw power required to notch GIRs. And at around $80 clams during the week (offseason), it's a misdemeanor steal.
Fans of Nicklaus-designed tracks are in luck here, as well. Bear's Best comprises 18 holes Jack curated from his gazillion designs worldwide. Reflection Bay in nearby Henderson is lushly landscaped, featuring three waterfalls and beaucoup views of Lake Las Vegas. Coyote Springs—an hour's drive from the Strip—is arguably the Bear's actual best in the area, a serenely green, mid-desert oasis in what was supposed to be a bustling development, but which never quite materialized. Water comes into play on 11 holes and errant approaches are veritable cactus magnets. Long trousers are advised.
Of course, there are other local diversions besides one-armed bandits and leggy showgirls. Lake Mead Cruises does paddle-wheeler tours of Hoover Dam, replete with champagne brunch on Sundays; Red Rock Canyon National Conservation Area offers a variety of austere hiking trails; and a visit to the Mob Museum downtown helps explain how Las Vegas went from a one-horse town to the Cosa Nostra's personal piggybank. Al Capone's .38 Smith & Wesson revolver is on display, as are several Tommy Guns and a ticket stub from the reportedly rigged 1919 World Series. Now, that's what I call art!
Las Vegas fine dining used to be oxymoronic, but now there are more gourmet byways than you can shake a croupier's stick at. Mott 32 at The Venetian is rightfully known for applewood-smoked Peking Duck and elegant mise-en-scene; Night + Market at the Virgin Hotel is an L.A. import with an ambitious Thai menu; and the downtown Arts District reveals the city's bohemian side, with celeb chef Bruce Kalman's SoulBelly BBQ attracting hipster hordes in search of the perfect brisket. Legit.
As a grizzled Social Security beneficiary, I can't rightly hold forth on the venal diversions available to those with a taste for deafening nightclubs and ranches of ill-repute. Hey, even Cirque du Soleil is too much excitement at my age! Alas, the Vegas I once knew has changed, having lost its tacky charm and rough edges. But do take heart: While Elvis has indeed left the building, Carrot Top is still manning the confetti cannon at the Luxor and Wayne Newton—as ever—holds forth at the Flamingo. Will wonders never cease?
Final words of advice: Never buy insurance at the blackjack table, and don't double down with a pair of fours. Play the penny slots for the free drinks and then hit the nightclubs, avoiding the live entertainment tax on overpriced, watered-down cocktails. And, oh yes, the good Mr. Beallo confided in me that all putts don't necessarily break toward Caesars Palace. That's the kind of insider information I came to town for. Thanks, Ray. You got a marker on me, pal.