The "buddies' trip" has long been high on the list of golfers' favorite ways to experience new courses and destinations. But as the Baby Boomer generation has aged, more and more of them are choosing to travel with significant others. And the trend isn't just limited to the golden age set; younger couples are setting off on golf adventures together, too. Couples view these trips as opportunities to explore the world, reconnect, enjoy unique experiences, and leave the stresses of day-to-day life behind. Add in some great golf, sprinkle it with a dash of romance, and you've got the makings of a golf vacation that will long be remembered.
Gordon Dalgleish, President and Co-Founder of golf tour operator PerryGolf, says their company is seeing an increase in couple's trips coming out of Covid.
"We're seeing more couples travel on our customized trips to the British Isles, and our long-haul destinations like New Zealand and Australia are starting to pick back up, as well, after the pandemic," says Dalgleish. "Our cruise program has historically been more couples, whether it be two golfers or one golfer and one non-golfer. That has also shown a healthy and quick recovery." Dalgleish reports that PerryGolf customers on couple's trips tend to go for higher-end hotels, and to schedule fewer rounds of golf and more off-course experiences.
Golf cruises are particularly good for couples, Dalgleish says. For one thing you're only unpacking once—your hotel is traveling with you. And the cabins and service levels aboard the 700-passenger (or smaller) Azamara line ships they partner with are excellent.
Planning a couple's trip is a little bit different from mapping out a getaway with your pals. Because in this case, you actually have to care about what your traveling companion wants! If you're both equally golf-rabid, it's easy to plan a trip that's all golf, all the time. You just pick a destination, choose your resort/hotel and your course list, and get it booked. It's more likely, though, that you'll want to include a mix of on-course and off-course activities. Maybe you're both history buffs. Or foodies. Or oenophiles. Maybe you'd like to include wellness activities such as spa days. Or maybe some golf interspersed with a few relaxing days on the beach is what the doctor ordered.
Fortunately, the golf travel options for couples are many and varied. Here are some things to consider and a few recommendations for planning the kind of trip that will leave you both smiling.
Things to Consider in Planning Your Trip
DIY or a Tour Operator?
If you're planning a short trip or a domestic one to a place you know, you can probably handle making the bookings yourself. Otherwise, give strong consideration to using a tour operator. It may cost a bit more, but you'll have all of their resources to help you should you run into a snag. And tour operators know their destinations, so they can advise you on the best hotels, restaurants, and things to do in the area.
Which Hotel?
What does your hotel offer? Does it provide ground transportation to/from the airport? Does it have a spa? Does it have relationships with area courses that can yield package deals? What is the dining like—is there more than one restaurant so you don't feel like you're eating in the same place all the time? What do the rooms offer in terms of space, bedding choices, and room amenities? And perhaps most important—does it have a good reputation for friendliness and high service levels?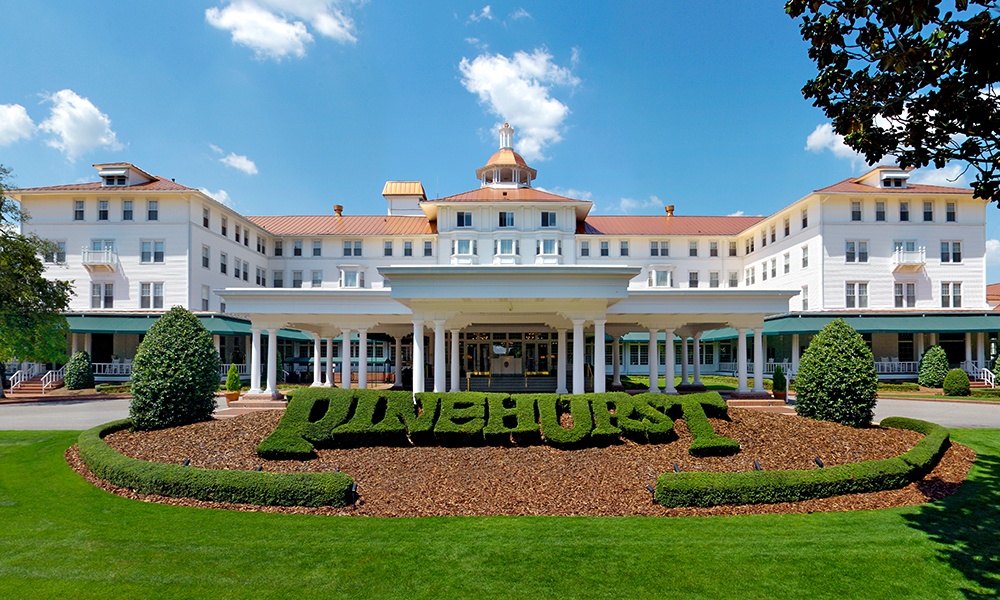 Which Courses?
Do the courses you're considering suit the games of both players? Do they have appropriate tees for both of you? Can you get tee times early or late in the day so that you have time to do other things? Is there good dining in the clubhouse for a breakfast before golf or drinks and dinner afterward?
Local Knowledge
Make sure to purchase an updated guidebook and bring it with you, and download local information apps that can help you make the most of your time at your destination—including language apps if you're traveling to a country whose language you don't speak.
Should You Ship Your Clubs?
Airlines can be hit or miss getting golf clubs to their destinations on time. Arriving without them can ruin a golf holiday. Consider using a service like ShipSticks so that a) you don't have to lug your clubs through airports, and b) they'll be there when you need them.
Types of Couple's Trips to Consider
Golf Cruises
We'll start with this one, because as Dalgleish mentions, they're very popular with couples. PerryGolf and partner Azamara can take you and yours to more than 15 destinations by boat in 2023, from the British Isles and Japan to the Arabian Gulf and the Land Down under. Pre-cruise options like safaris and included experiences like Open Championship tickets are available on some cruises. Kalos Golf is another golf cruise provider which has its own long list of options, including golf cruises to Sicily, New Zealand, Normandy and southern England, or one on the Danube that visits Germany, Austria, and Hungary.
Golf & Spa Vacations
If you and your beloved are in the mood for some serious pampering along with your golf, you've got a lot of great choices. The spa at Georgia's luxurious Sea Island Resort truly has it all—including unique treatments like cryotherapy. The Spa at Pebble Beach is just as superb as the resort's namesake golf course; it's one of only 90 spas in the world to receive the coveted Forbes Five-Star Award. In the Ozarks, visit Big Cedar Lodge and enjoy their signature Cedar Creek Spa experience and other rustic and relaxing offerings. Overseas, places like Gleneagles in Scotland, the Mukul Beach Golf & Spa Resort in Nicaragua, and the Gloria Golf Resort in Turkey are other can't-miss destinations.
Golf & Beach
Sometimes you just want to do nothing (other than play a little golf). At Cape Cod's Wequassett Resort and Golf Club, you can spend the morning on private Cape Cod National Golf Club and tan to your hearts' content on quiet beaches in the afternoon. Hilton Head is another perennial golf-and-beach destination, as are Myrtle Beach and Kiawah Island with its five stellar courses including the Ocean Course. In California, Santa Barbara and San Diego offer gorgeous beaches along with year-round golf right nearby. And then there's Hawaii, where the black sand beaches are as alluring as the golf holes that thread their way through the volcanic seafront landscape.
Golf & Rail
Rail travel has long been one of the most romantic ways to get around. Pair it up with a few rounds of golf and you've got a trip you'll wish would never end. If you're headed to Scotland to play some of the Open rota courses (or other of Scotland's superb links tracks) cap off the visit by spending a week together on the Belmond Royal Scotsman, one of the most luxurious trains in the world. Each trip through Scotland's incredibly scenic landscape includes just 35 guests who ride the rails in the lap of luxury, with stops along the way to see castles, whisky distilleries, and other sights. The train has two dining cars, each offering wonderful seasonal menus—and wine lists to die for.
Couples Tournaments
Are you and your significant other competitive? Why not play in a couples' tournament together? Each October, Casa de Campo in the Dominican Republic hosts its annual Couples Golf and Spa Retreat, which includes three rounds of golf (one on the famed Teeth of the Dog course), two massages per player, unlimited drinks, and a lot more. There's also the annual LINKS Invitational at Casa de Campo in October, featuring unlimited rounds of golf and tournament play. At Pine Needles in Pinehurst, N.C., the Couples Jamboree sells out quickly every year and includes three rounds on its celebrated course. Alabama's Robert Trent Jones Golf Trail hosts a Couples Classic each year, too, with lodging at the Marriott at Grand National. And the Colonial Williamsburg Resorts hold their own couples' funfest on their Green and Gold courses.
The Golf Honeymoon
Could there be a better way to start off a life together? If you're both keen golfers, take advantage of the time off the world gives you to honeymoon by booking into a resort that offers world-class golf. Choose one in Mexico's Los Cabos or Riviera Maya. Or book the honeymoon suites at Omni Amelia Island Resort in Florida, Mauna Lani in Hawaii, or the Omni Mount Washington Resort in New Hampshire. Want to venture even farther afield? How about Fancourt in South Africa, Barnbougle Dunes in Tasmania, or The Ritz-Carlton Abama on the magical island of Tenerife. All of these resorts have great honeymoon packages, and golf to match.