From the 12th green at Dundonald Links, you can see at a glance what makes Ayrshire one of Scotland's premier golf destinations: proximity. As you step onto the sloping putting surface of this challenging par four, you can look out over not just several holes of the Kyle Phillips-designed (and highly underrated) Dundonald Links course, but the two neighboring courses of Kilmarnock (Barassie) and Western Gailes golf clubs, too—both so close you could play to them with a short iron. From the air, the three might appear to be one large golf resort if not for the railroad tracks that run through the middle of them. The trains that whizz by golfers as they take on these pure links courses also skirt two others that you'll want to play: Prestwick and Royal Troon.
Whether you arrive for your tee times by train, car, or coach, you're in for something special. The courses of Ayrshire are the real deal—historic links masterpieces that inhabit some of the best golfing ground in the world. And the off-course experiences and après-golf amenities in the area are just as special.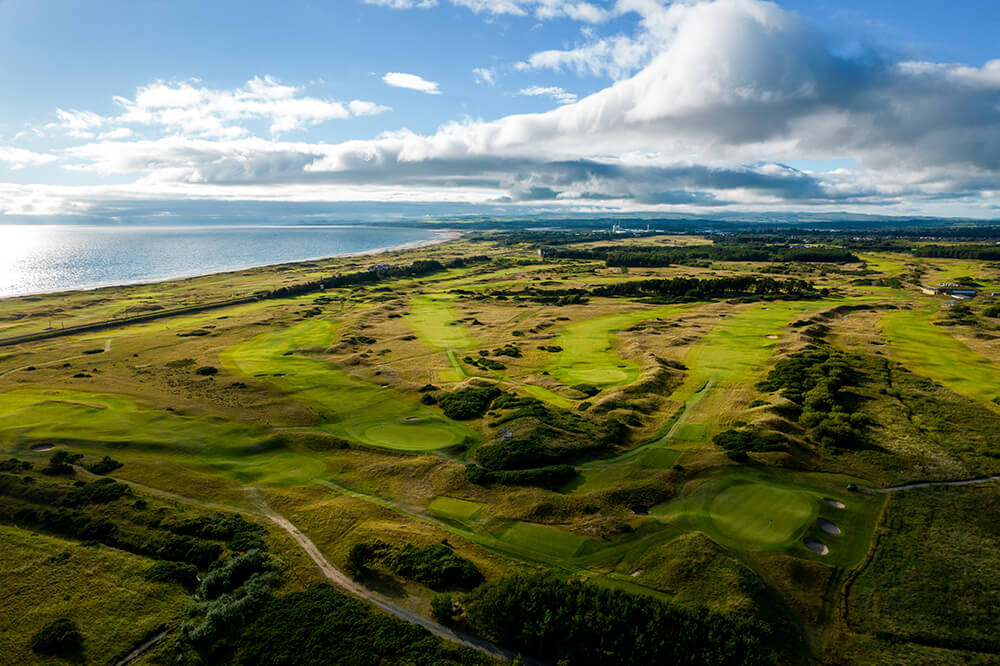 From Glasgow Airport, Ayrshire is but a short hop to the south. Step off the plane at 9 a.m. and you can be on the tee at any of its courses by noon. Here are my recommendations for a trip that will let you experience the best of Ayrshire.
DAY ONE—Check into Dundonald; Play Dundonald Links
From the airport, navigate your way through umpteen roundabouts en route to Dundonald, whose stellar modern links course has recently been joined by a village of luxurious standalone lodges and a clubhouse whose list of creature comforts have made it the envy of Western Scotland. Whether you're traveling alone or with a group, these two-, four-, and six-bedroom lodges are an ideal place to bivouac. You'll even find three putting greens in the village—perfect for postprandial putting contests. The resort's beautifully designed clubhouse doesn't disappoint, either. Its well-stocked pro shop, locker rooms with steam and sauna, gymnasium, and other amenities offer a pro-level experience, while its top-floor Canny Crow restaurant serves up deliciously creative cuisine in four distinct and colorful dining areas, so you never feel like you're dining in the same place twice.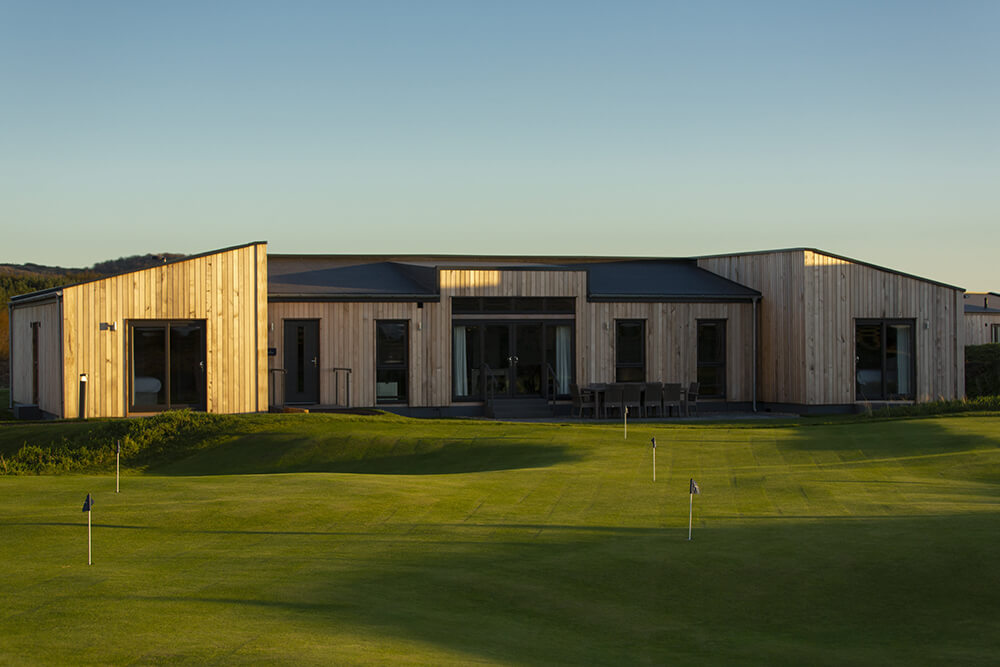 As good as the new Dundonald Resort is (and it is truly top shelf all the way), the golf course there is equally spectacular. It debuted in 2003 as the winter course for members of the super-exclusive Loch Lomond Golf Club and no expense was spared in its creation. This is every inch a true championship course, as evidenced by its hosting of the Scottish Open in 2017 and Ladies Scottish Open from 2015–2017, with Final Open Qualifying scheduled to come in 2024. Phillips routed the course through the property's low dunes in a masterful way, creating a track where no two holes are anything alike. As you thread your way down its tumbling fairways and betwixt and between its numerous revetted pot bunkers, you'll enjoy a smorgasbord of challenges. The fairways here are generous; but as you near the greens, many of which are elevated and sharply sloping in spots, you'll need to be dialed in. Nowhere is this more evident than at the testing par-three 11th, where the tabletop green is protected by three deep bunkers in front—with another even deeper pit of despair located down the slope at the back of the green.
Another thing that makes the course at Dundonald the best place to play when you've just gotten off the plane: the availability of golf carts. Dundonald is an easy walk, as most of the courses in the area are. But when you're teeing it up after just a few hours of sleep, riding for your first round (or second round of the day) can be a welcome thing.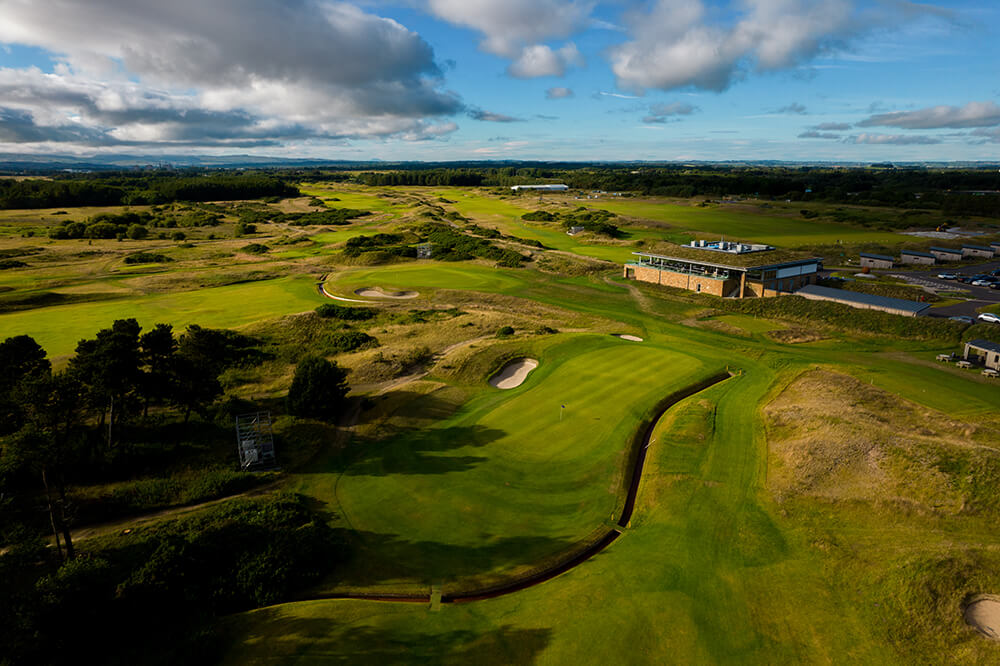 When you venture up to the Canny Crow for dinner after your brisk days on the links, be sure to pay a visit to its Whisky Room, where in addition to more than 100 single-malt whiskies you'll see one very special cask. It's filled with the world's last remaining supply of Bunnahabhain 1980 Vintage Canasta Whisky—a must-taste for whisky connoisseurs, who come from all over the world to sample it here. Should you be in the mood for a cigar, the resort has an arrangement with Robert Graham 1874 that lets you pre-order premium cigars for yourself or your group. It's just one of the nice touches you'll find at this new world-class resort, which is set in a quiet, peaceful environment brimming with wildflowers.
DAY TWO—Play Royal Troon
Stepping into the clubhouse at Royal Troon is like traveling back in time. As you walk its hallways, you feel as if you're in a museum. There you'll see a replica of the Claret Jug and framed letters from Gene Sarazen and other luminaries who have competed over these storied links. And the trophies—an entire wall is adorned with trophy cases whose shelves are gleaming with silver. But it's the course that you're here to see, and it won't take you long to understand why the Open Championship is contested here.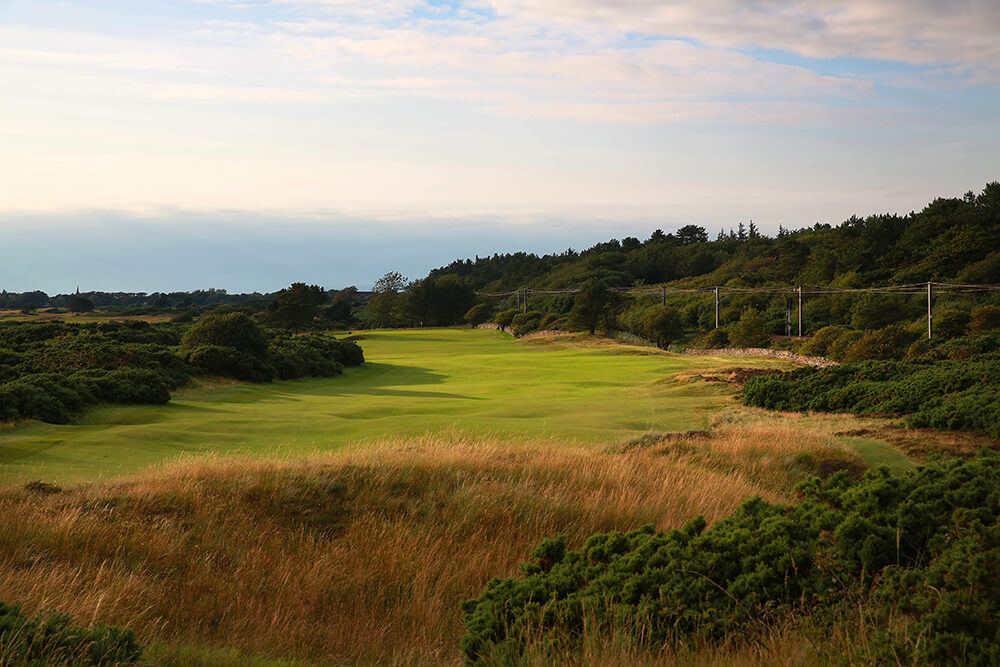 After several well-bunkered holes that play right along the shoreline, you come to the downhill-then-uphill 7th hole, a gem of a par four whose green is tucked between two dunes in its own private dell. Next comes the "Postage Stamp," the short par three that's one of golf's most famous make-or-break holes and features a handful of treacherous bunkers of its own. From there, it's one good hole after another, including the long par-four 11th, the famed Railway hole. More strong holes with vexing greens take you all the way past the recently (and beautifully) upgraded Marine Hotel to the clubhouse, which sits just a few paces behind the 18th green, where Henrik Stenson put the final nail in the coffin of Phil Mickelson's Open Championship hopes in 2016 by rolling in a birdie putt for a final-round 63 and a tournament record of 20-under par. The Open returns to Royal Troon in 2024—book your visit now!
DAY THREE—Play Prestwick
Speaking of history… Prestwick is where the Open Championship got its start in 1860 on a 12-hole course designed by Old Tom Morris. The first 12 Opens were held there, with Old Tom and his son, Young Tom, winning four of those competitions each. The course you play today is 18 holes—holes that are little changed from the extended course the club created in 1882.
To fully enjoy Prestwick requires an appreciation for antiques, for that's just what this course is. There are blinds shots, heartbreaker bunkers, quirks galore, and hole designs that befuddle, bemuse, and amaze. The opening hole, a skinny par four, plays within a few paces of the railway line. The par-five 3rd hole requires that you avoid the massive (and mostly hidden) Cardinal bunker, as well as the Pow Burn that runs all along the right side of the fairway. The famous 5th hole, "Himalayas," is a 206-yard, uphill, blind par three over a dune that requires equal measures of skill and optimism. The 15th hole, "Narrows," is a hole that would never be designed today, which is what makes it such raucous good fun. It demands total precision on both your tee and approach shots to avoid losing a ball. And at the 17th, "Alps," you'll need to execute a strong drive and a blind second shot over a massive dune that must also carry the sprawling (and staircase-deep) Sahara bunker to reach the putting surface. The last Open Championship at Prestwick was held in 1925, but it remains a great test for any player who appreciates the history and unique challenges of links golf in its original form.
DAY FOUR—Play Western Gailes
They've been playing golf at Western Gailes since 1898, and many of the holes you'll play today are little changed from what the club's founders created. The club has hosted many national and international championships, including the Curtis Cup—so it's a serious track. From the opening tee shot, which plays up and over a hill to an elevated and well-protected green, you know you're in for something special. Western Gailes is a stern test, especially when the wind is coming from the south. The first four holes play along the railway line and include a series of visually interesting and challenging par fours, both long and short. At the 5th, the course does a 180 and plays along the shoreline for the next nine holes before doing another about-face and returning to the clubhouse. If the wind is in your face on this seaside stretch, you're in for the fight of your life, but it's a battle you'll long remember fondly.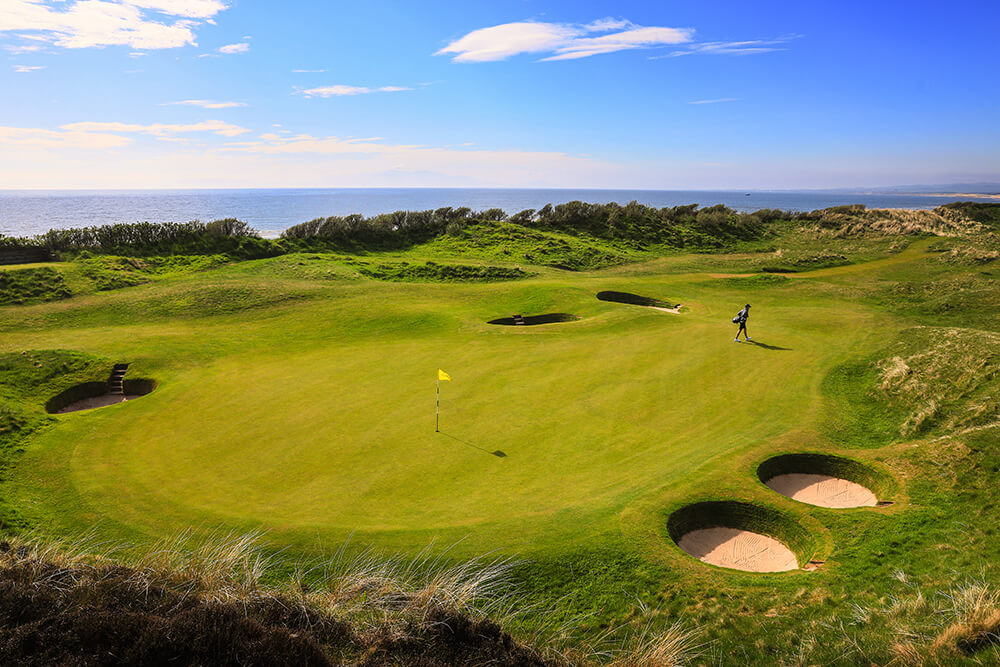 Great holes abound at Western Gailes—with none more picturesque than the brilliant par-five 6th, whose green is tucked behind a sentinel dune, and the testing par-three 7th, which plays downhill to a small green set in a well-bunkered hollow. The two closing holes are equally invigorating, with the 17th calling for a blind second shot to a heaving green and the closing hole demanding two precise shots to end your day with a par. Western Gailes may not be as famous as its Ayrshire neighbors, but it deserves to be. No golf trip to Ayrshire is complete with taking on this beautiful and historic links.
DAY FIVE—Play the Ailsa Course at Trump Turnberry
You'll need to proceed farther south to get to the village of Turnberry, where the mighty Ailsa course awaits. But go there you should. The Ailsa has always been one of Scotland's most scenic and challenging courses—and the course improvements ushered in by Martin Ebert in 2016 have only made it better. The 4th through 11th holes hug the shoreline of the Firth of Clyde, offering glorious views out toward the famous Ailsa Craig. But you'd be advised to keep the sightseeing to a minimum and focus on the work at hand. This may prove difficult, though, especially at Ebert's reimagined 9th hole, a long and demanding par three over a corner of the ocean to a green set in the shadow of Turnberry's famous lighthouse. (That lighthouse now includes a lavish two-bedroom suite that has to be seen to be believed.)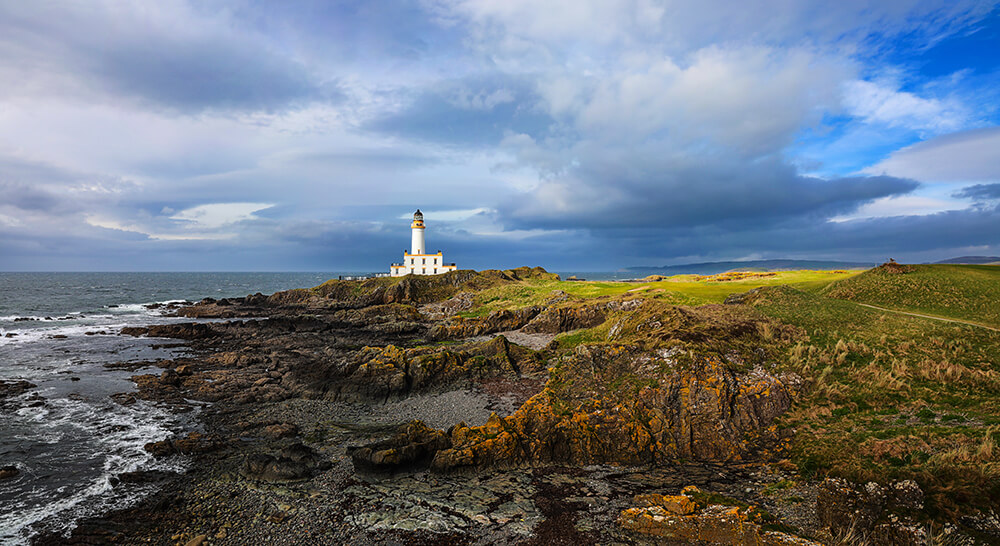 The redesigned 10th, a sweeping par five that skirts the rocky shore, and the dramatic par-three 11th are equally stunning to behold and to play. And even though the course moves away from the shore after that, you'll face one great hole after another as you make your way to the 18th green, where the "Duel in the Sun" between Jack Nicklaus and Tom Watson came to its dramatic end in 1977. While you're at Turnberry, don't miss the chance to play the resort's King Robert the Bruce Course, another Ebert creation. The views of the coastline from its twisting fairways and rolling greens are as good as they get in golf.
While You're in the Area…
It's been said that man does not live by golf alone. That's an opinion that may be contested by visitors to these parts, but it's also true that Ayrshire is home to centuries of history and many off-course attractions. One of these that you should definitely consider visiting is the Robert Burns Birthplace Museum, where you can tour the thatched-roof cottage where Scotland's national bard was born and view more than 5,000 artifacts that tell the story of his life and works, which include Brig O' Doon, Auld Lang Syne, and Address to a Haggis. Speaking of haggis—no trip to Scotland is complete without at least sampling this spicy, traditional Scottish dish. Just make sure to have a wee dram of whisky handy when you do.