"Links". A strange word it is: a singular noun ending in s and rhyming with jinx, minx and perhaps most appropriately, sphinx. No wonder there's confusion.
According to the Oxford English Dictionary, links first appeared in print in 931 as hlincas, plural of hlinc, or ridge. Over the ensuing millennium, some major etymological earthmoving took place, and by the 18th century links had adopted two new meanings, both connected to golf.
The first described a tract of open ground held in common by towns for a variety of recreational purposes. A 1651 text refers to Dornoch as "the fairest and largest linkes of any pairt of Scotland, fitt for archery, goffing, ryding, and all other exercise."
The other definition cited links as a golf course—any course, whether beside the sea or not. Dating from 1761, the world's fourth-oldest golf club is the Bruntsfield Links Golfing Society, which held its first competitions in the shadow of Edinburgh Castle—three miles from the Firth of Forth. Horace Hutchinson, winner of two of the first three British Amateurs and one of the game's first great chroniclers, described the English courses at Blackheath and Wimbledon as "inland links."
Today the "common land" definition is obsolete. As for "any course," the meaning survives largely among the lighthearted ("Honey, I'm off to the links.") and golf-ignorant ("What links are they playing the Masters on?").
A modern meaning has taken hold, a definition not so much of links as linksland, the ground on which a proper links lies.
According to the British Golf Museum, "a links is a stretch of land near the coast, on which the game is played, characterized by undulating terrain, often associated with dunes, infertile sandy soil and indigenous grasses as marram, sea lyme, and the fescues and bents which, when properly managed, produce the fine textured tight turf for which links are famed."
Creation of linksland
Now that we've settled that, a second question arises: How did this humpy, fruitless, sand-strewn landscape come to be the incubator of golf?
Chalk it up to global cooling, namely the Ice Age, when a sheet of ice 4,000 feet thick and 30,000 square miles in area perched on top of Scotland for 15,000 years. Its weight pressed the ground down while at the same time, ocean water seeped between the ice and earth so the sea level lowered as well.
The cliffs, bluffs and escarpments along much of today's Scottish coastline are the points where the pre-Ice Age waves once crashed ashore. In certain areas, an odd, final tier took shape, less than a mile from the beach—a narrow strip of uneven, sand-based land that became a nesting and breeding ground for seabirds.
The birds left their droppings, which enriched the soil with a fertile top layer. They also dropped seeds, and in time a short-bladed grass called fescue took hold in the low-lying areas while thick, prickly bushes and wispy grasses stabilized the shouldering dunes.
This soil wasn't rich enough to sustain crops, but it was ideal for grazing. At the same time, the animals burrowed and scraped into the leeward sides of the dunes, creating blowouts that the wind enlarged into sand pits—bunkers.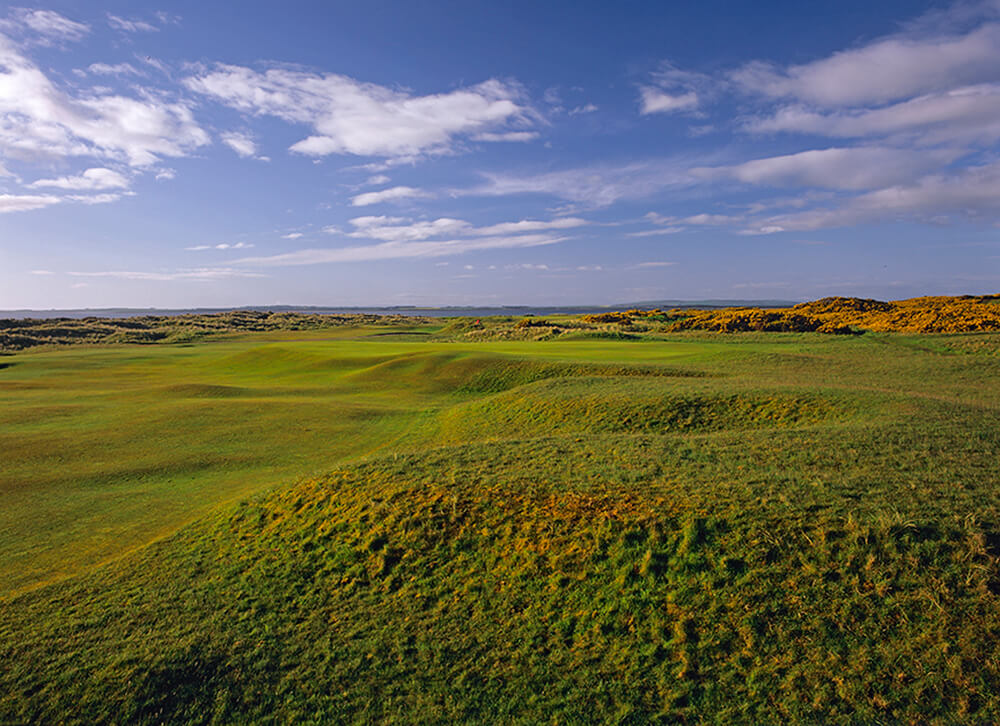 Starting six hundred years ago, in and around the towns of Scotland's east coast—from Dornoch in the far north down through St. Andrews to Leith and Musselburgh in the south—people began to play golf in this dunescape, developing and evolving holes over the centuries.
Thus the first links were born. In the words of Sir Guy Campbell, author of A History of Golf in Britain (1952), "nature was their architect, beast and man her contractors."
Now, there are those who feel the current definition is too broad, that a true links should meet more stringent criteria, like:
1. It should be alongside a river estuary.
2. It should offer at least partial or occasional views of the sea.
3. It should have few if any trees.
4. It should have numerous bunkers.
5. Its two nines should be routed out and back, the front heading to a far point and the back returning to the clubhouse, in the general manner of the Old Course.
These are all fair points. Under such standards, however, numerous venerable courses fall off the list. Turnberry has no neighborhood estuary; Royal Birkdale has zero views of the sea; Carnoustie has numerous tall trees; Royal Portrush has few bunkers; and Muirfield's 9th hole returns smack to the clubhouse.
Indeed, an argument can be made for relaxing rather than tightening the definition of a links, based less on looks and more on how it plays. And links, to be sure, play differently from all other courses.
Qualities of links
Since the original links just unfolded on the terrain—they weren't sculpted like today's courses—there's little in the way of definition. Bunkers frame few fairways and greens, and dogleg holes are uncommon. The terrain is raw and erose, full of blind shots, hilly lies, deep pits of sand and steep slopes clogged with snagging shrubs.
Because linksland is sand based, it has a wonderfully pliant quality. Somehow soft and firm at the same time, it's easy on the legs and yields just the right amount to the blade of a well-struck iron. As five-time Open champion Peter Thomson has said, "The thrill of squeezing a ball against the firm turf, trying to keep it low into a buffeting wind, is something that lingers in the mind forever."
The firm ground also allows for long drives, especially downwind. But accuracy quickly becomes an issue—a powerful poke that bounds through the fairway into thick grass or sand brings no advantage. Even from an ideal lie in the fairway, approaching the firm greens is a challenge. Said Bernard Darwin, "In its most charitable mood, the ground never helps the player, and that is an immense virtue. When the ground is hard, it is not merely unhelpful but 'aye fechtin' against ye.'"
The firmness of the fairways and greens is the legendary links' last defense against today's power players. Tiger Woods recognized the challenge last year at sun-baked Hoylake, where he staged a clinic in intelligent golf, using irons off most tees to avoid the bunkers and rough, and accepting long birdie putts rather than firing at pins he knew he had little chance of approximating. Precision, not power, prevails on a links.
For us mortals, it's about establishing our ground game—running the ball in with a mid-iron or utility club from 60 yards or so rather than wedging it, and putting from well off the green.
Choices abound
Fundamentally, links golf is about options. In contrast with parkland golf, where a poor shot into water or trees takes you out of the hole, on links courses there is almost always a way—sometimes three or four. As Henry Longhurst wrote of the Old Course, "On every shot, whether a short pitch or a full drive, you must step back and say, 'Wait a minute, what exactly do I want to do here.'"
Options, choices, decisions. Bobby Jones, one of the first Americans to sing the praises of links golf, said, "There is always some little favor of wind or terrain waiting for the man who has judgment enough to use it, and there is a little feeling of triumph, a thrill that comes with the knowledge of having done a thing well, when a puzzling hole has been conquered by something other than mechanical skill."
There is no truer test of one's game—or oneself. No wonder the links formula has been imitated so widely. As early as 1910, five-time Open winner J.H. Taylor imported links features to a parkland course, introducing mounds and humps to Royal Mid-Surrey, a layout Bernard Darwin previously had described as "flat as a pancake."
This idea became known as alpinization. At about the same time, A.W. Tillinghast tried it at Shawnee Country Club in Pennsylvania. The idea was short-lived, especially after modern machinery enabled designers to use a broader brush that brought more subtlety.
Importing links
Pete Dye has spent nearly half a century importing the gambits he saw on Scottish links—from pot bunkers to blind greens to "sleepers," the wooden planks that shore up the famed island green of the 17th hole at TPC Sawgrass. Today's minimalist architects, by creating holes emerging from the terrain rather than stamping them upon it, also pay homage to the original links.
Indeed, some of America's most highly regarded courses incorporate features derived straight from the links, beginning with Augusta National and Pinehurst No. 2. Sadly, the U.S. is also home to many less successful imitations. More than 300 American courses have names that incorporate the word links, and only a handful of them play remotely like links.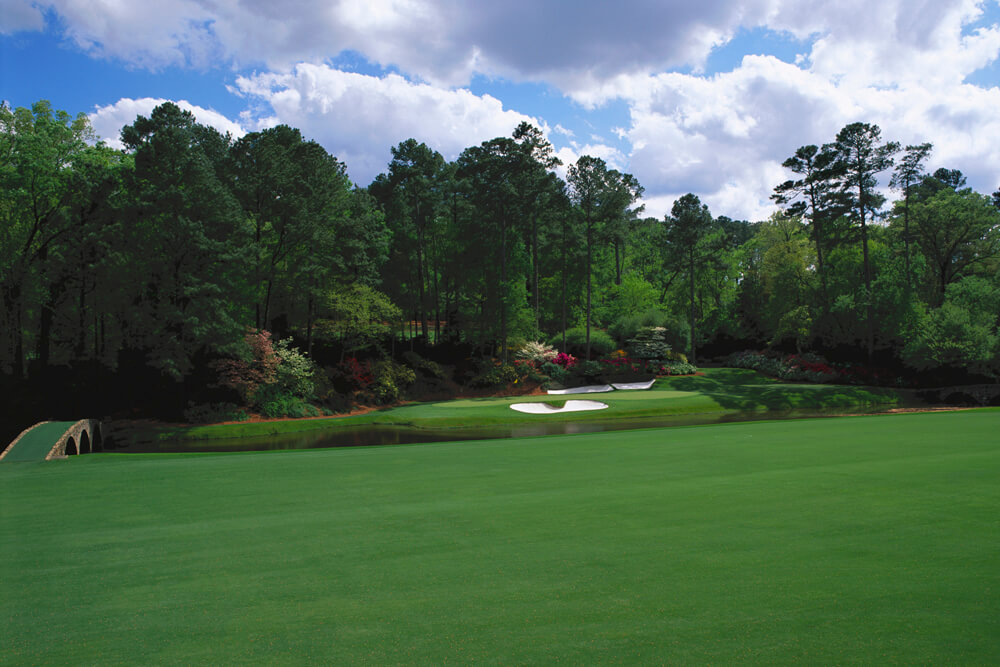 On the other hand, it is possible to duplicate—or nearly duplicate—links conditions in the U.S. and elsewhere, even in areas nowhere near the sea. Prairie Dunes and Sand Hills are in American's heartland, yet could be in Fife or Ayrshire. Courses such as these compel us to wrestle once again with the definition. If it looks like a links and plays like a links, maybe it should be a links, regardless of when, where and how it came into being.
After all, can anyone say Newport Country Club, site of last year's Women's U.S. Open, with its seaside setting and fast-running, unwatered fairways, is less a links than England's Formby, where most of the holes are bordered by trees? What about the great triumvirate on eastern Long Island: Shinnecock Hills, National Golf Links and Maidstone? All look, feel and play like links, right down to the buffeting coastal winds. Then there are Australia's great sand-based courses: Royal Melbourne, Kingston Heath and Royal Adelaide. Who can deny that they provide a true links experience?
Among the most revered modern courses is Kingsbarns—20 minutes from St. Andrews and overlooking the North Sea. But a few of its holes are set on clay-based farmland. Is it a true links? How about the new Castle Course at St. Andrews—with almost no sand under its fairways?
These are all worthwhile questions, and LINKS is excited to be the first to announce a group that will have some answers: the newly formed Links Association, a non-profit group dedicated to the promotion, preservation and protection of links golf.
Links Association
Founded by Brian Keating, developer of Scotland's new Machrihanish Dunes, and Malcolm Campbell, former editor of Golf Monthly (U.K.), the association will be made up of the owners of the world's links. Its first task will be to reach a definitive, 21st century definition of a links; its second will be to apply that standard to identify the precise number of links courses in the world. (The current estimate is around 270—of the approximately 30,000 courses in the world.)
Already, the association has enlisted onto its board the aforementioned Thomson. One of the most important missions for the group, which will launch later this summer, will be to help protect links courses—from both nature and man. Because of their location, links are vulnerable to the vagaries of weather, tidal movement and climate change. Crail, Dornoch, Nairn, Troon and Turnberry already are battling the elements.
The association also will keep links courses abreast of best practices in agronomy, coastal reinforcement and turf management, and through an annual awards program, will recognize the clubs and courses where the playing qualities of a true links are best maintained.
It's an ambitious project, but one well worth undertaking—for the good of the world's most magical courses and for the sake of defining—once and for all—what we mean by the word links.