Scott McCarron has made the golf course his workplace for nearly 30 years. After turning pro in 1992, McCarron spent two decades on the PGA Tour where he was a three-time champion. While it was a solid 20 years, it wasn't until he ventured into the second act of his career that McCarron reached his full potential.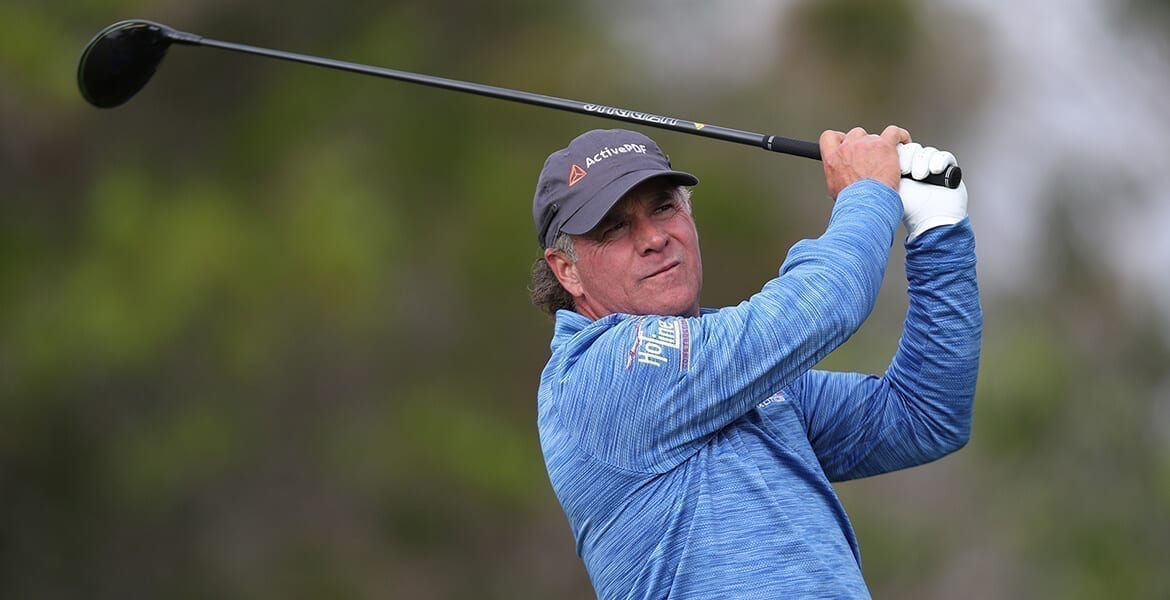 Now 56 years old, McCarron makes his living on the PGA Tour Champions where he's won 11 times since joining in 2015 and is the tour's reigning Player of the Year—he finished the 2019 season with three wins to earn the Jack Nicklaus Trophy along with the Arnold Palmer Award (the tour's money list prize) and the Charles Schwab Cup (the tour's season-long points race).
We caught up with the affable McCarron while he was enjoying a week off at his home in North Carolina. McCarron dished on his favorite spots around the game and offered advice on mastering the family vs. buddy trip balance.
Favorite Golf Destination
Big Cedar Lodge, Branson, Mo.
One of my favorites is turning out to be, of all places, Branson, Mo., and the golf courses that Johnny Morris has built with Jack Nicklaus, Gary Player, Tiger Woods, Coore & Crenshaw, and Tom Fazio. He's created a feeling like you're in the mountains camping, yet you also have five stunning golf courses that are all very different.
I'd also say Bandon Dunes, if I was going to take a group of guys to play for a few days. But for the full experience, I'd say Branson. We're lucky to play there every year on the PGA Tour Champions. I'll go fly fishing, bass fishing, hunt turkeys, and hang out on the lake. They have so much to do there—it's perfect for a family trip. So, I'd say take the family to Branson first, then it makes it easier to tell them you're going on a buddies' trip to Bandon.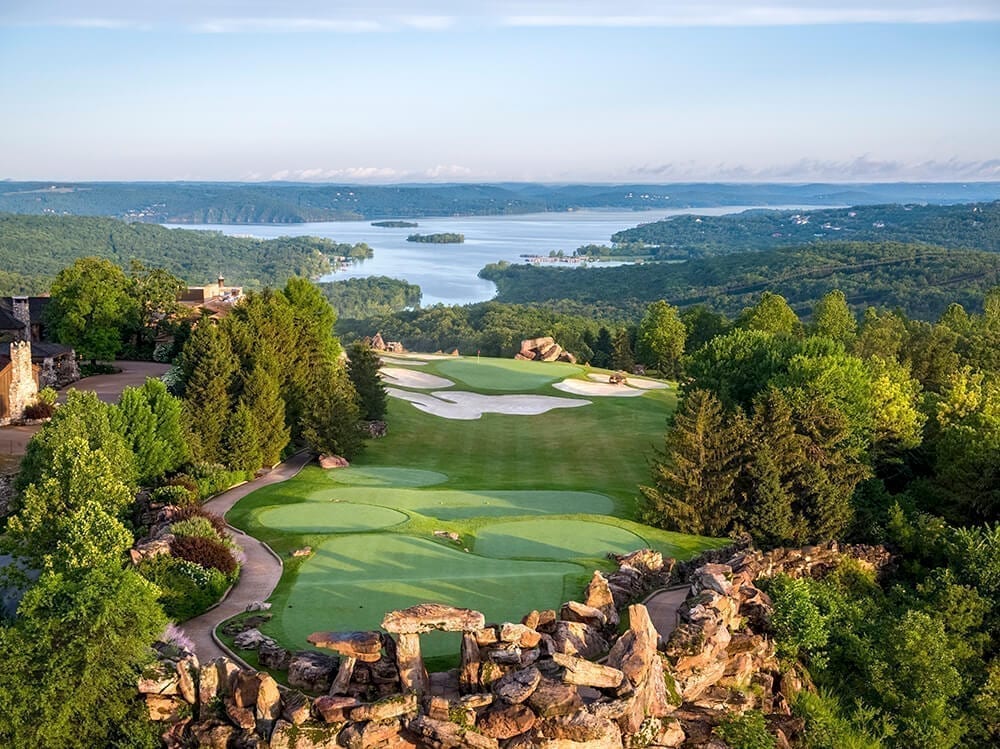 Favorite Golf Course
Pebble Beach Golf Links, Pebble Beach, Calif.
I've got a lot of golf courses on that list, but I would say Pebble Beach is my favorite. I grew up in Northern California and anytime I played Pebble it was special because it meant I won a junior tournament to get there. It's the most wonderful scenic golf course I've ever played.
In a PEBBLE BEACH state of mind ⛳️⛳️😃 @PebbleBeachGolf @attproam @PGATOUR @CityofMonterey #pebblebeachproam #PebbleBeach #montereypeninsula pic.twitter.com/EUloLk0s2v

— Evan Schiller (@Evan_Schiller) February 9, 2020
Favorite Hole
Augusta National, 13th hole, Augusta, Ga.
I have a couple of favorites, but I'd have to say No. 13 at Augusta. That's a hole that I think about before I get there. I love that hole because you have to hit a big swinging hook off the tee and then you have to hit a hold-off fade with the ball above your feet. I love when golf course architects challenge you to hit different shots.
Azalea, the par-5 13th at Augusta National, is perhaps the most beautiful inland hole in American golf. At just 510 yards, the hole does not rely on length for distance – instead, the hard dogleg left, protected inside by Rae's Creek, demands control and precision from the tee.. pic.twitter.com/PVuTLEejig

— LinksGems Golf Photos (@LinksGems) April 19, 2019
Favorite Par Three
Rhode Island Country Club, 17th hole, Barrington, R.I.
One that comes to mind is No. 17 at Rhode Island CC. We used to play the CVS Charity Classic there with Billy Andrade and Brad Faxon. Lee Janzen and I had back-to-back holes in one, and I called it on ESPN!
.@ScottMcCarron made @PGATOUR history at the first ever Charity Classic when he and Lee Janzen sunk back-to-back holes-in-one on the 17th hole at #RICC… can he do it again 20 years later? Come out to #RICC on Monday, June 25 to find out: https://t.co/oBkGsteo3A pic.twitter.com/057Sfs3CAn

— CVS Health Charity Classic (@CVSClassicGolf) June 5, 2018
Favorite Clubhouse
Castle Pines Golf Club, Castle Rock, Colo.
Back in the day, we used to play The International at Castle Pines and the clubhouse was fantastic, mainly due to the locker room guy, Tommy. He was just an amazing guy that made everybody feel so special. He would always have your favorite drink ready for you and treat the guests incredibly. I would hang out there all day long. The milkshakes were amazing and we'd stay around and have dinner afterwards in the club.
It's kind of a throwback to a different time on tour. Now guys have their entourage, their workout guy, the nutrition guy—everyone has a whole team with them on tour. Back in the day, we'd all just hang out together in the Castle Pines clubhouse.
View this post on Instagram
Favorite Practice Facility
Muirfield Village Golf Club, Dublin, Ohio
Sea Island is a pretty incredible piece of property with the range looking out on the water, but what Jack did at Muirfield Village is my favorite. The concept of a driving range that is almost 360 degrees is so unique. You can go drop balls and hit into any type of wind condition. I thought that was a really cool concept.
@SkySportsGolf
Aerial view of Practice Area, Muirfield Village. Designed by Nicklaus to allow practice in all winds. pic.twitter.com/qTOuixoqeP

— Luther Blacklock (@LutherBlacklock) May 31, 2014
Favorite Place to Grab a Post-Round Beverage
Seminole Golf Club, Juno Beach, Fla.
I've got many of them (laughter). I've been fortunate to play Seminole a few times and just sitting in that locker room and having a beer is pretty cool. Now Seminole is kind of a one-beer thing. They don't like loitering.
I also love going to the Tap Room at Pebble. Everybody is usually having a good day after playing, so that's a fun place to hang out.
Favorite Non-Golf Destination
Lake Norman, Mooresville, N.C.
I actually moved to that destination and made it my home. We have a golf course here but it's really a non-golf destination. I come home from being on tour and I feel like I'm on vacation. I look out on the lake and I get my boat and go wakesurfing, fishing, even take my boat to dinner at bars and restaurants. I'm very fortunate to have found a place that I absolutely love.
Here's a glimpse of what a lake day at Lake Norman looks like! #visitlakenorman #lakeday #summer2020 pic.twitter.com/0OvMQAurjP

— Visit Lake Norman (@VisitLakeNorman) September 3, 2020
What of you think of the choices from Scott McCarron? Let us know your favorites in the comment section.