It's not easy getting to the Scottish isle of Jura, but this dramatically challenging layout—which roams from beach to cliffs—is worth the effort
The whispers started in 2010: "Someone's going to build a course on Jura." At the time, I was traveling to southwest Scotland often—to the Mull of Kintyre, home of the two fine links courses in Machrihanish. Along with the recently updated layout at The Machrie on the nearby island of Islay, they're sound reasons for any links golf devotee to venture to this remote part of Caledonia. But Jura? An island whose few hundred hardy inhabitants are outnumbered 10 to 1 by deer? In the words of George Orwell, who finished writing 1984 on Jura, it's "an extremely un-for-get-at-able place." Who would conceive of putting a golf course there?
Greg Coffey would. The Australian financier had purchased the 12,000-acre Ardfin Estate and hired Aussie course architect Bob Harrison, whose first impression of the site was "mind-blowing."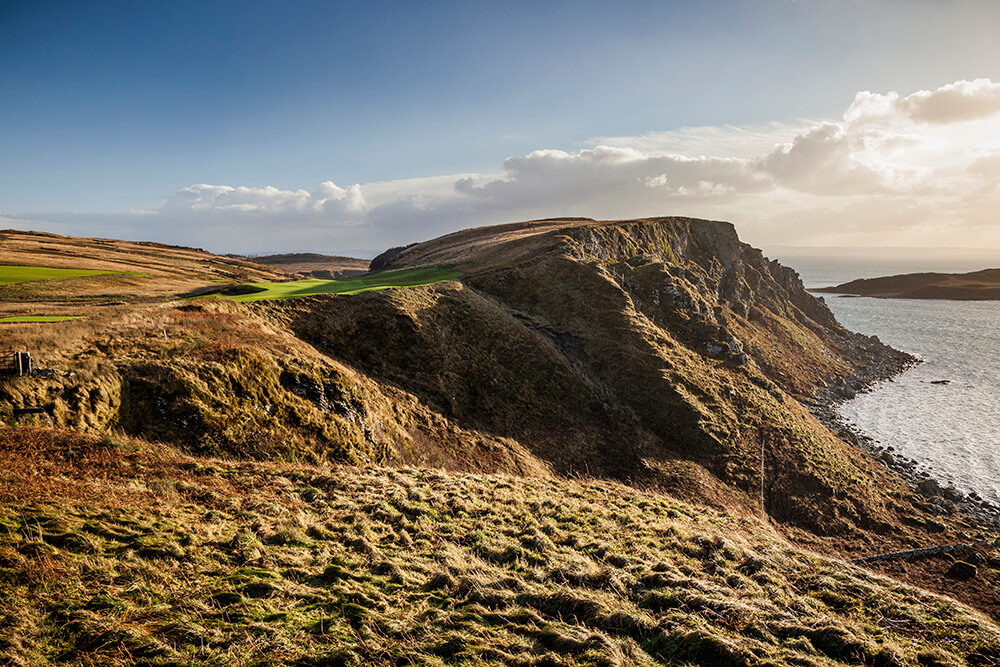 "Apart from being part of a phenomenal landscape, the cliffs had really interesting dimensions," Harrison says, "and the site had variety because you eventually got down to the beachfront. I was pleased to get four of the course's best holes along the beaches. A little further inland was a secondary cliff above these beach holes, and three of the holes play along that internal cliff  and have some of the best views on the course. Some of the holes lie in former farm fields, and there were old stone walls in many of them. I tried to use these walls and to make them fundamental to the strategy of the holes."
At 6,800 yards, Ardfin isn't a punishingly long course. But along with the walls, its numerous forced carries, slopes, burns, strategically placed bunkers, and wide swaths of gorse and native vegetation can make it a two-sleeve afair for even skilled players. And when the wind blows, as it almost always does, Ardfin's challenges come into even tighter focus.
From the outset, it's clear that Harrison put a premium on accuracy. The uphill 435-yard opener features a sharp drop-off to the sea on the right, gorse on the left, and a burn that runs through the fairway—all culminating in a potato-chip green guarded by two bunkers whose chief purpose is to keep your ball from ending up wedged against a stone wall set lower into the hillside.
At the 2nd, a 200-yard par three, you'll have to negotiate a forced carry of some 160 yards to have a chance of reaching the two-tiered green. But here, as in many other places at Ardfin, Harrison has created helpful kick-slopes that smart players will look to use to their advantage.
A handful of short but deceptively difficult par fours start at the 3rd. Players who robotically reach for driver on these narrow testers will generally wish they hadn't.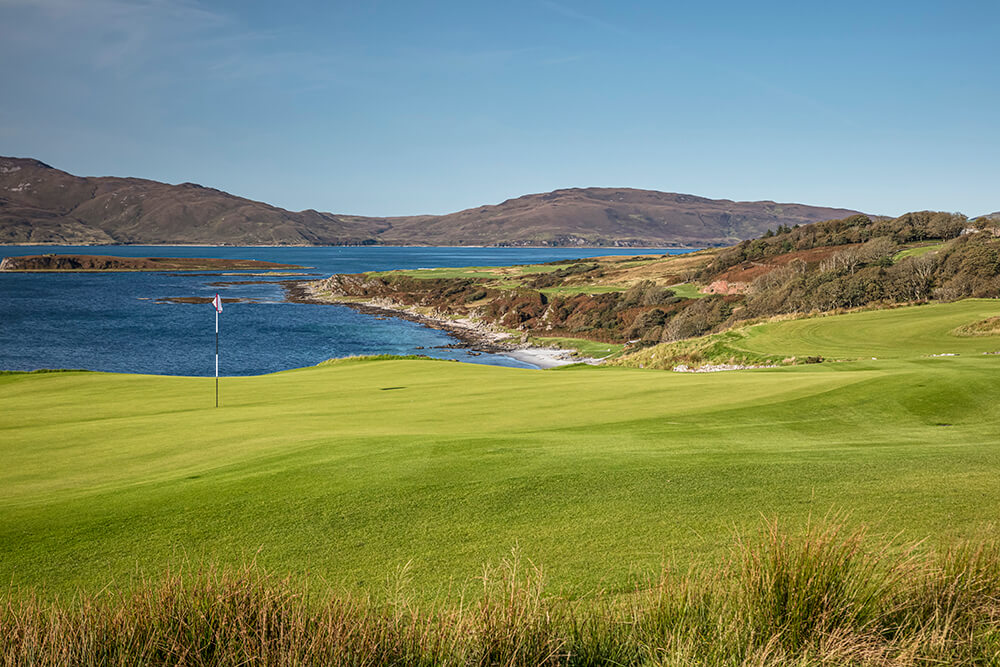 It would be impossible to single out one signature hole. The 200-yard par-three 12th, where your tee shot must carry a corner of a bay, would be one candidate. As would the par fours at 13 and 14, which dance along the shoreline and finish with greens just steps from the beach.
The final four holes are some of the course's most demanding, but they also offer the most majestic views. Suffice it to say, the minute you hole out at 18 you're going to want to play Ardfin again.
To play Ardfin even once, you'll need to stay in one of the 13 posh rooms in the "Quads," a luxury boutique hotel created from an old outbuilding, or reserve the use of stately Jura House to enjoy with up to 19 of your friends. While you're there, you'll definitely want to leave time to experience Ardfin's many other outdoor pursuits, from kayaking and hiking to fishing and deer stalking.
But the best stalking here is for pars. You'll need to be on your game to card very many of them.