The first hole of a golf course is rarely memorable, but it never fails to arouse emotion
Can you think of a patch of ground—on the golf course or anywhere else—that consistently boils up such a complex cauldron of emotions as does the first tee? Hope and trepidation, determination and doubt, impatience and paranoia, excitement and tension. For many of us, it's a case of dueling desires: We can't wait to hit that first tee shot and we can't wait to get it over with. As an aside, I've always wondered why The First Tee, a program dedicated to making the game inviting to kids, would name itself after the single most intimidating place on the course.
Endlessly fascinating, the first tee is, to paraphrase Forrest Gump, like a box of chocolates—you never know what you're gonna get. We bound to the blocks brimming with optimism yet ever-mindful that the carnival could end in seconds when the curtain rises on a four-hour drama fraught with agony as well as joy.
Mind you, in most cases all this turmoil is largely of our own doing. Rarely does the first hole present a particularly formidable challenge or even an arresting moment. Consider that in GOLF Magazine's The World's 500 Greatest Golf Holes only 12 of those holes are openers. Indeed, some magnificent courses—Pebble Beach, Turnberry, Teeth of the Dog, Crooked Stick, Medinah No. 3, Fishers Island—start with par fours that could be described most kindly as unremarkable.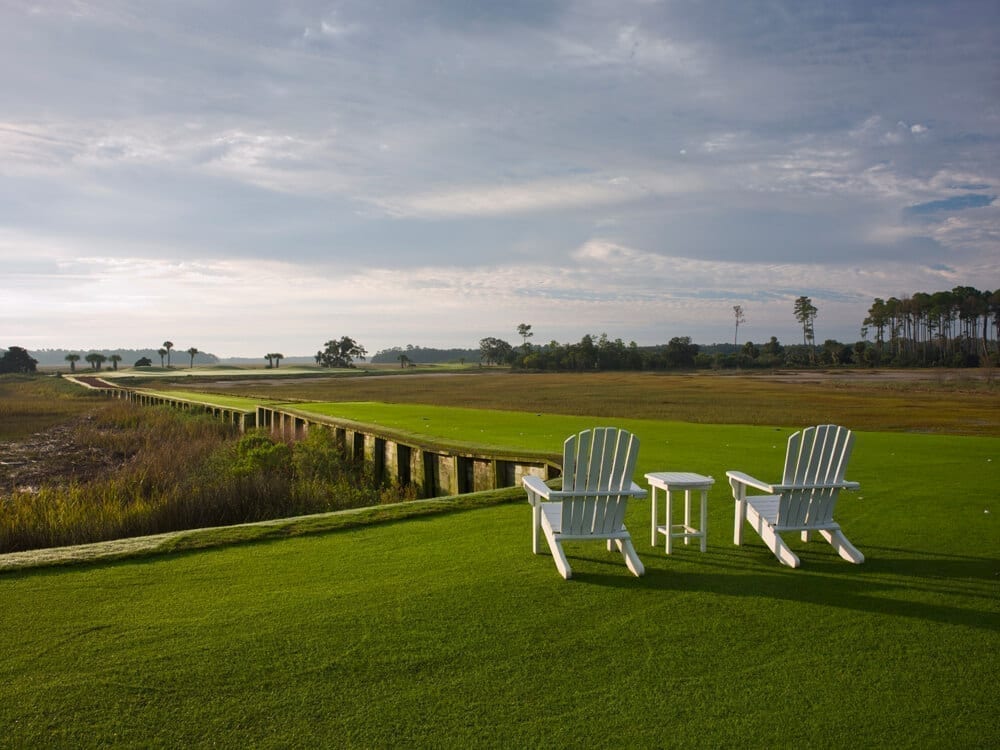 If the designers of those and so many other courses were alive, they'd likely point to the long-held dictum that a good golf course begins with a "friendly handshake," a straightforward assignment with no heavy lifting. And I can't argue that it's wise marketing to keep us dogged victims happy for at least the first few minutes of play. Nevertheless, first holes are rarely first rate.
Another reason for this is that the first tee is usually hard by the clubhouse, on a piece of land that was chosen not because it was the best golf terrain but because it was the best place to put that building. Often the role of the first hole is to get the heck away from that place, to do whatever's necessary to escape the parking lot, tennis courts, and swimming pool and reach some proper ground for golf.
All that being said, there are a few rare courses where the first tee (actually the entire first hole) lives up to its turbulence, either by presenting an assignment in nerve-jangling terror or through the sheer glory of its setting and vista. I've just taken a run through the list of courses I've played. Not surprisingly, among the nearly 800 I can't remember much about the first holes of at least 500. But the following openers clearly stood out.
NERVE-WRACKING
Long Cove, S.C.; Machrihanish, Scotland; Merion, Pa.; The Old Course, Scotland; Secession, S.C.
Water hazards provide the high anxiety at Machrihanish and the two South Carolina courses. At Merion, it's the proximity of the clubhouse patio, roughly arm's length. The odd one here is the Old Course, where the first fairway (shared with 18) is one of the broadest targets in golf. What makes this shot terrifying is the weight of seven centuries of history and the paranoid certainty that you're being stared at by everyone from the local constable to Old Tom Morris.
FIDDLY
National Golf Links, N.Y.; North Berwick, Scotland; Prestwick, Scotland; Royal Lytham & St. Annes, England; Victoria, Australia.
Lest you wonder what I mean by fiddly, it's a British colloquialism that I'll admit is a bit hard to define but relates to small things that are a bit challenging—even irritating—to handle. Each of these holes is under 350 yards (Royal Lytham's is a par three), yet each presents a puzzle to be solved. The tee shots on the par fours could be anything from a driver to a 5-iron, but no matter what club you choose, the next shot will require precision, and perhaps a bit of luck. It all serves to roil the stomach.
JUST PLAIN TOUGH
Bethpage Black, N.Y.; Blackwolf Run (River), Wis.; Kittansett, Mass.; Muirfield, Scotland; Oakmont, Pa.; Royal Birkdale, England; Pine Valley, N.J.; Tuxedo, N.Y.; Wannamoisett, R.I.; Winged Foot (West), N.Y.
The least heralded course on this list is Tuxedo, but for me personally it has the most fearsome opener of them all, an uphill, right-to-left par four through the woods that plays to a narrow green. I was a member there for three years when I was in my 20s, played the course fairly often, and when I left the club I had never parred the first hole. Seriously.
CELESTIAL
Brautarholt, Iceland; Castle Stuart, Scotland; Crail (Balcolmie), Scotland; Crystal Downs, Mich.; Desert Highlands, Ariz.; Dumbarnie, Scotland; Hokuli'a, Hawaii; Kawana (Fuji), Japan; Riviera, Calif.; The Sagamore, N.Y.; Shinnecock Hills, N.Y.; Spyglass Hill, Calif.; Westman Island, Iceland.
When the clubhouse is sited at or near the highest point on the property, good things can happen at the first hole, especially if the course lies in gorgeous surroundings or near the sea. Anyone who has ever stood on these tees will never forget the experience.
What are your most memorable opening shots in golf?