Don't even think about acing this test. Instead, try to make a decent golf score. Give yourself a starting total of 100 and deduct one stroke for each correct answer. (Answers at bottom of page)
1. Which is greater? The number of PGA Tour victories by Phil Mickelson or the combined total number of Tour victories by all other left-handed Tour players.
2. Rank from lightest to heaviest the trophies for the four men's majors:
a) Augusta National clubhouse replica (Masters); b) U.S. Open Trophy; c) Claret Jug (Open Championship); d) Wanamaker Trophy (PGA Championship)
3. What do past PGA Tour players Curtis Strange and Derek Fathauer have in common?
4. Who is the only player in history to win his first PGA Tour event after the age of 50?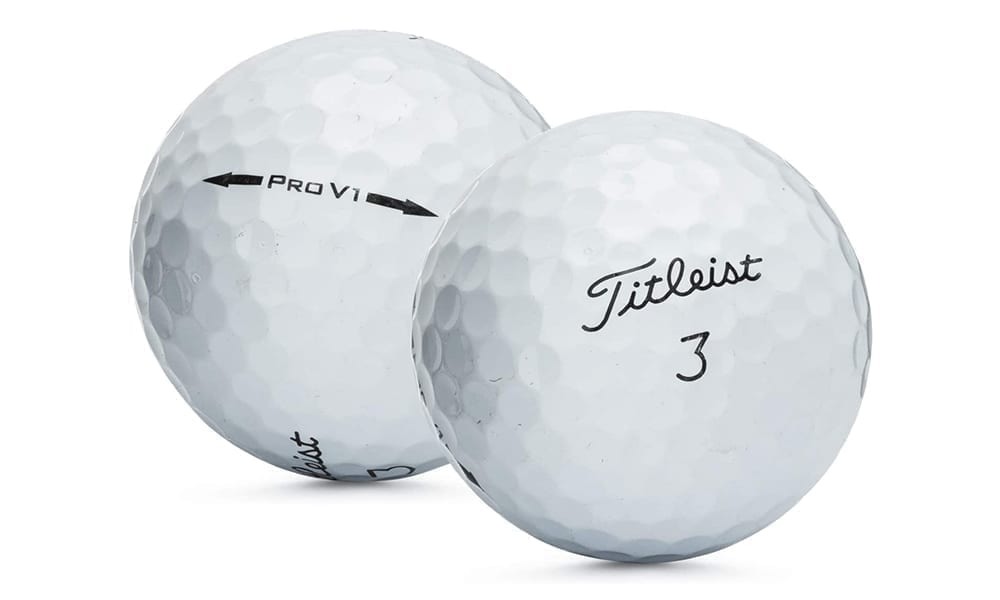 5. Match the quote with its author:
a) "We are all dogged victims of inexorable fate."; b) "Golf is a good walk spoiled."; c) "Golf is a game that needlessly prolongs the lives of some of our most useless citizens."; d) "If a caddie can help you, you don't know how to play golf."
Bob Hope
Dan Jenkins
Bobby Jones
Mark Twain
6. Match the event with the city in which it was first held: 
a) Ryder Cup; b) Solheim Cup; c) Walker Cup; d) Curtis Cup
Orlando, Fla.
Southampton, N.Y.
Virginia Water, England
Worcester, Mass.
7. What do Old Wister Farm, Oakley CC, and Alwoodley have in common?
8. In an average day, how many golf balls does Titleist produce?
a) 10,000; b) 100,000; c) 1 million; d) 10 million
9. Do LPGA players use men's clubs or women's?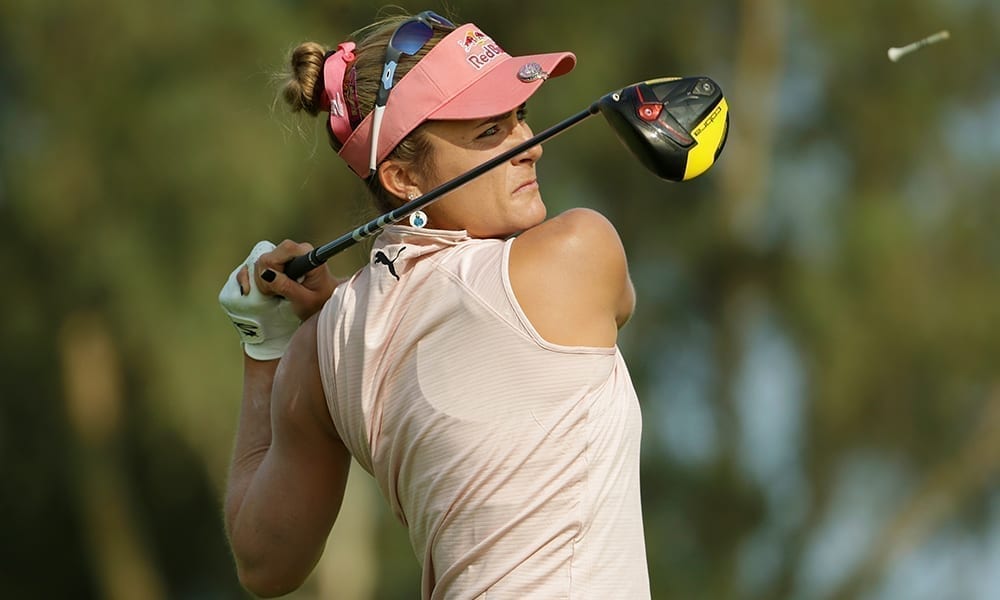 10. Rank from shortest to tallest:
a) The minimum length of a golf flagstick; b) Shaquille O'Neal; c) The height of a soccer net; d) The women's world high-jump record
11. Match the author with his autobiography:
a) A Golfer's Life; b) Golf is My Game; c) My Story; d) Thirty Years of Championship Golf
Bobby Jones
Jack Nicklaus
Arnold Palmer
Gene Sarazen
12. Which came first?
a) The Ryder Cup; b) World War I; c) The Winter Olympics; d) Kool-Aid
13. What is the estimated number of golf strokes that have been made during the last six centuries on the Old Course at St. Andrews?
a) 1 million; b) 100 million; c) 1 billion; d) 10 billion
14. What do Jim Furyk and Mike Weir have in common, other than each having won one major championship?
15. Who is the only player in PGA Tour history to make a hole-in-one on a par four? 
16. Only two players in the last 100 years have been able to win the same men's major championship three times in a row (one of them won four in a row). Who are they? 
17. Of the estimated 25 million golfers in America, roughly how many have a USGA handicap?
a) 2.5 million; b) 5 million; c) 10 million; d) 15 million
18. Match the fearsome stretches of holes with their courses:
a) The Bear Trap; b) The Cliffs of Doom; c) The Horrible Horseshoe; d) The Snake Pit
Colonial Country Club
Innisbrook (Copperhead)
Pebble Beach
PGA National (Champion)
19. Which is the smallest number?
a) The total of the worst hole-by-hole scores made in Masters competition; b) Tiger Woods's weight; c) The number of career top-three finishes by Jack Nicklaus
20. Match the golf architects with their Ivy League degrees:
a) Tom Doak; b) Devereux Emmet; c) Rees Jones; d) Seth Raynor
Columbia
Cornell
Princeton
Yale
21. Who has the most victories of all time on any professional tour?
22. What is the connection between C.B. Macdonald and former NYC mayor Michael Bloomberg
23. Who is the only player to win a tournament with a round of 59 but no rounds in the 60s?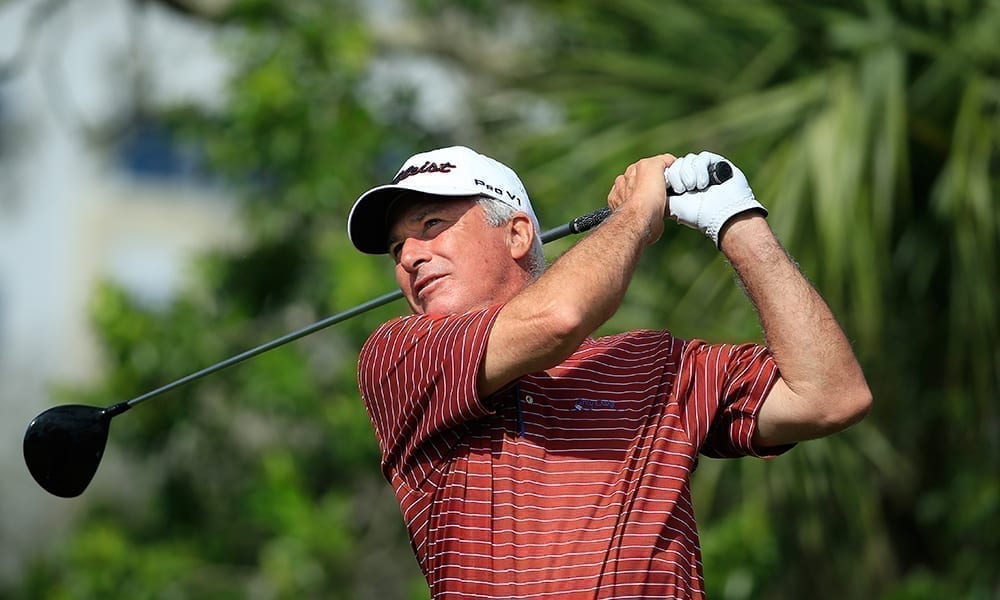 24. Which of these Hall of Famers is the only professional golfer to make two holes-in-one on the same hole on consecutive days?
a) Seve Ballesteros; b) Arnold Palmer; c) Gene Sarazen; d) Sam Snead
25. Which President played the most rounds of golf while in office?
a) Dwight Eisenhower; b) Barack Obama; c) Donald Trump; d) Woodrow Wilson
26. Match the Hall of Famer with his middle name:
a) Ray Floyd; b) Hubert Green; c) Phil Mickelson; d) Tom Watson
Alfred
Loran
Myatt
Sturgis
27. What is the significance in golf history of the word syringomyelia?
28. Twenty-two players have won more than 25 PGA Tour events. All are Americans except one. Who is he?
29. On the Old Course at St. Andrews, all the flags on the front nine are white and all the flags on the back nine are red…except for one hole that breaks the rule. Which is it?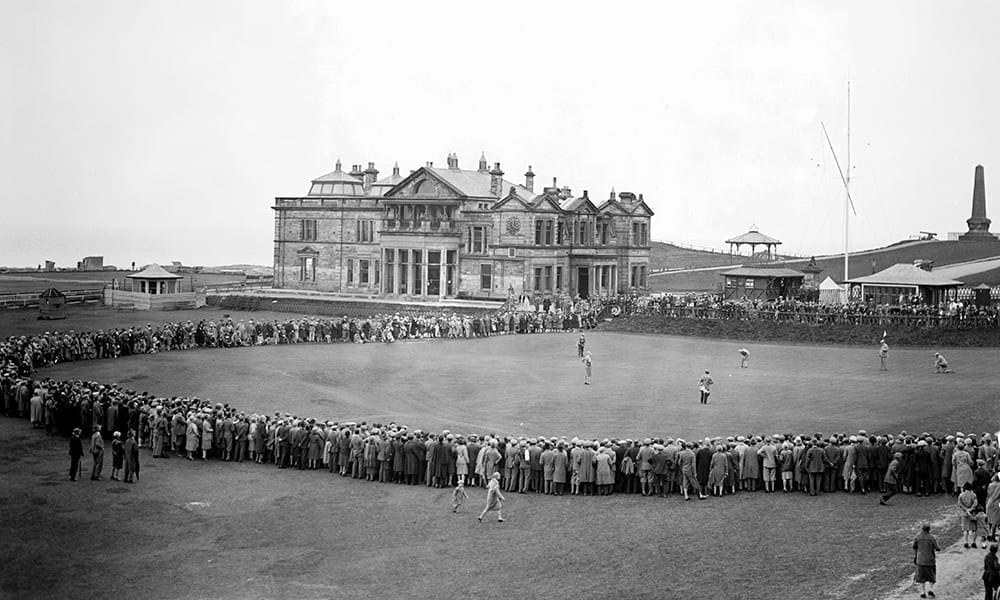 30. Rank from smallest to largest diameter:
a) Regulation softball; b) Bocce ball; c) Golf hole; d) Compact disc
31. What do the English golf courses Berkhamsted, Royal Ashdown Forest, and Piltdown have in common?
a) They have no bunkers.; b) They have 6 holes of each par.; c) They can be played in reverse.; d) They were used as landing strips in WWII.
32. Sam Snead won the 1962 Royal Poinciana Plaza Invitational by five strokes. What makes that victory significant?
a) He played with only 7 clubs.; b) It was a ladies' tournament.; c) It was his record-setting 82nd win.; d) Due to bad weather, the tournament lasted nine days.
33. Who is the only female golfer to make the cut in a PGA Tour event?
a) Nancy Lopez; b) Annika Sorenstam; c) Kathy Whitworth; d) Babe Zaharias
34. Rank these early golf clubs from shortest to longest:
a) Baffy; b) Brassie; c) Cleek; d) Spoon
35. What honor does Bobby Jones share with Ben Franklin?
36. Which Jack Nicklaus-related number is highest?
a) His age when he won his first major championship.; b) The number of years between his first and last major wins.; c) The number of times he finished runner-up in a major championship.; d) The number of grandchildren he has.
37. Match the player with the city of his first PGA Tour victory:
a) Ben Hogan; b) Byron Nelson; c) Jack Nicklaus; d) Arnold Palmer
Eatontown, N.J.
Pinehurst, N.C.
Pittsburgh, Pa.
Toronto, Canada
38. Match the following players with their prior vocations:
a) Paul Goydos; b) Julius Boros; c) Cary Middlecoff; d) Dan Sikes
Accountant
Dentist
Lawyer
Schoolteacher
39. The current Korn Ferry Tour has had five previous iterations: Name four of them.
40. What do George Crump, Henry Fownes, and Jack Neville have in common?
41. Which of these courses on the 2021 PGA Tour calendar has the highest course rating?
a) Kiawah Ocean Course; b) Torrey Pines South; c) TPC Sawgrass; d) Whistling Straits
42. Which championship has been played on a greater number of different courses, the U.S. Open or the PGA?
43. Match the player with his/her childhood teacher:
a) Bobby Jones; b) Johnny Miller; c) Tom Watson; d) Mickey Wright
Johnny Bellante
John Geertsen
Stewart Maiden
Stan Thirsk
44. What are chui wan, pall mall, and chole?
45. What do Horace Rawlins, Jim Barnes, Horton Smith, and Willie Park Sr. have in common?
46. Match the Masters hole with its floral moniker:
a) Azalea; b) Camellia; c) Magnolia; d) White Dogwood
5
10
11
13
47. Who said, "I don't want to be a millionaire, I just want to live like one"?
48. In 1986, the year Jack Nicklaus made his incredible comeback win at the Masters, who led the tournament after 54 holes?
49. Which Open Championship course was the inspiration for Royal St. Mark's, the site of the match between James Bond and Goldfinger in the Ian Fleming book of the same name?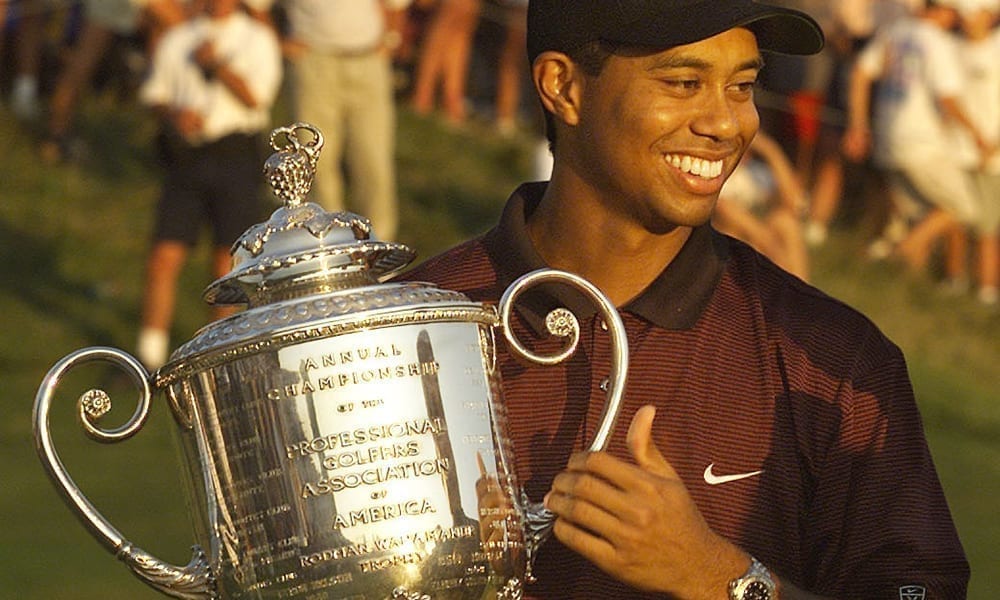 50. Tiger Woods has won three of his 15 majors in playoffs. Who were the three players he beat?
–
ANSWERS BELOW
–
–
–
Phil has 44 wins; the others have a combined total of 40.
c (5 lbs., 6 oz.), b (8 lbs., 8 oz.), a (20 lbs.), d (27 lbs.)
Each has an identical twin brother.
John Barnum. When he won the 1962 Cajun Classic by six strokes over Gay Brewer (his only PGA Tour victory), he was 51 years old.
a-3, b-4, c-1, d-2
a-4, b-1, c-2, d-3
They were the first courses designed by A.W. Tillinghast (Old Wister, 1899), Donald Ross (Oakley, 1900), and Alister MacKenzie (Alwoodley, 1907).
c. That's from its four plants—three in the U.S., one in Thailand.
Men's
d (6 ft., 10 1/4 ins.), a (7 ft.), b (7 ft,1 in.), c (8 ft.)
a-3, b-1, c-2, d-4
b (1914), c (1924), a (1927), d (1928)
c
They were born the same day: May 12, 1970.
Andrew Magee. In the 2001 Phoenix Open, he hit a drive at the 333-yard 17th hole of TPC Scottsdale that caromed off Tom Byrum's putter and went into the hole.
Peter Thomson won the Open Championship in 1954, '55, and '56; Walter Hagen won four PGA Championships from 1924–1927.
a
a-4, b-3, c-1, d-2
c (167), a (169), b (185)
a-2, b-1, c-4, d-3
Kathy Whitworth with 88.
Bloomberg lives in Ballyshear, a $20 million estate in Southampton, N.Y., built in 1913 by Macdonald.
Al Geiberger. In 1977 he won the Memphis Classic with rounds of 72–59–72–70.
b. In 1986, Palmer aced the 185-yard 3rd hole at TPC Avenel on consecutive days during practice rounds for a Senior Tour event.
d (estimated at more than 1,000 rounds during two terms), a (estimated about 800 rounds), b & c (around 300 each, although Trump's were played in just one term)
a-2, b-3, c-1, d-4
Syringomyelia is the disease that crippled and eventually took the life of Bobby Jones.
Vijay Singh
18
a (3.8 ins.), b (3.9 ins.), c (4.2 ins.), d (4.75 ins.)
a
b. The event, played on a par-3 course in Palm Beach, Fla., was nicknamed "The Battle of the Sexes" and the field consisted of 14 LPGA players and Snead. He won by five strokes over Mickey Wright, making him the only male player ever to win an LPGA Tour event.
d. Babe Zaharias made the cut at the 1945 Los Angeles Open.
c (2-iron), a (4-wood), d (3-wood), b (2-wood)
They are the only two Americans to have been presented the Freedom of the City award from St. Andrews.
b (24), d (22—as of 12/31/20), a (22), c (19)
a-2, b-1, c-3, d-4
a-4, b-1, c-2, d-3
Ben Hogan Tour, Nike Tour, Buy.com Tour, Nationwide Tour, Web.com Tour
Each designed only one golf course, but it was a masterpiece: Crump, Pine Valley; Fownes, Oakmont; Neville, Pebble Beach.
a (79.1), b (78.8), d (77.2), c (76.4)
The PGA has gone to 75 different sites, the U.S. Open 54.
a-3, b-2, c-4, d-1
They are all ancient versions of golf.
They are the winners of the first Masters (Smith, 1934), U.S. Open (Rawlins, 1895), Open Championship (Park, 1860), and PGA Championship (Barnes, 1916).
a-4, b-2, c- 1, d-3
Walter Hagen
Greg Norman
Royal St. George's
Bob May (2000 PGA Championship), Chris DiMarco (2005 Masters), Rocco Mediate (2008 U.S. Open)