Incomparable eye candy: Cypress Point reigns as golf's ultimate beauty queen
In 1920, architect Alister MacKenzie articulated 13 essential features that define an ideal golf course. Number seven stated: "The course should have beautiful surroundings, and all the artificial features should have so natural an appearance that a stranger is unable to distinguish them from nature itself." When the Cypress Point Club opened eight years later, a co-design from MacKenzie and Robert Hunter, it shattered every previous conception of how beautiful a golf course could be. In the 93 years since, Cypress Point remains unsurpassed for aesthetic appeal.
What makes Cypress so stunning? Samuel Morse, who developed the club with Marion Hollins, identified the essence of its appeal. He wrote: "The Cypress Point Club was organized for the specific purpose of building a great golf course in the most unique and beautiful setting imaginable…There are three holes that play across the arm of the sea. There are others that are backed by magnificent vistas of forest and mountain bordered by Monterey pine and the weird cypress which abounds there. There are giant sand dunes which one plays over, along and sometimes unfortunately, into. It is a combination of brilliant green fairways, startlingly blue water, unbelievably white sand, with a superb achievement in golf architecture."
Cypress is a feast for the senses: sea scents in the wind; crying sea gulls, barking sea lions, crashing waves; a young hawk alighting on a gnarled cypress limb, a herd of deer strolling across a fairway.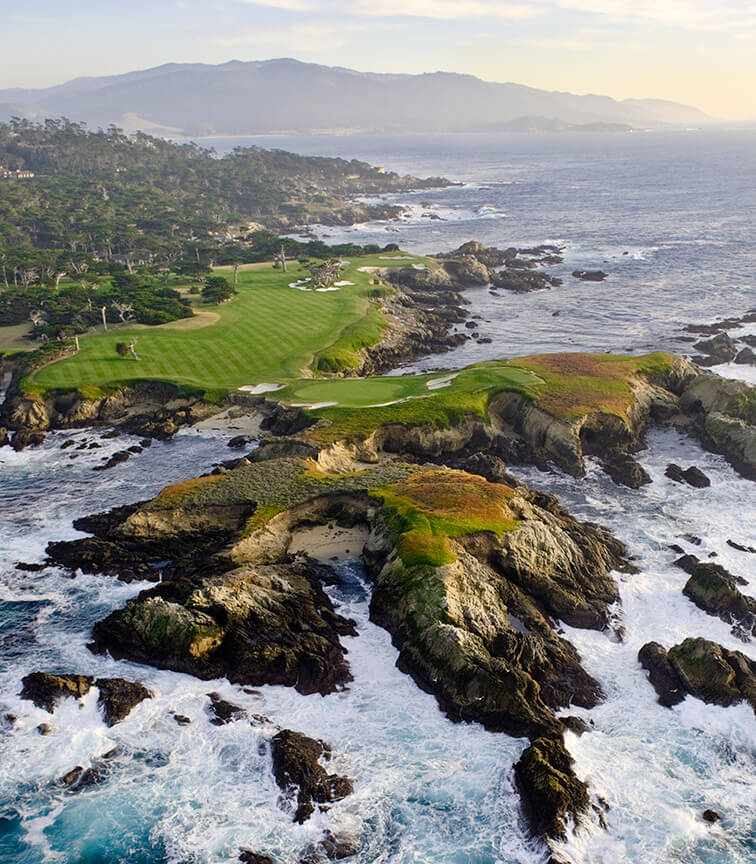 Nevertheless, it is the actual hole-by-hole journey that elevates Cypress Point. Holes 4 through 7 enter into an enchanted forest, brimming with towering pines and MacKenzie's most artfully sculpted bunkers. Eight and 9 emerge into massive dunes. Holes 12 through 14 bring the ocean into view. Then comes a nature walk to the tiny 135-yard par-three 15th in near-isolation that is almost spiritual. Amid the wind, waves, trees, bunkers, and carry over an ocean-roiled rocky chasm, you ponder: It's inconceivable that land this stunning was made available for golf. At the 233-yard par-three 16th, the heart pounds harder, fueled by a mixture of awe, fear, and anticipation. What awaits is a 200-yard smash over the Pacific. The 386-yard par-four 17th has one final ocean carry and a sprawling cluster of twisted cypress trees uniquely placed in the fairway center. After that crescendo, the symphony that is Cypress Point softens into a diminuendo via the short par-four 18th, which climbs stealthily between intruding cypress trees.
The accolades for Cypress Point were immediate and unanimous, but MacKenzie somehow needed convincing the design was worthy. Writing in 1933, he shook his head and concluded, "I now believe that Cypress Point has escaped criticism simply because it is so incomparably beautiful…Apart from the golf, it is the only course I know where one literally gasps with astonishment at its beauty."
To the good Doctor MacKenzie, I would say this: In 2022, we're still gasping.
Three additional gorgeous courses
There are many seaside courses that get the pulse racing, but not one can top Pebble Beach for sheer grandeur. Blend the curving coastline, the clifftop setting above the Pacific Ocean, the interplay of sun and fog, and the one-of-a-kind thrills that greet you on the seaside holes—3 through 10, 17 and 18—and it's easy to understand why Jack Nicklaus raves, "the scenery is incredible."
Described by its architect Alister MacKenzie as the "world's wonder inland golf course," Augusta National remains the prettiest land-locked layout in golf. The deep-green, heaving canvas is ablaze in spring with colorful shrubs and flowers, and is replete with ponds, creeks, towering pines, dogwoods, live oaks, and magnolias. Vast ovals of brilliant white sand add further sparkling contrast.
Accessible only by air or ferry, Fishers Island Club off the Connecticut coast is a low-key Golden Age Seth Raynor design with classic template holes and eye-popping vistas throughout. "The first time you play it, you can't appreciate it architecturally," said architect Gil Hanse in 2019. "There's too much beauty to take in, too many water views—the Atlantic Ocean, Fishers Island Sound, and tidal marsh all frame what you see."