Once considered too far outside Austin, this Texas Hill Country community now finds itself flourishing in the heart of the region's real estate boom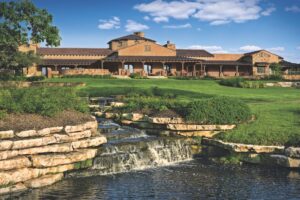 Timing truly is everything. When Cimarron Hills opened in 2001, the private country club community outside of Austin, Texas, felt like it was just too far away from the action. Turns out the community, which is a mix of luxury and laidback lifestyle, was simply ahead of its time. In the last five years, as Austin's incredible growth spread to the Hill Country, the club found it was in the perfect position.
All those folks flocking to Texas for the weather, lifestyle, and lack of state income tax took notice. Membership at Cimarron Hills has doubled in the last five years, while homesite sales have soared to nearly 400 out of the 900 available. They aren't just buying, they're buying bigger. "We are seeing a trend of younger families buying bigger homes," says COO Jeff Thomasson. "They are super active in clubs, have lots of friends, and their kids are filling our summer camps."
The upswing in interest has coincided with a just-completed $800,000 renovation to the Jack Nicklaus Signature Golf Course. Along with redoing all the bunkers, the bentgrass greens were returned to their original contours and replaced with Champion Bermudagrass, which fares better in the Texas climate. With the picturesque San Gabriel River winding through the rolling terrain, stately oaks framing the fairways, and the hills serving as backdrop, the course is, according to Nicklaus, "the finest, purest experience of golf in all the Hill Country—perhaps in all of Texas."
There is a world of things to keep members satisfied, including a full-service spa, fitness center, tennis courts, swimming pool, and two dining venues, along with  Austin's lively music scene, dining, and shopping. Plus, they enjoy global privileges: As part of the Troon Privé family that includes 85 high-end clubs from Kapalua to England, members have reciprocity with clubs in more than 30 countries and 30 states. Just one of many reasons Cimarron Hills, once considered an outlier, has been named one of Golf.com's top three master-planned golf course communities in metro Austin.