More accessible than ever, this car-free island just across the water from Hilton Head helps residents escape the hustle and bustle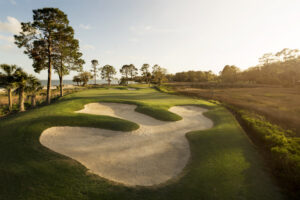 There has been a lot of water under the bridge since Haig Point on Daufuskie Island appeared on the inaugural cover of LINKS Magazine (then called Southern Links) in 1988. There's still no bridge to the private community club on South Carolina's southernmost sea island, located tantalizingly across Calibogue Sound from Hilton Head Island's Harbour Town Golf Links. No cars, either. You can count both of those quaint features as part of the 1,100-acre island community's charm.
There have been plenty of changes, though, to improve the livability of Haig Point and make it an attractive option for those who crave escape from the hustle and bustle of the mainland but need to stay connected for work, school, or their sanity. About three years ago, the club went from a member-driven model to a CEO-led model and Haig Point's resurgence took off. The arrival of high-speed internet has allowed remote workers to live here full-time. Hourly ferry service and 24/7 water taxis carry students to and from school on Hilton Head. Online grocery shopping delivers from the mainland directly to residents' doors, while new family-friendly amenities have brought a youthful exuberance to the community.
The resurgence has included a new beach club with a family pool, an oceanfront dining venue just 50 yards from the water, and a complete facelift to the clubhouse. The unique, 20-hole, Rees Jones-designed course got the attention it needed, too. Tabby (crushed-shell based) paths replaced asphalt and new Director of Golf Course Maintenance & Grounds Scott Hamm has been instrumental in returning the course to Golfweek's list of "Top 100 Residential Courses." Even the island's elementary school, which first found fame in Pat Conroy's The Water is Wide, is experiencing its largest enrollment in years.
Island life isn't for everyone. For those who yearn for the incessant hum of city noise, instant access to everything, and the freedom to hop in your car whenever you feel like it, Haig Point may not appeal. But with the recent improvements to this island and its 24/7 access to Hilton Head and the mainland, it has never been easier to set your own pace at Haig Point.