Ireland has no shortage of historic golf courses—famed venues that attract eager visitors from all over the world. Playing the notable links at Ballybunion, Lahinch, and Portmarnock—and the two Royals, County Down and Portrush, in Northern Ireland—should be on every golfer's bucket list.
But some of Ireland's other must-play courses date to more recent times, and they're every bit as alluring. Some are pure links set in stunning dunescapes; others, championship-caliber parkland layouts. In the 1970s and '80s, and again in more recent years, golf course development in Ireland has enjoyed multiple surges, with each new course a gift to the Emerald Isle's golfing pilgrims—as are the island's legendary hospitality and its craic: the good times to be had in its cheerful local pubs.
Here are my top 10 modern courses in Ireland.
Rosapenna in northwest Ireland is one of Ireland's few full-fledged golf resorts—and the only one with three terrific courses for guests to play. Along with its elegant and contemporary accommodations, Rosapenna offers superb links golf, including its newest entry: St. Patrick's Links designed by Tom Doak. This must-play course occupies dramatic terrain that sweeps down from higher dunes to the edge of Sheephaven Bay. From start to finish, it has the feel of a century-old links, with each hole offering its own surprises and delights, whether in the form of creative greens and green sites (as at the devilish par-three 11th), natural bunkers and waste areas that look beautiful until you're in them, or vistas over the bay and Tramore Beach that are stunning even in marginal weather. There are holes that feel intimate—and others that exude grandeur. I'd be very surprised if you didn't love them all.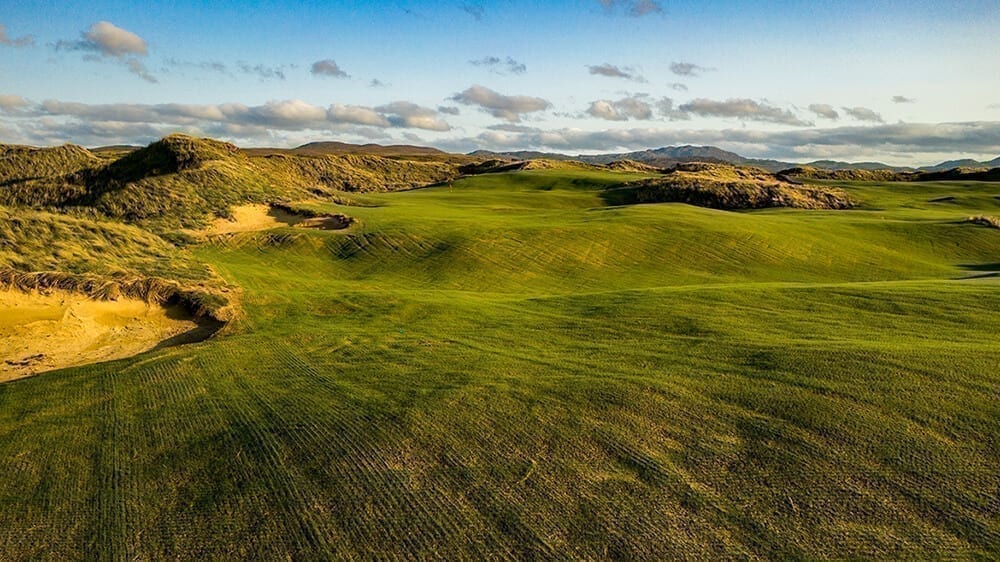 Irish golf course architect Pat Ruddy surveyed every mile of the Irish coast to find the ideal site for his personal links before settling on this one near Brittas Bay, about 30 miles south of Dublin. In the decades since, he's fine-tuned each hole of his life's work from tee to green. And what holes they are. The course stretches to more than 7,000 yards and plays through large dunes that are your constant companions as you navigate around penal bunkers (many with railroad ties at their edges) and test your skill at greens that both delight and confound—like the 120-yard-deep green at the par-four 12th. Ruddy humbly describes the course as: "Worth playing. Simply that. Worth a game… I just like players to think that they're in a nice place with nice people, and hopefully in nice weather—and that the puzzles presented were worthy ones, and that failure to overcome some of them is no shame." It would be a shame to visit Ireland and not experience Ruddy's magnificent achievement amongst the brawny dunes at The European Club.
You want to talk dunes? I can promise: You've never played a course with dunes as towering and imposing as those you'll find at Carne. Eddie Hackett designed the original 18 here, but in 2021 the club debuted nine more holes, the Kilmore nine, and in the process created a composite course called the Wild Atlantic Dunes course. This new course incorporates nine holes from the Hackett 18 with nine from the Kilmore Course that are even more mind-bending than the others. The Kilmore nine's par-five 5th (which plays as 8th on the Wild Atlantic Dunes course), takes you on an Indiana Jones expedition through a deep valley that bends steadily to the right before dipping downward and setting up an approach shot to a small, kidney-shaped green. It's one of the most enchanting holes I've ever seen—the kind you'll wish to play again and again. Carne has 27 such holes now, and play them all you should. It's a bit off the beaten path, but I guarantee you'll be glad you made the journey.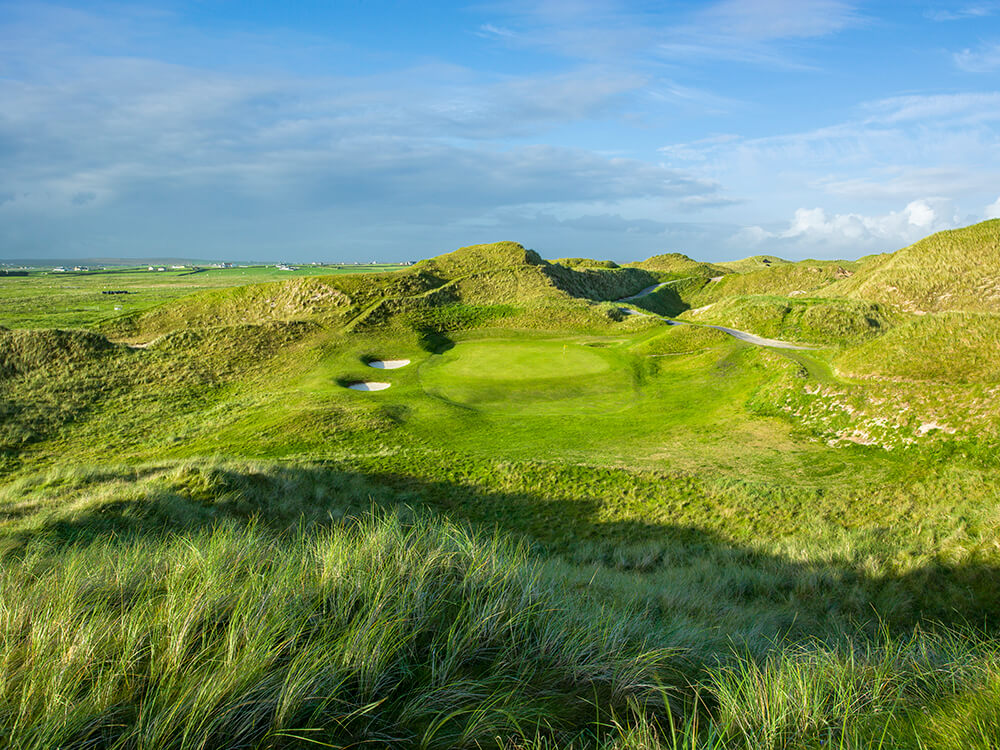 There are two fine courses at Ballyliffin, Ireland's most northerly golf club. Its Old course is a stellar links with rumpled fairways and twisting fairways that plays right along the edge of the sea, while its newer Pat Ruddy- and Tom Craddock-designed Glashedy course sweeps onto higher ground and offers jaw-dropping views of the shoreline, surrounding countryside, and Glashedy Rock, along with some of Ireland's most challenging and fun golf holes. Its opening stretch of tough par fours—422, 427, and 426 yards—would be torture if they weren't so beautiful. This "links in the sky" is not to be missed. The then-European Tour's Irish Open was held on the Glashedy course in 2018, and in 2020, the club debuted its Pollan Links course, also designed by Ruddy—a thoroughly entertaining, 9-hole Par-3 course that has holes ranging from 90 to 146 yards. It's a great place to sharpen your short game before taking on the majestic Glashedy.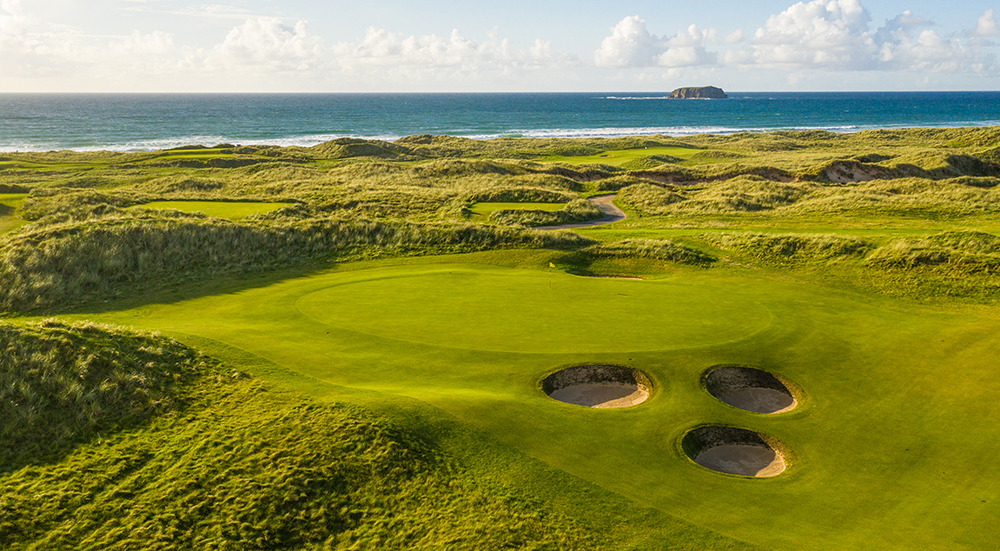 Down in the southwest of Ireland in County Kerry, the world has an Irish-American named Jack Mulcahy and course designer Eddie Hackett (along with Claude Harmon, and more recently, Tom Doak) to thank for the wonder that is Waterville. The course is set on its own broad peninsula, with dazzling views of Ballinskelligs Bay and the Macgillicuddy's Reeks mountains. The front nine here plays on rumpled terrain, with the 3rd hole running along the edge of an estuary. But the back nine takes you to higher ground and into dunesland that cradles each hole like a cherished child. The sterling par-three 12th, called "The Mass Hole" because it abuts an area where Catholics once secretly worshipped, calls for a pure strike to a hilltop green. The course's finishing stretch from 16 to 18 offers both challenge and unforgettable scenery—especially at the hole called "Mulcahy's Peak," a par three where it's either hit the green or face a difficult chip shot back up the hill. Be sure to say hi to the statue of Payne Stewart when you're at the club. Stewart visited Waterville often prior to competing in Open Championships and become a favorite adopted son of the club and town. He loved Waterville, and I have no doubt that you will, too.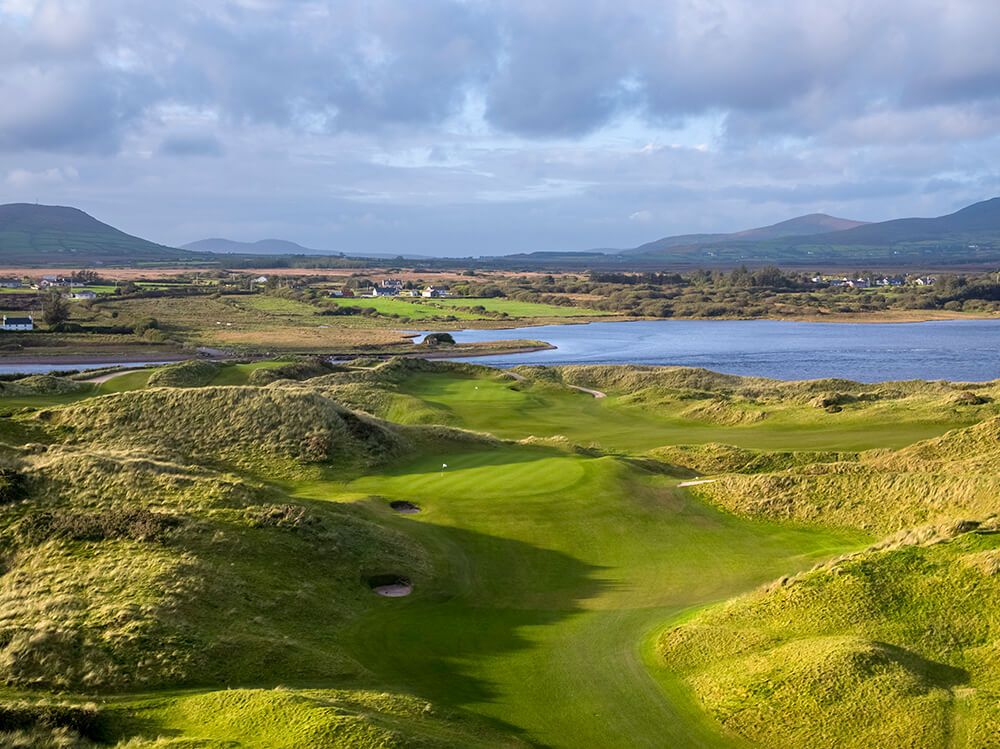 A five-star resort in every way, Doonbeg is a great place both to stay and play. The accommodations, food and beverage offerings, spa, and other amenities are top-shelf—as is the golf course. Set amidst 100-foot-high sandhills with views of the sea from 16 of its 18 holes, the course's original design by Greg Norman was revamped by Martin Hawtree in 2014, and the result is a course that's now even more dramatic and thrilling than its forbear. It features five par threes and five par fives, including several that tiptoe right to the edge of the sea. Great holes abound, including the par-three 9th where the water can very much come into play, and the signature par-three 14th, a downhill hole with views of the grand clubhouse and sea that are simply mesmerizing. The finishing hole, a par four that runs right along the ocean's edge and finishes in the shadow of the clubhouse, is a fitting end to the round. You could do much worse than to spend a day and a night in luxury at Doonbeg.
Robert Trent Jones Sr. designed the original course at Adare Manor in County Limerick, but the course was reimagined by Tom Fazio and reopened as a different animal in 2018. It will host the 2027 Ryder Cup Matches, but you shouldn't wait to see it on television. This is a parkland course located at one of Ireland's most luxurious and exclusive hotels, so you can expect it to be in top condition. If you play it from the tips, you can also expect it to be long, as the course now stretches to over 7,500 yards. Incorporated into all that real estate are a river, a lake, strategically placed bunkers, streams, and a few trees—but not nearly as many as the course once had. Some greens feature tricky run-off slopes, and more than a few have the kind of tiering that makes approach shots and lag putts knee-knocking affairs. The finishing hole is a real stunner—a reachable, risk/reward par five that borders and then crosses the River Maigue and is sure to be the site of much drama come Ryder Cup time.
The charming seaside village of Kinsale in County Cork has evolved into one of Ireland's foodie and tourism hotspots over the last 30 years, but golfers head there to play Old Head, a thrilling links set on its own headland peninsula. Playing this course, hundreds of feet above the raging Atlantic below, you can't help but wonder how a course was ever sited here. There are selfie opportunities on just about every hole, but at the cliffside holes, you'll need to keep your mind on your work if you don't want to add to the collection of golf balls that have found their way over those cliffs through the years. Two of the course's par fives are real standouts. At the 12th, your tee shot plays up and over the edge of the cliff, along which the rest of the hole tracks all the way to the impossibly narrow green. The 17th plays along another section of cliff before rising to the green on higher ground; slicers will need to beware. Old Head's par threes are a good bunch, too—especially the 3rd and 13th holes, both of which have steep drop-offs to the left of the green, and the 16th, where the drop-off to the sea is now on your right. Many of the course's par fours offer similar do-or-die challenges. After your round, the view from the clubhouse and veranda of the iconic lighthouse and sea beyond (where the Lusitania was sunk) are awe-inspiring. Savor the experience.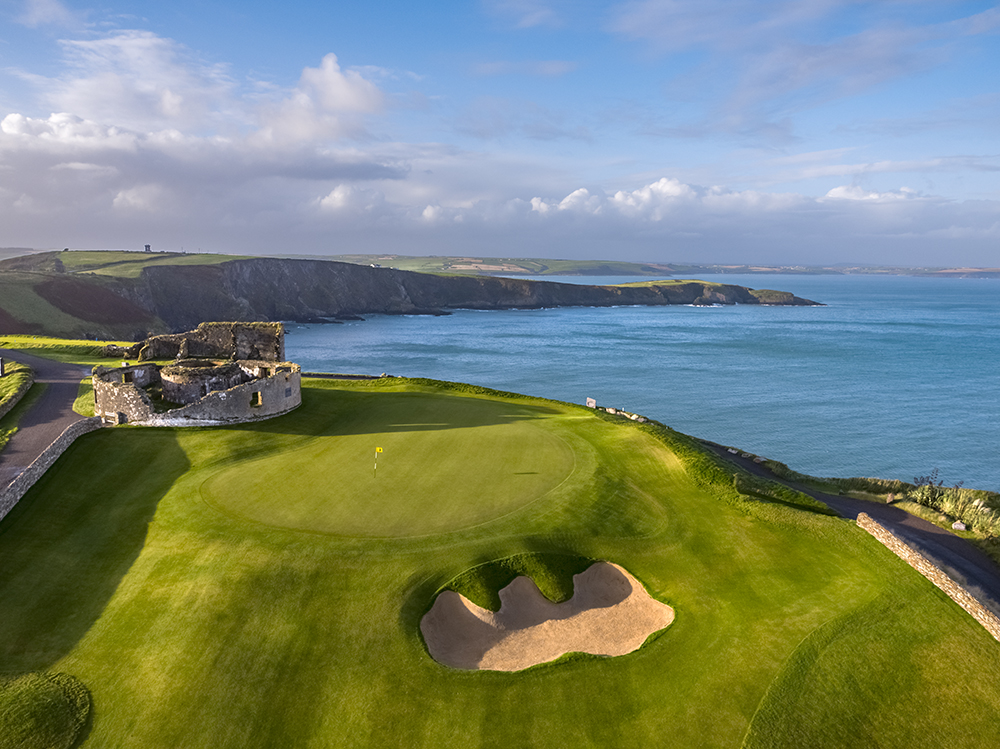 The Arnold Palmer- and Ed Seay-designed links at Tralee in County Kerry are a tale of two nines. The front nine occupies gentler terrain than the back, which plays up into the dunes and along ridge lines, but both are certainly scenic. The 2nd hole, a par five that sweeps up and to the right along the border of the sea is a nice introduction to a course that's perhaps uneven in its design but still a favorite of many visitors to the area. The par-five 11th may be the course's best hole, with its blind second shot betwixt two large dunes. But many visitors call the par-three 3rd hole, "Castle," its signature hole, owing to the ruins at the back of its green. Personally, I like the 16th, another par three, better; hit the green there or your ball will wind up either well below the green in long grass or possibly on the beach.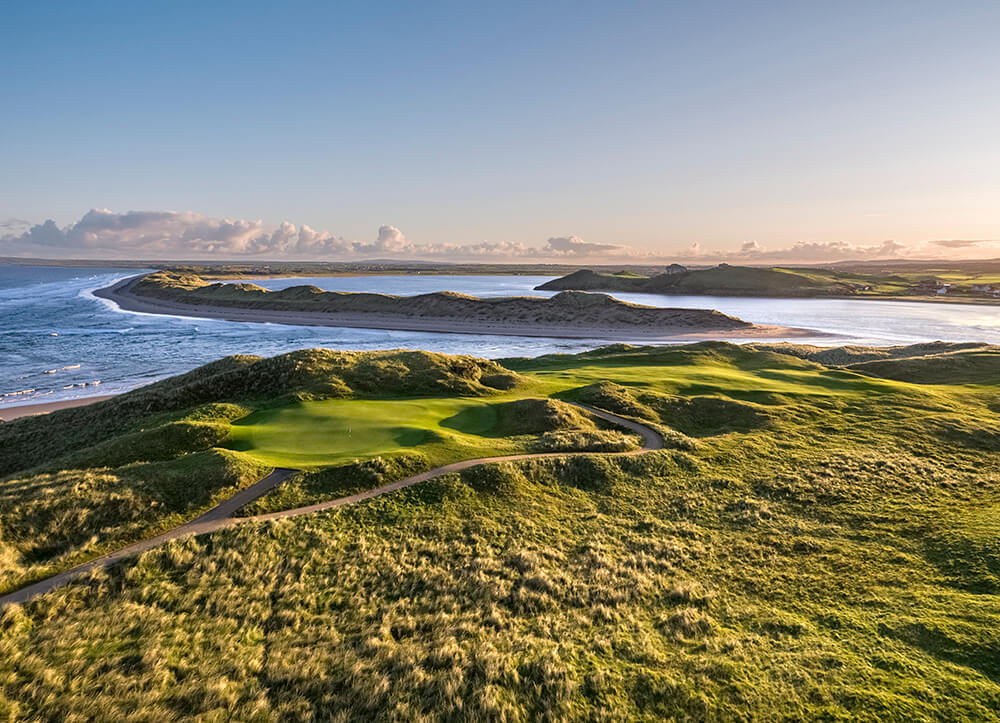 Lough Erne is an inland course that's a perfect stopover for anyone transiting from the Dublin area to the great links of northwest Ireland. Routed around the shore of the lough that gives it its name and the edge of a second lake, Castle Hume Lough, the Faldo course here rises and falls and makes the most of its varied terrain, with many strong holes contending for best-in-class. Water comes into play on 11 holes, nowhere more dramatically than at the risk/reward, 300-yard par-four 10th, with a peninsula green that's drivable for long hitters and a tricky wedge shot for others. Rory McIlroy drove the green at the steeply downhill, par-four 7th when playing in a challenge match against Padraig Harrington. You should give it a go, too—if you can hit a tee shot 400 yards.
What is your favorite modern golf course in Ireland?