The second week of August brings the PGA Tour's prestigious FedEx St. Jude Championship in Memphis, Tenn. Unfortunately for visiting golfers, TPC Southwind is private, as is Memphis's other top tournament track, the South course at Colonial Country Club. However, the Volunteer State is chock full of value-oriented, extremely scenic public-access layouts. Here are the 10 best courses you can play in Tennessee.
Perhaps America's ultimate cult course of any kind, Sweetens Cove is a Tad King/Rob Collins 2014 renovation of a decrepit, pre-existing course called Sequatchie Valley, located 30 miles west of Chattanooga. A 2017 New York Times feature catapulted the 3,301-yard par-36 course into the limelight, which has ultimately attracted celebrity investors such as Peyton Manning and Andy Roddick. What luminaries and regular folks are drawn to are the relentlessly interesting strategic options, ruggedly sculpted bunkers, and imaginatively contoured greens.
Back in early 2012, Gil Hanse saw a gap in his schedule just prior to winning bids to create the Rio Olympic course and to remake Doral's Blue Monster. He filled it with a renovation of the Course at Sewanee, a 3,390-yard par-36 spread dating to 1915 that belongs to the University of the South. Set into the woods of Tennessee's super-scenic Cumberland Plateau near the Georgia border, Hanse revamped green complexes, added 28 strategically placed bunkers, and cleared trees to open up long-lost mountain vistas. The result? Pure fun, with a bargain price that practically compels you to play another nine.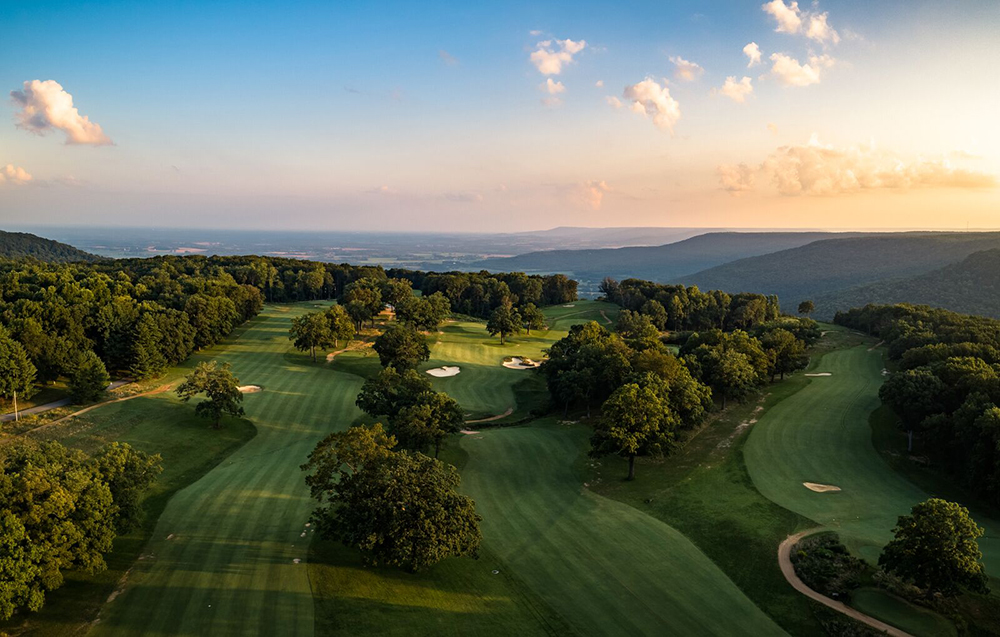 On the short side in the modern era at 6,549 yards par 72, Stonehenge makes up for its lack of brawn with an extra dose of beauty, thanks to memorable holes such as the downhill-plunging, 161-yard par-three 14th and the tricky 501-yard par-five 15th guarded by a large lake to the left. The 1984 Joe Lee design traverses the wooded undulations of the Cumberland Plateau and features natural rock outcroppings and the presence of Lick Creek on multiple holes.
In 2007, Justin Timberlake purchased Big Creek Golf Course, the Memphis-area layout he grew up playing, and over two years invested $16 million in it, which included a redesign with architect Bill Bergin and a name change to Mirimichi, a Native American word meaning, "place of happy retreat." Timberlake sold his stake in 2014, but today, it remains a terrific 7,479-yard test with water on 12 holes, including Timberlake's favorite, the 181-yard par-three 11th, where only a shot hit on the green or long-left will avoid the lake.
The 36-hole Hermitage complex features two worthy layouts. President's Reserve is the stronger of the two tests and the higher ranked. The Denis Griffiths design stretches 7,157 yards as it dodges water, woods, and wetlands along the Cumberland River near Nashville. Gary Roger Baird crafted the 6,770-yard General's Retreat in 1986 that's more scenic but less marsh-filled than its younger (by 14 years) sibling. It also offers the more notable tournament pedigree, having played host to the LPGA's Sara Lee Classic from 1988–99, where trophies were handed out to Nancy Lopez, Laura Davies, and three times to Meg Mallon, among others.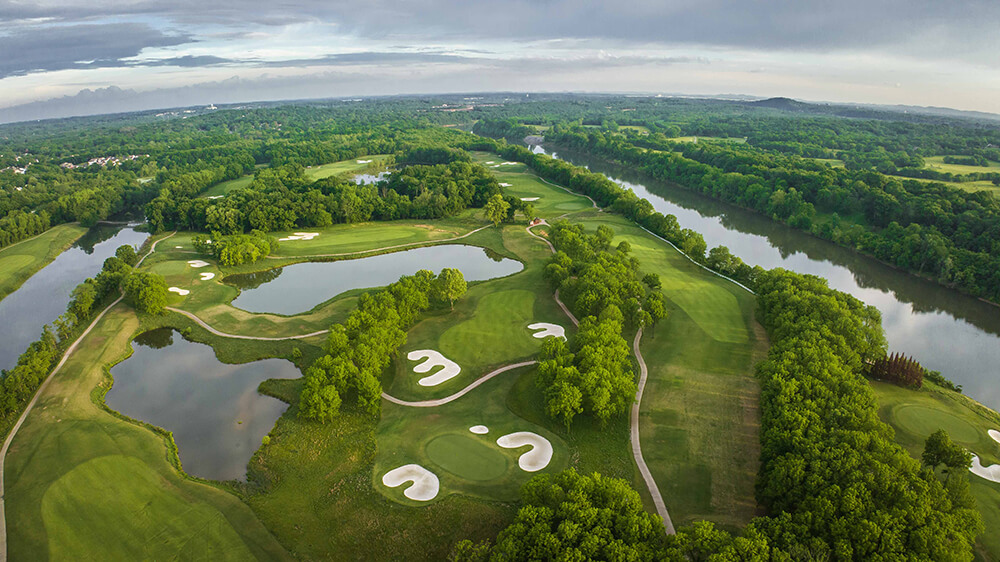 Located 10 minutes from Nashville International Airport and five minutes from the Gaylord Opryland Resort, Gaylord Springs Golf Links is conveniently proximate to country music's headquarters yet feels totally out in the country. This 1991 Jeff Brauer/Larry Nelson design was once known as Springhouse and played host to the Champions Tour from 1994–2003, when Lee Trevino, Hale Irwin, and Gil Morgan were past winners. Wetlands, limestone bluffs, and the Cumberland River are among the handsome hazards.
The second course built in the original Bear Trace trail of Jack Nicklaus designs, this 24-year-old layout 20 miles northeast of Chattanooga is now part of the Tennessee State Parks system's Tennessee Golf Trail. The 7,111-yard par-72 track is a somewhat forgiving layout by the Golden Bear's standards, with roomy corridors framed by pines and hardwoods and many holes that feature open approaches into the greens. Eye-candy views of Harrison Bay from 12 holes add to the enjoyment.
Each of the five courses at Fairfield Glade Resort has its share of devotees, and while Stonehenge is acknowledged as best-in-class, don't sleep on Heatherhurst Brae. Gary Roger Baird crafted the layout in 1988, when it debuted as the Creek and Mountain nines from the property's original 27 holes. Only 6,499 yards and par-72 from the back tees, Heatherhurst Brae wows with undulating, woodland terrain, zoysia grass fairways which hold up well in the summer heat, and an unforgettable par five, the 519-yard 4th, a double-dogleg beauty that twice crosses Otter Creek.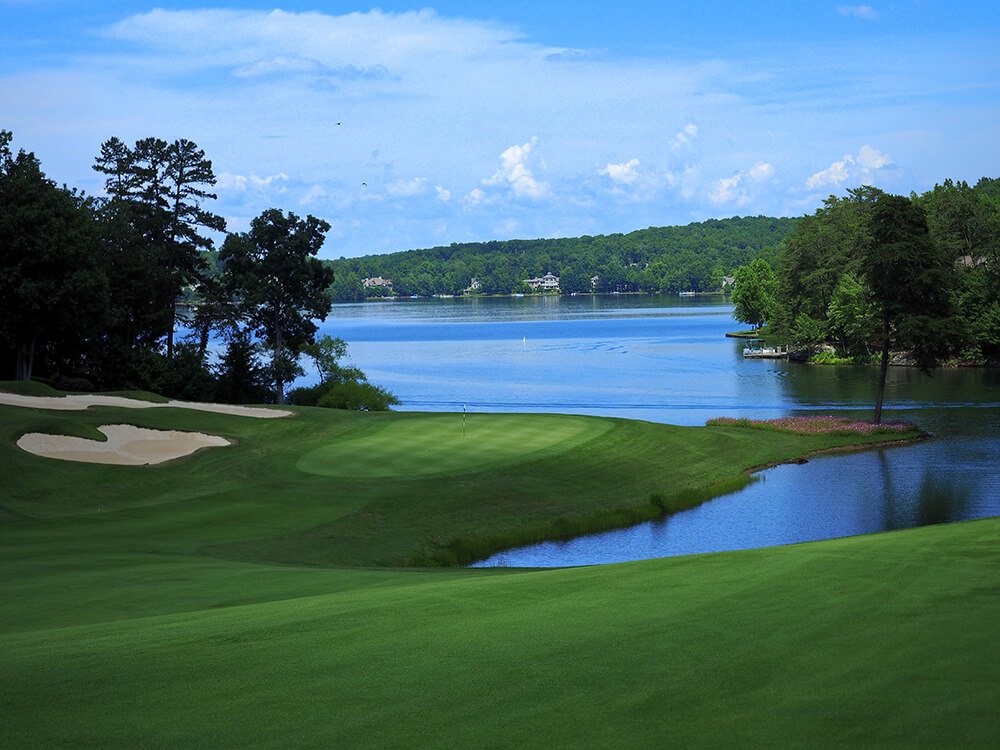 Centrally located between Nashville and Knoxville, Bear Trace at Cumberland Mountain State Park is another 1999 Jack Nicklaus Signature design currently under the Tennessee State Parks auspices. Awash in scenic splendor, the meandering 6,928-yard par-72 layout is slashed by brooks and framed by pines and hardwoods. Most memorable is the 393-yard par-four 7th, which opens with a wide landing area cut out of the woods and concludes with an approach to a virtual island green that sits atop a base of stacked rocks, reminiscent of the 13th at Kentucky's Valhalla, a Ryder Cup and PGA Championship venue.
This 1998 Mark McCumber/Mike Beebe design in the western Nashville suburb of Dickson isn't terribly long from the tips at 6,858 yards and par-72, but it's a sufficiently strong, compelling test to host the 2023 Tennessee State Open. Hills, rock outcroppings, streams, and strategically placed bunkers lend serious variety and visual interest, but what will bring home birdies—or doubles—are the reachable par-fives, three of which range from 515–520 yards. Riskiest of all is the 517-yard 17th, with water left and bunkers directly in front of and behind the green.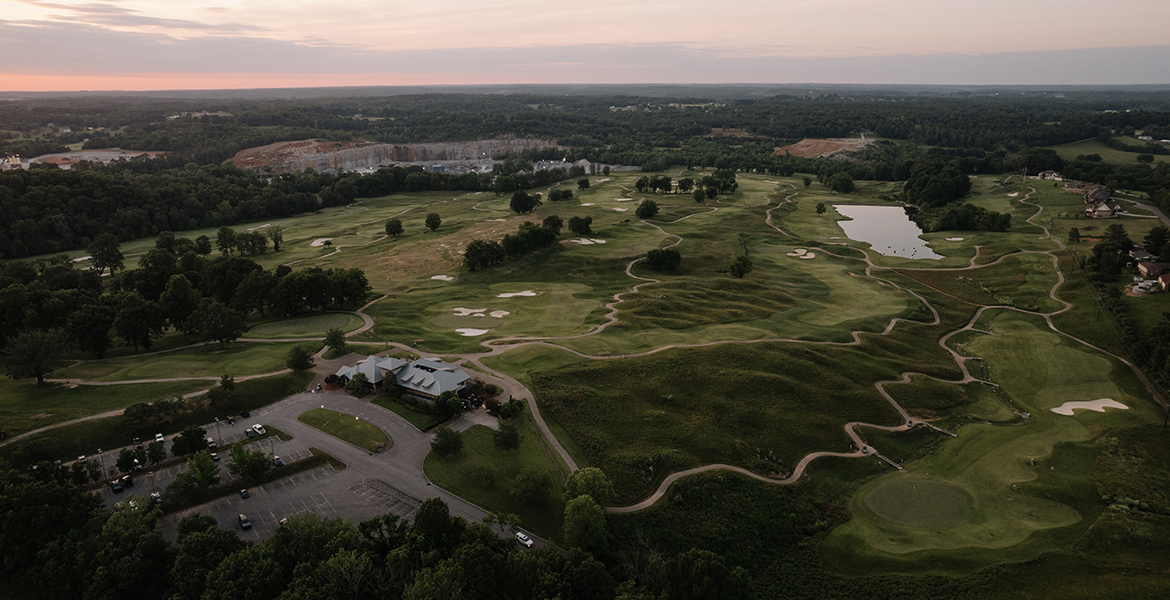 What great public courses in Tennessee did we miss? Let us know in the comment section.