Born in 1945, Ireland's Pat Ruddy was bitten by the golf bug at an early age. As a youngster, he'd catch rides on tractors to play at a little 9-hole course in South Sligo that rented its land from a local farmer. Later, he graduated to playing County Sligo Golf Club (aka Rosses Point), and to help him tack his way around the course better, he would draw sketches of the course's holes while sitting at his school desk.
After becoming first a golf writer and then a golf magazine publisher, Ruddy went on to design, co-design, or redesign many acclaimed courses. Among the many that bear Ruddy's signature: Druids Glen, Druids Heath, the Glashedy Course at Ballyliffin, Rosapenna's Sandy Hills course, and Montreal Island. Then there's The European Club.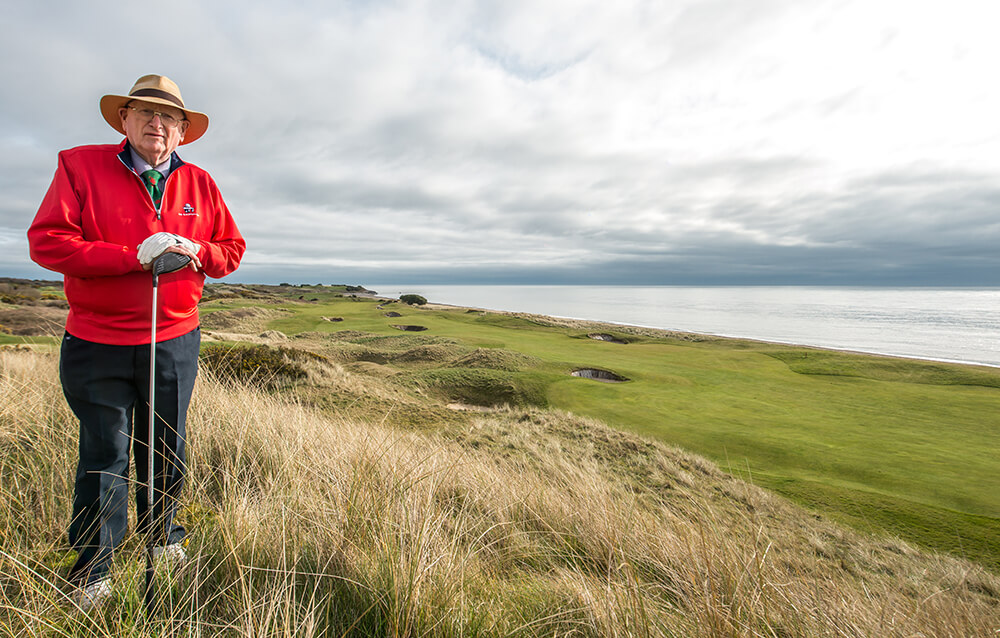 By the mid-1980s, Ruddy was intent on making his longstanding dream of creating his own golf course come true. He hired a helicopter, and over a matter of weeks circumnavigated Ireland before finding the perfect spot in the tumbling dunes at Brittas Bay, south of Dublin. He's spent the decades since systematically looking for every possible way to improve the world-top-100 course he gave birth to, which he named The European Club.
Ruddy's knowledge of the game is encyclopedic, and his words wonderfully witty. Here are some of his thoughts and opinions on a variety of topics.
On beginning as a golf writer
"It's always a thing that if you're no good at something, become an expert and tell people how to do it… I was the first full-time golf writer in Ireland. Free game, free lunch—it was a good tradition… As a young guy, you're invited to all the clubs to play and have lunch. That seemed like a good perk to me."
On the allure of golf
"Generally very nice people, beautiful places, and if you're a solitary soul, you can wander out into a corner on your own and try to make art with the golf ball. It's just the beauty of the place, the tranquility, and when people amble into it, they tend to be quite civilized."
On the difference between designing parkland and links golf courses
"You have to work with the raw material you're given, whether it's the texture of the soil or the shape of the contours of the land. The essence, it remains the same. Start at A, head to B, get to C, and get it on the ground. Obviously, the links have a huge advantage in terms of drainage, being down by the sea with the winds blowing. The basic elements are the same in terms of strategy, but you have to deal with more things in the landscape inland because you're not given dunes and that. The land shapes inland, in the main, have to go toward the mountains, and tend to be less built by God for golf."
On creating The European Club
"The site had all the attributes. Adequate size, 200 acres of dunes, almost a mile along the sea… The dunes, considerable tumble to them, water supply, very important. There were two other courses getting built in Ireland at the time. A new era was dawning, and golf was becoming a tourist thing. Up to then in Ireland we were playing golf just for the sheer pleasure of it. But suddenly there's a three-ring circus, and my ring was the smallest one. In the place called Mount Juliet, Jack Nicklaus was building a fine parkland course. And then there was the K Club. And everyone's hero, Arnold Palmer, was building a course. When I started, I just wanted a sandcastle for my own. I had the long, distant, hazy view that someday I might get my links to a stature that could be spoken of, not be compared directly with, but spoken of alongside the various fine links of Ireland and those of Scotland. But suddenly, as I was working and watching this whole new dynamic moment in golf, I said, 'Okay, let's work harder and see just how good we can get. Just the sheer personal pleasure will remain, but can we add achievement to that?' That has been the objective since—to see just how good you can get. To get to present, on the ground, shots which appeal to your eye and your soul."
On how he'd describe The European Club to someone who hasn't played it
"Worth playing. Simply that. Worth a game… I just like players to think that they're in a nice place with nice people, and hopefully in nice weather—and that the puzzles presented were worthy ones, and that failure to overcome some of them is no shame. The only pity, not a shame, is people trying to overcome some of them with force. Example: a person trying to carry 200 yards of water when their best hit is 190. Don't blame me."
On trees
"They're bunkers in the sky."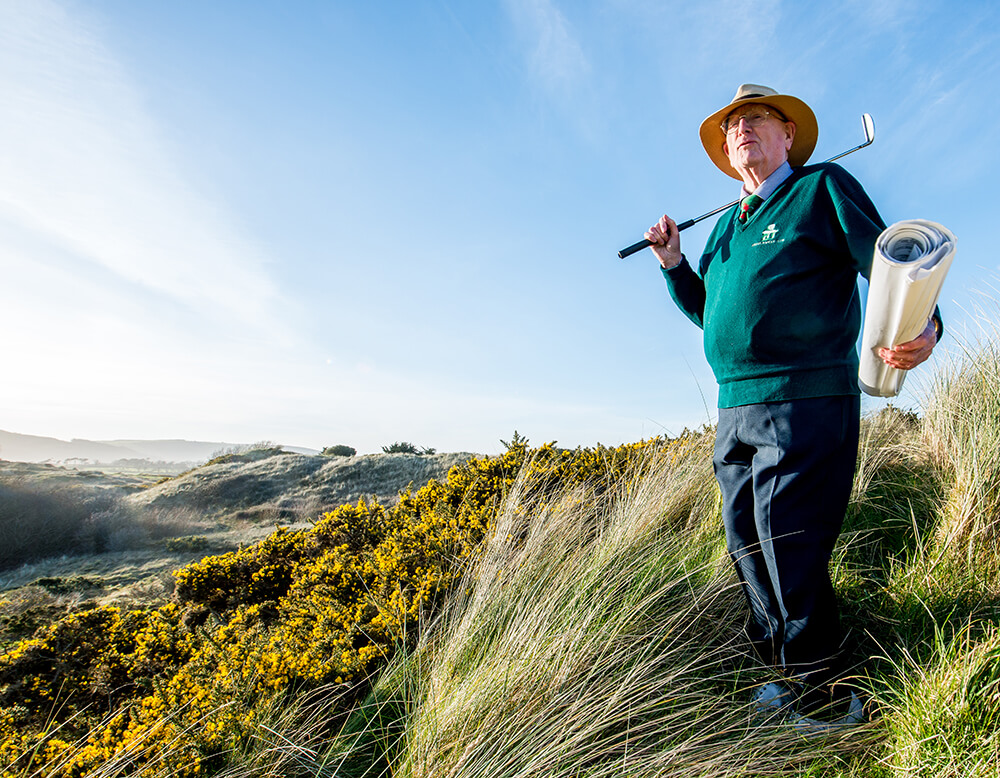 On ball flight
"You have to know how to flight the ball, to have it coming in at a trajectory that allows a run. It has a lot of craft to it and common sense. Quite a lot of people who are excellent people, they're my friends, they're my breed of dog, but they don't work out the mathematical formula involved."
On doing his own shaping
"It's a joy to shape Earth. And you cannot really claim full credit for your work if you don't do it yourself. If Michelangelo sent someone else up the ladder to the ceiling of the Sistine Chapel and let him dabble away the paint, it wouldn't be a Michelangelo ceiling. I felt always that I wanted to do the thing. Good or bad—hopefully, good a lot of the time—it'd be me. I learned to drive excavators. Big machines. If you get it right, there's a chance that you'll live to see it settle down nicely and give pleasure to thousands of people. I could have done multiples of courses if I just gave the drawings and then other people did them. To say that's my design would be to exaggerate."
On constantly fine-tuning a golf course
"You're never finished. There's no question, you're never finished. Once you start trying to fine-tune a course for a multiplicity of standards of play, it becomes most difficult to be as correct as possible. In one of my books, I relate it to chess, where two guys sit down to play, 64 squares on the board, and they're indoors in armchairs, and after two moves each, the players are faced with 72,000 possible mistakes. Now, on the golf course, there are more than 64 squares. Then you complicate it with the fact that you're not inside in the heated lounge with the brandy on the table in front of you. You're out in the wild, battering your body and your mind. So, if you're concerned about being as good as possible, there's a lot to be thought about. There's no way you could ever say that that's the best possible. You could say it's good, or much better, and a course could be left for a long time without being tampered with or changed. But it's unlikely that any golf course is the best it can be once it has to be judged on a multiplicity of levels."
Why was it named The European Club?
"I called it The European Club because the European Union was coming together then, and also as a clue to Americans where Europe is, since a whole generation of Americans didn't travel very much at that stage—because you have such a great country yourselves. Also, as an indication of status. Why leave it to the imperial powers of Britain, France, and everywhere else to take the word 'European' when an Irishman could do it?"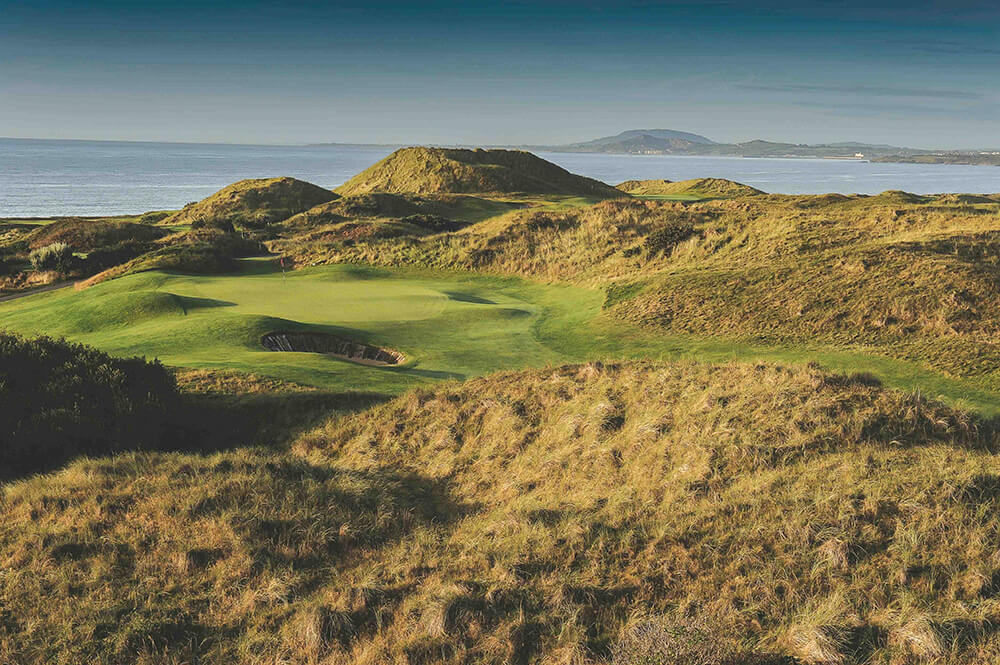 On being his own boss
"At The European Club, I have the privilege of having nobody to stop me. I can get an idea on Sunday night and be at work on Monday morning."
On working at Ballyliffin
"[It's] an amazing place and an amazing community—a small town with not just one golf course, but two—and the short course. It was a great honor for me to come into their lives, and at a very important moment. I had done The European Club, and I went up to Ballyliffin to have a look at how the Old course there could be improved. And when I saw the land, I said, my goodness, don't forget the Old Course but you park it there for 10 minutes. You should be building another great course. I said, 'I'm aware of what's going on around you and me, which is the environmental laws are changing. And this great land you have will be frozen from golf design in the near future. But we can do one now.' And they got on their ponies and went at it with a will. I'm so proud of them—and for them.'"
On green committees
"You have to have the freedom to work. I've observed this, not in my own work, but generally, that when committees come into play, there are so many different views that the pony becomes a camel—and sometimes worse."
On playing your best golf
"You have to work out a method of striking the ball, knowing what your shot is, and what you have in the bag. Fit that onto any golf course and life gets easier. Difficulties are found everywhere. My best advice for golf is, read the 10-foot putt before you miss it and extend that exercise into every shot. Read the shot before you miss it. Then don't miss it."