The U.S. Open's return to Torrey Pines served as a reminder that San Diego, aka "America's Finest City," is a golfing Mecca—after all, it's not very often that amateur golfers of any ability level can tee it up on a championship-caliber venue that has twice hosted one of the world's most revered events.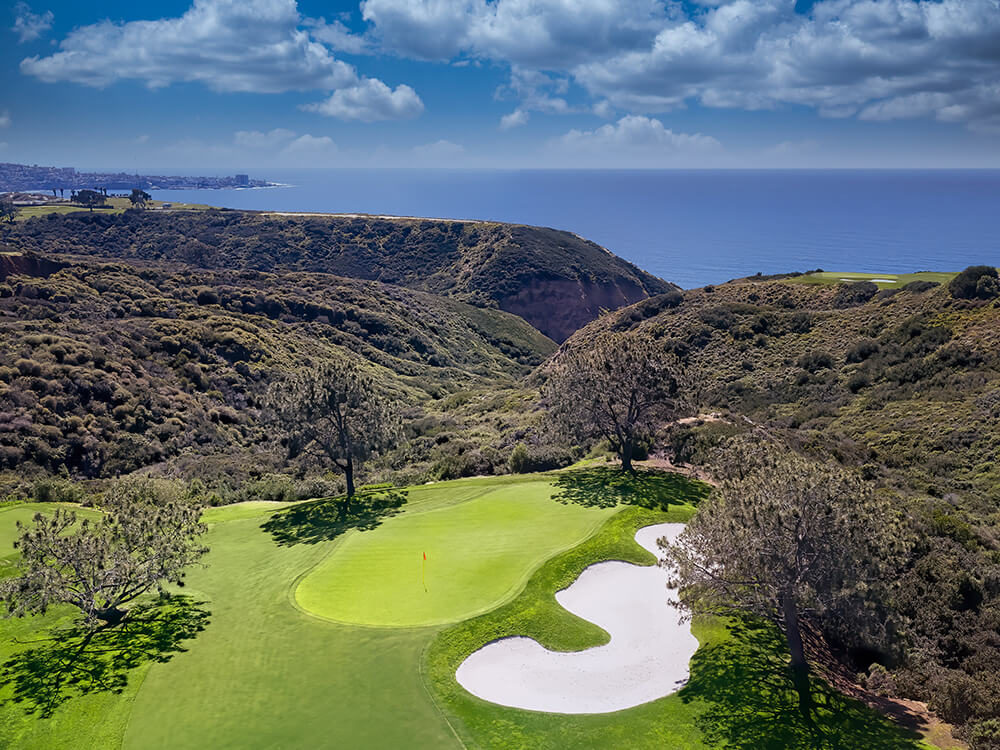 Not surprisingly, golf travelers who earmark sunny San Diego as their next getaway destination already know they can't miss a round on either of Torrey Pines's championship courses; but the greater San Diego area is teeming with other exceptional public courses worthy of your time.
Here's a short list to help you round out that SoCal golfing trip that you've been dreaming about.
Coronado Golf Course (Coronado)
If you're someone who believes a golfing getaway begins the moment a plane's wheels touch down, Coronado Golf Course is the ideal venue for that tarmac-to-tee-box mentality. Set along the edge of San Diego Bay, the municipal course is a short drive from the airport; and with $49 greens fees for "prime time" play, the 6,590-yard layout offers incredible value, especially given that the course is known for its pristine greens and offers striking views of both the Coronado Bridge and the Coronado Yacht Club.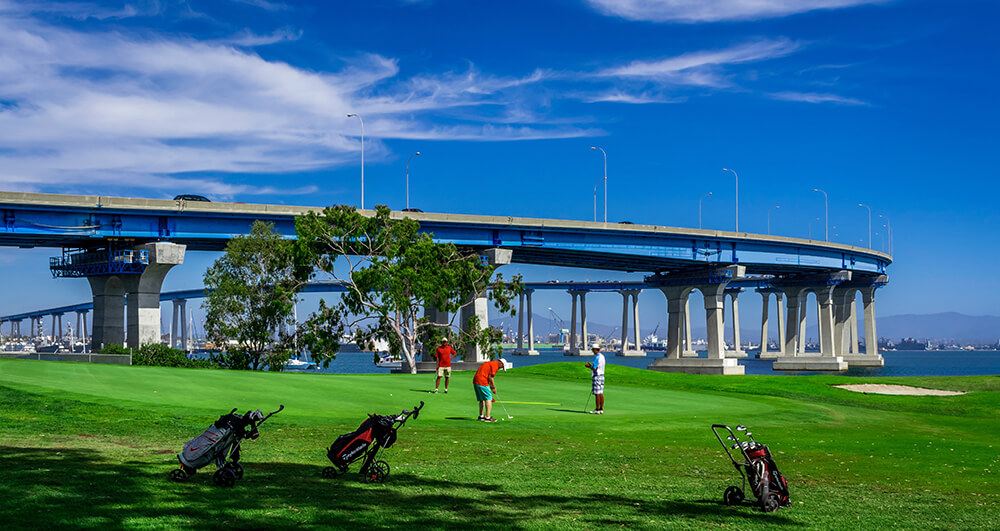 According to head golf professional Brian Smock, the golf course is a fair test that rewards players who can position their drives in the fairway and manage the afternoon's ocean breezes. Those who have played the course often will take the aforementioned vistas that it provides for granted, but they'll know not to overlook the nuances on Coronado's large putting surfaces. "Our subtle slopes regularly have players scratching their heads," he says. "The locals term it 'NBC' for No Break Coronado." https://www.golfcoronado.com/
Aviara Golf Club (Carlsbad)
Although the Arnold Palmer-designed resort course at the Park Hyatt looks and feels decidedly different than Coronado 29 miles to its south, Aviara Golf Club's primary obstacle remains the same. "The greens are the defense of the golf course for the better player," says Renny Brown, Aviara's director of golf. "They're very large with a lot of slope and undulation. It's about more than just hitting it on the green. To score, it's about hitting it in the right spot."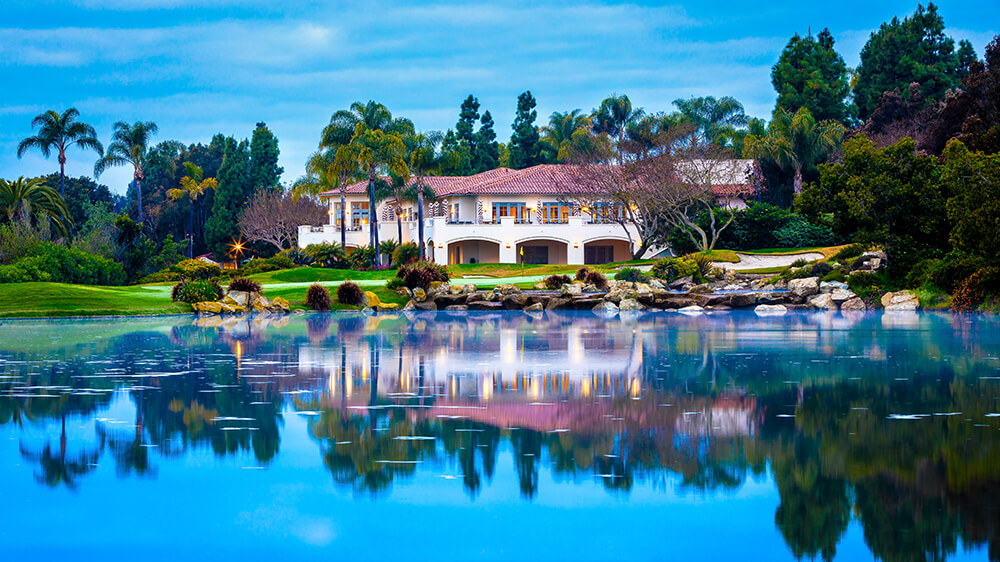 The 7,007-yard championship golf course, host annually to the LPGA's Kia Classic, is accentuated by an abundance of flora that seems to always be in bloom, not to mention flowing streams and other larger bodies of water. For those reasons, a round at Aviara has often been described as "golf within a botanical garden." Those familiar with Palmer's design work will also spot course characteristics that reflect The King's architectural style. Most notably, Aviara is defined by wide, generous landing areas, large bunkers, equally large greens, and gradual undulations across the terrain.
"Someone could play here three or four times a week and not get tired of it because of the variety of holes and the way the course was designed," says Brown. "It's going to play different based on the weather and the seasons. You never know what to expect here." https://parkhyattaviara.com/golf/
Maderas Golf Club (Poway)
Fifteen miles east of Aviara, another sprawling course—this one a Johnny Miller and Robert Muir Graves design—carves its way through the cliffs and forests of north San Diego's inland hill country. Stretching to almost 7,200 yards from the back tees, Maderas Golf Club meanders around creeks and rocky outcroppings, dazzling players with beautiful vistas and dramatic elevation changes.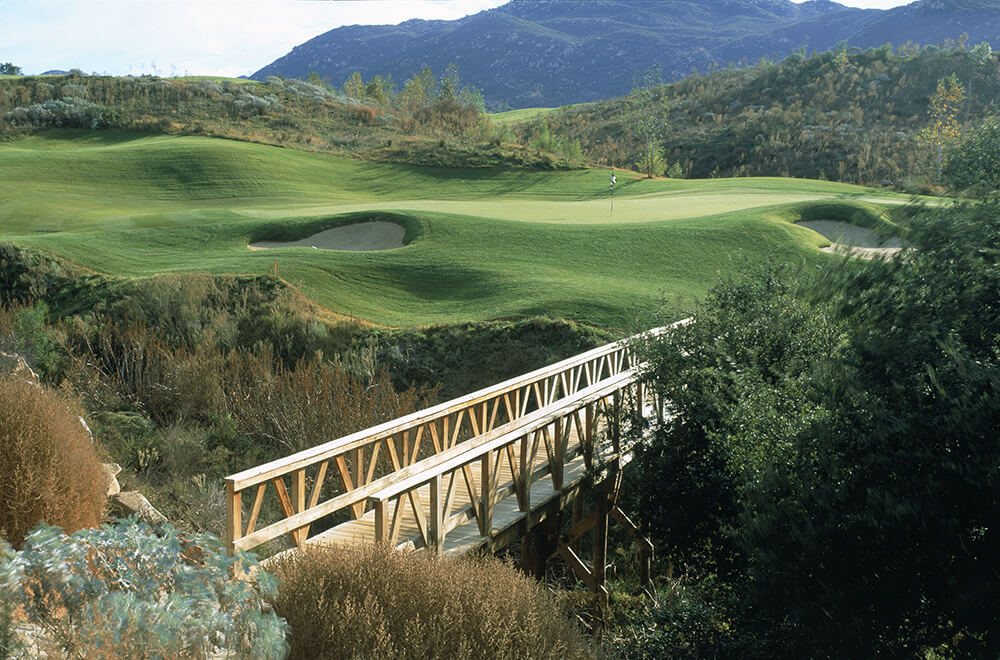 Despite its boldly undulating fairways, Maderas best protects itself against low scores where the grass is mowed the shortest. Head Golf Professional Uri Jimenez acknowledges that players aren't guaranteed a par anywhere, even after hitting a fairway and a green in regulation. "We divide each green into six quadrants, and the pin rotates daily. Paying attention to the golf cart's GPS and where the pin is on that particular day can save you lots of strokes."
Even if those aforementioned contours aren't the course's most challenging factor, they are features that can be leveraged to make seemingly difficult holes play more forgiving—so long as players recognize that potential. Needless to say, course knowledge at Maderas can make a big difference. "It's a course that you might play a little differently the second time around," Jimenez says. "There are lots of contours and mounding that you can use to your advantage if you know what's ahead." https://www.maderasgolf.com/
Encinitas Ranch Golf Course (Encinitas)
The old adage about the most important aspect of real estate being "location, location, location" also applies to golf courses. Encinitas Ranch, only 11 miles north of Torrey Pines, serves as a prime example. Perched atop a sweeping series of bluffs and located less than two miles from the Pacific, the 6,587-yard municipal layout delivers ocean views on almost every hole. Designed by Cary Bickler (whose architectural fingerprints can be found on numerous courses in the area), it impresses not only with its scenery but also for its forgiving, playable layout. John Mason, the PGA director of instruction at JC Resorts, factors in that attribute—as well as the course's manageable length—when he says that "players will have the best score of their lives here."
That being said, Mason acknowledges that the course's greatest defense is a natural one—and something that all players will (or should) respect. "It's the rattlesnakes," he says, "so don't go in the barranca looking for golf balls!" https://www.jcgolf.com/
What are your favorite golf courses in the greater San Diego area?