Tom Fazio's Congaree Golf Club—modeled after the courses of the Australian Sandbelt—is built for the ground game, characterized by firm and fast conditions, slippery runoffs into hazards, sharp bunker edges, and plenty of sand.
Built in 2017, the private club, nestled 45 minutes inland from the South Carolina coast, has no rough, instead featuring 130 acres of "waste areas" predominantly consisting of sandy soil and native brush. The layout also has six water hazards in play on 10 of its 18 holes.
Normally stretching to a formidable 7,790 yards from the Championship tees, the professionals playing in the PGA Tour's Palmetto Championship face a 7,655-yard test that will reduce the par one stroke to 71—the 540-yard par-five 8th hole playing as a par four during tournament week.
What follows is a hole-by-hole guide describing what's in store for anyone who tees it up at Congaree. (Photos by Al Lunsford unless otherwise indicated.)
Hole 1: Par four – 435 yards
The opening tee shot plays across an entrance road and bends slightly left to a green that showcases the runoffs prevalent throughout the course.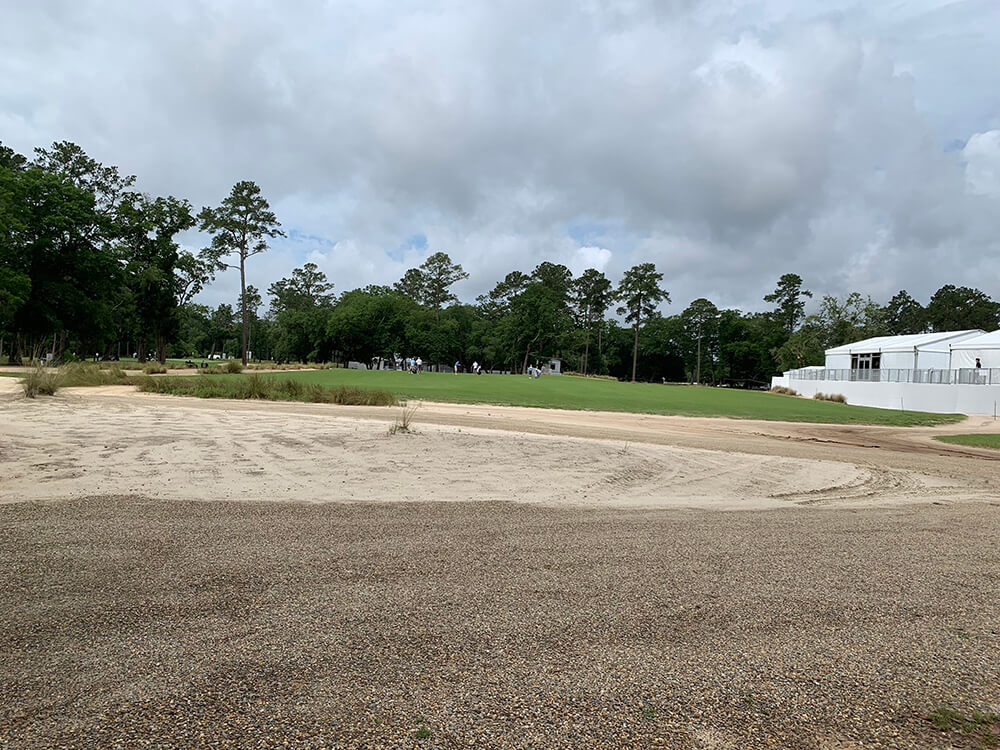 Hole 2: Par five – 595 yards
Entirely uphill, players must navigate around a large oak tree approximately 100 yards out from the green on the left.
Hole 3: Par four – 360 yards
A risk-reward drivable par four towards a long and narrow green that slopes right to left.
Hole 4: Par five – 645 yards
The course's longest hole plays to a lion's mouth green where balls feed towards the water on the right side.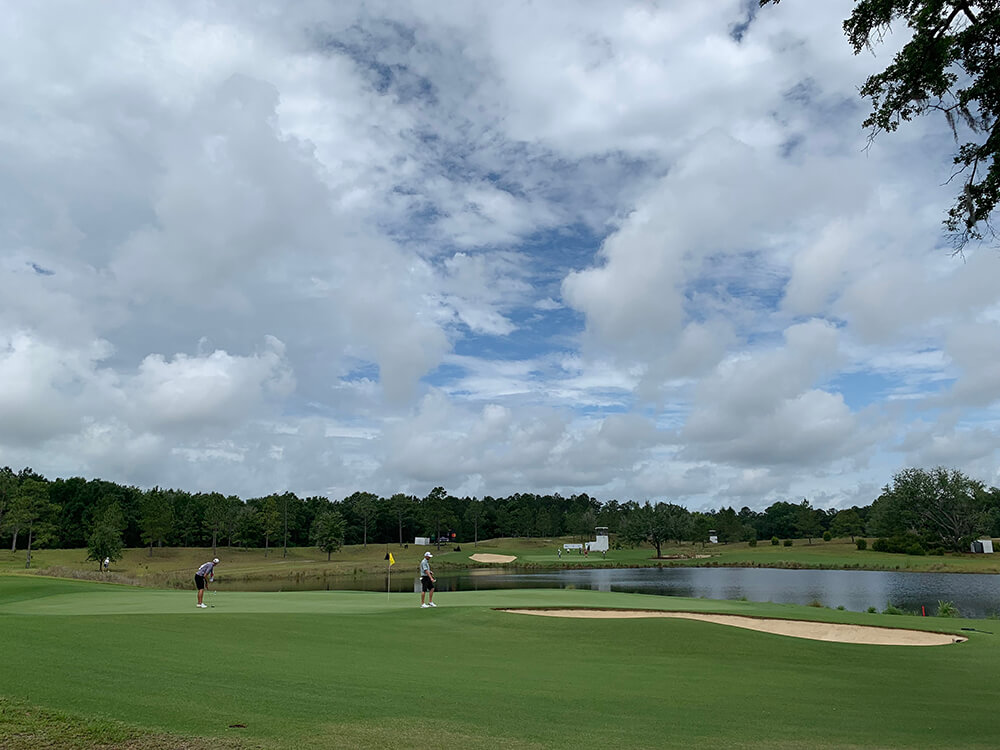 Hole 5: Par three – 170 yards
The shortest par three plays over water and requires landing on the correct shelf.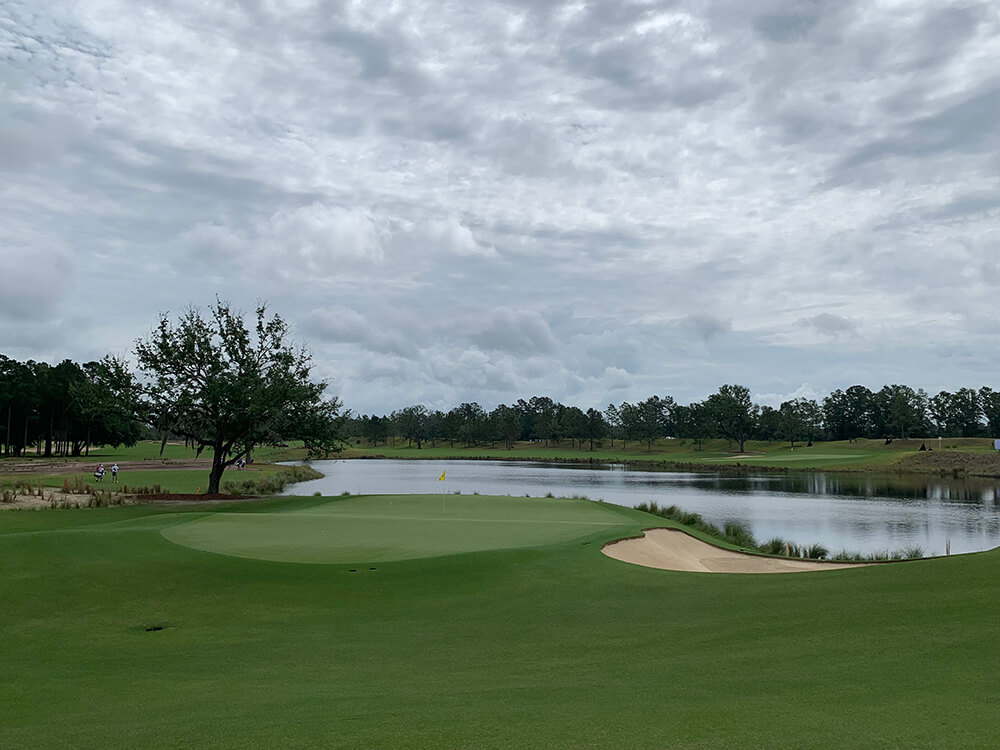 Hole 6: Par four – 520 yards
Trying to cut the corner can leave the second shot blocked out by trees, and the deep bunker left of the green makes precision critical.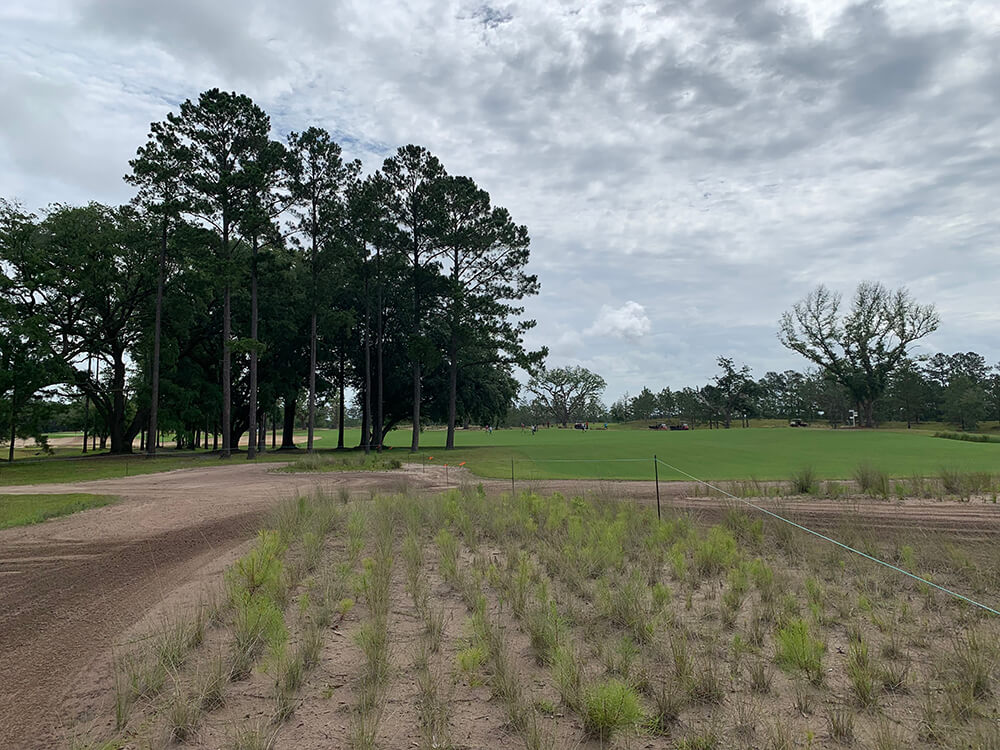 Hole 7: Par three – 195 yards
A relatively simple downhill hole with two subtle green tiers; misses short and right have a chance of rolling into the water hazard.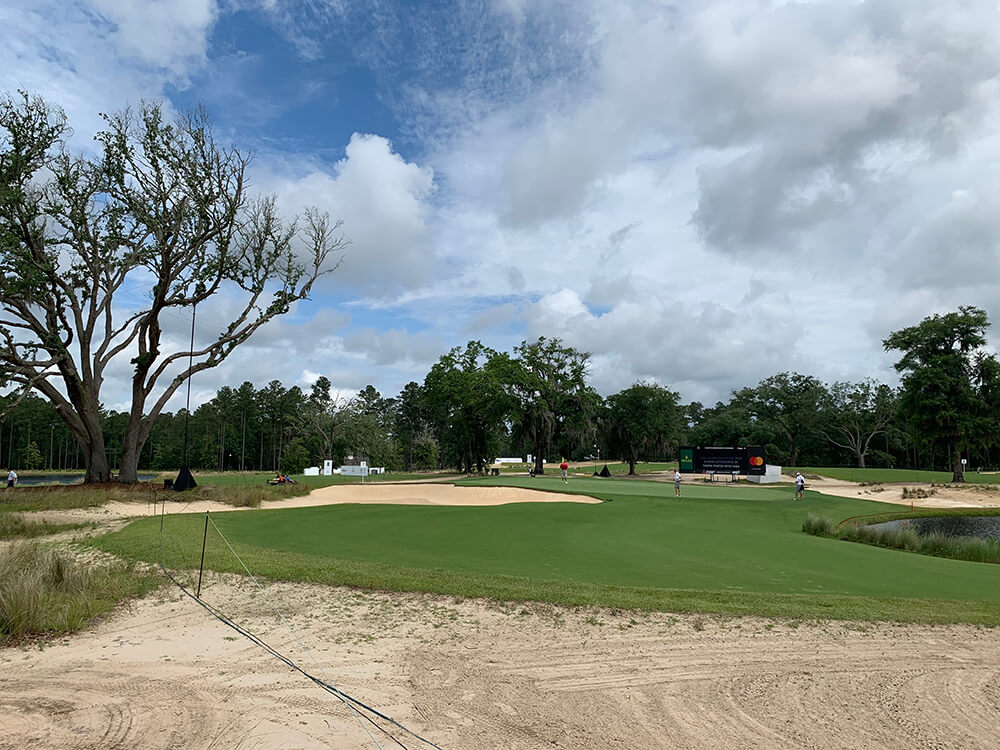 Hole 8: Par four – 540 yards
A brutish hole, especially into the wind, that normally plays as a par five where even long drives will face a long approach to an elevated green.
Hole 9: Par four – 510 yards
After a pit stop at the charming, whitewashed halfway shack, players face a dogleg left to another elevated putting surface protected on nearly all sides.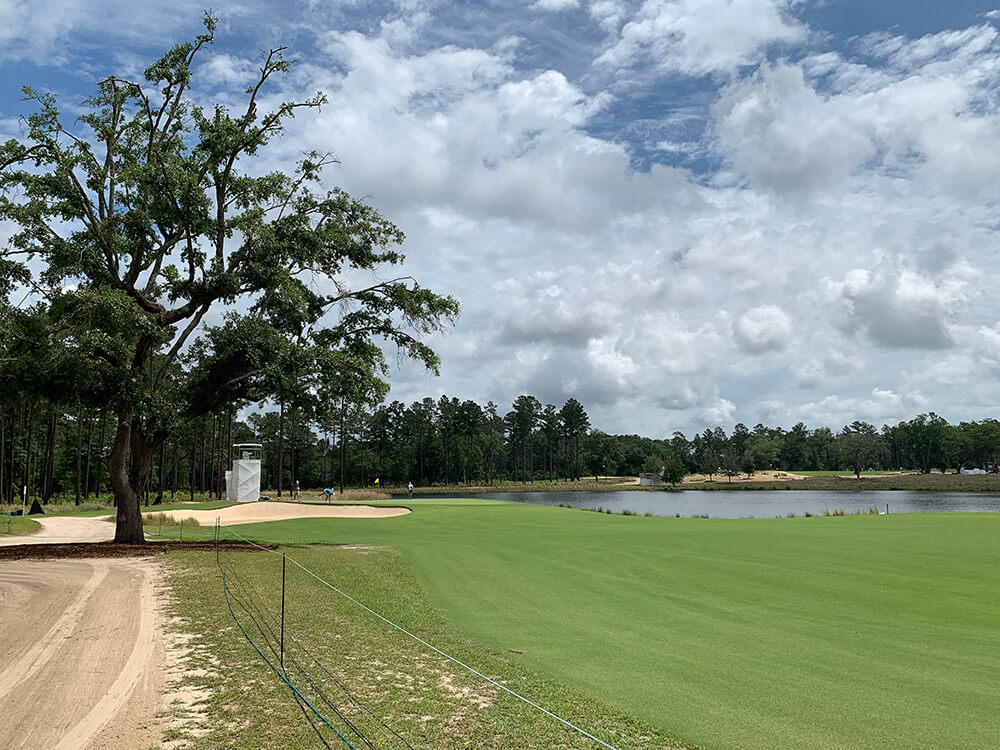 Hole 10: Par three – 205 yards
A long downhill approach to one of the course's flattest greens.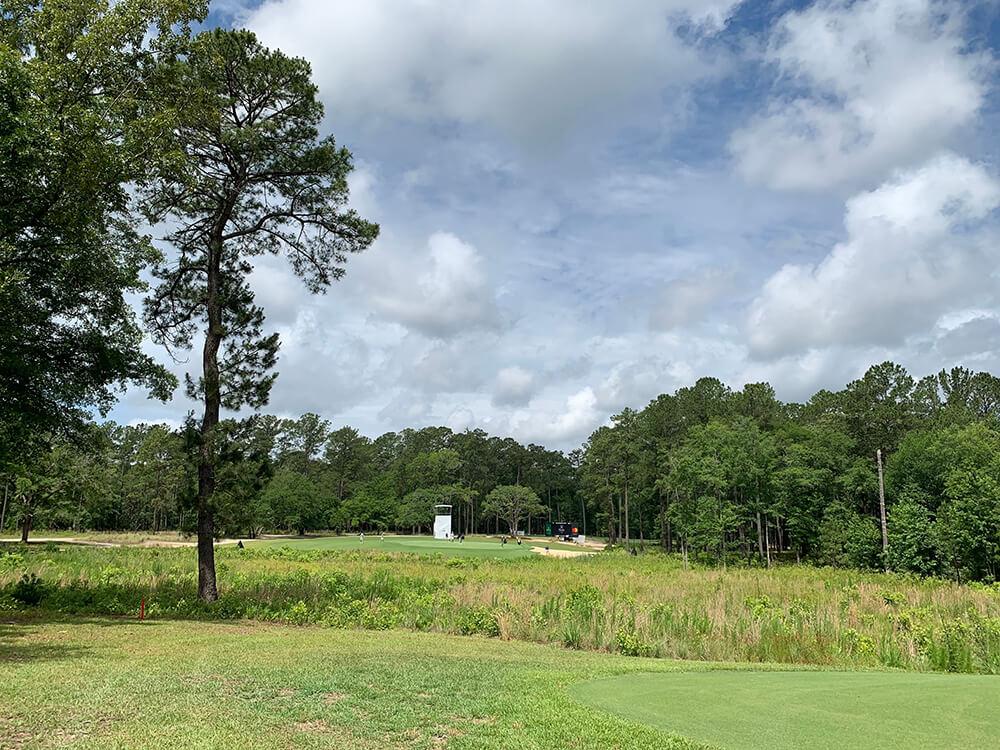 Hole 11: Par four – 490 yards
An aggressive line at the two tallest pines in the distance on this dogleg right leaves a favorable approach.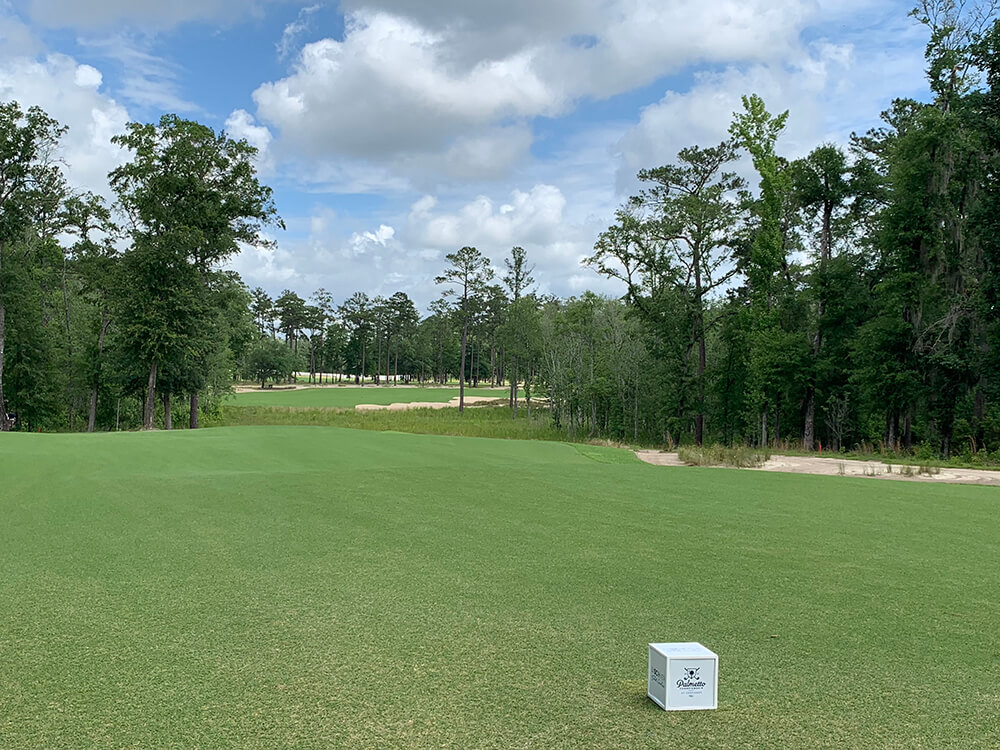 Hole 12: Par five – 580 yards
A shorter hole that can be reached in two with easy recovery shots from the greenside sandy areas.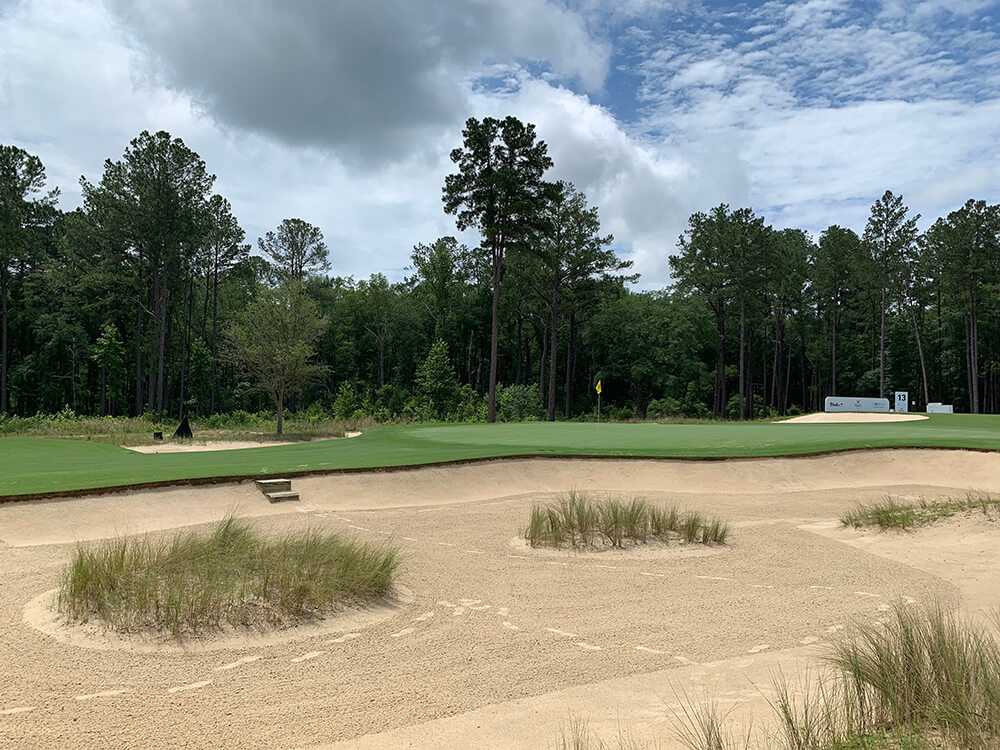 Hole 13: Par four – 465 yards
Tee shots too far left will kick into a pond from a tightly mowed fairway sloping towards the hazard, and balls on the green feed toward a valley in the center.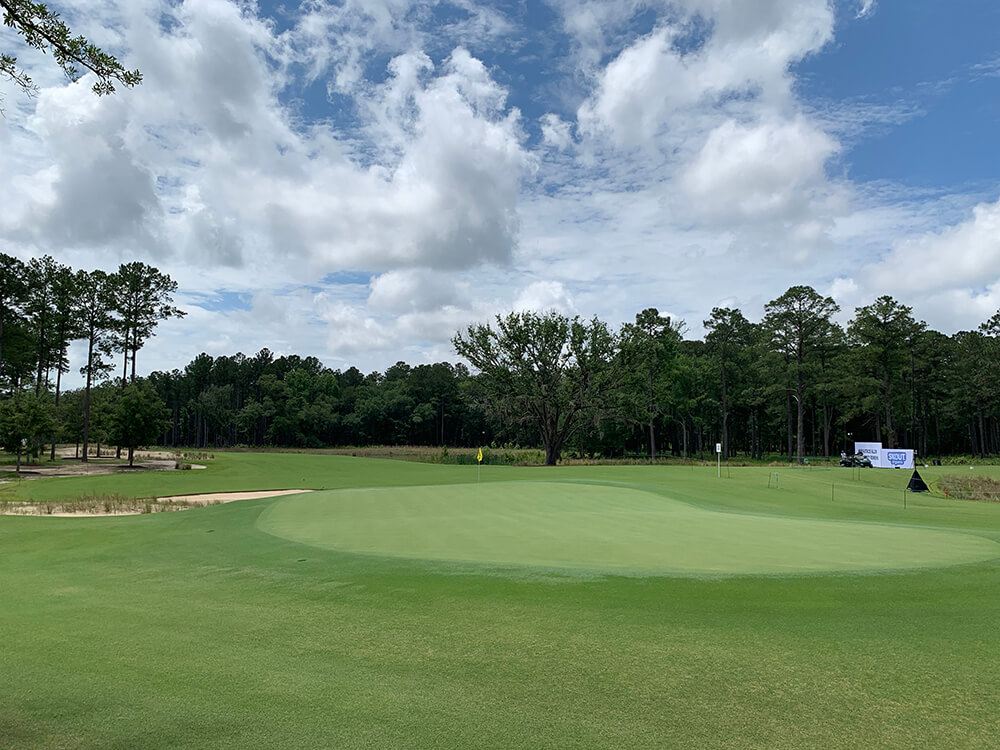 Hole 14: Par three – 230 yards
The course's longest par three has a big green with subtle undulations and a miss most likely leaves a tight-lied recovery shot.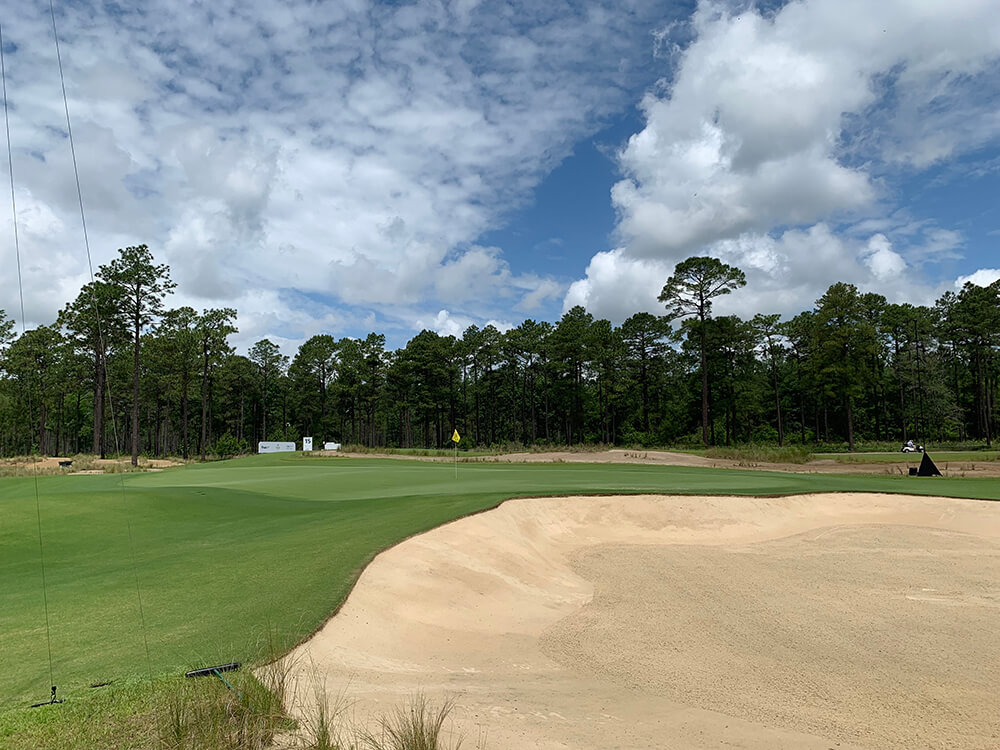 Hole 15: Par four – 360 yards
Another drivable hole requires precision to hit the fairway that zig zags between bunkers and miss the dramatically steep bunker right of the green.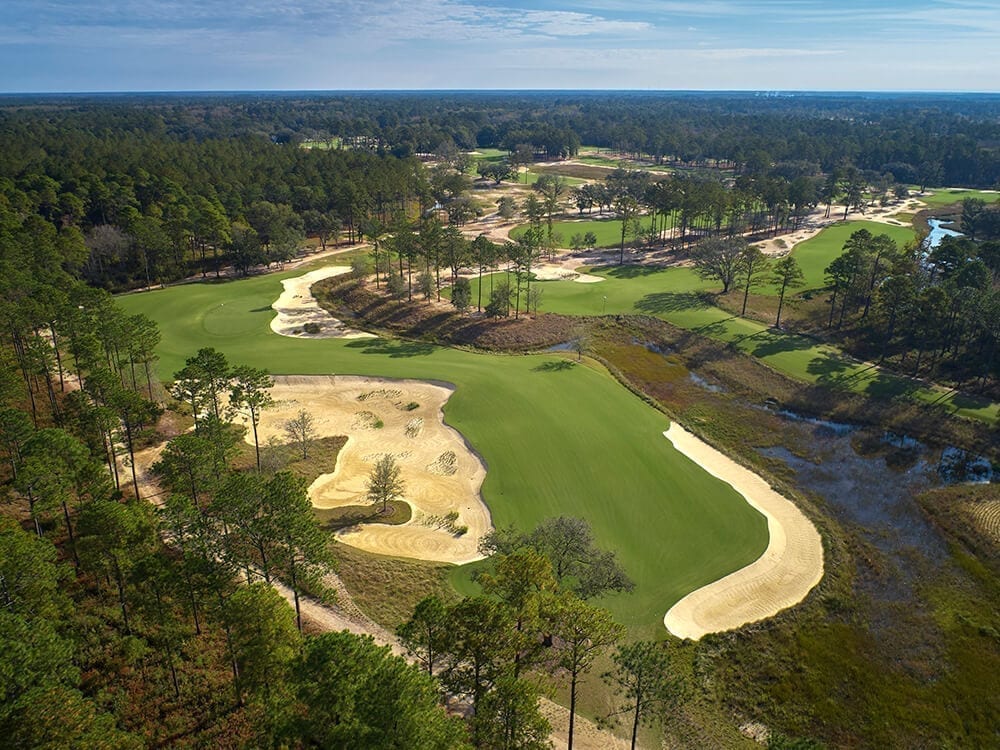 Hole 16: Par four – 435 yards
Two straight shots are all that is required on this medium length par four.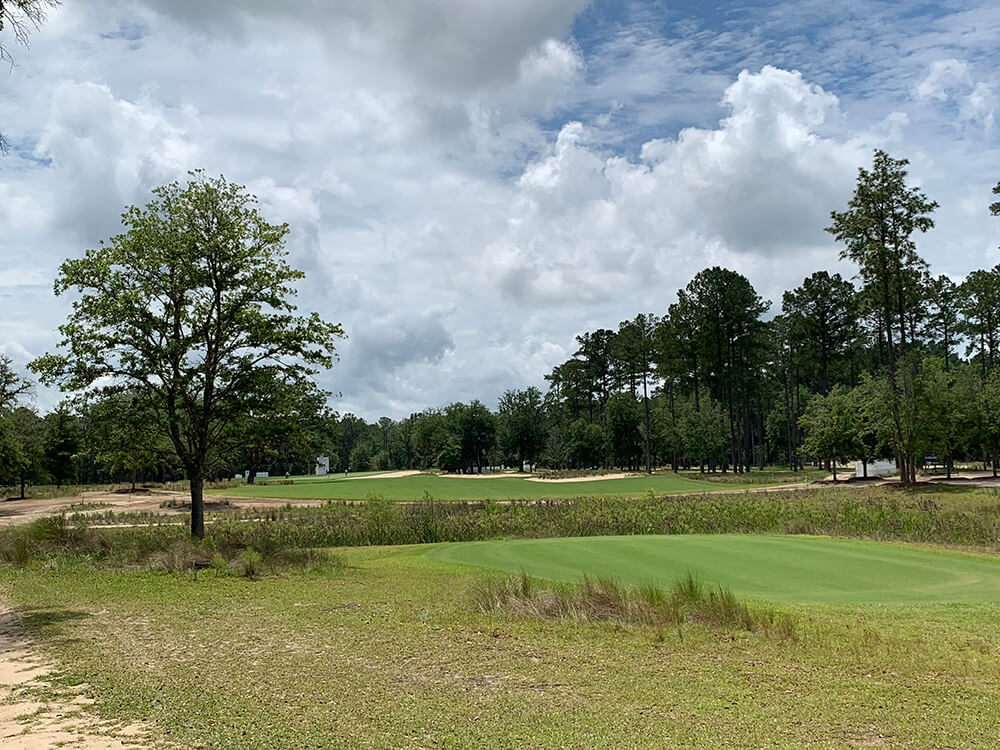 Hole 17: Par four – 475 yards
A waste expanse extends to the corner of this long dogleg right.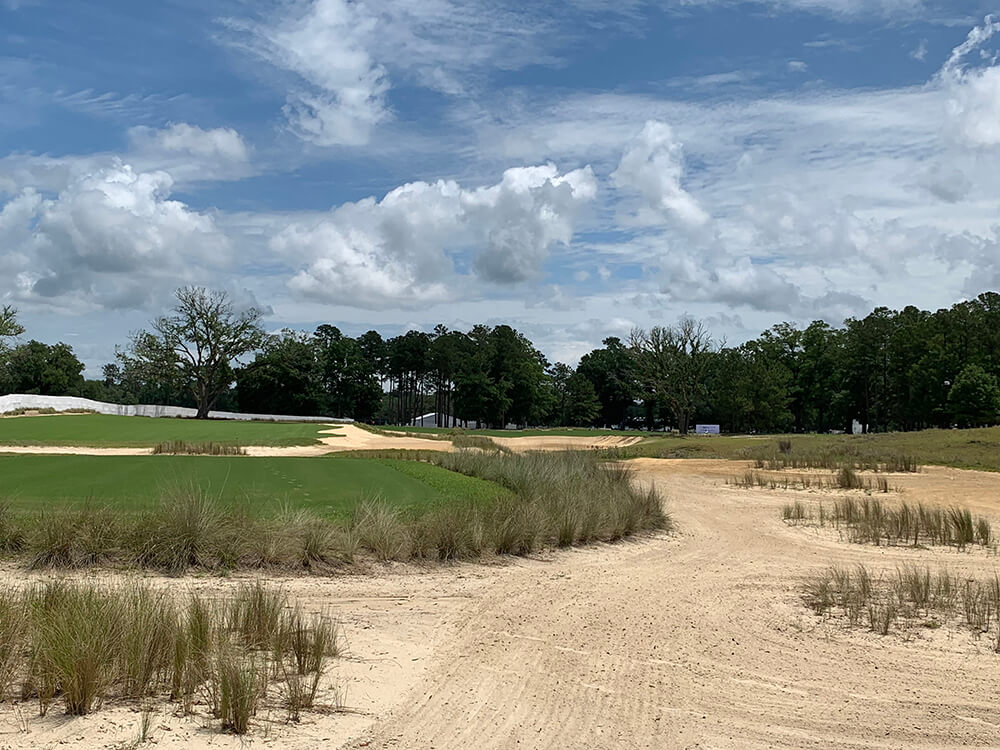 Hole 18: Par four – 445 yards
The clubhouse is the aiming point from the last tee, which leaves no room for erring shots that miss the fairway right.