Since opening in 2017, Congaree Golf Club has been one of those courses that holds a certain lore in the golf world—many have heard, but few have seen. Tucked away in a quiet corner of the South Carolina Lowcountry, the Tom Fazio design debuted as Golf Digest's "Best New Private Course" in 2018 and recently was announced at No. 39 on Golf Digest's 2021 "America's 100 Greatest Golf Courses" rankings.
I recently had the opportunity to preview the course and learn the ethos behind its mission—here are five things to know about Congaree.
1. Southern Charm
Approximately 30 minutes north of Savannah, Ga., the entrance to Congaree is one of those "blink and you'll miss it" type of roads (and I did—my GPS first led me to a private driveway that a few excitable watchdogs chased me out of) with a subtle brick wall and white wooden gate. Upon entering, a serene drive under arching live oaks leads you to a village of historic white buildings, some which have existed on the former rice plantation since the 1800s; this includes the Roberts Cottage, where actress Julia Roberts stayed while starring in the 1995 movie Something to Talk About, which was filmed at the Congaree estate.
Congaree's clubhouse, known as The Lodge, frames the backdrop of the course's 18th hole. Voted one of the Top 30 "Greatest Clubhouses in America" by Golf Digest, its pub, fireside lounge, and pleasant staff exude southern hospitality. At the turn, a small white shack offers complimentary refreshments, signature meat pies, and every type of snack food or candy you could imagine.
2. The Course
The overarching feel—the Australian Sandbelt meets the hunting backwoods of the southeastern U.S. The course's width is forgiving thanks to the removal of thousands of trees to clear the way between tall pines and classic moss-draped oaks (several mature trees were carefully relocated elsewhere on the course). That's assuming your ball hasn't rolled into one of the expansive sand waste areas that border many of the holes—razor-sharp edges from fairways and greens into bunkers make this a commonality with even slightly wayward shots. As firm and fast of a course I've experienced, and designed to be that way, makes holding approaches on each elevated putting surface (playing at a cool 12 on the stimpmeter during my round) an accomplishment and leads the caddies, dressed in all white, to recommend using a Texas wedge on the majority of recovery attempts.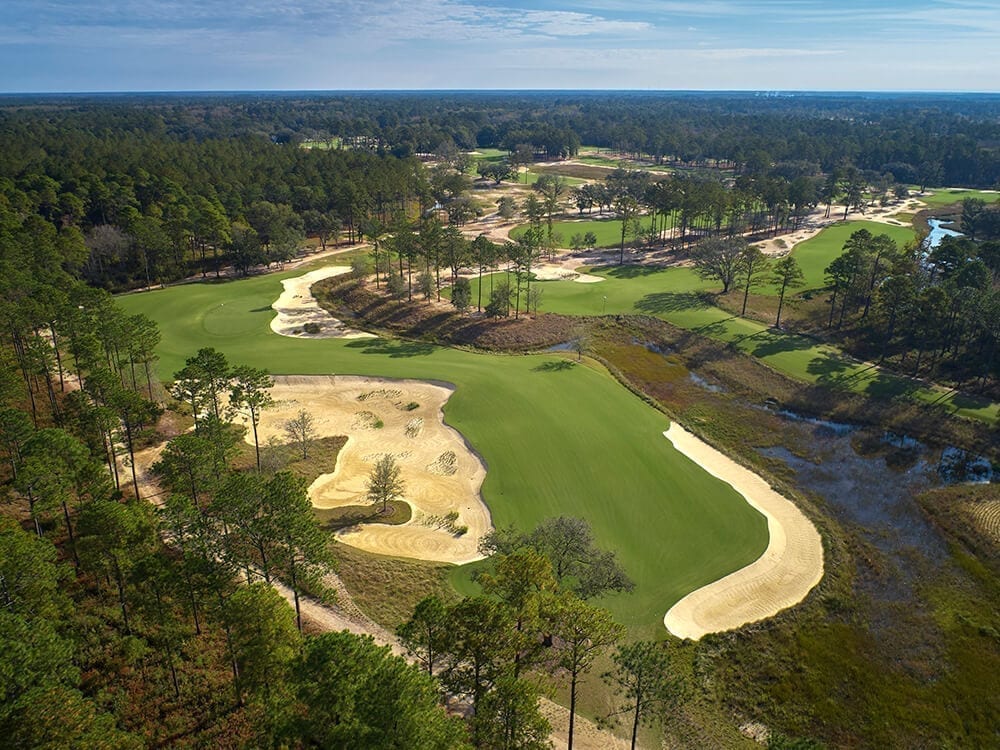 There are no tee markers, just yardage plates that align with the tee areas on the scorecard, encouraging match play and flexibility when deciding where to play from on each hole. After a tee shot over a road on the 1st, the 2nd (a straightaway par five with a forced carry off the tee) and 3rd (a drivable par four bending left) immediately stick out among the most memorable. Widely considered the signature hole, the brutish 540-yard 8th requires optimal distance and accuracy around huge sand washes and intimidates regular players even as a par five; it was diabolically used as a par four during the 2021 Palmetto Championship. The 15th, another short par four and the start of four straight fours on the closing stretch, is among the most fun to watch the pros attempt to go for with its zig-zagging fairway and green that funnels balls from front to back.
3. Membership with a Mission
Originally, Congaree was co-founded with two "Members," owners Dan Friedkin, chairman of The Friedkin Group and owner of Diamond Creek Golf Club in Banner Elk, N.C., and the late Bob McNair, former owner of the NFL's Houston Texans, chairman of The McNair Group, and owner of the Golf Club at Briar's Creek in Johns Island, S.C. Together, they sought to establish a club and foundation that would positively impact youth both in the local community and nationally, with educational and vocational opportunities via the game of golf.
The extended membership is made up of more than 200 Ambassador Members—like-minded individuals who share a passion for golf and making a positive impact on disadvantaged youth by contributing their time and resources to Congaree Foundation. Professional Ambassadors, including PGA and LPGA players, teaching professionals, and golf industry executives, provide additional support locally and nationally.
4. The Impact of Congaree Foundation
In a short amount of time, the philanthropic efforts of Congaree Foundation have been diverse and widespread. The annual Congaree Global Golf Initiative is a weeklong camp that teaches the game and provides college admission prep to ambitious students—to date, the Foundation's signature event has graduated 68 students from 16 different countries (27 have gone on to play college golf) and assisted more than a dozen students in earning $2.2 million in scholarship money to attend college.
Congaree's support of the local community in which it resides is perhaps its most meaningful. In Jasper County, one of the most impoverished in South Carolina, Congaree Foundation has provided funding support to the Boys & Girls Club, including a $167,000 grant to create the Congaree Career Launch program which will prepare students for future career opportunities. The Foundation's support of the Lowcountry Food Bank has led to 105 drive-thru food distributions and 14 fresh-for-all markets to help local families in need. In January 2021, Congaree Foundation acquired nearby Sergeant Jasper Golf Club, a public nine-hole course; the Foundation will revitalize the course, keep rates affordable, and allow local area high school students to play for free.
5. The Palmetto Championship
In the words of Jim Nantz, Congaree hosts the third event of the "South Carolina swing" on the PGA Tour in 2021, alongside April's RBC Heritage at Harbour Town and the PGA Championship at the Ocean Course at Kiawah Island in May, with a $7.8 million purse up for grabs for the full 156-player field. Nearby Long Cove Club on Hilton Head Island was also awarded a U.S. Open qualifier to accommodate players in the Palmetto Championship, as the previous qualifying site in Canada was also forced to cancel.
Supported by the South Carolina Department of Parks, Recreation, and Tourism and The Friedkin Group, proceeds from the event will benefit Congaree Foundation (PalmettoChampionship.com).