If you're planning a trip to San Diego to experience the 2021 U.S. Open venue at Torrey Pines—or for any other reason—you're in for a treat. Lots of treats, actually.
San Diego is one of California's most vibrant cities and the capital city of fun in the sun. With more than 250 days of sunshine annually and high temperatures in the 70s pretty much year- round, its weather is perfect for outdoor pursuits—especially those in and around the water.
Great restaurants cater to every taste, with the Mexican food you'll enjoy there being especially outstanding. The city offers a wide range of arts and cultural events, too, plus enough museums, theaters, and music outlets to satisfy even the most effete of visitors. Then there are San Diego's attractions and theme parks—each offering exciting diversions for people of all ages. And let's not forget the golf. The two courses at Torrey Pines are public so anyone can play them (when it's not Open week). But it's just one of many area tracks that are well worth playing.
Here are my top 10 things to do when you're in the San Diego area, beginning with the golf.
1. Golf and More Golf
San Diego offers a smorgasbord for visiting golfers. Like Torrey Pines, Coronado Golf Course is a muni that's located right on the water. A generally flat but totally enjoyable course, it offers great views of the ocean and Coronado Bridge, with downtown San Diego keeping watch from the horizon. The historic Hotel Coronado is right next door—it's a great place to stay. Scenic Maderas Golf Club in nearby Poway isn't on the ocean, but it features three lakes and a handful of waterfalls. Up the road in Carlsbad, Aviara Golf Club (home of the LPGA's Kia Classic) and the two courses at the Omni La Costa Resort—including the Champions Course, which has hosted 37 PGA Tour events—are always a blast to take on.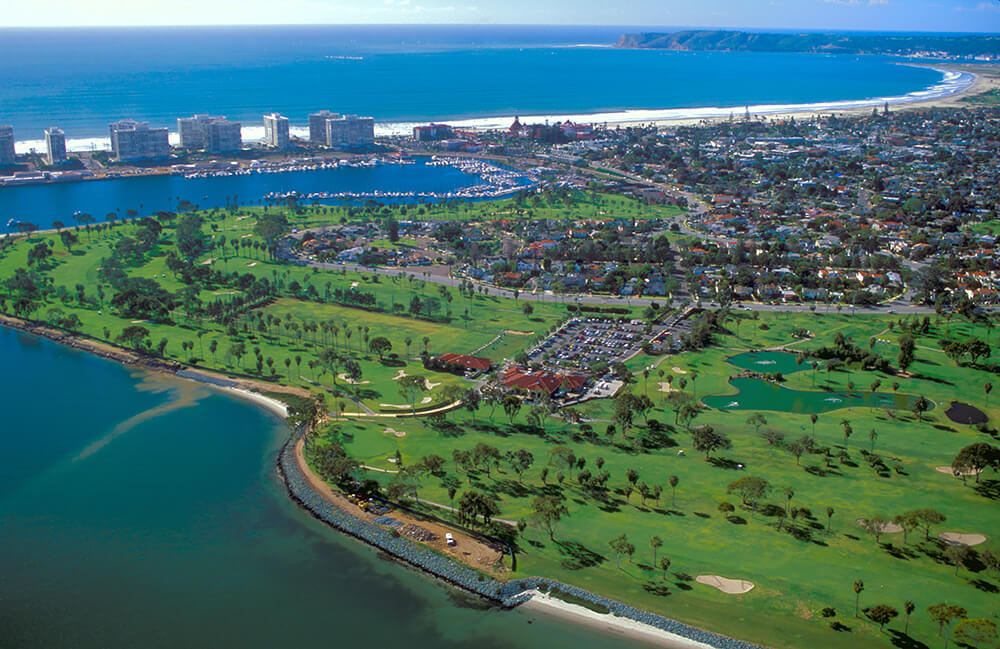 2. San Diego Zoo & Safari Park
There are zoos, and then there's the San Diego Zoo. World-famous, it lets visitors get up close and personal with more than 650 species of animals spread throughout a 100-acre tropical garden. At the Safari Park, Asian and African animals including rhinos and giraffes roam freely through its 1,800-acre preserve, while visitors look on from the comfort of trams.
We're flocking excited to be fully open again. See you soon.https://t.co/gmuNxop2pE pic.twitter.com/Ppf2sf05si

— San Diego Zoo Wildlife Alliance (@sandiegozoo) June 15, 2021
3. Balboa Park
Home to the zoo and no less than 17 museums, Balboa Park is an amazing amalgamation of cultural center and botanic garden that's located right in the heart of San Diego. When you're done at the zoo, visit the San Diego Art Institute, Museum of Art, Air and Space Museum, Automotive Museum, Natural History Museum, and the popular "Museum of Us," with its eclectic range of interactive exhibits. The park's Comic-Con Museum is not to be missed.
View this post on Instagram
4. Set Sail—Or Hang on to Your Hat
When Juan Rodriguez Cabrillo sailed into San Diego Bay in 1542, he did so on a ship just like the San Salvador, a four-masted replica of Cabrillo's 100-foot-long galleon. The educational four-hour sail also entitles you to admission to the Maritime Museum of San Diego. Fancy something faster? Book a ride on the 50-mile-per-hour Patriot Jet Boat, 70 feet of adrenaline-soaked adventure powered by twin 1,400-horsepower jet engines.
5. USS Midway Museum
With 59 years in service to her country, the Midway was the longest-serving U.S. Navy aircraft carrier. Today, it's docked along the Embarcadero just waiting for you to come explore its massive engine room, galley, brig, and flight deck replete with more than 20 types of aircraft.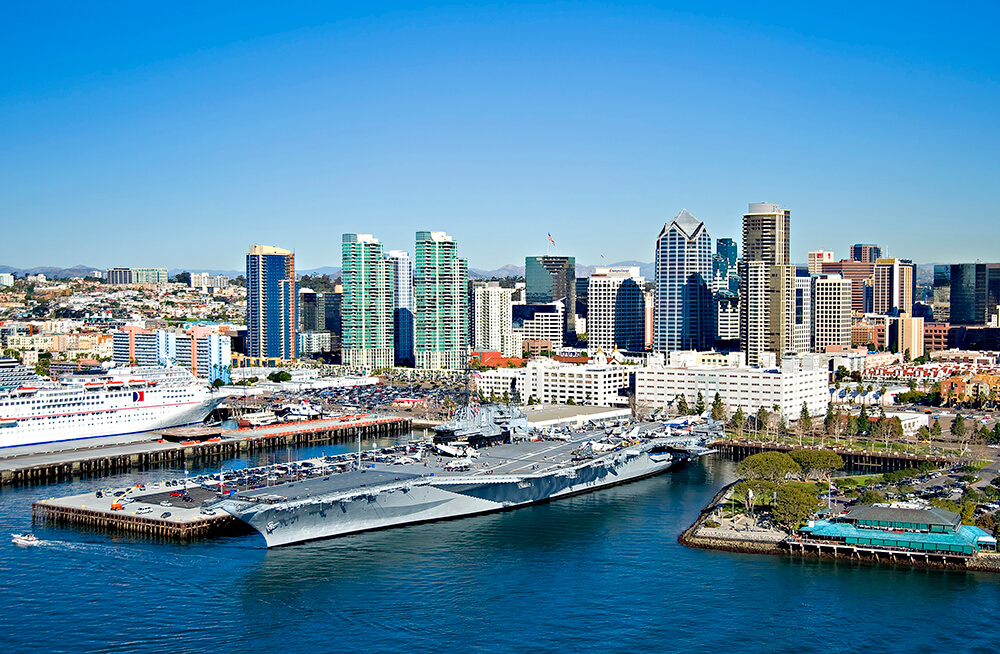 6. Dinner by the Bay
The Embarcadero is the perfect spot to enjoy lunch or dinner with a view, with The Fish Market and Sally's Seafood on the Water being two of the more popular choices. Across the bay adjacent to the Point Loma Peninsula, Shelter and Harbor Islands offer additional outstanding choices, including Island Prime, Vessel, Humphrey's, Coasterra, and the renowned Bali Hai—the ultimate celebration of tiki culture.
View this post on Instagram
7. Saltwater & Freshwater Fishing
San Diego is home to the world's largest sportfishing fleet. Depending on the season, offshore anglers can go after marlin, dorado, yellowfin and bluefin tuna, halibut, sea bass, and more. You can also fish from one of San Diego's many piers. Surprisingly, the city's also a renowned freshwater fishing destination, with more than 20 lakes and reservoirs to choose from. Did you know that 11 of the 25 biggest largemouth bass ever caught were caught in San Diego?
View this post on Instagram
8. Mission Beach
You can fish from the Mission Bay Jetty, but most people go to Mission Beach to enjoy the beach, boardwalk, and bars. The upper deck at The Pennant bar is a favorite with locals, as is Single Fin with its campy surf culture décor. Nearby Belmont Park is a classic throwback amusement park, with rides like the 1927 roller coaster, The Big Dipper.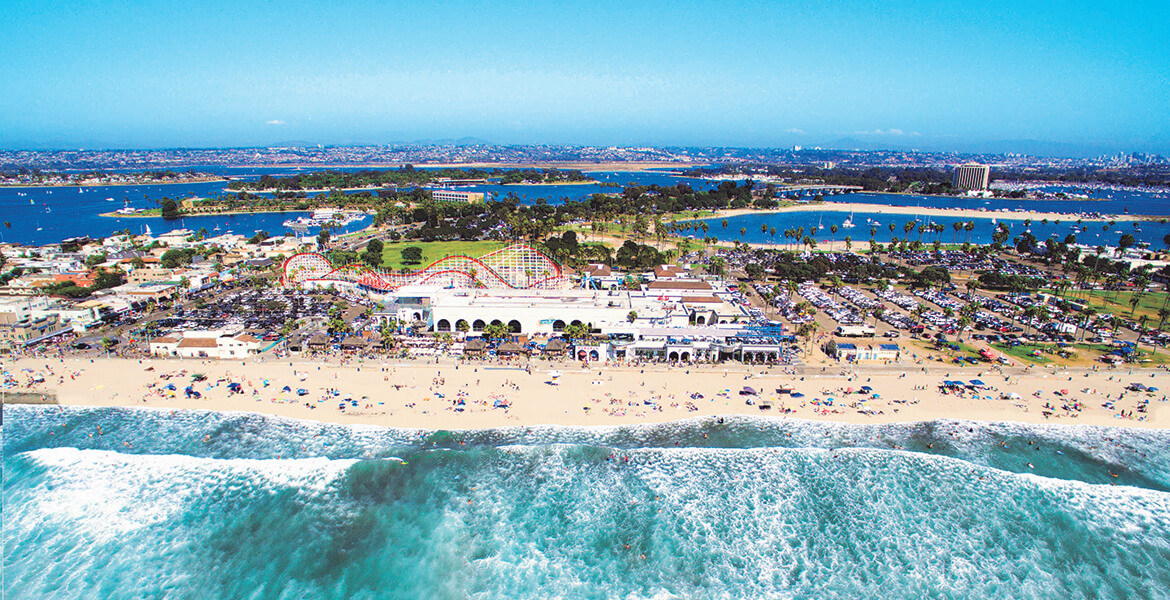 9. Jet Skiing
Is there a better place in the world to go jet skiing than San Diego Bay? Not that I've seen. Jet ski rental companies like SD Adventures on Harbor Island give you the opportunity to see San Diego from the water as you master the waves on your own personal watercraft. Not a speed freak? Rent a kayak, paddleboard, or peddleboard instead.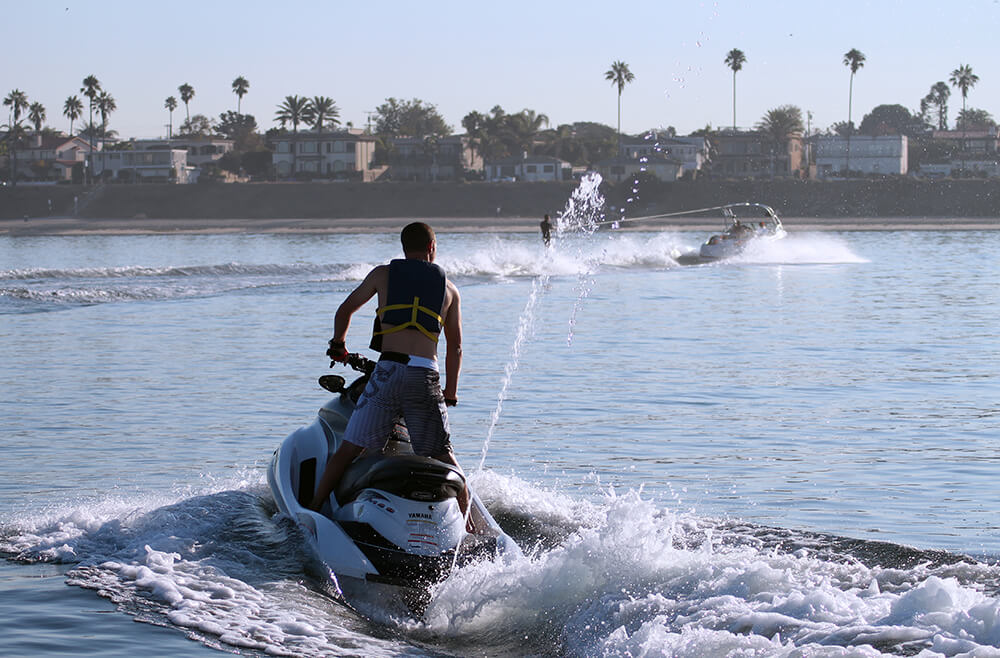 10. And for Dessert…
No trip to San Diego is complete without a stop at Azúcar, a unique Cuban-style patisserie in the Ocean Beach neighborhood. Stop by for a pastelito de guyaba (guava pastry), diablo dark chocolate cake, or their legendary flan de queso—accompanied by a steaming cup of rich Café Cubano, of course.
View this post on Instagram
What is your favorite thing to do in San Diego?