Just six miles from St. Andrews sits a course that combines something old and something new to create something very special
In early 1793, George Washington was planning a second term as President of the United States; George III still reigned in Great Britain and Ireland; Louis XVI was sent to the guillotine in France. Meanwhile, in Scotland, on the east coast of Fife not far from St. Andrews, members of the Kingsbarns Golfing Society (the 14th-oldest golf club in the world) were dusting off their blue jackets and preparing for a busy season on the links.
You might memorize the above paragraph and trot it out the next time you hear someone suggest, "The pictures of Kingsbarns look fabulous, but isn't it a bit 'new and manufactured?' And doesn't it lack a little atmosphere and tradition when compared with some of the most famous Scottish links?"
For sure, if you visit Kingsbarns today you are not going to play a 1793 layout: The reborn golf course, created by Mark Parsinen and Kyle Phillips, is just 20 years old. But you will be playing golf in the place where those 18thcentury "KGS Blue Jackets" played. And with the Old Course at St. Andrews a mere six miles away, the sense of history is almost tangible. Kingsbarns is not just a spectacularly good looking golf course, it is a bonafide links—one with a character and unique charm of its own.
There are perhaps three factors that make Kingsbarns special and, in the opinion of most, worthy of its ranking among the world's top 50 courses.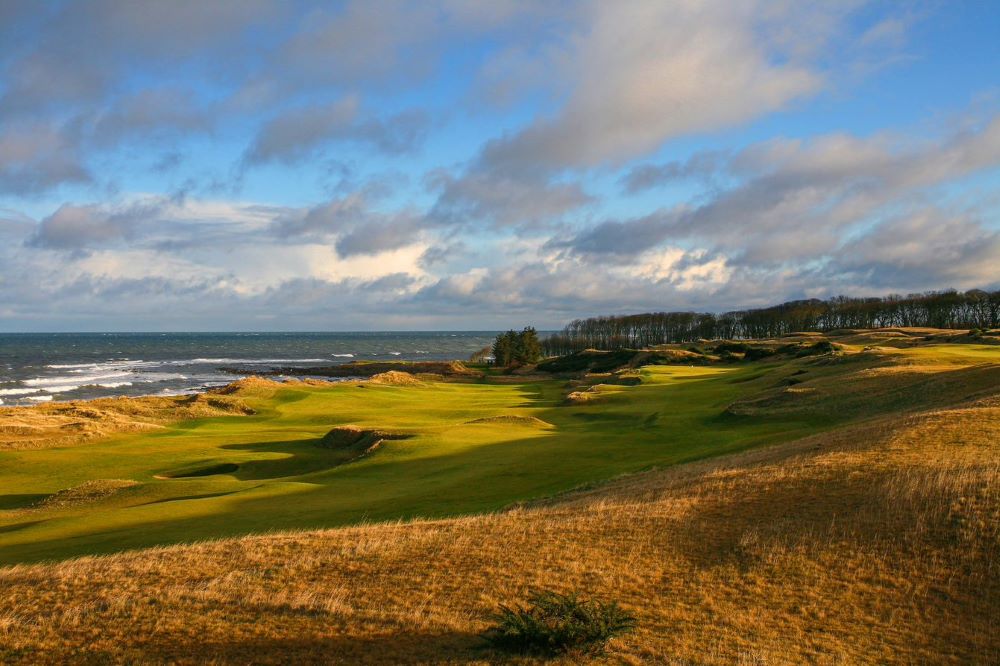 Beginning with the basics, from a technical perspective Kingsbarns is a tour de force. Tom Doak is on record as saying, "As a piece of construction work, it is one of the best projects I've ever seen." Doak was making a general comment and praising the architectural team for their seamless transformation of a hitherto featureless site. But its individual elements—the uniform quality of the fairway contouring, the classical revetted bunkering, the putting surfaces, and overall green complexes—are exceptional, too.
Second, most people who visit rave about the beauty of the setting. Some will go so far as to liken Kingsbarns to Turnberry, which is a prodigious compliment. There is no imperious lighthouse here and the course doesn't (or wasn't permitted to) embrace the coast as closely as the Ailsa Course does, yet it engages with it frequently, and on a few occasions dramatically. Moreover, the player is able to view the sea from every hole. Like Royal Dornoch, the course occupies three distinct levels, and as it tours the property it leads the golfer through a series of different phases and mood-changing environments without ever losing its flowing motion. Kingsbarns's routing is both imaginative and ingenious.
The third aspect that distinguishes Kingsbarns is its range of outstanding and individually memorable holes. If the two most acclaimed are the epic par-five 12th, which curves tantalizingly around the edge of a rocky beach, and the gauntlet-laying par-three 15th with its stage-like peninsula green, many will pick others as their favorites. In truth, there isn't a single uninteresting hole.
So that's our so-called "new and manufactured" Kingsbarns: technically peerless, a wonderful journey, and a true links course that's positively brimming with superlative golf holes.