Tiger Woods has changed the game of golf in many ways over the years. One of the least impactful, at least for us regular folk, is the lengthening of golf courses. But who among us isn't familiar with the term "Tiger" tees even if we haven't played from these way-back teeing areas?
That said, as a fan of the work of visionary golf architect Mike Strantz, I can't help but note that a number of his great works have back tee names as unique as his courses.
The first ones I played were the "Ripper" tees at Tobacco Road, the wonderfully quirky—and occasionally polarizing—layout built in a former sand quarry in the rolling Sandhills of North Carolina. Count me among those who wholeheartedly love Tobacco Road. I also enthusiastically endorse the courses that opt for something a little different for their longest tees rather than "back" or "black," even if it's just a subtle nod on the scorecard, like the "Kiawah" tees at Kiawah Island's Ocean Course or the "U.S. Open" tees at Pinehurst No. 2.
The following are a few I've come across in my travels—I'd love to hear ones you've encountered that aren't included in this lineup.
Purgatory Tees—Purgatory Golf Club (Noblesville, Ind.)
Just down the street from the Victory Chapel Community Church in the town of Noblesville, north of Indianapolis, Purgatory Golf Club claims to have the longest set of tees—7,754 yards—of any non-mountain, par-72 course in the world. For some, "purgatory" suggests suffering or torment, but the public course's website notes that it's also a name that "conjures images of overcoming obstacles to achieve eternal happiness." If the "Purgatory" tees aren't for you, the course also boasts the shortest set of tees in the state of Indiana.
View this post on Instagram
Cholla Tees—We-Ko-Pa Golf Club, Cholla Course (Fort McDowell, Ariz.)
In the picturesque Sonoran Desert, the Scott Miller-designed Cholla course is one of two acclaimed 18-hole layouts at We-Ko-Pa. The layout, and it's 7,225-yard back tees, get their name from the Cholla cactus that are not only common in the American Southwest, but well-known to golfers who stray from fairways and encounter their barbed spines that tenaciously attach themselves to skin, not to mention golf shirts, shorts, socks, and shoes.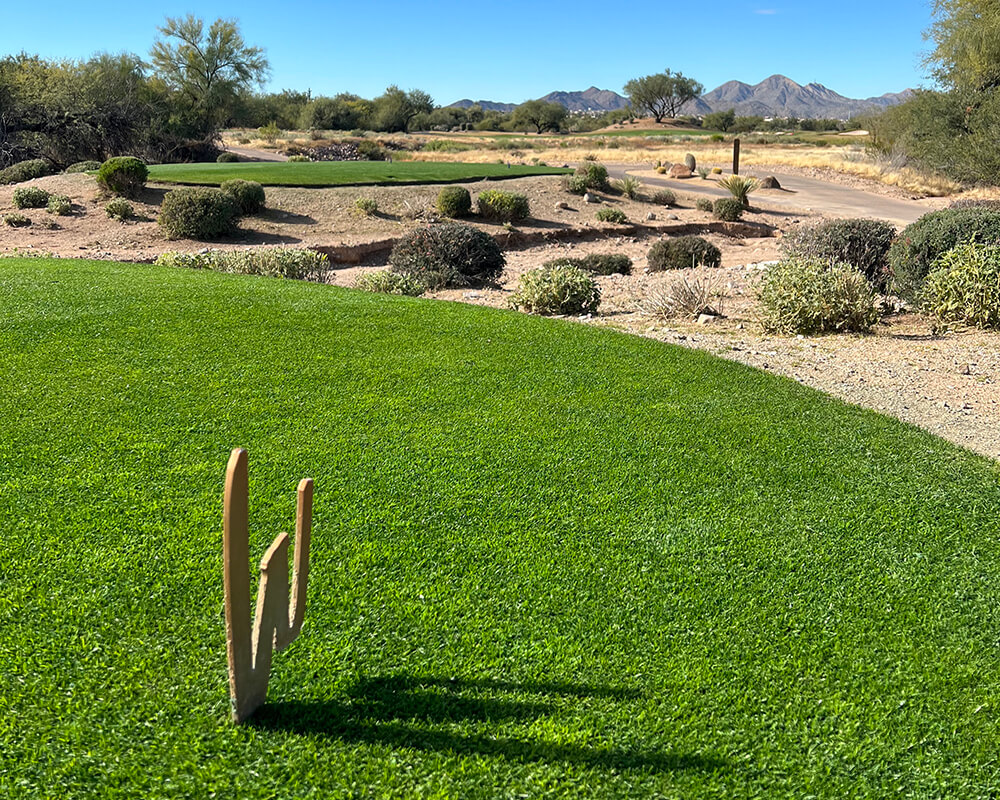 Outlaw Tees—Tot Hill Farm Golf Club (Asheboro, N.C.)
About an hour northwest of Tobacco Road, Mike Strantz designed a course once tabbed as the seventh-hardest in the nation. The back tees might be black in color on the teeing boxes themselves but are also listed on the scorecard as the "Outlaw" tees, while others are nicknamed "Gambler" and "Rawhide." If anything, the back tee name seems a nice nod to Strantz, who often took an outlaw approach to conventional design principles.
Tot Hill Farm
Asheboro, NC
2015#tbt#mikestrantzmemorial pic.twitter.com/UyF1eVuAbe

— James Karl Huntoon (@huntoonjmsc) August 13, 2020
Challenger Tees—Wolf Creek Golf Club (Mesquite, Nev.)
Another incredibly dramatic and memorable layout, Wolf Creek in Mesquite—just over an hour from Las Vegas—has been described as playing golf in the Grand Canyon or on the surface of the moon. It's a wild ride up and down hills and ridges, and through sandstone canyons. The course has "Champions" and "Masters" tees, but the back boxes, which tip out at almost 7,000 yards, are fittingly known as the Challenger tees.
Maverick Tees—Bulls Bay Golf Club (Awendaw, S.C.)
Minutes from downtown Charleston, this Strantz-created private club features another tip of the cap to the maverick designer who was taken from us far too early. Bulls Bay winds wonderfully through windswept savannahs and centuries-old live oaks, with its "Maverick" tees stretching to more than 7,200 yards. Just behind them on the scorecard are the course's "Skull" tees.
Epic Tees—Olde Stonewall Golf Club (Ellwood City, Pa.)
Once tabbed as Pennsylvania's top public course, this acclaimed design from Dr. Michael Hurdzan and Dana Fry on the banks of the Connoquenessing Creek grabs your attention with a castle for a clubhouse, complete with pennants flying from its turrets, and 750,000 tons of stone block throughout the layout. Olde Stonewall also has unique lineup of tee box names, including "Rustic," "Stonewall," "Feudal," and "Medieval." The longest, at just over 7,100 yards, truly are "Epic."
Victorian Tees—Victoria National Golf Club (Newburgh, Ind.)
Built by Tom Fazio in the long-abandoned Victoria Strip Mine in southern Indiana and now part of the Dormie Network of private clubs, Victoria National has a number of tee names that reflect the historical Native American ties to the region, among them "Tecumseh" and "Chinook." But the longest tees, at over 7,200 yards and playing to an eye-popping 77.7 rating and 152 slope, are called the "Victorian" tees.
View this post on Instagram
Invicta Tees—Royal New Kent Golf Club (Providence Forge, Va.)
This Strantz design was closed in 2017 after falling into disrepair but reopened in 2019 following a $2 million restoration. The links-style layout shares the motto of the County of Kent in England: "Invicta," which is Latin for undefeated or unconquered. It's an apt name for the 7,440-yard back tees at this monster of a course that sprawls over 282 windswept, rugged acres.
Old Ironside Tees—King and Prince Beach & Golf Resort (St. Simons Island, Ga.)
The world's oldest warship still afloat, the USS Constitution is nicknamed "Old Ironsides" thanks to a reputation with roots that trace to St. Simons Island. The framework and layer of the ship's hull were constructed of live oak felled at Gascoigne Bluff, on the far side of the island from the King and Prince course, which tabbed its 6,462-yard back tees "Old Ironside" as a tribute.
Which other tee names jump to mind for you?