Jumbo-sized greens have been around forever—or at least since the beginning. The oldest course on earth, St. Andrews, sports a fistful of the largest greens in creation. Golden Age masters from C.B. Macdonald to Alister MacKenzie, both enamored with the Old Course, crafted vast putting surfaces to emulate St. Andrews. In mid-century, Robert Trent Jones Sr. employed big greens for many purposes, among them flexibility and maintainability.
A recent design from King-Collins, Landmand Golf Club in Homer, Neb., has rekindled the "Is bigger better?" conversation about greens. Landmand's greens average more than 14,000 square feet, with the 17th green alone measuring a whopping 34,000 square feet. By comparison, Bay Hill and Quail Hollow tout average-size greens, at 6,500 square feet, which dwarf those at Pebble Beach and Harbour Town, 3,500 and 3,700 square feet, respectively.
Although Landmand's early reviews have been universally positive, we'll wait for the hype machine to slow down before we render final judgements on where it ranks among golf's elite layouts. In the meantime, here are eight time-tested great courses that roll out gigantic greens.
St. Andrews (Old Course)—St. Andrews, Scotland
The birthplace of golf features multiple blind bunkers, huge double greens, quirks such as the Road Hole and Hell bunker, and strategic options that vary by the day. The key to success at the Old Course is coping with the greens via steady lag putting. Factoring in the seven double greens, putting surfaces at St. Andrews average 22,267 square feet, more than half an acre apiece. The green housing the 5th and 13th holes measures a mind-bending 37,000 square feet. Even if you divided the double greens in half, then added in the four individual greens that serve holes 1, 2, 17, and 18, they would still average 13,600 square feet—making them among the biggest in golf.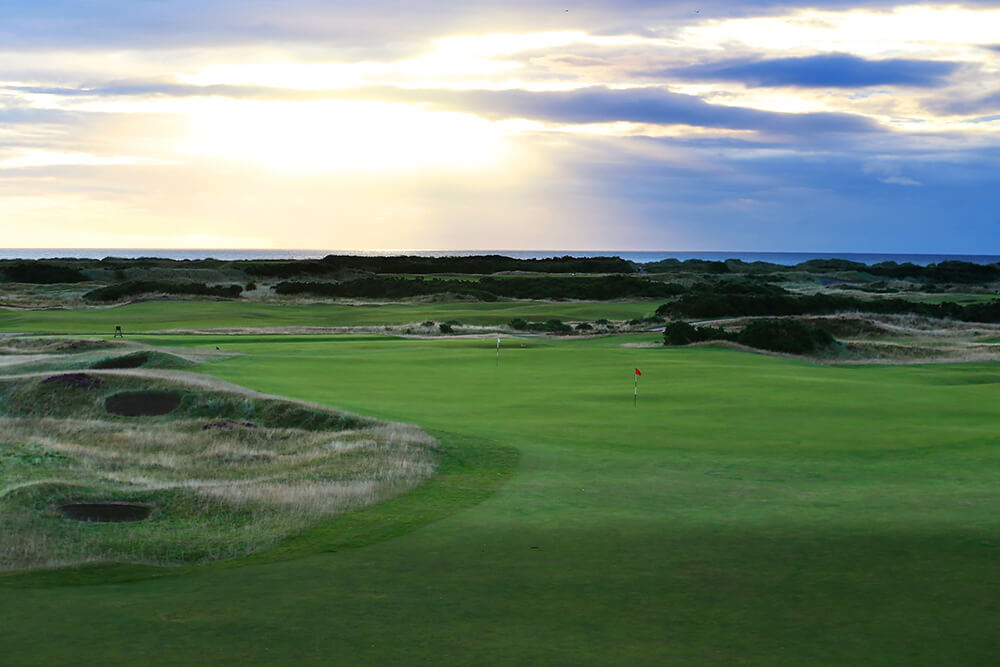 Old Macdonald at Bandon Dunes Golf Resort—Bandon, Ore.
Paying homage to pioneer American architect C.B. Macdonald, this 2010 Tom Doak/Jim Urbina collaboration features turnpike-wide landing areas and gigantic, heaving greens that are hard to miss. To get the ball into the hole, however, you'll need to master angles, strategy, trajectory, and the ground game. By many accounts, Old Mac boasts six and a half acres of putting surface, making the set of greens the largest in the world, with an average size of 14,167 square feet. The smallest green is 40 yards front to back, while the largest is 76 yards deep. The green at the par-three 5th measures 18,000 square feet and falls nine feet back to front. Good luck with your two-putt.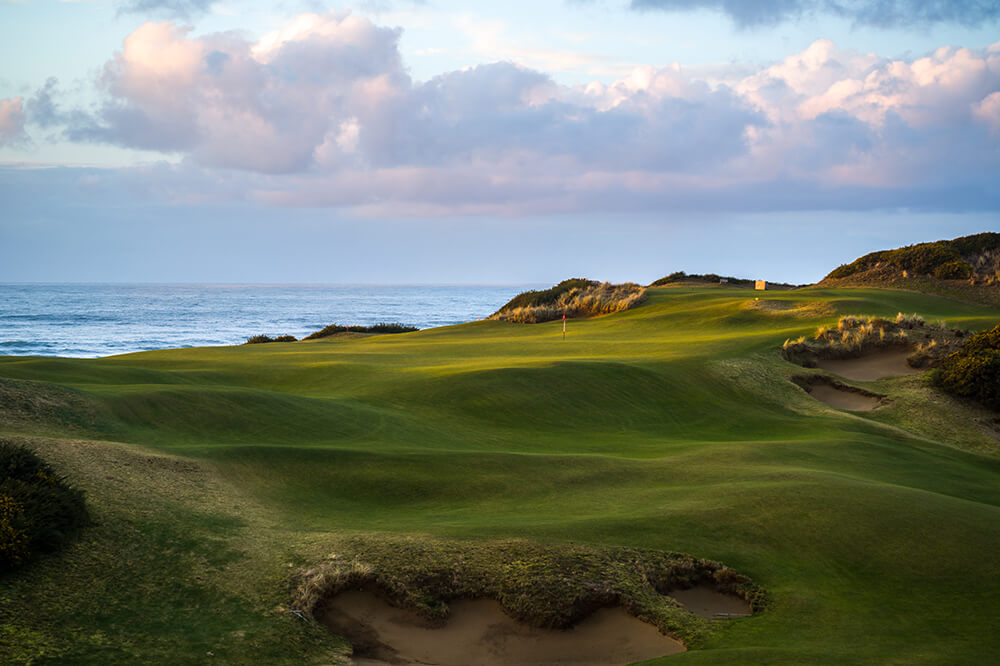 Trinity Forest Golf Club—Dallas, Texas
Crafted as an urban links, this 2016 Bill Coore & Ben Crenshaw collaboration was forged from a landfill 10 minutes south of downtown Dallas. Trinity Forest played host to the PGA Tour's 2018 and 2019 AT&T Byron Nelson events. However, tour officials softened the ground terrors ahead of play, resulting in a sea of red numbers. Most beguiling of all are the massive greens, which sprawl 13,500 square feet on average. It would help to have co-designer Crenshaw's putting touch to handle the 35,000-square-foot double green that serves both the 3rd and the 11th holes, or perhaps the flatstick talents of Trinity Forest member Jordan Spieth.
National Golf Links of America—Southampton, N.Y.
In 1911, Charles Blair Macdonald crafted a collection of "all-star" holes alongside Peconic Bay on Long Island, almost all of them modeled after the best holes he had seen in the British Isles. Years before, at age 16, Macdonald ventured to Scotland to study at the University of St. Andrews. He played the Old Course regularly with legendary professional and course designer Old Tom Morris. It's no surprise that the lessons he learned about St. Andrews transferred seamlessly to the National, especially regarding strategy, variety, and green design. NGLA's greens comprise 170,000 square feet, for an average of 9,444 square feet per green. Once you've tackled "Sahara," the par-four 2nd hole, its green stretching to 12,500 square feet; "Alps," the par-four 3rd, its green stretching 35 yards across; and "Short," the 141-yard, par-three 6th which plays to an 11,000 square-foot green, you'll know that approach putting will be a supreme challenge.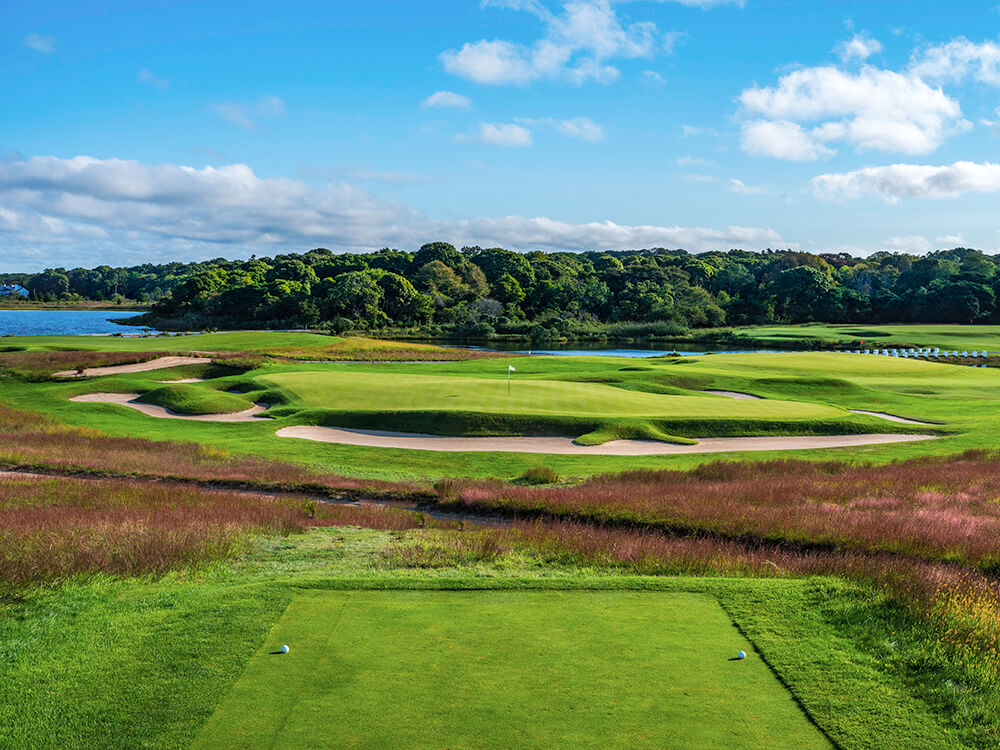 Streamsong Resort (Black)—Bowling Green, Fla.  
Hewn from reclaimed phosphate mining land, the Streamsong golf canvas features a sandy base and unusually rolling (for Florida) terrain. Designed by Gil Hanse and Jim Wagner, the Black is brawnier than its elder siblings, Red and Blue, with wider fairways, bigger bunkers, larger greens, and more expansive long views. The Black is also the longest at 7,320 yards with a par of 73. The boldly contoured greens bulge and bubble and sprawl to 11,000 square feet on average. Their vastness is on full display at the par-four 8th, where the green runs 80 yards front to back, and again at the par-four 9th, where the enormous punch bowl putting surface is hidden from view on the approach.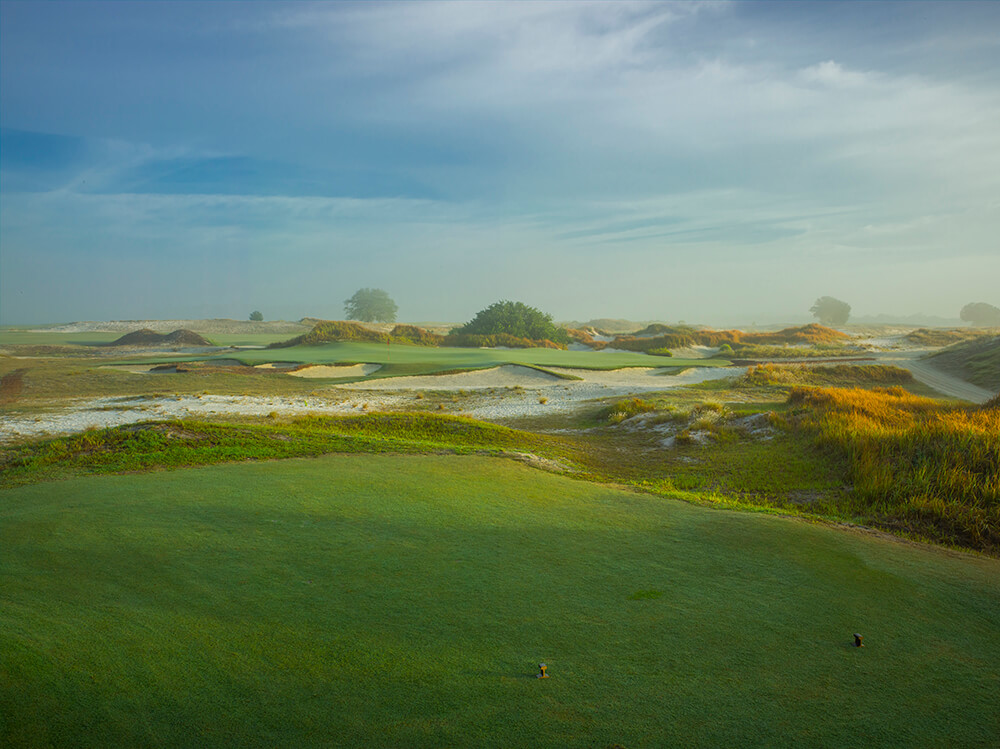 The Prairie Club (Dunes)—Valentine, Neb.
Picture the widest fairways imaginable—then double it—and you have the driving zones at this 12-year-old Tom Lehman/Chris Brands design carved into the heaving, wind-sculpted terrain of northwestern Nebraska. The sizes of the greens are equal to the scale of the fairways, with an average putting surface checking in at 14,000 square feet. The immensity of the Great Plains—and the Dunes's greens—is realized at the short 145-yard, par-three 4th, which features a green nearly 80 yards from front to back, a gargantuan target for such a delicate shot.
Kapalua (Plantation)—Maui, Hawaii
Home to the PGA Tour's Sentry Tournament of Champions, this 1991 Coore & Crenshaw creation features extra-wide landing areas draped atop a former pineapple plantation. The immense scale of the course—and the vastness of the greens, which average 8,722 square feet—is best witnessed at the 675-yard, par-five 18th. Despite its epic length, the hole is often reachable in two as it plays downhill and downwind. The gorgeous tee box panorama takes in a massively roomy, tilted fairway that curves around a jungle-strewn canyon to the left. Beyond the green, the Pacific Ocean beckons, which means it's easy to overlook the rigors of the 16,000-square-foot putting surface, which slopes significantly from right to left.
Chambers Bay—University Place, Wash.
Controversial home to the 2010 U.S. Amateur and the 2015 U.S. Open, this massively large, 7,940-yard, walking-only, Robert Trent Jones II design unfolds atop an old gravel mine at the southeast tip of Puget Sound, 45 minutes south of Seattle. The design itself is superb, as is the seaside setting, and the controversy over the fescue greens has abated since 2019, when they were replanted in poa annua, the region's dominant grass. It's a sprawling property and a long, tough walk, with several uphill climbs, so the greens don't seem unduly large—but they're big, averaging 8,700 square feet. Biggest of all is the 12,700-square-foot behemoth at the drivable par-four 12th.
What courses with gigantic greens did we miss?