Not very long ago, "all-inclusive vacation" meant one thing—Club Med. Which meant a few tropical days of barracks-like accommodations and cafeteria-like meals consumed elbow-to-elbow with strangers.
Times have changed. Today, hundreds of hotels and resorts have embraced the single-price-tag gambit with all-inclusive bookings becoming the fastest-growing segment of the resort business.
Among the leaders in these value vacations is Mexico, particularly the Cancun/ Riviera Maya area, where more than two out of three hotel rooms are all-inclusive. Although golf generally is not included in such packages, most courses offer discount rates (up to 50 percent) on tee times, carts, and rentals. Combine this with easy accessibility (lots of direct flights from major U.S. hubs) and Mexico's Yucatan Peninsula becomes a best bet for a golf getaway.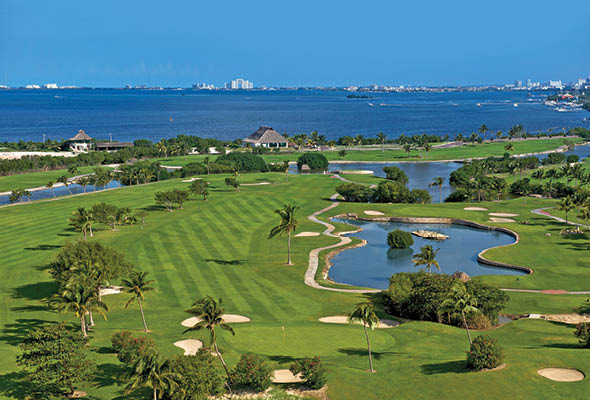 My wife and I recently gave allinclusivity a go at the Fairmont Mayakoba Resort. To be honest, the Fairmont is not a classic all-inclusive—it's more on the exclusive side—but its "Appetite for Luxury" program includes unlimited dining and beverages at a half dozen restaurants and bars on the property. Plus, it is home to the consensus best course in the area, El Camaleon, a Greg Norman design that for the last eight years has hosted Mexico's only PGA Tour event, the OHL Classic at Mayakoba.
Unlike much of Norman's work, this course has a gentle feel. It's not overly long, nor is it tight. But stray from its ample fairways and you'll pay a penalty as these holes weave through both a rain forest and a mangrove swamp. The views from many tees are arresting, with two par threes playing to the edge of the beach. But no hole grabs the attention more than the lst, where smack in the center of the drive zone is an enormous, gaping cenote (pronounced seh-no'-tay), one of the hundreds of underground limestone caves that dominate this area. Kudos to Norman for making such brazen use of it.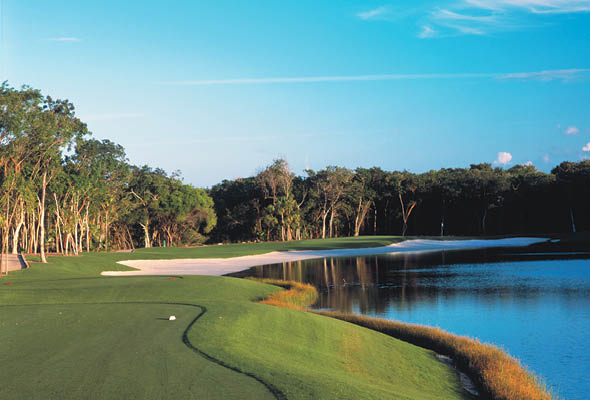 Golf is far from the only thing to do at Mayakoba. Libby and I enjoyed not only the beach and pools, but the spa and fitness center. We also took a float trip through the canals that weave through the property (every room has a Venice-like balcony), enjoyed a pre-dinner Tequila tasting at the signature restaurant, Las Brisas, and ventured off campus to check out the fascinating Mayan ruins at Tulum. The food was uniformly excellent, and the choice of spirits went well beyond Corona and Jose Cuervo.
Within a few minutes' drive of the Fairmont are four other courses worth visits, starting with Playa Paraiso, a P.B. Dye design that is the centerpiece of the massive Iberostar resort, four inter-connected hotels, each at a di erent price point but all of them all-inclusive, with an option to book golf for as little as $59 a day, tax and cart included (the retail rate is $199).
This is surely the toughest course in the area and possibly in Mexico. Carved from both a dense jungle and a bed of limestone, its narrow corridors sweep dramatically up and down. Dye was not afraid to take some design risks, notably at the green of the 7th hole: Whereas par-five holes tend to have smallish targets, this one is three tiers and 13,000 square feet. I three-putted it and felt as if I'd accomplished something.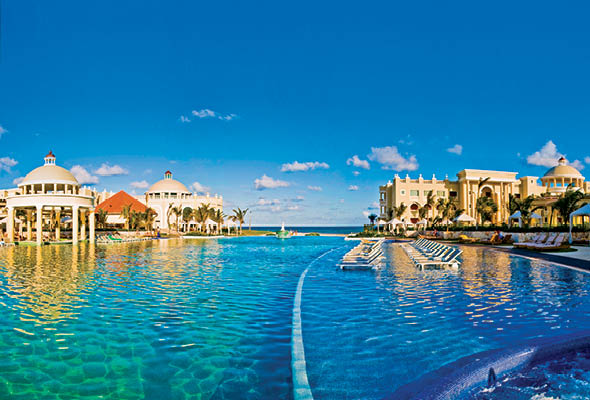 Numerous rock outcroppings add to the challenge as do several lakes and ponds, but the most arresting sight is something neither P.B. nor Mother Nature had a hand in—the mammoth faux Mayan pyramid that backdrops the 9th green and serves as the hotel lobby.
The king of Mexican golf is Jack Nicklaus, with two dozen courses now in play. Although best known for his work around Cabo San Lucas, Nicklaus also has a strong presence in the Riviera Maya with 27 holes at Moon Palace, another all-inclusive resort with packages that incorporate unlimited golf and, on select weeks, tickets to headline entertainment.
The three nines are dauntingly designated Dunes, Jungle, and Lakes, with the hilly, sand-strewn Dunes the best, although the signature hole is surely the par-three 17th on the Lakes, a boulder-bulkheaded tribute to the island hole at TPC Sawgrass. Truth be told, there is water aplenty on all three nines, so bring lots of balls.
Two newer courses have bolstered the local array of offerings. Robert Trent Jones Jr.'s Riviera Maya Golf Club, attached to the Bahia Principe Hotel, includes an 18-hole course and 9-hole executive layout. The big course begins in mangroves and lagoons, then climbs through an abandoned rock quarry to an upper level where a gauntlet of cenotes awaits. When you skull a 5-iron into one of those babies, interesting things can happen: One of my shots pinged around the limestone a few times before somehow finding the green; another rocketed over treetops into oblivion.
Nick Price's Mexican debut is Grand Coral, part of a resort/ residential development of the same name. Although set just a few yards from the sea, this is very much a parkland layout with eight acres of lakes and 75 bunkers, all lined by thick jungle—the course was developed with a strong commitment to the environment. The holes may not be as dramatic, the elevations not as steep as on the other courses, but then, neither are the green fees, which average a bit over half that of the other courses, making this maybe the most bueno deal of them all.