Sitting atop a 200-foot-high cliff on the majestic Gower Peninsula of Wales, Pennard Golf Club is often called "the links in the sky," which is no oxymoron because it looks like a links, plays like a links, and is every bit as much a links as Royal Porthcawl, Royal St. David's, and the other, more highly touted, Welsh seaside venues.
It is said that Pennard's links-ness can be traced back hundreds of years to a massive storm that blew sand from the nearby beach onto the cliff top. If that seems an incredible explanation, it is no more surprising than the fact the course has remained relatively undiscovered for more than a century.
Golf was played here as early as 1896 but things were rather haphazard until 1908 when five-time Open champion and renowned architect James Braid was brought in for an initial fee of four guineas (roughly $150 today), plus two guineas more for each subsequent visit. Braid returned in 1911, 1921, and 1931, and much of his original design remains, although revisions were made over the years by Fred Hawtree, C.K. Cotton, and Donald Steel.
Today, Pennard measures 6,809 yards (par 72) from the back tees, but is a more manageable 6,267 yards (par 71) from the white tees and 5,375 yards (par 73) from the front tees. By no means long, it is challenging.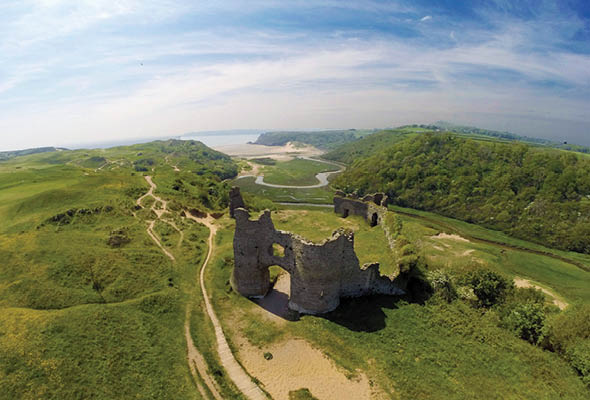 The standout hole on the front is undoubtedly the 7th, which plays 351 yards toward the sea between the ruins of a 12th-century Norman castle on one side and a 13th-century medieval church on the other. It would be a fine hole even without these relics.
One of the most appealing things about Pennard is there are no average holes. It is said the 456-yard par-four 14th—a dogleg left to an elevated green—was Braid's favorite, but arguably most memorable are the long and strong back-to-back par fives, 16 and 17, with their breathtaking views of the Three Cliffs (a jagged rocky outcrop), the pristine beach, and the sea beyond. Perched high on the cliff, the back tee on 17 is a must-see even if not a must-play, but perhaps not for anyone who suffers from vertigo.
On the day I visited, the lady members were enjoying a fine early winter morning. "We love it to bits," said one who stopped for a chat. "It beats us every time, but we never tire of the views."