James Bond films are famous for their exotic destinations. The Bahamas has been a prime locale, most recently in Casino Royale in 2006. On his first case as 007, Daniel Craig stayed in an oceanfront villa at the One&Only Ocean Club, a posh and breezy boutique resort just outside the capital city of Nassau on Paradise Island. But unlike a lot of movies that use only a location's exteriors, many of the interior scenes were shot at the resort, too, so you can stay in the very same 4,800-square-foot villa that Bond did (for $11,250 a night) and order a "large Mount Gay and soda" (not a shaken martini) at the Library bar.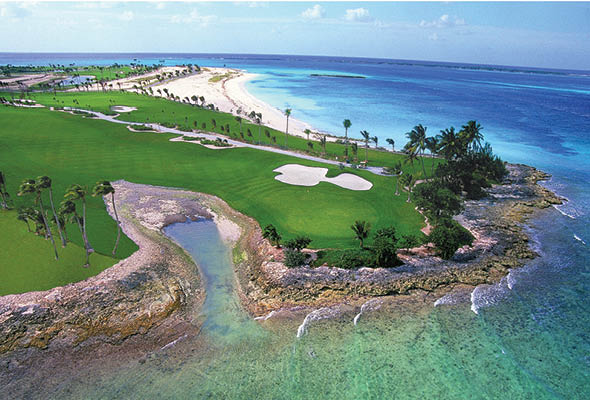 With its gracious British Colonial atmosphere and storied history, the One&Only is the perfect setting for a Bond film—and just about anything else. Situated on 35 lush acres, the beachfront hideaway feels like an international jetsetter's private estate, which it once was. A Swedish industrialist first developed the property in 1939 before A&P heir Huntington Hartford II bought it in 1962 and opened the resort. It's now owned by a billionaire Ukrainian, who purchased the property last year for $140.5 million and is polishing the resort even further following a $100 million renovation in 2000. While you don't need to be on her majesty's secret service to stay there, it does help to be a member of the landed gentry since the least expensive, garden-view rooms go for $795 per night in season.
The 105 tropically elegant rooms, suites, and villas are as luxurious as you'd imagine. You'll never want to leave the kingsize mahogany bed (with its high-thread-count sheets), private balcony, and soaking tub big enough for two. The service is just as elegant: Your private butler will unpack your bags and press your clothes, while little extras, like champagne and chocolate-covered strawberries, magically appear daily. Should you manage to leave the room, head to the Dune bar for the resort's signature drink, the One&Only Special, a frothy concoction of two kinds of rum, pineapple juice, and banana liqueur. But be warned: The deliciousness of both the drink and the setting—the open-air bar is set above the beach—make it unlikely you'll have just one. Next dive into the adults-only, blue-tile pool, or find a covered chaise lounge on the beach and take a dip in the warm, turquoise Caribbean. A bucket of iced water, bottles, and a server are at your side in seconds.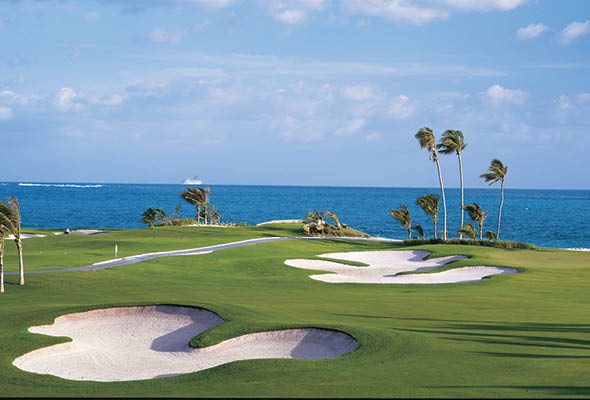 Spread over expansive manicured lawns dotted with tall, swaying coconut palms, the resort never feels crowded, perhaps one reason so many celebrities have vacationed here, including John F. Kennedy while he was president. More recent A-listers include Brad Pitt, Angelina Jolie, and Bill Gates, while Oprah Winfrey and Michael Jordan own homes inside the gated residential area, where you'll find the golf course, which hosted Jordan's charity tournament for a number of years, as well as the just concluded Pure Silk-Bahamas LPGA Classic.
Set on the eastern tip of Paradise Island, the 7,159-yard layout by Tom Weiskopf is a big, bold design with water in play throughout. The ever-present crosswinds can wreak havoc, but generous fairways help mitigate that—somewhat. And with seven greens or tees set on the ocean, which has the most beautiful shades of bluish-green you've ever seen, the setting can't be beat. Particularly memorable holes include the 456-yard 4th, with its lagoon-sited green, and the drivable, crescentshaped par-four 17th that plays along the beach and requires aiming over the sand to reach the green.
In addition to golf, there are six clay tennis courts, a family pool, spa, and two restaurants, notably chef Jean-Georges Vongerichten's Dune with its French-Asian fusion fare. There are also a number of dining options at nearby Atlantis, a sprawling resort/waterpark with six hotels and many attractions, including the Caribbean's largest aquarium, a 14-lagoon system with more than 50,000 marine animals.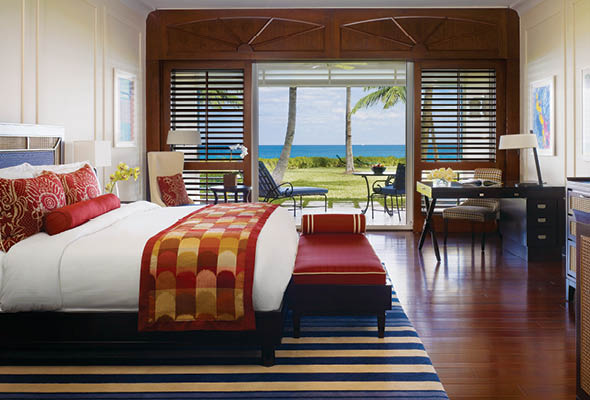 Perhaps the most incredible sight on the island is the Ocean Club's Versailles gardens, a quarter-mile, terraced common with marble and bronze statues, that leads to a 14th-century Augustinian cloister originally brought to the states by William Randolph Hearst.
Sorry to disappoint you, Mr. Bond, but this world is enough.