By Mike Purkey
If the Outer Banks of North Carolina seems out of the way, it's because it is. This 200-mile chain of barrier islands on the Atlantic Ocean is the most remote strip of civilization in the eastern U.S. You don't happen by the Outer Banks by accident; getting there takes a bit of effort.
And once you're there, you're not going much of anywhere else. There's plenty to keep you occupied, but go prepared to dial your pace down to a slow stroll.
Since golf is what you're after, concentrate on the northern part of the Banks, specifically Bodie Island, which is now a peninsula due to storms and hurricanes. Bodie has the area's largest population and most of the activity.
It's also home to Jockey's Ridge, the country's largest sand dunes, which move and change shape and direction at the wind's whims. Kill Devil Hills, near Kitty Hawk, is where a couple of bicycle mechanics—Orville and Wilbur Wright—first got an airplane off the ground and kept it airborne for a few hundred feet.
Not unlike golfers on the Banks, who want to get it airborne and keep it that way for a few hundred yards.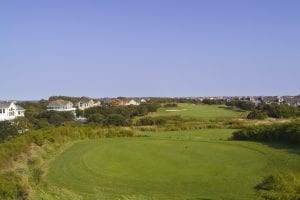 Where To Play
• Golf here is easy on the credit card, with one of the best values Kilmarlic Golf Club, which has twice hosted the North Carolina Open. Kilmarlic winds through tall trees and wetlands and is a good test for any ability. Rates in April and May range from $65–$85.
• Nags Head Golf Links, which sits on Roanoke Sound, is built like a Scottish links and has the wind to match. Springtime rates are from $49–$89.
• The Currituck Club is a Rees Jones design in Corolla and arguably the best course on the Outer Banks. It winds through huge dunes, tall pines and oaks, wetlands, and shoreline. Green fees in the spring go from $85–$125.
• Just north of Kilmarlic on U.S. 158 is the Carolina Club, a favorite of locals. It's known for bentgrass greens and an island-green par three. Rates range from $52–$70 in the spring.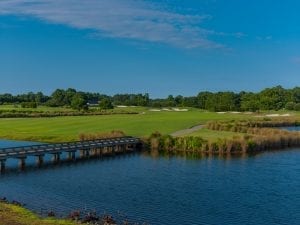 • The Pointe Golf Club, just down the highway from Kilmarlic at Powell's Point, takes pride in its conditioning. If you need to work on your game between rounds, The Pointe's practice facility is the place to do it. Rates in April and May range from $52–$70.
Where To Eat
• You can't travel to eastern N.C. and not try the local barbecue. High Cotton in Kitty Hawk is the area's best. Eastern-style means a vinegar-based sauce on the pork, but chicken and ribs are also on the menu.
• For a quick lunch between rounds or something inexpensive and casual, try Capt'n Frank's in Kitty Hawk. It offers at least 18 versions of a hot dog, and don't forget the onion rings.
• The Blue Point Bar and Grill in Duck has been covered in Southern Living and has served up some of the Outer Banks's finest cuisine, especially seafood, since 1989.
• I Got Your Crabs (yes, that's the name) is a no-frills restaurant in Kitty Hawk that boasts the freshest seafood in the Outer Banks, all locally caught.
• Trio, in Kitty Hawk, is the place for beer, with 24 rotating taps (the widest selection in the area) and a bistro menu that features creative paninis and fresh seafood.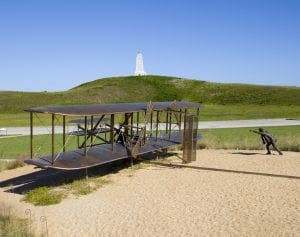 Where To Stay
• Kilmarlic Cottages has opened the first three of 18 planned cottages, each two bedrooms, two baths. There's also a 5,000-square-foot lighted putting green and four-hole short course. A three-day, two-night package in April and May is $279 per person, based on four-person occupancy.
• The Kilmarlic Club Cottage is a four-bedroom house with eight double beds and four bathrooms, with access to a fitness center, swimming pool, and tennis courts.
• Sand Castle Village in Nags Head features five-bedroom homes with private pool and patio area. A springtime package for eight golfers with three rounds and three nights' lodging goes for $324 per player.