There's been considerable discussion about pace of play in the game of golf, so if you're fixated on finishing fast when you tee it up, this might not be to your taste.
However, if you appreciate spending a little extra time to soak up the experience of a special course—not to mention grab some great food and drink—that's where the luxury of a unique halfway house or comfort station can become as unforgettable as a great golf hole.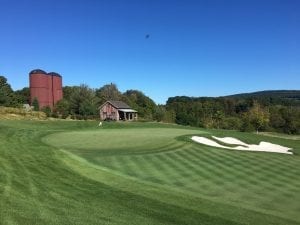 Yes, I'm a big proponent of the classic hot dog at the turn. It's a golf staple: a front nine that loops back to the clubhouse, allowing golfers to grab a quick bite on the way to the 10th tee. Who among us has scarfed down a hotdog while still wearing a golf glove?
There are also iconic on-course meals such as the Burger Dog at the Olympic Club, the Peanut Butter, Jelly and Bacon sandwich at Fishers Island or the barbequed pulled pork sandwich at a shack tucked in the woods on Streamsong Resort's Red Course.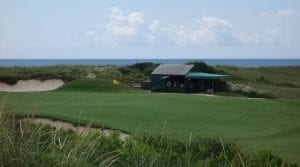 But like a fine meal or fine wine, sometimes you need to stop and savor. It's not for everyone—some golfers exclusively save their reverie for the 19th hole—and it's certainly not for every course.
The following, though, is my decidedly subjective look at the best halfway houses or comfort stations I've come across during my golf travels—the kinds of places that make you want to kick back for a few minutes, celebrate your good fortune and take in the surroundings (along with plenty of great food and drink). Yes, there is a noticeable private club and resort leaning in the group that follows. That probably shouldn't be too much of a surprise given the leniency generally afforded to golfers at such locations; in fact, at one of these properties comfort station stops are factored into the pace of play.
Silo Ridge (Amenia, N.Y.)
The Silo Ridge Field Club is a private, gated community on 800 acres that's about a 90-minute drive from New York City. It's part of the Discovery Land Company's family-centric portfolio of properties that focus on lifestyle and recreational experiences. If you've ever been to one, you'll not only remember the pristine Tom Fazio course (a centerpiece of every Discovery property), but the comfort stations. There are two at Silo Ridge—one that you'll pass twice on the front nine and another at the highest point of the course that's a must visit at the 12th tee and after coming off the 16th green. From a frozen margarita machine and help-yourself beer fridge to the candy station and warming drawer for nuts, it's over the top. I sampled the fresh muffins, cured duck, venison jerky, bao buns, and the sundae bar. And of course there are hot dogs if you want them. The choices are almost endless.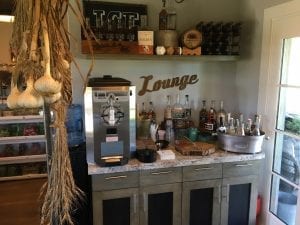 Quivira (Los Cabos, Mexico)
Quivira Golf Club is part of the Quivira Los Cabos resort community. The setting for the Jack Nicklaus-designed course is breathtaking, with Pacific Ocean views from every hole, a handful of which are perched on sheer granite cliffs above the water. There are three comfort stations at Quivira, the most memorable of which sits atop a cliff behind the tee box of the driveable par-4 fifth hole. After a mile-long uphill drive from the fourth green, golfers are rewarded with spectacular views from a rest stop that sits 275 feet above the beach, overlooking the clubhouse and resort. One day I watched whales spouting in the water below while sampling a Bloody Mary and breakfast burrito; the next I had a local beer and freshly made tacos. The pace-of-play at Quivira tacks on an extra half-hour just to account for the comfort station stops. Access to the golf course is limited to members and guests of the Pueblo Bonito Resorts.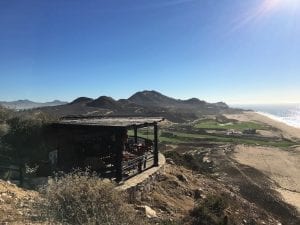 Trump Turnberry (Scotland)
Donald Trump has never been one to do things in an understated way. The halfway house at Trump Turnberry's Ailsa Course is no exception, with an ornate lighthouse and sprawling deck that overlooks the Scottish coastline. The iconic lighthouse at Turnberry has long been one of the most photographed objects in golf—long before Trump bought the property—and it's the perfect spot to rehash the front nine of a course that's hosted four Open Championships. When the par-4 9th hole was changed to a par-3, the adjacent lighthouse was transformed from a maintenance facility to a halfway house that houses a bistro/bar as well as a two-bedroom suite for hotel guests. With unrestricted views of Ailsa and Arran, the terrace is an idyllic pit stop for a beer, a Ploughman's sandwich, beef and haggis pie, or sticky toffee pudding before tackling the back nine.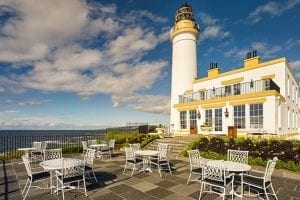 Kohanaiki (Hawaii)
Crafted on 450 oceanfront acres just outside Kona on the Big Island of Hawaii is the private club community of Kohanaiki. In addition to 1 ½ miles of beachfront, the club features a Rees Jones-designed oceanfront golf course with three jaw-dropping comfort stations. The Aloha spirit is infused throughout these mini houses that have just about every imaginable snack inside, plus an outside deck with course and ocean views that help give a new definition to "island time." There are Mai tais, of course, along with wine and beer on tap and Hawaiian jerky, frozen grapes, ice cream sandwiches, and a countless variety of fruits, nuts and other treats. The comfort station next to the tennis courts even has cups of strawberries and cream as a nod to the quintessential dessert served at Wimbledon. Once you stop, it's hard to tear yourself away. Aloha indeed.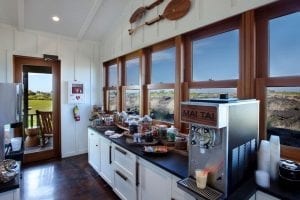 Whistling Rock (South Korea)
Whistling Rock is a stunning 27-hole private facility located about 90 minutes north of Seoul that has started to make inroads on global top 100 lists. The layout is both visually intimidating and arresting – with dramatic vistas, significant elevation changes and meticulous landscaping – as well as a challenge to play. That might be why breaks at the course's three on-course, themed tea houses are so popular. There's a rounded cocoon-shaped structure nestled between a lake and forest on the Cocoon 9, a formal wood and glass shrine at the Temple course, and a tea house that's perched high in the trees in a quiet corner of the Cloud 9. It's impossible not to climb the steps into the tea house on the Cloud 9, grab some food and drink and just sit for a while to soak up the surreal surroundings.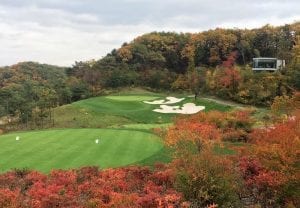 To this point, I've only heard stories about the halfway house built in the base of an old water tower at Pine Valley or the cozy one tucked behind the dunes 30 yards from crashing waves at Maidstone. No doubt others have visited these and more. So what's your favorite halfway house or comfort station experience? Tell us about it in the comments below!