Bandon Dunes's best-kept secret is a secret no more
The fifth, and likely the final, 18-hole layout at Bandon Dunes—perhaps the most highly anticipated course in the world since its announcement in 2019—debuted on June 1.
For years, the Bally Bandon Sheep Ranch sat hidden away from visitors to Bandon Dunes on an oceanfront plot about a quarter-mile north of the property. There, Tom Doak designed 13 holes—with no formal order or routing—while working on Pacific Dunes in 2001. Only those who knew the right person to ask were granted access, and once inside the fence could construct their own "course," randomly combining tees, fairways, and greens.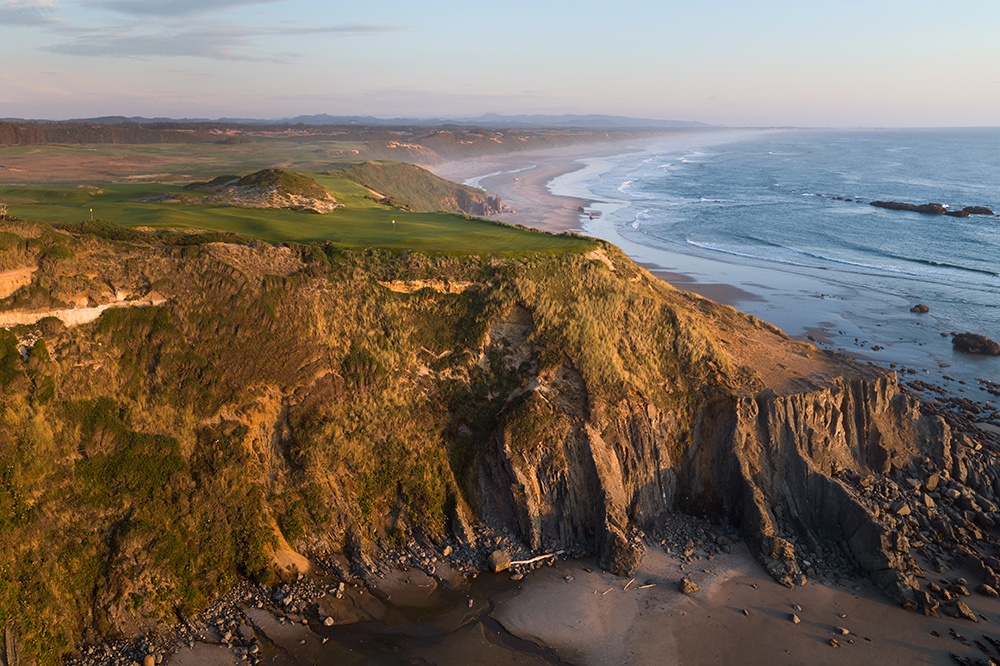 Fast-forward about 15 years and resort management decided it was time to reshape Sheep Ranch and share it with the world. Bill Coore and Ben Crenshaw were handed the keys and tasked with finding a fixed routing of 18 holes where there had stood just 13.
What resulted is a compact, 6,636-yard, par-72 layout that meanders to and from the Pacific. Sheep Ranch boasts nine cliffside greens and ocean views on every hole: There's more than a mile of oceanfront golf, compared to the two-mile total of ocean frontage on the resort's other four courses combined. From the approach shot to the first green, players are plunged immediately toward the incoming waves: Six of the first nine holes are perched atop cliffs, as is the stretch of holes from 15 to 17.
Wide fairways, wispy grasses, and stiff breezes are in store, in keeping with Bandon's seaside-links style. Yet Sheep Ranch is unique in one way: there are no bunkers. The dramatic zenith is at the 3rd and 16th (shown here)—a massive double-green atop Five Mile Point, the property's most pronounced peninsula.
After the round, enjoy a beverage beside the firepit on the clubhouse's wraparound patio, where you'll see nearly every hole and marvel over a round you won't soon forget.