The first thing that catches your attention at Union League National Golf Club is a soaring, 60-foot sand dune, if only because it stands in such stark contrast to the pancake flat topography of the southern New Jersey shore region. But the dune is just the most visible part of this stunning, multi-year, multi-million-dollar project that many in the golf world haven't heard about yet. But they will, promises architect Dana Fry, who with design partner Jason Straka has spent the past two-and-a-half years overhauling a former 27-hole public layout called Sand Barrens since its October 2017 purchase by the Union League of Philadelphia.
So far, more than 600,000 cubic yards of fill have been moved; that's in the neighborhood of 50,000 full dump truck loads. More than one million shrubs, grasses, and ground covers native to the region have been planted, about half of which were transplanted and half purchased in plugs and pots.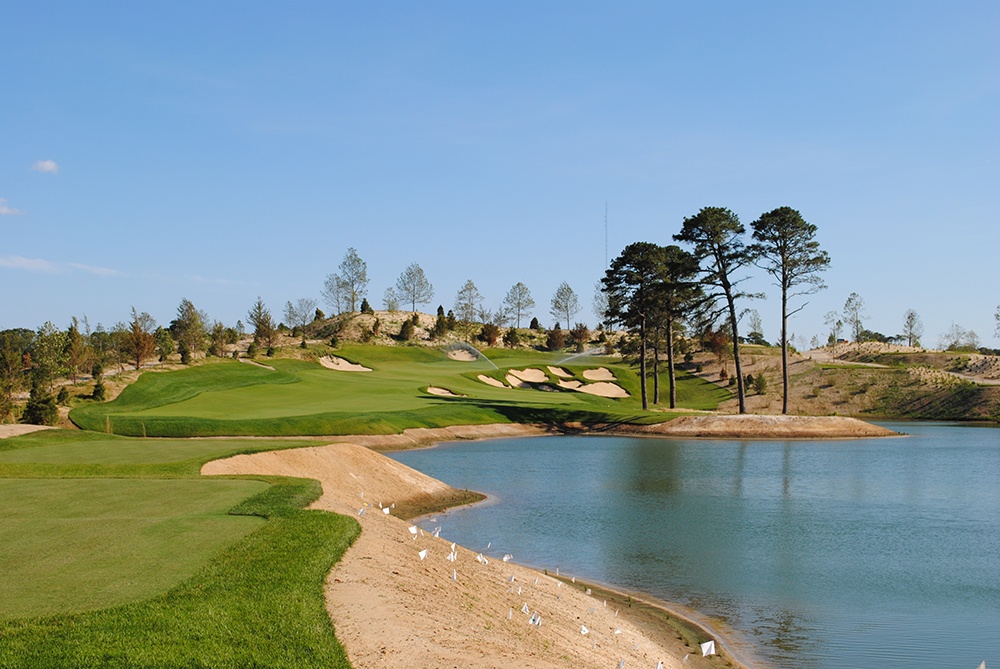 And they're only halfway done.
"It's going to become an iconic type place that everybody in golf wants to play because the word is going to be so strong about how dramatic it is and the experience it will be," says Fry, who flies up from Naples, Fla., almost every other week. "I've been doing this since 1983 and worked on a lot of big projects. This is the biggest I've ever worked on in the United States. Calling it a renovation is almost laughable. It's just a wipe-out redo."
I recently spent more than three hours touring the property with Straka, who says celebrated courses such as Pine Valley, Calusa Pines, and Tobacco Road have served as the architects' inspiration for the project, which in some ways is the antithesis of the minimalist efforts recently embraced in the industry by names like Hanse, Doak, and Coore & Crenshaw.
Significant elevation changes, including the idea for a "big fill," came from a similar approach Fry took at Calusa Pines, ranked among the finest modern courses in the country. The revegetation job, the scope of which Straka describes as "mind-boggling," included working closely with local conservationists, naturalists, and the U.S. Department of Agriculture, along with numerous trips to Pine Valley—which is just over an hour north of the Union League in the pineland region of New Jersey. Pennsylvania sedge native to the area (mistaken by some as fescue) will line the edges of new bunkers, just as it does at Pine Valley. From bayberry and low bush blueberry to thousands of wetland rushes planted around the shoreline of the newly excavated lakes, everything being put in at Union League National is native while exotic, invasive plants are removed.
"You go to Calusa Pines, you would have no idea (that much was manmade)," Straka says. "For me, if that's going to be the vision, with the Pine Valley look to it, I want to push it to where it has that environmental sensitivity to where we actually put it back better than it was originally. Somebody could say, 'You guys are really pillaging this place,' but we're putting it back to better than what it was."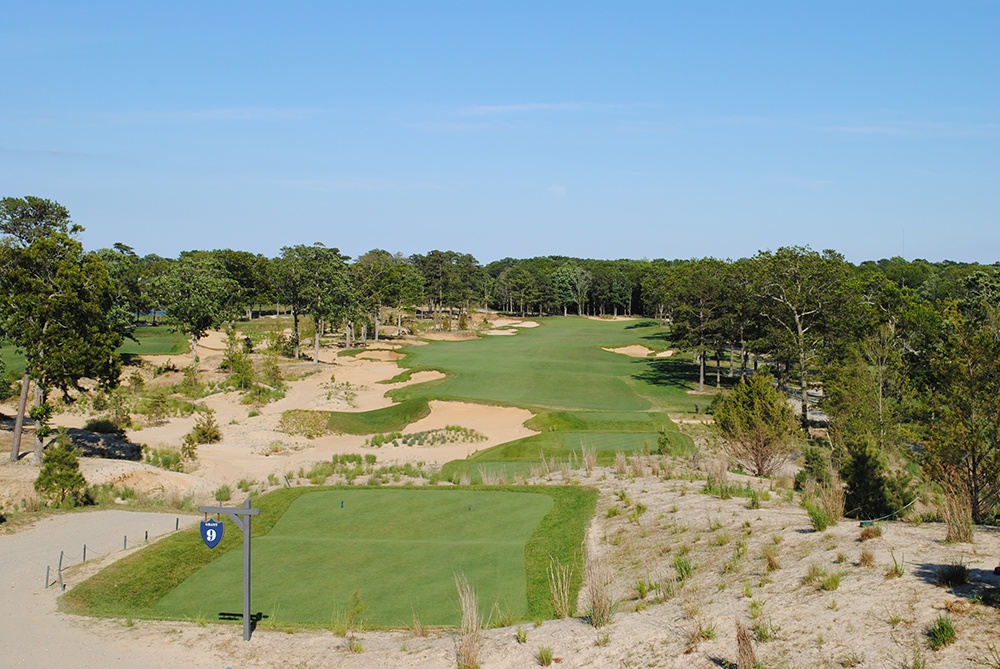 While budgets are a concern in every project, it's safe to say Straka and Fry have some serious leeway. Founded in 1862 to support the Union and policies of President Abraham Lincoln, the Union League is comprised of more than 4,000 power brokers and business leaders from the Philadelphia area. It also owns the former Torresdale Frankford Country Club just 12 miles from Philadelphia's center city and snatched up the 27-hole Sand Barrens property because many of the club's members have homes in the Avalon and Stone Harbor area in South Jersey.
The investment has been significant since construction started in the winter of 2018. About half of the holes have been redone, including an uphill par four to a green benched into the big fill that Fry says will be considered among the game's best drivable fours. The holes that play into and off of the massive dune are eye-popping, but some of the holes on the low-lying parts of the property are equally thrilling, among them a par four with a tee shot over water that has two drastically different greens—an homage to Pine Valley's double-green 8th hole. Eventually, there will be a tiny par three virtually surrounded by a meandering waste bunker that will be the architects' nod to the 10th at Pine Valley, home to the notorious "Devil's Asshole" bunker.
Having played the previous incarnation of the Sand Barrens, nothing recognizable remains in the new holes. The greens are big, with incredible movement, and there's definitely far more sand than before. There will, however, still be 27 holes, with the three nines named after Civil War generals: Grant, Sherman, and Meade. The holes that haven't yet been redone will incorporate more ridge lines that will extend off the big fill.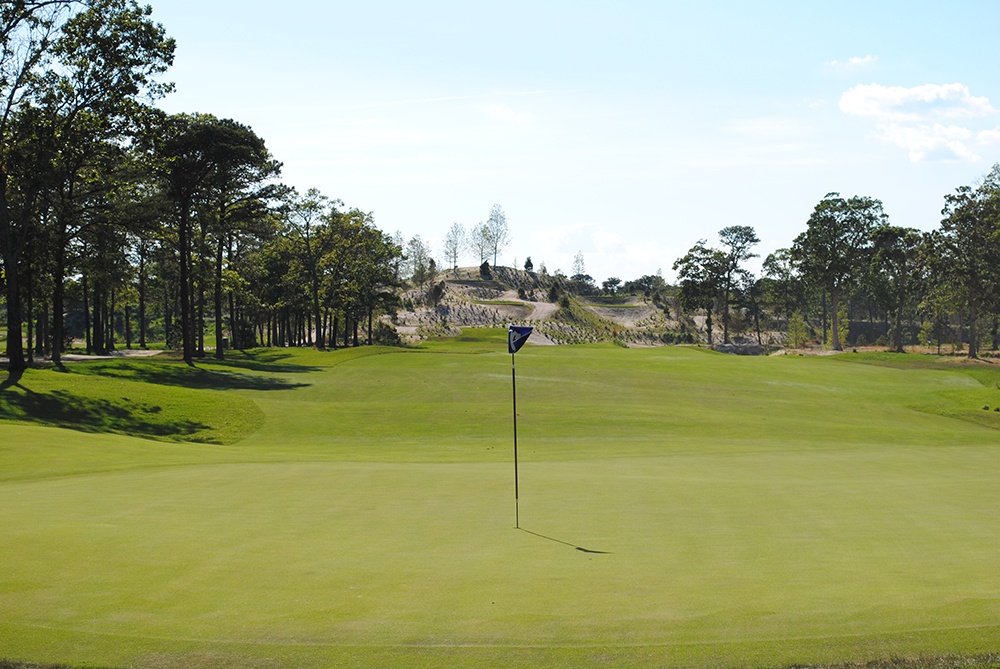 "In talking about what this could be, you ask what's going to set something apart," Straka says. "It's really the uphill and downhill. Given the budget and freedom to do it, we knew we could do something like Calusa Pines. In the end, though, it has to be revegetated to where nobody knows. And it can't just be one little mountain. It has to be this huge dune with flowing ridges going off it. And three, five, eight years down the road, you couldn't tell it isn't natural."
The scope of the project is almost hard to fathom. Also, in the long-term plans are a new clubhouse, a nine-hole par-3 course, an extensive practice area, new maintenance facility, and even a state-of-the-art dormitory—an inn of sorts—to house seasonal staff on-site given the challenges of finding reasonably priced accommodations near the shore. But it's the course that already has golfers chomping at the bit, and rightfully so.