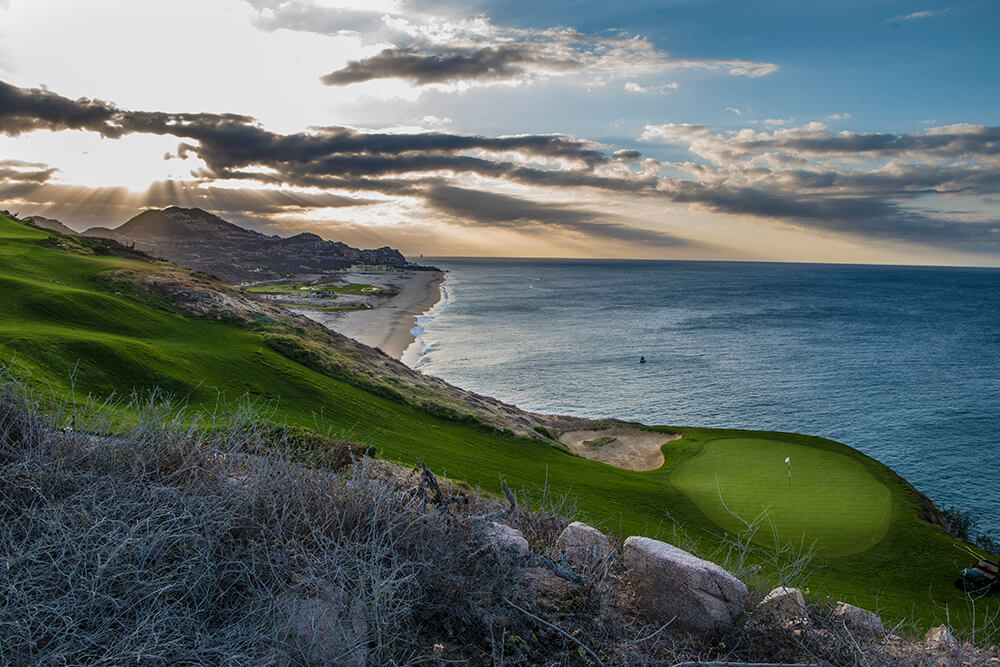 Let me start by giving Cabo the ultimate compliment: I'd go even if there were no golf.
I'd go for the resorts, dining, water sports, whale watching and deep-sea fishing, culture and history, nightlife (both touristy and authentic), beaches, and the weather. Especially the weather. Even without clubs, you'll have a wonderful time.
Add golf and Cabo is a slam-dunk, bucket-list destination. I don't know of anywhere else in our hemisphere, maybe the world, where there's been as much new-course construction—particularly of the over-the-top, luxurious kind—as there's been around the tip of Baja Peninsula in the last decade. Courses from Jack Nicklaus, Tom Fazio, Tiger Woods, Tom Weiskopf, Fred Couples, Greg Norman, Davis Love III, and Robert Trent Jones Jr. All within about an hour's drive.
For those worried about security, Cabo is almost unaffected by Mexico's well-publicized troubles. It caters to Americans and Canadians, with dollars accepted everywhere (even gas stations and toll booths) and an educated, English-speaking populace that understands the importance of tourism to the region. Think of it like Hawaii—virtually an island, distinct from its mainland, just with a Spanish accent.
Also like Hawaii, Cabo can be expensive. Some of the courses are very private, with green fees to match; they're usually accessible by staying in one of the ultra-luxe resorts, making the total cost even higher. Often the fee includes unlimited access to these upscale courses' now-ubiquitous "comfort stations," but only you can decide if all the tequila, tacos, and Twizzlers you can swallow justify the price. (Plus the extra time, as well as other effects, a couple of Coronas and Kobe sliders can have on your swing mid-round.)
Still, having just been and sampled everything I could— courses, accommodations, and cervezas galore—I'm all in. Especially now, as the weather from Thanksgiving through May is postcard-perfect day after delicious day. Here's what I saw.
Even with all the golf that's come to Cabo lately, the newest course to open is one of the most exciting. Rancho San Lucas is a Greg Norman design on the Pacific 15 miles from downtown Cabo San Lucas. Profiled elsewhere in this issue (see "First Peek"), the course spreads brilliantly through dunes, cactus, and beach. The fairways are wide to accommodate the wind coming off the ocean, and the 40 or so bunkers are revetted with stacked turf recycled from Welsh soccer stadiums. The best Norman design I've seen, its look and feel are Scottish links, but bigger and 25 degrees warmer. It's the centerpiece of a resort-cumprivate community, with a Grand Solmar hotel that offers guests playing privileges.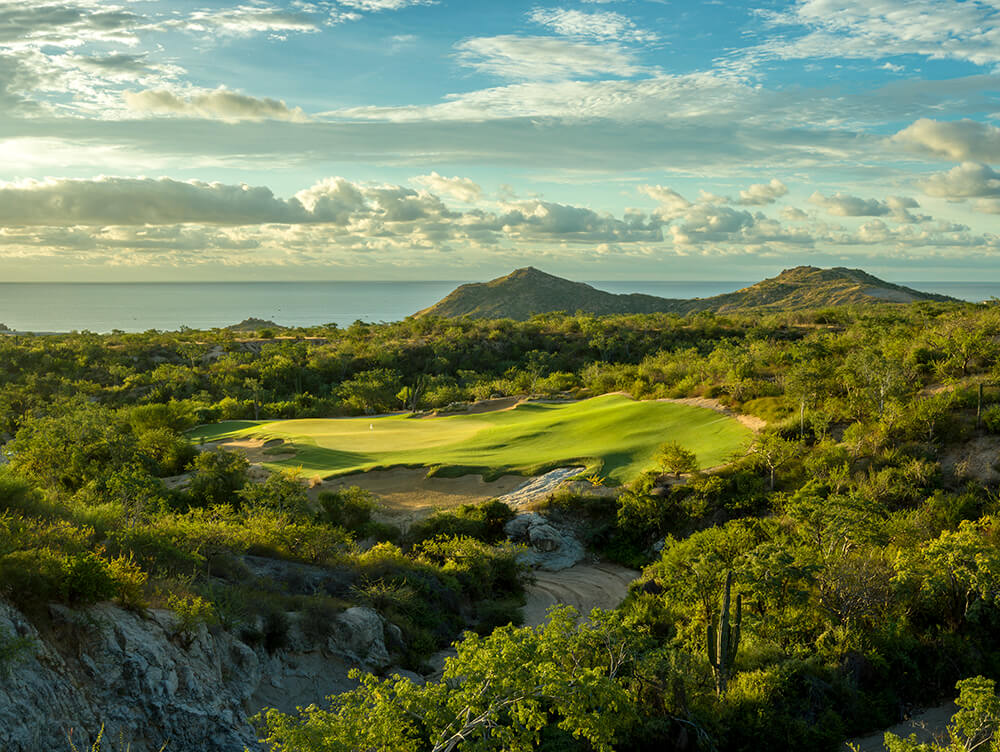 Another star golfer recently built another gem. Fred Couples, working with architect Todd Eckenrode, debuted Twin Dolphin in 2018 on a broad piece of property high above the Sea of Cortez, which is in view on every hole. Environmentally sensitive of the surrounding high desert landscape, the course is just as sensitive to golfers, with acres of room and carefully placed bunkers. Although built along numerous arroyos, only one hole, the 10th, calls for a forced carry, and most of the greens are big and open in front. The drama is in the scenery, not the shotmaking—except on the 95-yard 19th hole, which could be the toughest of them all.
Couples is so enamored of Cabo and his course that he spends quite a bit of time there, including playing in the member-guest. Of course, he owns a place within the private community going up around Twin Dolphin. To get on, you'll have to stay at the nearby Montage hotel, which, believe me, is no hardship.
Tom Fazio got a mulligan, of sorts, at Chileno Bay, another very private course in a very private community that you can play by staying at the wonderful resort of the same name. The course originally opened in 2013, but after Discovery Land—famous for very successful, celebrity-besotted golf communities—bought most of the property (course yes, resort no), Fazio came back and made some adjustments. I hadn't seen it before, but having spent a joyous afternoon on it, I commend the routing and the "every club in the bag" diversity.
As with all Fazio courses, Chileno Bay is stunning, with flowers and shrubs that are more developer than desert; big, bright-white bunkering; and incredible views both out to sea and up the surrounding mountains. Also, if it's your pleasure, you can play a bit buzzed since the head of Discovery Land was also one of the three founders of Casamigos tequila (George Clooney was another), and it's everywhere. Including just before the round: Your "first shot" is a slug from an ice-sculpted shot glass, followed by trying to toss the frozen vessel into a bucket hanging from a cactus. It's harder than you think.
Among the most accessible courses is Puerto Los Cabos, a 27-hole facility also on the eastern (sea) side of the peninsula. It's also part of a community with some really nice hotels (from the big and well run JW Marriott to the intimate and environmentally elegant Ritz-Carlton Reserve entity called Zadun), but is open to all comers. At present there are 18 holes from Nicklaus and nine from Norman, which mostly go up and down a rather challenging mountain. The standard routing is half Jack, half Greg, at least until a long-planned new Norman nine is built (when? Who knows). I found it a bit too vertiginous, and when the wind is up, calamitous. But there are beautiful views from on high as well as good fare in the casual on-course eateries.
Nicklaus's mark can be found all over Cabo. His first work, circa 1992, was two of the three nines at Palmilla, a vast community well known for the luxurious One&Only Palmilla resort. The nines are called Arroyo, Mountain, and Ocean (the latter added in '99), giving golfers an idea of what to expect from each. They're open to outside play, but the holes I saw were in need of better maintenance and some TLC. Still a good test in the Nicklaus tradition, the conditioning is cause for concern.
For many years, the Cabo layout Nicklaus was best known for—and often credited with putting the area on the golf map—was the Ocean Course at Cabo del Sol, opened in 1994 and famous for a string of holes along the water and as a perennial Top 100 in the world. However, a change in management has resulted in numerous changes to this course as well as its sister, the Tom Weiskopf-designed Desert.
Late last year, a new entity opened within Cabo del Sol. Called The Cove Club, it is an exclusive community with a members-only beach club and fabulous homes and lots. (A Four Seasons Resort will soon start construction, with residences of its own.) The Ocean Course also will become part of The Cove Club and take its name, which means at some point it will be members only; until then, a call to the clubhouse will get visitors on what Nicklaus said at the time was "the best piece of golf property I've ever seen." While some of those sparkling ocean holes are now gone, their yardage turned into pricey real estate, what remains is still special and scenic.
The Desert Course is slated for reconfiguration starting this summer. Dana Fry will design six new holes and rework the other 12, while the layout—a little further up the hills above the water—will get its own clubhouse and practice facility, and will remain open to outsiders. Desert was the sleeper of my visit, with typical Weiskopf clarity and trademarks like short par fours balanced by long par threes. I'll be very curious to see how the new Desert blooms.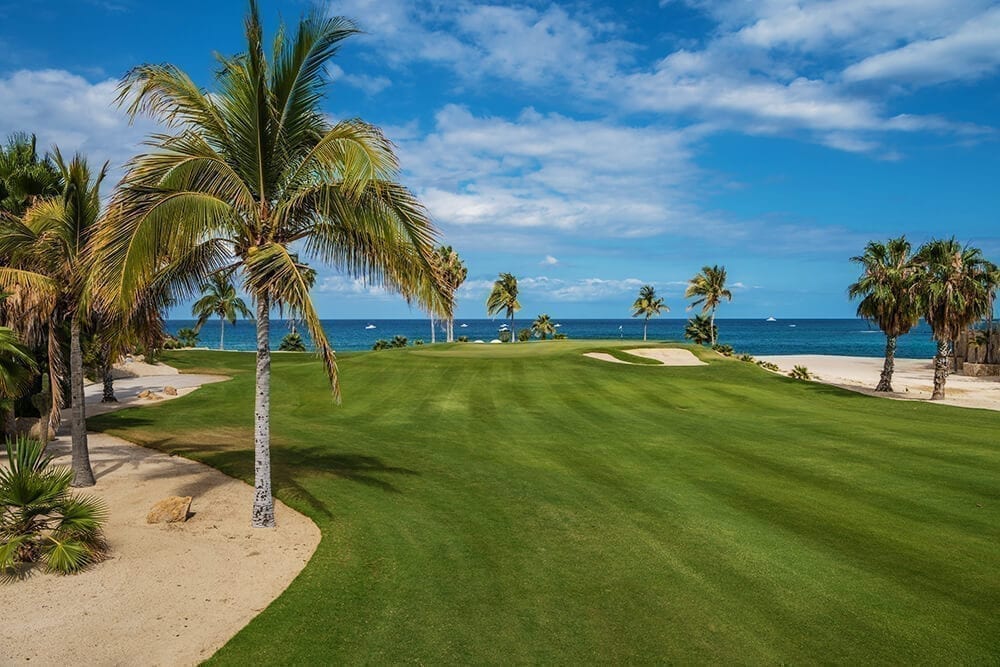 Jack's newest Cabo creation is by far the most stunning. Called Quivira and located at the tip of the peninsula, it's a big brute of a course built on dunes, desert, and the side of a mountain. It will take your breath away, particularly on the incredibly photographable mountain holes, 5 and 6, which play first down about 300 yards to a nearly hidden green, then back up again (let's just say it's a long cart ride). Assuming you have any breath left, the course then rises, drops, rolls, and pitches over sand and along the sea. The green complexes are treacherous, with steep drop-offs that put the emphasis on precise approaches—no mean feat in the usual wind. You may never play a course so strikingly scenic, or one where your choice of tee has such an effect on your score and psyche.
Quivira is open to guests of Cabo's five Pueblo Bonito resorts. Each is all-inclusive, fortuitous since you might break the bank if you had to pay individually for the necessary tonics after completing a round. They have fully equipped spas, as well, for those whose bodies need similar post-round repair.
That's a lot of golf, but by no means all. I didn't get to Diamante, a private resort community with highly regarded courses by Davis Love III and Tiger Woods. Or to RTJ II's new Costas Palmas, about an hour up the east coast. And I didn't get back to Querencia, Tom Fazio's first course in the region (2000), part of an exclusive community that has recently upgraded with new residences along the sea and a spectacular beach club overlooking Acapulquito Beach, one of the area's best stretches for surfing.
And, if history is prologue, there will be more golf soon. But if not, I'll still go back.