Arnold Palmer, Jack Nicklaus, Gary Player, and Lee Trevino have spent a lot of time with one another on golf courses all over the world and they're doing it again, but this time is different. For the first time in their long and illustrious careers, the four hall of famers are collaborating on a design of a course. The centerpiece of a new private development at The Greenbrier Sporting Club, the layout is still on schedule to open next fall despite the tragic flooding at the resort. Since the site is located on top of a 2,500-foot mountain ridge three miles from the resort, there was no flood damage during the tragic and torrential rains a few weeks ago, just some erosion.
The routing is complete and right now the teams are in the process of clearing the course of trees and moving dirt. Shaping will start next week. The routing makes good use of the wide variety of terrain, as well as the scenic long-range views. While the yardage (8,042) and elevation changes may intimidate the average player at first glance, the course will be plenty playable with lots of room off the tee for a mountain course.
"We all have their vision of how golf should be played," says Nicklaus. "So that's created a unique experience in and of itself. It's a big, big piece of property, but the connections from green to tees are actually very tight, which creates a very nice flow to the routing. It's not like you'll get in a golf cart and feel like you're driving all over the place to find the next golf hole. You go easily from one hole to the next."
The variety should really stand out because the holes come in segments, with no more than two of them in a row traversing through the same type of terrain. The holes run atop a big ridge with holes atop it, down a steep valley, or through a broad uphill valley. Many of the holes also meander around lakes and creeks.
But how do four very opinionated people with different ideas about how the game should be played reach consensus? "The four of us and our teams work together on every hole," says Gary Player. "Every detail is up for debate. We all have been onsite multiple times, but not always together. Team work and communication is vital. Respecting and valuing each other's input is crucial throughout the entire project. So far, so good.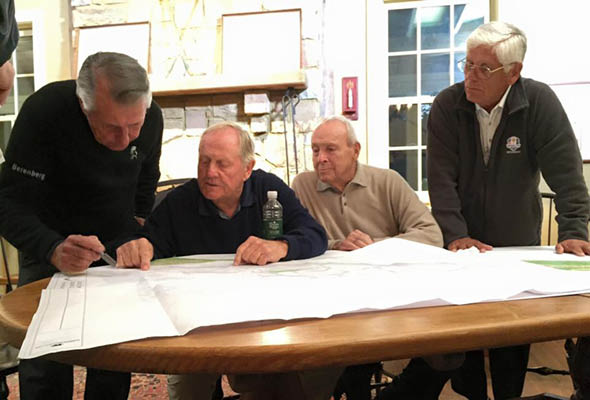 "It has been lots of fun to work with lifelong friends," he adds. "I am 80 now, and have never had to opportunity to be part of a full team collaborative effort with Arnold, Jack, and Lee. There has never been a golf course design project that has so much experience. Obviously, the four of us have very strong personalities, but the balance of work and friendship makes a project like this so much fun."
The four have competed not only on the course, but in the design business, as well, so it's refreshing to see them teaming up on this project. "We competed for decades, but have remained the best of friends," says Player. "This project has only made our friendship stronger. Now that we are working together on a full collaboration in the twilight of our careers speaks to the volume of respect we have and will always have for one another. From a marketing standpoint, [Greenbrier owner] Jim Justice was a visionary in pulling us together."
"We have each been involved with golf course design for decades, and this is the first true collaboration between us," he adds. "It has strengthened our relationships as we do not see one another as much as we would like. The only downside is that our debates can slow down the design process to a degree. Hopefully this will not be designers setting out to produce a racehorse and ending up with a camel!"
_______________
Do you have any plans to visit the Greenbrier once this course is open? Have you been before? Tell us about it in the comments below!