There are more than 11,000 golf courses in the U.S. open to public play. Approximately one quarter of those are municipal courses—or "munis"—meaning they're owned or operated by town, county, or state governments in order to provide golf as a recreation for local residents.
Among the most well-known munis are Bethpage Black, one of the five color-coded courses at Bethpage State Park in New York, and Torrey Pines, a popular PGA Tour stop situated on cliffs above the Pacific Ocean in San Diego.
Bethpage is the biggest municipal facility in the golf world, with its five courses—the Black, Red, Blue, Yellow, and Green—all playing out of the same clubhouse in suburban Long Island and operated by the State of New York. More than 200,000 rounds are played annually at this 90-hole mecca for public golf, which will host the 2025 Ryder Cup.
Beyond Bethpage, here are some of the nation's biggest municipal golf facilities.
Oglebay Golf (Wheeling, W.Va.)—72 holes
Talk about a unique property. Oglebay has a resort component, with a nearby lodge and stay-and-play packages but has been a self-sustaining park for more than 90 years. The 2,000-acre property at one time was the summer country estate of Cleveland industrialist Earl W. Oglebay, who upon his death in 1926 willed the land to the people of Wheeling as long as they would "operate it for public recreation."
Among the amenities today are five golf courses in total. There are two 18-hole championship courses at Oglebay's Speidel facility, one designed by Arnold Palmer and the other by Robert Trent Jones Sr. There's also a shorter 18-holer, the 5,670-yard Crispin Course, plus the Wheeling Park 9-hole executive course, and a 9-hole Par-3 course. Danny Ackerman, the General Manager of Golf Operations for Oglebay, learned the game as a kid at the property, first playing Wheeling, then Crispin, and moving his way up to the Jones course. "The old joke around here is that you start at Wheeling, move up to the bigger courses and then as you get older, you graduate right back," says Ackerman, 62, who returned to his hometown six years ago to close out his career after stints at places like Pinehurst Resort and the former Longaberger Golf Club. Now operated by Troon, out-of-town rounds account for just over 50 percent of play at Oglebay.
The three 18-hole courses at Eisenhower Park—Red, White, and Blue—are located only about 10 miles from Bethpage State Park on Long Island. The management is different, however, as the Eisenhower courses are operated by Nassau County, as is the facility's lighted driving range. Highlighted by its three muni golf courses (in addition to a swimming facility, dozens of athletic fields and courts, playgrounds, fitness trails, and more), Eisenhower Park is one of the largest public spaces in the New York metropolitan area, a 930-acre oasis of open space and recreation that's bigger than Central Park.
The Red is the oldest and most heralded of the Eisenhower courses, designed by architect and Long Island native Devereux Emmet back in 1914, and once hosted a PGA Tour Champions event. The White and Blue courses were both designed by Robert Trent Jones Sr. and opened in 1950 and 1951, respectively. And in a unique design quirk, both the White and Blue were built with "twin" holes side-by-side on all four of their par threes, an innovation he introduced at the facility in an effort to combat slow play.
https://twitter.com/EgtTour/status/1274505545890836482?s=20
Like Eisenhower Park, this municipal facility in the heart of North Carolina's Piedmont region also has two 18-hole layouts designed by Robert Trent Jones Sr.—the Championship and Reynolds courses. The Championship course indeed is just that, having hosted the PGA Championship in 1974, when Lee Trevino held off Jack Nicklaus by a stroke to claim the Wannamaker Trophy and his fifth major title. Perhaps as notably, Sam Snead finished third that year—at the age of 62. Additionally, there's a Par-3 course at Tanglewood, with all 18 holes playing 100 yards or less.
Operated by Forsyth County, the 1,100-acre park also offers an aquatic center, horse stables, a dog park, BMX track, tennis courts, an RV campground, and a bed & breakfast, but is perhaps most well-known for its annual Festival of Lights—a drive-through holiday light display that stretches five miles with more than a million bulbs.
Fun to play Tanglewood Golf Club today in NC, home of the 1974 PGA Championship. Really tough course and still kept in good condition. Definitely recommend it! pic.twitter.com/Nlktyd4VrU

— Brendan Gulick (@brendangulick22) June 26, 2019
There are a few municipal facilities with 45 holes, but this one about 15 miles north of Denver is particularly notable. The courses at Hyland Hills are named after Greg Mastriona, the former executive director of the Hyland Hills Park and Recreation District. The facility had a single 18-hole course with views of the Rocky Mountains when Mastriona was hired as an assistant superintendent in 1969. When he retired after four decades as the recreation department's executive director, Hyland Hills had expanded to 27 holes of championship golf along with two Par-3 courses (including one designated for juniors) and a multi-tiered practice facility with separate putting and chipping areas.
Mastriona also spearheaded the construction of a new clubhouse and created other non-golf recreational activities for the community, among them an ice center, a miniature golf and go kart venue, and an outdoor family water park.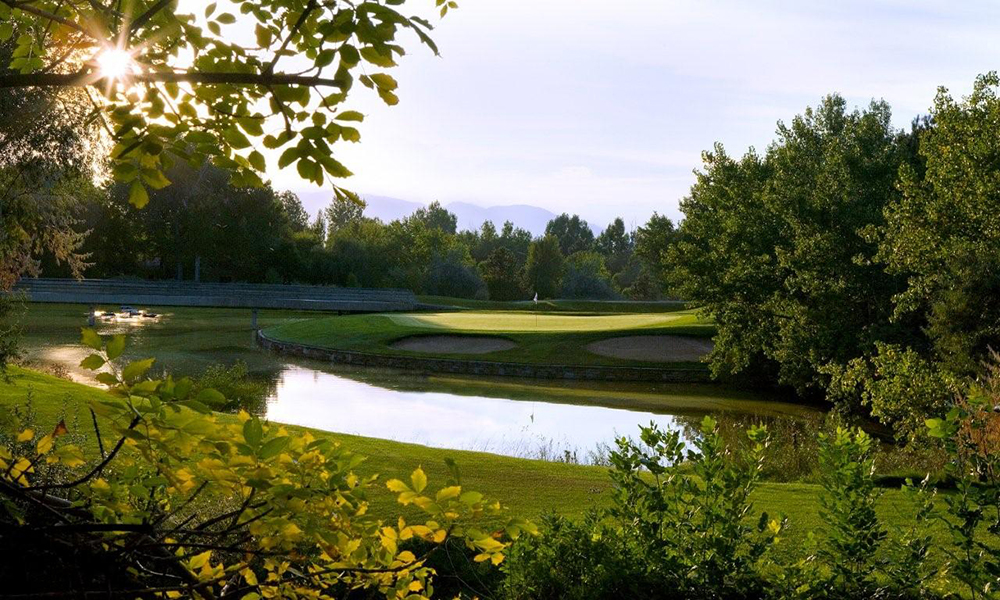 Know of other big municipal golf properties?