Pilgrims from all points come to the county of Fife to play the Old Course at St. Andrews, booking tee times years in advance, entering a ballot drawn two days ahead of play, or trying their luck by arriving at the starter's hut in the wee small hours and hoping for no-shows.
A round on the Old is the highlight of a trip to Fife, of course. Heck, it's the highlight of a golf trip to Scotland, the UK, or Europe. It's a thrill to play any of its immediate neighbors, too (New, Jubilee, Eden, Balgove, Strathtyrum, and The Castle—two miles east). And Fife has plenty more top-shelf venues—Elie, Leven, Lundin, Duke's, Crail, Kingsbarns, Dumbarnie—that you've probably either played already or are familiar with.
But how about five you may not have heard of that you'll be glad to know? These are courses you can save for empty days or evenings on your itinerary, which don't charge tourist-inflated green fees, and which can be your happy little secret.
Even if you land in Glasgow, you really should enter Fife from the south so that you can cross the Firth of Forth at Queensferry and get a good view of the Forth Bridge—the awesome rust-red cantilever rail bridge that opened in 1890 and is one of Scotland's six UNESCO World Heritage Sites. Once you're over the bridge and inside the Kingdom, leave the M90 after about three miles and head northwest on the A823, Queensferry Road. A couple of miles before reaching the wonderful town of Dunfermline, Scotland's capital between the middle of the 11th century and 1437 when power shifted to Edinburgh following James I's murder, you pass through Pitreavie where you find one of Alister MacKenzie's least-known designs. The company of Colt, MacKenzie, and Alison was hired by the club in August 1921 with MacKenzie taking full responsibility for the design of the course. Construction was complete by February of 1922 and the course opened in June (MacKenzie had worked simultaneously at Dunfermline Golf Club, five miles to the west, remodeling the course after the club had acquired 20 additional acres). Pitreavie is no Augusta National certainly, but with its mix of established parkland, awkward ditches, and some heavily tiered greens, its 6,032 yards will give you a good game.
The first course at Aberdour was established in 1896 with four-time Open champion Willie Park of Musselburgh helping to lay out the nine holes. The club's lease wasn't renewed, however, so it moved to its current site in 1905, and the nine holes there were extended to 18 in 1914. In 2018–19, English architect Howard Swan renovated the course's bunkers, and in 2020 it was rerouted to take full advantage of the superb views across the Forth to Edinburgh Castle and Arthur's Seat, an ancient 800-foot volcano about three miles east of the city center. Unlike most of its coastal neighbors, Aberdour is a parkland course though its two opening par threes hug the shoreline, and the Forth panoramas never let up. At just 5,447 yards from the back tees—playing to a par 67—it certainly won't be the toughest test of your trip. But it might be the most scenic.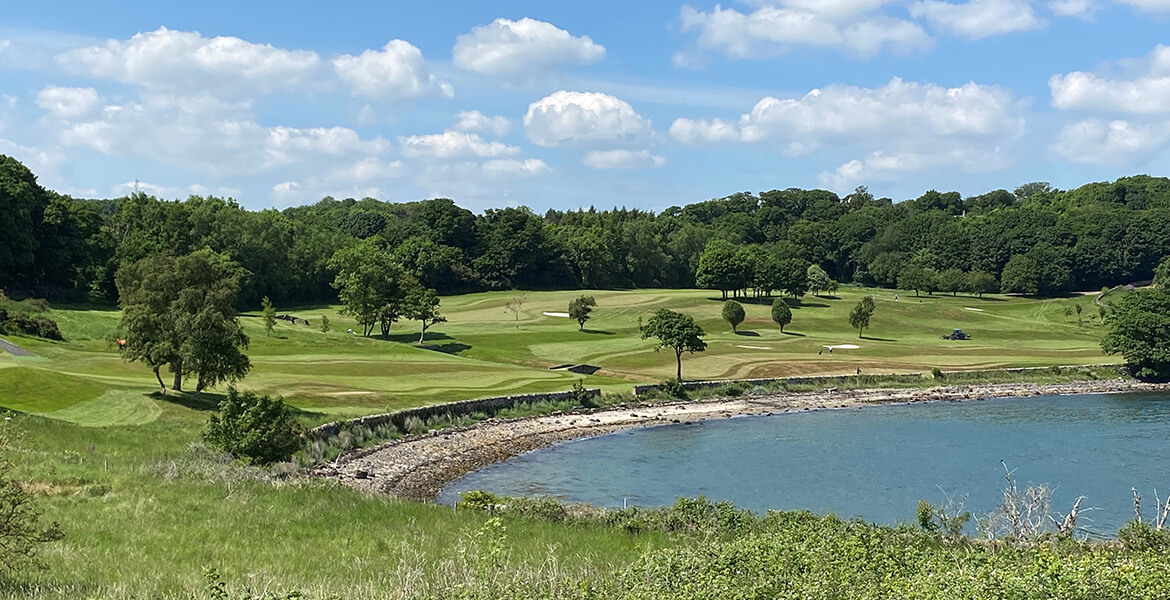 Tom Morris, the Grand Old Man of Golf, was 83 when he laid out Kirkcaldy (pronounced Kir-coddy), 10 miles east of Aberdour and 25 miles southwest of St. Andrews, in 1904. A mile inland from Seafield Beach, Kirkcaldy is a handsome parkland course with some extremely wide playing corridors, excellent greens, and the pesky Tiel Burn coming into play on numerous holes. If you're in Fife to feast on links, you'll probably want to bypass Kirkcaldy, but you'll be missing out on a parkland treat and a typically fetching Scottish town which grew rapidly during the latter part of the Industrial Revolution but whose old town retains a certain grandness and authenticity.
It was with a pang of regret that Anstruther was added to the list, not because it isn't worthy (it most certainly is), but because this delightful Old Tom Morris-designed 9-holer (opened in 1896, five years after the original 7-hole course, known as Billowness, had opened) has developed a sizeable online following in recent years and might actually have become a little too well-known. "Anster" is one of those quaint and delightful courses where American golfers, used to the Championship formula (200 acres; 7,200 yards; 10 par fours, four par threes, and four par fives) need to drop all expectations and just allow the eccentricities and charm of Scottish golf to envelop them. You might not have seen holes like the 128-yard 6th or 235-yard 9th before, and you'll definitely wonder what on earth is happening at the 245-yard 5th, "Rockies"—a blind, dogleg par three best tackled as a par four. Just go with it and, as you dig into a plate of fish and chips in the clubhouse following your first round, devise a plan of attack for your second journey around a course you've probably already fallen in love with.
Scotscraig would be better known were it not located so close to some of the most famous courses in the world—St. Andrews is 11 miles to the south and Carnoustie 16 miles northeast across the Tay Road Bridge. The club was founded by members of the Society of St. Andrews Golfers in 1817, making it the 13th oldest golf club in the world. However, when its original site was ploughed up by the tenant farmer in 1835, the club fell silent and it wasn't revived until 1887. By 1893, members were playing nine holes on the same land the club had leased 60 years previously, and the course was extended to 18 holes in 1904. Both Tom Morris and James Braid worked on this fascinating mix of links and heathland that puts one in mind of Formby, Panmure, and perhaps even Ganton at times. It has hosted numerous prestigious Scottish amateur championships as well as final qualifying for the Open Championship, and in 2017—200 years after the club had formed—it embarked on an extensive course renovation program.
Have you played any of these hidden gems in Fife? Tell us about your experience in the comments section.