If you're among those golfers who rediscovered the joy of walking the course in 2020, you're in good company.
Not only has play been up nationwide, but so has the percentage of walking rounds. So, it shouldn't be too much of surprise to hear that many manufacturers and retailers have been running out of push carts due to overwhelming demand.
Or maybe it will raise some eyebrows. Push carts occupy a fascinating space in golf, one that can elicit fairly polarizing opinions. And while the things that golfers draw battle lines over never ceases to amaze, from hoodies on the golf course to using a phone for GPS, scoring or stat-tracking during play, the anti-push cart sentiment is a real head-scratcher. I use a push cart frequently, particularly on my home course, and it was integral to my experience at places like Bandon Dunes, Sand Valley, and Forest Dunes. I'll carry my clubs too, on occasion, but there's no question a push cart is easier on the back and shoulders, with no continuous lifting and lugging over several hours.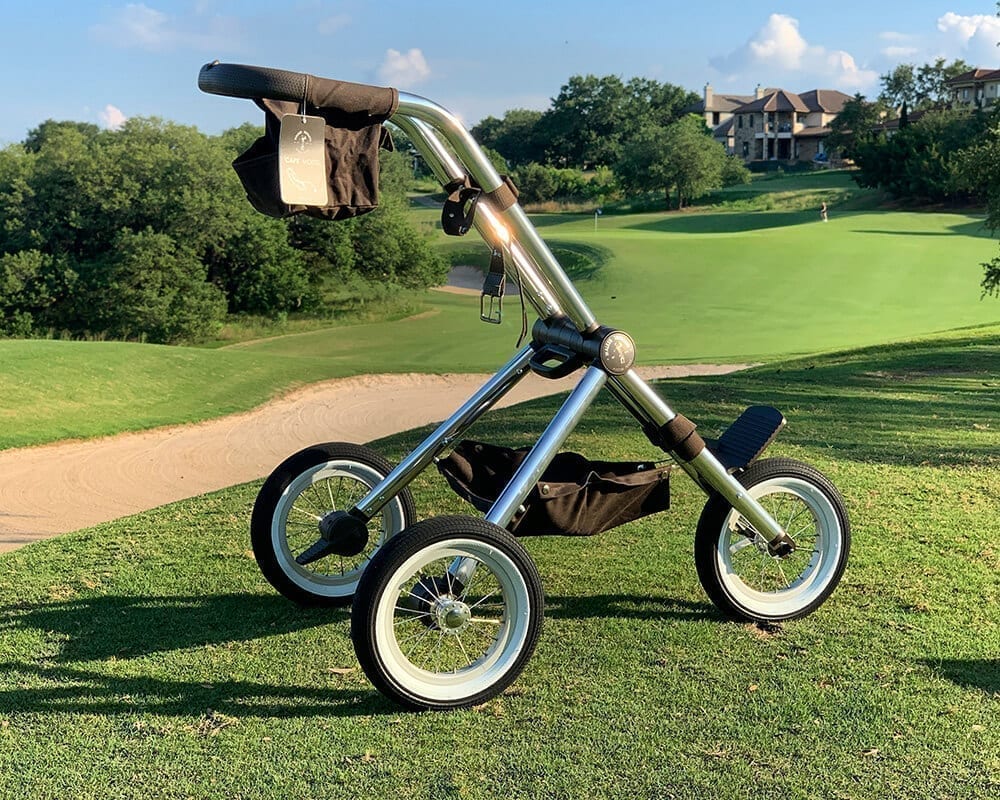 "Walking golf and push carts are experiencing a renaissance as golfers realize the health, wellness, and fitness benefits," says Brad Payne, the founder and CEO of Walker Trolleys, which makes premium push carts. "We expect this trend to not only continue, but grow."
If you're thinking about joining the "Push Cart Mafia," there's actually a lot to consider: Hand brake or foot brake? High tech or elegant and simple? How much storage? How important is a phone holder, umbrella mount, or even a seat? And for some, battery-powered and remote-controlled is the preferred way to go. Whether that's truly a push cart is a topic for another time. For now, here are some of the top options on the market—although the trick might be finding them.
Clicgear
When it comes to the classic push cart, Clicgear makes some of the best products in the business—stylish, modern, and functional all wrapped in one. Actually, that comes wrapped in all of their models, which range from the company's flagship design, the $299 Model 4, to the streamlined $219 Rovic RV1S with a front wheel that swivels. Heavy duty frame, foldable, and compact, multiple accessory mounts, a large console, options for three wheels or four…there's good reason the rush on push carts has created a backlog of orders for Clicgear. https://www.clicgearusa.com/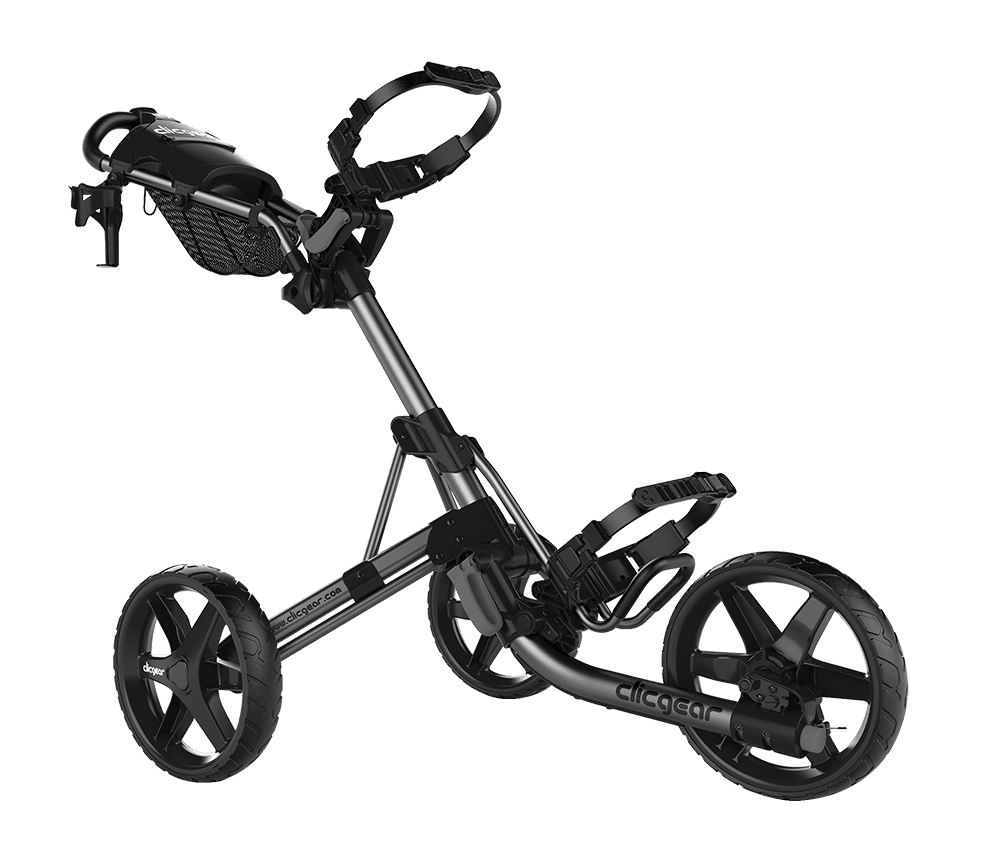 Walker Trolleys
Inspired by a trip to Scotland and initially funded through a successful Kickstarter crowdfunding campaign, Walker Trolleys boast a classic look with an anodized aluminum frame, waxed canvas storage, whitewall tires, and handcrafted leather handle. The Cape model ($399) is easily collapsible while the company also makes non-folding versions targeted at resorts with a strong walking ethos. Walker Trolleys also recently introduced customizable soft good storage units for its carts, including an edition with a Grateful Dead tie-dye pattern and a "southern-fried" pattern featuring bourbon, football, Waffle House, golf dogs, and the obligatory, "Y'all." https://walkertrolleys.com/
'Dead Great' our first collection of custom storage accessories and driver headcover are now available for sale! #pushcartmafia #pushcartel https://t.co/PFkNYgZyhp pic.twitter.com/onRmhLbnSu

— WalkerTrolleys (@WalkerTrolleys) October 19, 2020
ForeCaddy Smart Cart
The folks at Foresight Sports know their golf technology, whether it's simulators or launch monitors, so you can bet they've taken the push cart next-level—offering a cutting-edge smart cart that has multiple modes of operation. Golfers can use the remote control to navigate the ForeCaddy around the course or, with "follow mode," clip the remote to their waist and let this sleek, stylish cart trail them down fairways. For those who opt to push, there's also a power assist mode that provides a little extra "oomph" while climbing steeper slopes. This kind of luxury and tech doesn't come cheap, retailing at $2,249, but there are also financing options that start at $69 per month. And in addition to a lot of the standard accessories, it comes with a wireless charger and USB charging cable.  https://shop.foresightsports.com/products/forecaddy-smart-cart
View this post on Instagram
Sun Mountain
When the original Speed Cart was introduced in 1999, it was the first three-wheeled, ergonomically efficient, folding push cart on the market. Updated numerous times throughout the years, the Speed Cart GX ($250) is the newest generation in a rich history. Sun Mountain is so linked to the push cart that the company has now released a golf bag that's purpose-built for them, with all pockets designed to be accessible and a top that has 14 individual club dividers, with slots for woods in the middle and irons on both sides. https://www.sunmountain.com/
View this post on Instagram
CaddyTek
Whether three wheels or four, CaddyTek offers popular push cart options sold widely through channels like Costco and Amazon (direct). The CaddyCruiser ONE Tour ($320) is a foldable four-wheel model that features not only a handbrake on the handle, but a lever that allows golfers to switch between a swivel mode or straight mode for the front wheel. A basket underneath features a built-in cooler, while a clamp-style bag holder secures all types of golf bags. https://www.caddytek.com/
View this post on Instagram
Bag Boy
One of many companies under the Dynamic Brands umbrella, Bag Boy's history in golf dates back almost 75 years. As you'd suspect, golf bags are a big part of the business. Push carts are, too, from the fairly bare bones M-350 model ($120) to the Nitron Auto-Open ($260) that uses piston technology to open from its folded position with the touch of a button. The scorecard console features holders for three of your most important essentials: beverage, golf balls, and phone. There's even more storage area underneath the console, with a large accessory bag that can hold gloves, jackets, headcovers, and more. Bag Boy is also behind the Riksha, which is a popular rental model at many golf facilities given its oversized wheels, lightweight frame and, most importantly, an ability to "nest together" for easy storage. https://bagboy.com/collections/bag-boy/Push-Carts
View this post on Instagram
Motocaddy
The CUBE push trolley is the newest offering from Motocaddy and, in addition to oversize wheels, an adjustable handle, a wealth of storage options, and a foot parking brake, is most noteworthy for its compact size that will fit in just about any trunk. The easy-to-fold CUBE ($349) squeezes down to less than two feet long and 18 inches high, making it 40% smaller than the company's popular Z1 cart. For those seeking some flair with their features, the new model boasts bold trim colors like blue, red, and lime. http://www.motocaddy.us/
View this post on Instagram
Transrover
Want to have the option to walk nine or ride nine holes in the same round? The Transrover—a push cart and golf bag hybrid—could be the way to go. Winner of the "Most Innovative" award at the 2018 PGA Merchandise Show, this breakthrough was funded through Kickstarter and is loaded with innovations. Not only do the three wheels and handle easily retract for storage or for use as a "normal bag" on a golf cart, but there are individual slots for every club and a built-in six-pack cooler. There's no doubt the Transrover ($495) pushes the limits when it comes to push carts. https://transrover.com/
View this post on Instagram
What's your favorite push cart brand? Tell us more in the comment section.