Angela Moser's life led her to a career in course design, and a treasured opportunity at Pinehurst
Angela Moser loves baking. The hands-on molding process, creating something for others' enjoyment, is sort of like shaping a golf course. "Though it's a little more delicious, I think," says Moser, who has helped mold such projects as The Loop, St. Patrick's Links, and Te Arai for Tom Doak, along with Streamsong Black, Los Angeles Country Club, and Ohoopee Match Club for Gil Hanse.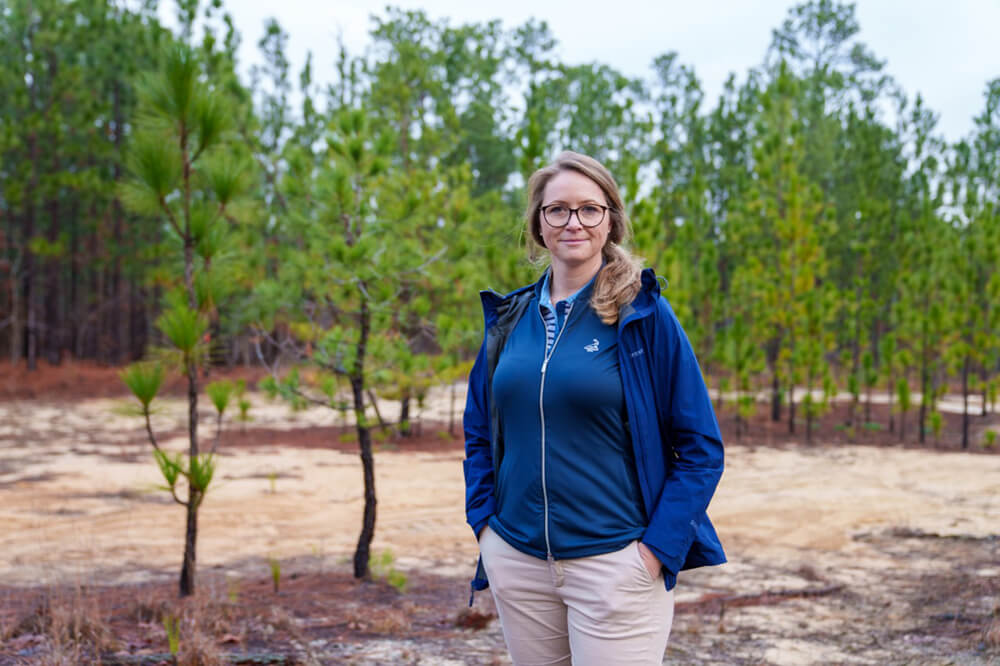 As a university student in her native Germany in 2010, she never expected one of golf's top designers to reply to her email about an internship. But Doak did. And more than a decade later, she couldn't believe her eyes when Doak wrote, "Congratulations, you're now the lead associate for Pinehurst No. 10."
"I'm not used to getting in the spotlight," says Moser, whose first project as the lead is Pinehurst Resort's first new 18-hole course in nearly 30 years. But there's no time to be reflective: Pinehurst wants "Course X" to be ready in time for the return of the U.S. Open in June 2024.
No pressure, right? Doak doesn't think so.
"She has probably been ready to run a job like this for four or five years now. Certainly I did that way before I had as much experience as she does," says Doak. "Angela has been patient and waited her turn. It's nice that it's coming at Pinehurst where there is a bit more attention for anyone who's working there."
In a way, it's the opposite of what Moser wants from her work. "The biggest compliment is if no one can tell that I was there," says the disciple of Doak, whose Renaissance Golf Design firm is well known for his minimalistic approach to design.
Golf wasn't the most popular sport growing up in Augsburg, Germany (though Bernhard Langer grew up nearby). Moser loved being outdoors; her parents didn't play but thought a 10-year-old might enjoy a three-day summer golf program.
She didn't much care about score, instead finding fascination in the fact that each course was different—a unique puzzle to be solved. Moser recalls recognizing a bump in the green on a par three feeding shots toward the hole. She didn't know there was an entire industry built on the premise of designing golf holes like that. She simply thought it was cool.
At 16, she picked up a weekend job in a golf retail store, selling clubs and coffee-table books about Pete Dye courses. Between landscape architecture classes at Munich University of Applied Sciences she sketched holes for an Austrian designer, eventually landing an internship where she sat in an office and scanned the works of others. There's no creativity in this, she thought.
So she fired a shot in the dark to Doak.
Today, pasted on the homepage of her own website—moseronadozer.com—is a quote from Walter Travis: "Paper is one thing, but working in the dirt is clearly another." From day one with Doak, Moser was thrown head-first into the design/build philosophy, saddling up on construction machines. Now when she has an idea, she can take it to the ground herself and see if it actually works when people play it.
As a course architect, you go where the projects take you, living a nomadic lifestyle. When someone asks, "Where's home?" Moser replies, "Planet Earth," because it's everywhere, but nowhere.
For now, home is the Sandhills of North Carolina. And everyone in golf is eager to see what she creates there.
Thank you for supporting our journalism. If you prefer to read in print, you can also find this article in the Spring 2023 issue of LINKS Magazine. Click here for more information.