When a new golf season looms, avid golfers everywhere take stock of the latest equipment launches, and many make a plan to invest at least a few hundred dollars in a new weapon for their bags. Drivers are typically the most compelling temptation, but if you're looking to shave strokes off your handicap, you may want to first assess your flat stick. Sure, everyone wants to bomb it past their buddies off the tee, but weekend matches are effectively won and lost on the greens.
Here's a look at five new offerings from boutique putter companies that are worthy of adding to your arsenal.
Makefield "V-S"
At first glance, the V-S Putter by Makefield, a new Philadelphia-based putter manufacturer, might look like just another futuristic flat stick that provides more stability and higher MOI ("moment of inertia") due to its vast surface area. But that's not this putter's story.
The V-S Putter ($400), which is CNC-milled ("computer numerical control") from aircraft-grade aluminum alloy, bares a slight resemblance to a stealth jet, though its shape is a reflection of the putter's configuration around three rows of weights, not the material from which the putter is crafted. Each fuselage is comprised of three cylindrical weights made of either aluminum, steel, or tungsten, which can be customized based on a golfer's preference. Positioned near the heel and toe of the putter face, as well as in the center, those weight-loaded fuselages provide maximum forgiveness on off-center strikes. However, because they're centered in the middle (top to bottom) of the clubface, those weighted sections allow the putter to transfer energy to the ball at its equator. That means balls will skid less at the beginning of a putt, keeping them on their intended line. Makefieldputters.com
Indi Golf "Jett"
Stealthy shapes remain the putter design du jour with Indi Golf's new Jett model ($350), a sizeable—though not ponderous—mallet that features a body which is CNC-milled from aircraft aluminum. The putter's most compelling feature, however, is a tungsten wing positioned at the back of the putter head. Remarkably, 45 percent of the Jett's mass is attributed to that tungsten, which not only produces the deepest center of gravity in an Indi Golf putter to date, it also delivers a flat stick with incredibly high MOI.
View this post on Instagram
According to Indi Golf's president Rob Lang, the strategic positioning of mass on this putter promotes speed through the putting stroke, which can assist golfers who have a tendency to decelerate through impact. Like Indi Golf's other putter models, the Jett is accented with what the company calls "parallel alignment technology," which is just a fancy way of saying that there are two alignment lines that run perpendicular to the clubface about a ball's width apart. Golfers may not realize it, but delineated in that way, those markings will discreetly help them to take better aim at their target. Indigolfclubs.com
Argolf "Lamorak" & "Galaad"
Many players are drawn to the classic, streamlined shapes of traditional blade putters; but just like classic bladed irons, those putters offer less forgiveness, which means what golfers gain in aesthetical appreciation they'll lose in shot-making precision. Argolf, a French golf equipment manufacturer in Normandy, has spent years specializing in precision-milled putters, and two of its new blade designs—the Lamorak and Galaad (both cost $359)—are engineered to offer more stability and thus, more forgiveness.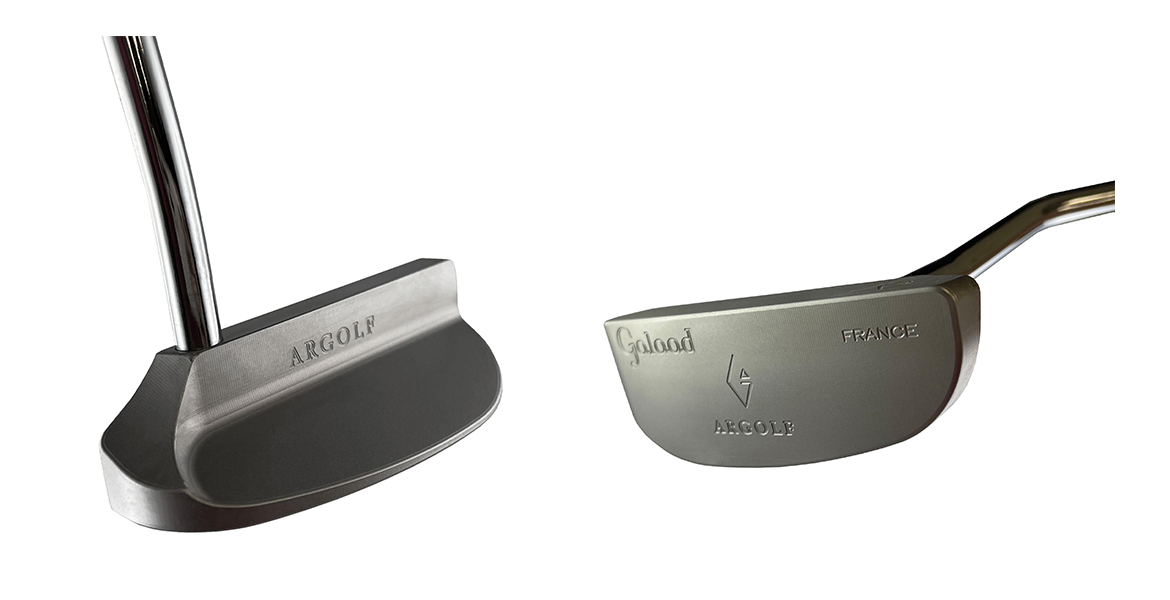 An average golfer's putting stroke typically follows a slight arc, and therein lies the problem. Most amateurs inconsistently return the putter face square to the ball at the point of impact, which immediately sends a putt off line. To counteract this tendency, the Lamorak and Galaad putters feature double-bend hosels which balance the club toe up 15 degrees and 10 degrees, respectively. Such balance angles reduce the amount of torque and twisting that occurs during a slightly curved putting stroke. Thanks to a unique face milling pattern, these putters promote immediate forward spin at impact; and given that each putter is also milled from a single block of stainless steel, they feel great, too. Argolfusa.com
Runner "Original"
In the neighboring region of France (Brittany) from Argolf's manufacturing facility, Simon Linot, an automotive designer by trade, has designed a revolutionary new putter that is as much a throwback to the mid-2000s as it is a breakthrough golf club. Constructed from a slew of interchangeable parts, the Runner putter (€350, or about $397) features a sliding track at the back of the club where two weights can be positioned in numerous configurations. In that way, this modular putter harkens back to 2004, when TaylorMade's r7 Quad driver burst onto the scene as the first driver to offer "movable weight technology."
View this post on Instagram
Much like weight adjustability in drivers, the Runner putter allows golfers to adjust the club's center of gravity and inertia with the intent of matching the club to a player's natural putting stroke. Offered in a variety of materials (including aluminum, steel, and tungsten), the aforementioned weights vary in mass from 14 grams to 32 grams. Additionally, the putter is available with straight or offset shafts (33 to 36 inches in length), while interchangeable faces of slightly different lofts are also at the ready. Even the putter's back style is interchangeable.
Best of all (at least for you southpaws) the putter's base is reversible, which means all of the same customizations can be implemented for left-handed configuration. It remains to be seen how Runner might influence future putter designs, but at least right now the Mr. Potato Head approach is capturing some attention—the United Inventors Association awarded Runner "best in show" at the 2022 PGA Merchandise Show. Runner.golf
Bloodline "Vale"
In 2014, Brad Adams, the former Sr. VP of Odyssey Golf, launched Bloodline Golf, a company that specializes in a unique putter—one that features a shaft-and-grip combo constructed from carbon-fiber materials and a clubhead with a uniquely contoured sole. When taken together, those components allow the putter to stand on its own. Four years after Bloodline was founded, Ernie Els joined the team as a brand ambassador and promptly found success with the putter out on tour. But at $500, the club was an expensive buy, which limited its adoption by average players and consumers.
Bloodline has introduced a new model, the Vale ($300), which is outfitted with a head constructed from a high-performance polymer—a material that allows each putter to be made in a more time-efficient manner. That alone has lowered the club's cost. The putter is also equipped with a grooved face insert that promotes softer-feeling strikes, especially when modern golf balls with hard exterior shells are in play. Like Bloodline's original model, the Vale putter's most compelling trait is its stand-up design—a feature that allows players to address the ball, set the club head down on the green, and then step away to assess the lineup from behind. It's a selling point that all but assures more putts will be made. Bloodline.golf
Which new boutique putters did we miss?