CBS's rising-star interviewer reveals her most memorable on-air moments, her devotion to yoga, and who she was most nervous to sit down with (guess who)
How and where did you start playing golf?
I started playing around seven or eight years old. As an only child I was alone a lot, so I gravitated more toward team sports and ended up falling in love with volleyball, which I played in high school and college, and then picked golf back up after college. If we'd had programs like PGA Junior League and The First Tee back then, I probably would have stuck with it.
What has been the most memorable moment of your broadcasting career?
A couple come to mind. The Dustin Johnson interview after he won the 2020 Masters, when he got vulnerable with us. Presiding over the trophy presentation after Phil Mickelson won the 2021 PGA Championship was unbelievable; understanding the historic element and witnessing the crowds ushering him up to the 72nd green. That's an image I'll never forget.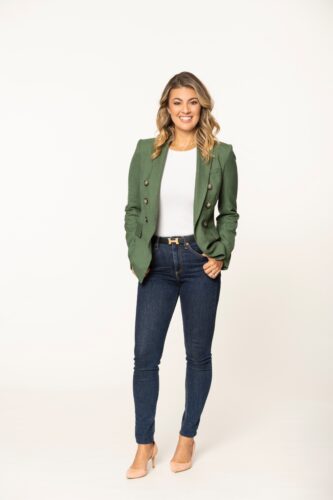 Who is your role model in the sports broadcasting industry?
Jim Nantz is number one. I don't think he could ever get enough credit for his talent. His memory knows no bounds; he recalls things in the moment in the most accurate way from 20 years ago that will put your jaw on the floor. But it's not just what he does on camera; it's the way he carries himselfas a person. He takes so much time to support and be an advocate for the people around him, and that's what I want to be remembered for, too.
Who is the athlete or personality you've been most nervous to interview?
Tiger Woods, for sure. When I started with PGATour.com, I think Tiger was my second  ever sit-down interview. I'm very thankful the camera angle was from the waist up; my legs were shaking uncontrollably from nervousness. I lost a lot of sleep before that interview.
Who was your first professional golf interview?
Ernie Els for his Hall of Fame induction. He's always been so good to me, and I was too new to the golf world to know that I should be nervous for that one—he just looks like a big teddy bear!
What is your favorite pastime at The Masters?
Walking around on Wednesday, watching the par-3 contest, and just feeling that buzz. I love watching patrons carrying disposable cameras and hearing them in awe of just being there.
Why did you start your nonprofit, Puppies and Golf?
In my 20s while hustling to pay rent, it never occurred to me that being of service was something I should be doing. One of the most rewarding experiences of my life was volunteering at K9s For Warriors—seeing the full- circle connection between veterans and dogs is so special. I began visiting no-kill shelters near PGA Tour stops and finally launched the foundation in December 2020.
We hear you're also a big yoga advocate?
I have my 200-hour certification, so I am a certified yoga teacher. Whenever I start to feel stressed or anxious, I know I have the tools to come back down. I can't tell you how many PGA Tour players tell me they've implemented yoga or meditation into their everyday routines; not just for flexibility, but because it allows them to access those tools and be calm under pressure.