'Tis the season when golfers of all stripes receive golf-related gifts from non-golfers that are cringe-worthy at best. Of course, you try to appear grateful, smiling as you hold up the tie with the pattern of golf balls on it or the 500-count bag of tees that are an inch shorter than your preferred length. At least they know that you like golf!
Invariably your mind goes straight to those golf gifts that you'd really like to have received. A dozen Titleist Pro-Vs; a U.S. Open logo hat; or maybe even that putter you'd been dropping hints about. Truth be told, there's a better choice for you and the gift-givers. Because sooner or later, you will lose those Pro-Vs. The hat will get dirty and beat-up. And the putter will eventually take its place alongside the others in your garage that have fallen out of favor over the years.
Instead, why not consider a gift that will help you enjoy the game more every time you play it. Whether you're someone new to the game, or a single-digit handicapper yearning to be a scratch, taking a lesson—or better yet, a series of lessons—can put you on the path to better golf and more fun.
Improving your game doesn't have to be time-consuming (or expensive). If you don't have a local teaching pro that you've worked with in the past, start by visiting PGA.com's "Find A Coach" page, where you can enter your zip code and see a list of all the instructors in your area. You can book private lessons or participate in a group session. Either way, it's virtually guaranteed that you'll leave the range a better ball-striker than you were when you got there.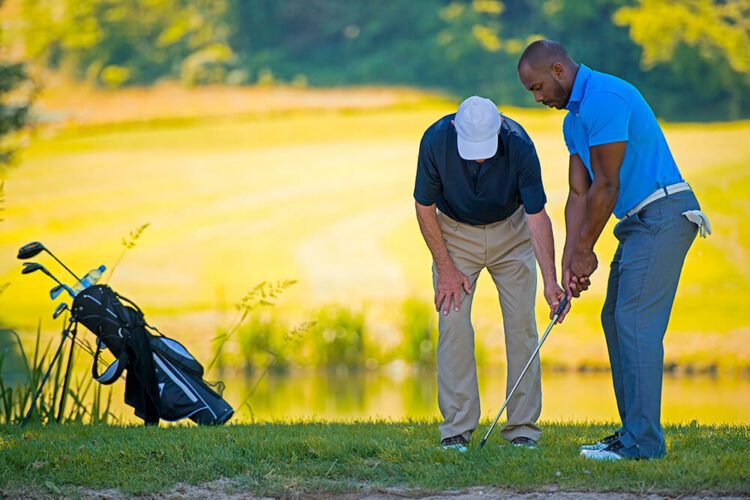 Your teacher will start the process by looking at your swing. He or she might use TrackMan or another launch monitor system to dissect exactly what's going on with it. Together, as you work through your recommended program, you'll review your progress by looking at things like your swing path, ball flight, swing speed, spin rate, and launch angle. You'll see how the things you're doing differently with the guidance of your instructor are translating into better shotmaking. And you'll be amazed at how quickly that progress can be made.
David Scott is one of just a handful of PGA Master Professionals in the world, and the General Manager at the spectacular Dumbarnie Links near St. Andrews, Scotland. In his years of working with players of all levels, he has seen the difference that sound golf instruction can make.
"Golf is meant to be fun," says Scott, "and it's a lot more fun when you understand your own swing and play well. Through tutoring from an experienced golf professional, understanding your swing's idiosyncrasies and what makes or will make your swing 'work,' is the key to unlocking your full potential."
Of course, today's teachers offer a lot more than just full-swing instruction. Dave Pelz built a brand with his scoring game schools and clinics, and every pro will be just as happy to help you improve your short game as your swing. There's a lot to be said for hitting wedges closer and draining more five-footers.
There's a whole world of online instruction to tap into, as well—including personal online lessons. Dozens of good instructors make their services available virtually. You just upload some video of your swing and you get back a comprehensive analysis, usually with recommendations for drills aimed at helping you fix your faults. The Skillest app is just one place to look for online instruction. There, you can see sample lessons from dozens of coaches from all over the world and choose the one you'd like to work with.
If you're not 100 percent sure you're ready for one-on-one lessons yet, you have other options. There are a zillion online training programs and instructional videos like the ones offered at performancegolfzone.com that can start you down the path to better golf. Its masterclass offerings include detailed video series from people like Nick Faldo and Hank Haney. The videos there, and at other websites like Don Trahan's swingsurgeon.com and ownyourgolfgame.com, may not give you all the benefits of private instruction—but you can still learn a ton from them.
In the end, a few swing tips can go a long way—and probably a lot further than that golf bag penholder you got from someone last year.
Have you taken golf lessons?