It's the most wonderful time of the year.
In the spirit of Christmas, there's nothing like a little bit of yuletide fun when it comes to the world of golf. That's why we've tracked down 10 great Christmas-inspired golf courses that maybe will make your list the next time you're in one of these spots and are looking for a little (reindeer) game.
Santa Claus Golf Club
How rude would it be not to include the big man himself on a list like this?
In Rovaniemi—the capital of the Lapland region in Northern Finland and the "official" home of Santa Claus—the 18-hole course was completed in 2011. Originally called The Golf Club of Rovaniemi, it was founded in 1986 along the frozen Kemijoki River and golf was played in town in Arctic conditions (think about that the next time your club has a frost delay). While winter golf is still an important part of the area (it's 15 euros to rent clubs in the winter, but your set comes with a sleigh), summertime golf is a spectacular opportunity—you can play around the clock as the sun doesn't set at all in June and July. The course was officially renamed the Santa Claus Golf Club in 2017.
Ivy Hill Golf Club
Now, what's Holly without Ivy? Luckily there is an Ivy Hill Golf Club about 25 minutes from Lynchburg, Va.
Established in 1971, the course is nestled in the foothills of the Blue Ridge Mountains. It boasts a slope rating of 130 and is considered one of the toughest in the area, but with well-kept greens, magical topography, and steep elevation changes, it's just as beautiful as it is beastly.
View this post on Instagram
Mount Snow Golf Club
Although it sounds like the kind of place a villain from a children's classic holiday movie might live, this mountain-golf layout just north of Wilmington, Vt., is far from Grinchy. It is one of the state's top mountain courses, and the 18-hole, Geoffrey Cornish design gives golfers stunning views of the nearby Green Mountains. The course sits at 2,000 feet above sea level and plays to just over 6,900 yards from the back tees.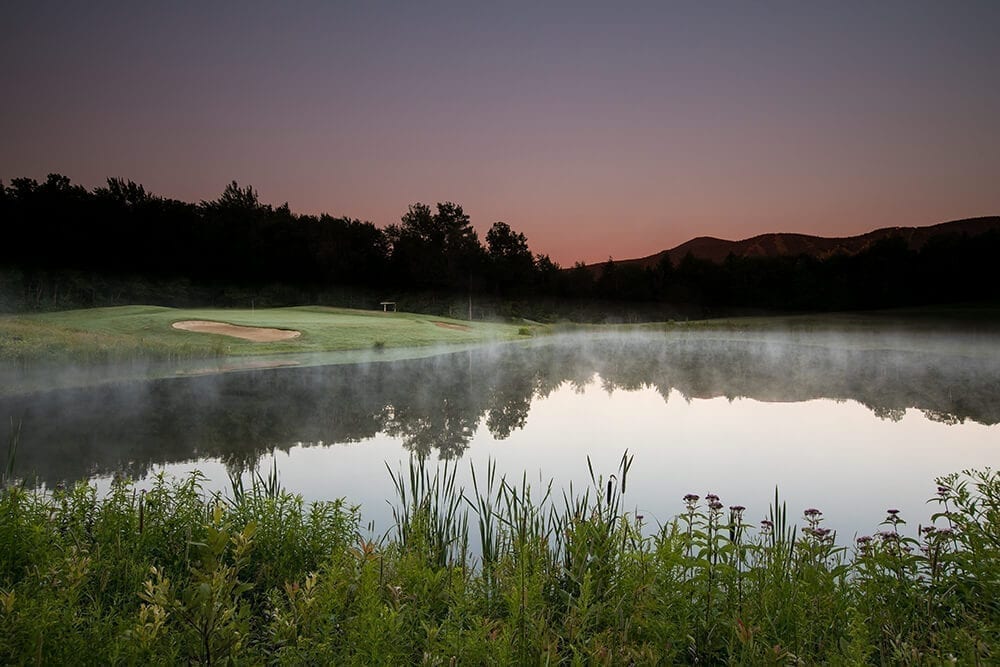 Christmas Lake Golf Course
Did you know there is a town in Indiana called "Santa Claus?"
The aptly named Christmas Lake GC—about an hour east of Evansville—takes advantage of the town's southern Indiana landscape. It's got tree-lined fairways, sparkling lakes, and rolling hills. Designed by Edmund Ault (known for the remodeling of Congressional Country Club) in 1967 there are two distinct sets of nine holes at Christmas Lake—one that is flat, and the other very hilly.
Bethlehem Golf Club
The birthplace of Jesus has an American equivalent just outside Allentown, Pa.—and there's a golf course.
Bethlehem GC has 27 holes for play and the 18-hole Monocacy Course is stretched to more than 7,000 yards from the back tee. Established in 1956, brothers William and Dan Gordon designed a demanding layout with quick greens, and with five sets of tee blocks it's attractive to all skill levels. The course invested some money for capital improvements in 2020.
Slowly finishing the Bethlehem Golf Club project. Waiting on the rest of the sand along with many other courses. Thanks to all those involved @EastCoastSod @TriCureAD pic.twitter.com/mioTEnCf2Z

— Brian Ley/ George Ley Company (@LeyCompany) April 17, 2020
Winter Park Golf Course
Ironically, the much-celebrated Winter Park 9-hole golf course is located in central Florida—an area most certainly not known for its wintertime (and the only day the golf course is closed through the year is Christmas Day). However, this short beauty has won the golf world over with its laid-back vibe and wonderful layout. Winter Park was originally built in 1914 but redesigned in 2016 by Keith Rhebb and Riley Johns. At just 2,480 yards, it meanders through city streets, neighborhood homes, and is golf at its purest form.
Feels like Friday… Come tee it up! #winterparkfla #wp9 #parksandrecwp #haferfriday pic.twitter.com/cUsNBUPuQQ

— Winter Park Golf (@WinterParkGolf) July 10, 2020
Frosty Valley Golf Links
Located only 25 minutes from downtown Pittsburgh, Frosty Valley Golf Links was founded in 1988. The Ruffing Family has owned and operated the club since its inception. It's a 9-hole beauty and has, according to locals, become one of the most beloved courses in western Pennsylvania—you could say it's a jolly, happy place to play.
It measures just over 3,100 yards, plays to a par-36, and is great value—even in the peak of the summer it's $25 for nine holes with a cart.
View this post on Instagram
Silverbell Golf Course
Located in another place not quite known for its wintertime, Silverbell Golf Course is a championship design on the banks of the Santa Cruz River in Tucson, Ariz. A par-70 layout, Silverbell has wide fairways, strategically placed bunkers, two large lakes, and mature trees. It's one of five courses that make up the Tucson City Golf collection.
Silverbell Golf Course, located near the Santa Cruz River, provides an escape to a place of wide open fairways set amid stands of mature pine trees. The remarkable variety of holes will test your skill, but be sure to take in the scenery! https://t.co/x3DZxIXIPM @cityoftucson pic.twitter.com/zNZlUxAS7R

— Tucson AZ (@VisitTucsonAZ) April 22, 2018
Tannenbaum Golf Club
Tannenbaum is about 90 minutes north of Little Rock, Ark., and is carved out of the Ozark Mountains. Every hole is tree-lined, and the 18-hole layout boasts some serious elevation changes—none more pronounced than on No. 12, where the drop is 130 feet from tee to semi-island green. It has been ranked as one of the best places to play in the state.
Christmas Mountain Village
This "premier golf and ski resort" in Wisconsin Dells, Wis., sports 27 holes of championship golf with its Oaks course and Pines courses. The 18-hole Oaks presents a more traditional test measuring more than 6,700 yards from the tips, while the 9-hole Pines offers the perfect place for beginners to learn the game with three par-threes, four par fours, and two par fives.
Do you know of other Christmas-themed golf courses? Tell us about them in the comment section below!