Forty years ago, the then-student of course architecture received his most important lessons at the Home of Golf
The first thing I learned in the golf business was to find good mentors. There is no way Cornell University would have given me a scholarship to spend a year touring the golf courses of Great Britain and Ireland unless a lot of people in the golf business told them that was exactly the thing I should do. Letters of recommendation from Herbert Warren Wind, Pete Dye, Ben Crenshaw, and the Editor of this magazine helped pave the way to the trip of a lifetime.
My main purpose for going was to see as many great courses as I could, to bank ideas for holes I might build later in my career, and I certainly did do that. I had worked for Mr. Dye on a construction project the previous summer, and he suggested I take measurements of some of the more famous holes so that when a future client told me a green was too narrow, I could reply, "Well, the Road green at St. Andrews is only 14 paces across from the bunker to the road," and show that I knew my stuff. (Funnily enough, almost every time I paced across a narrow green over there, it was 14 or 15 yards, except for the Postage Stamp at Troon, which is barely 10 yards wide.) But working in construction had taught me not just to think of design in terms of length and width, but of 3-D shapes, and it was the contours of links courses that stood out most.
A mutual friend had provided me a contact with the greenkeeper at St. Andrews, Walter Woods, and I was set up to work on his crew for a while. But I arrived during the deep recession of 1982, and Walter could only hire locals that summer. Instead, he arranged for me to caddie, and I was welcome to spend as much time with him as I could. It was the best of both worlds! I learned about fescue turf, and how Walter's goal was not to make the grass grow quickly but to keep a good playing surface that grew just enough to heal the wear and tear from golf traffic. His crew harvested kelp off the rocks near today's R&A Museum and composted it for fertilizer, instead of buying chemical brands. Walter believed in sustainability before there was a word for it.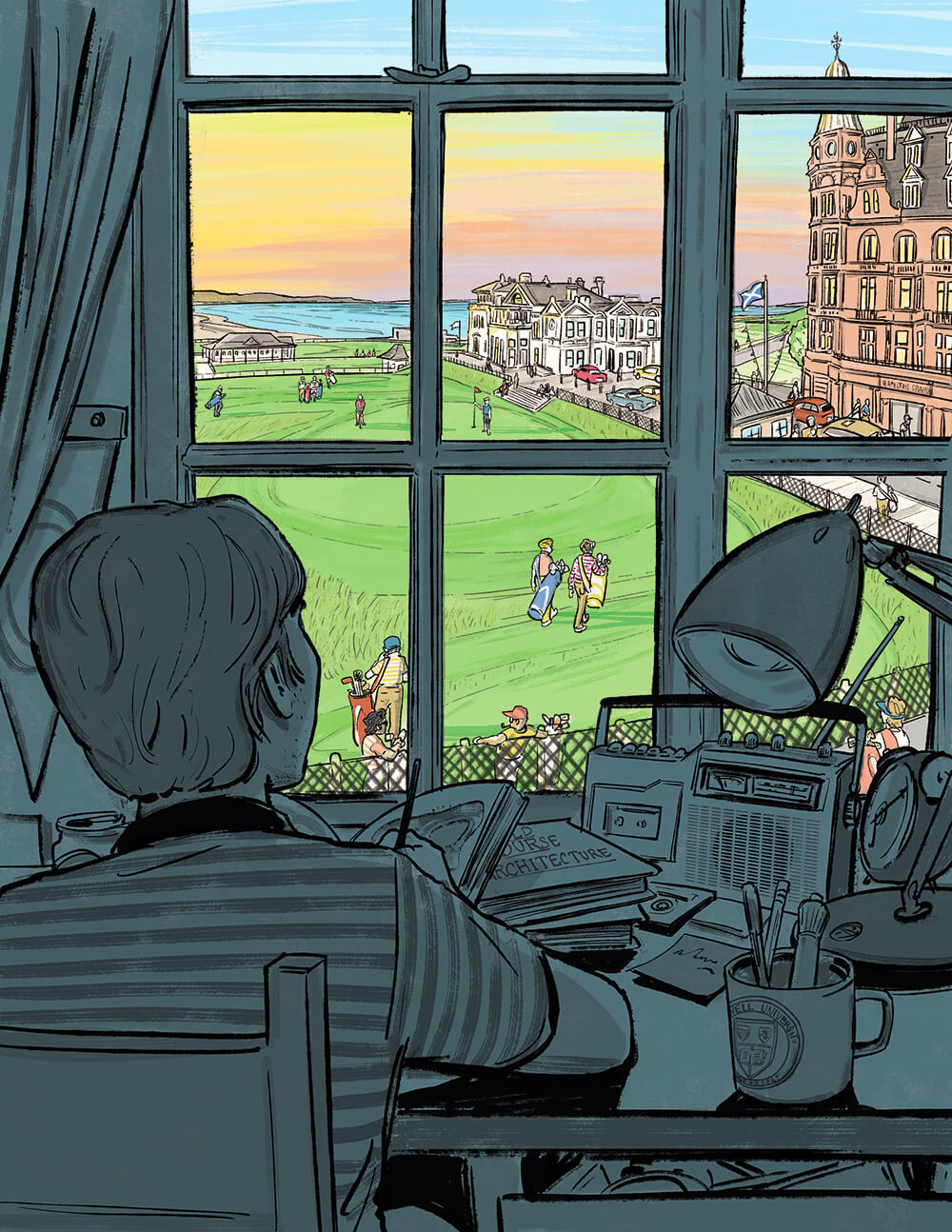 When I asked whether golfers complained about the mottled mixture of grasses on the greens, he replied, "A good player will see that, and allow for it," and that turned out to be the answer to every question about fairness I would ask that year.
I had never caddied before, but it didn't take me long to understand that the most important part was to give your player positive instructions: "Aim at the steeple on the left"—and don't mention the bunker you're trying to avoid. A lot of golf course design is about getting inside the players' heads.
Golf in Scotland was affordable and fun. The green fee for the Old Course was the most expensive in the UK, but in 1982 that was £15—about $25. Conditioning of the courses was quite a bit more scruffy than today, of course, but the golf was just as compelling.
A lot of what I learned about golf course design, I learned in my first two months simply by studying the idiosyncrasies of the Old Course. It is composed of a million little ridges and hollows, and on any given day a different one will make it hard to get the ball close to the hole. Caddying for all sorts of different players made me see that there were bunkers that would rarely be in play for my own game, but if I could steer a higher-handicapper safely around them they could have fun and shoot a good score. (It wouldn't be that easy if they used more of the hole locations that players see in an Open Championship or the Autumn Meeting of the R&A, but on the average day you won't see more than two or three of those.)
Another learning experience was recognizing that every contour a golfer complained about as unfair might instead have been a backstop that helped the player if he'd stayed on the correct side of it. (The 18th hole's Valley of Sin is an exception to this rule.)
By the end of the year, I'd seen 172 of the best courses around Great Britain and Ireland, and I'd learned to appreciate blind approach shots like the Klondyke and Dell holes at Lahinch; out of bounds right up against a green, like the Dowie at Hoylake; the stone wall that is the making of the Pit hole at North Berwick; and the beautiful routings of courses like Cruden Bay and St. Enodoc, which give you a tour of the property while you play. Design wasn't about what was on the scorecard or what was fair; it was about using the features of the property in the most interesting way you could. I also learned that the Scots don't care one bit what the overall par or length of the course is: If the course is full of good golf, that's the thing that matters.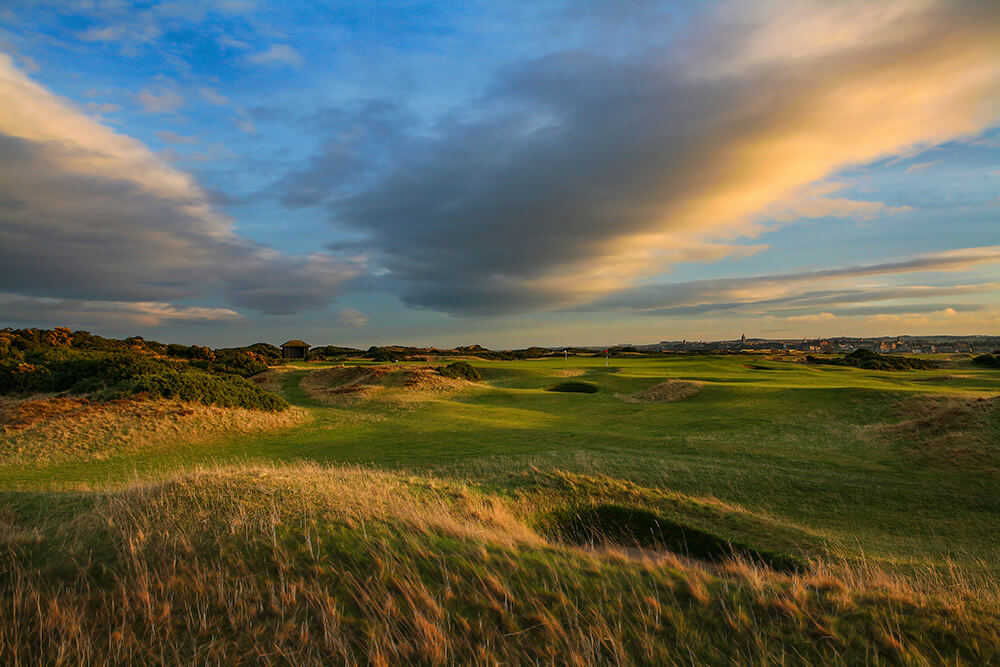 While I'd thought I was going over there to study great golf holes, getting to spend a whole year in the home of golf gave me a completely different understanding of the ethos of the game. For the Scots, golf is outdoor recreation, something to do in the long evenings at the 53rd parallel, where even the working man still has plenty of light to get out after supper. It's just like getting together to play cards with friends, except you get in a four-mile walk, and walk your dog on the way around! And although the book Golf in the Kingdom makes a lot of the sanctity of keeping score, most golf in Scotland is played for Stableford points, or in friendly matches, or even alternate-shot foursomes, all of which are faster and more fun because if you mess up a hole you concede and move on. American golf could use more of that attitude.
In his letter of recommendation to my scholarship committee, Ben Crenshaw wrote that if they sent me over to learn from the great links courses in Scotland, not only would I benefit, but "the future of golf will benefit, as well." I've spent 40 years trying to live up to that goal, and I'm still trying to get across everything I learned. Whoever it was who said golf is the study of a lifetime had it right.
Tom Doak's first step toward becoming one golf's top architects was a year of independent study based in St. Andrews.