In case you haven't noticed, golf resorts are stepping up their game like never before. Putting courses and short courses are all the rage. 
Developer Mike Keiser is opening a new must-play course on almost an annual basis. And while new course design has taken a back seat, resorts are pumping significant money into restoring, revamping, or upgrading existing facilities and courses, and their environments are more welcoming than your grandmother's kitchen. 
Faced with the challenge of declining numbers, the game is reaching out to golfers in unprecedented and welcoming ways. We're talking music at the driving range. What a time to be alive.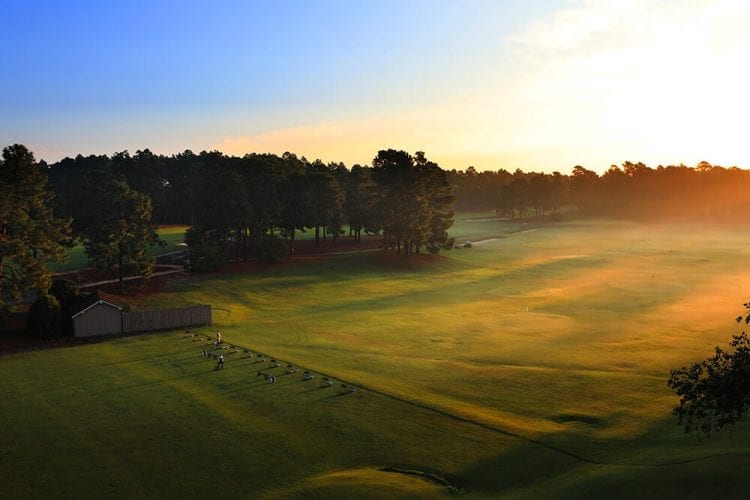 Peter Nanula, principal of Concert Partners, may have put it best. "You have to be doing capital projects or you're falling behind," he says. "If you haven't touched your lobby or pool or rooms in five-to-seven years and three or four of your competitors have announced a major project, everyone wants to stay there."
It's seemingly happening at golf resorts across the country, but here's a closer look at what three resorts that LINKS recently visited are doing to remain relevant in an ultra-competitive landscape.
Horseshoe Bay Resort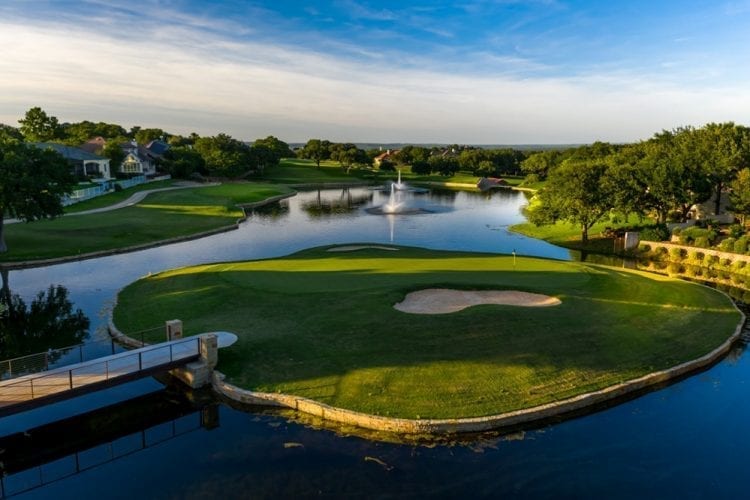 Located in the Texas Hill Country, a 45-minute drive outside of Austin, Horseshoe Bay Resort is one of the largest golf resorts in the country. Situated on the gleaming shores of Lake Lyndon B. Johnson (more commonly known as Lake LBJ), Horseshoe Bay is also the only waterfront resort in Texas. Tropically adorned with palm trees, bold water features, and the most colorful vegetation this side of Hawaii, Horseshoe Bay presents a golf experience that matches its unique surroundings.
Almost no part of the multi-faceted resort went untouched as part of a $90 million investment in capital improvements. The Apple Rock course reopened in August, marking the completion of the resort's three-year renovation on all three of its Robert Trent Jones Sr. courses (Ram Rock and Slick Rock are the others), by Robert Trent Jones II. Fun fact: Horseshoe Bay is the only golf destination in the Continental United States showcasing three or more of RTJ's courses. 
If that's not enough golf to test your game, the Whitewater Putting Course is an 18-hole Bermuda-grass putting course that sits adjacent to the hotel and is routed around the 360 Sports Club, a sports bar with 16 flat-screen TVs. The putting course is lit for evening play and is the perfect place to settle the score for golf buddy trips, couples, and families.
The first phase of work in capital improvements included top-to-bottom remodeling of the resort's rooms. Other elements included in the second phase, which were rolled out during 2018 and 2019, are a new waterfront bar and grill, kids' club, marina slips, yacht club pool bar and bayside spa, plus upgrades to the Summit Rock clubhouse.
"It's an investment," says Bryan Woodward, chief sales and marketing officer for Horseshoe Bay Resort. "Everyone has a choice and we want to be a top consideration and keep winning that arms race."  
Pine Needles Lodge & Golf Club and Mid Pines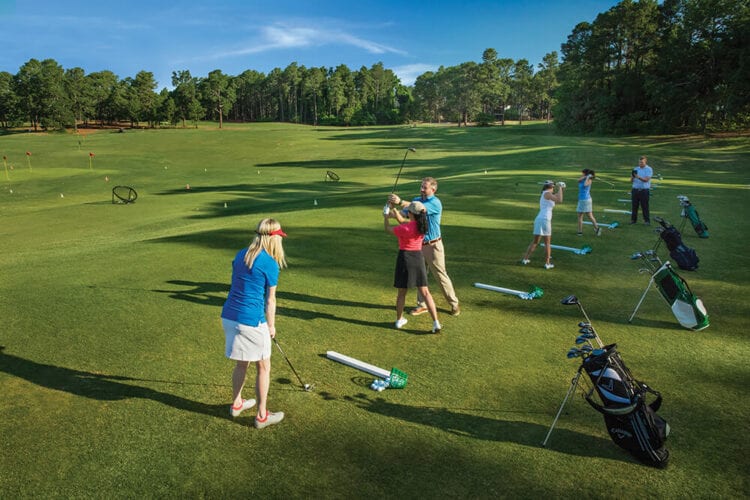 In the middle of North Carolina, Pine Needles Lodge & Golf Club and sister property Mid Pines remain a benchmark of constancy on Midland Road, the Fifth Avenue of golf, and just north of downtown Southern Pines. Family owned since 1953, its leadership greenlighted projects to freshen its two Donald Ross layouts—Kyle Frantz did a tremendous job restoring Mid Pines in 2012 and Pine Needles in 2017—and the latter played host to the U.S. Senior Women's Open this year and will host the U.S. Women's Open for the fourth time in 2022. 
This year also marks the 60th anniversary of the creation of one of Peggy Kirk Bell's signature achievements at Pine Needles: Golfari, a week-long women's golf event featuring instruction, Southern cuisine, and entertainment. The resort also has a True Spec facility on site and is home to the David Orr Flatstick Academy. 
When debating what to do next to spruce up the property, Kelly Miller, president and CEO of Pine Needles, considered gutting all the rooms at Mid Pines Inn, which was built in 1922. He had an assortment of plans in place to do so until he showed them to a friend, Dr. Pat Garner, former CEO of Motley Fool, who warned, "You'd better be careful about wanting to build an iconic resort. You might end up doing it." 
Miller sensed that wasn't meant as a compliment and took Garner's offer to have his business-school students at the University of North Carolina at Chapel Hill conduct a study to determine what Millennials want from their lodging. 
"Don't build for now; build for 20–30 years down the road," Garner advised. "Find out what Millennials want so you'll be relevant when they are able to be your customers."
"It turns out Millenials don't care about the size of the rooms," Miller says. "They care about big-screen TVs and high-speed internet and easy access to charging stations so they don't have to dig around searching for one on the floor." 
Mid Pines designed a test room that removed closets and enlarged bathrooms, which topped the Millenial wish list. They also enlarged the bar at Mid Pines and added fire pits because research indicated that young people like large functional gathering spaces in the lobby rather than spending time in their rooms. They added music on the driving range at Pine Needles, relaxed the dress code, and began selling beer and soft drinks in the golf shop and mixed drinks at the halfway house. 
They are also planning to enhance more amenities such as the swimming and recreation area as the resort continues to address the tough balancing act of being steeped in history while staying up-to-date with the times.  
Forest Dunes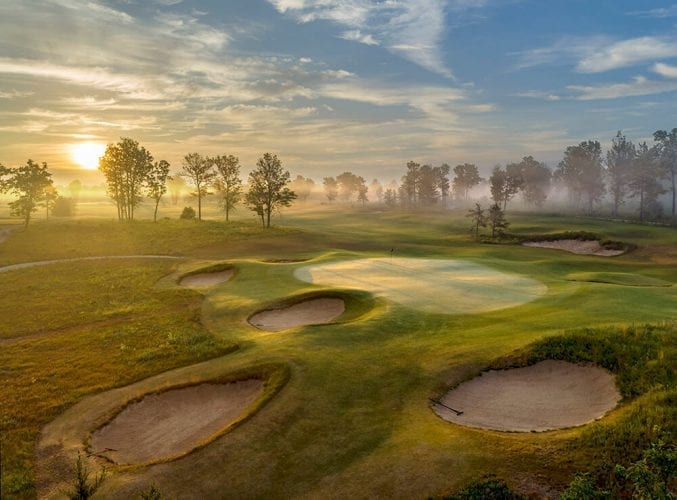 In Northern Michigan, Lew Thompson, owner of Forest Dunes, has been busy expanding his golf operations. He opened The Loop to preview play in 2016 for one simple reason.
"You can't make it with one course," he says. "I needed another course to attract people to stay for multiple nights."
There are a few other courses billed as reversible, but only The Loop has 18 shared greens and two completely different routings that run in opposing directions. This is no novelty course; it's quite ingenious, really. And for Thompson, it was an easy sell.
"Who wouldn't want two courses for the price of one?" he asks, noting that the resort's lodging business has doubled since The Loop opened, with most guests now staying a minimum of two nights to play the equivalent of three courses. The Loop typically alternates routings on a daily basis, utilizing the Red course (counter-clockwise) on even days and the Black course (clockwise) on odd days. 
Forest Dunes also added a putting course, which is packed in the evenings, and Thompson says he is considering adding lights to allow for later play. 
In June 2020, Forest Dunes will add a yet-to-be-named short course designed by Keith Rhebb and Riley Johns, the design team behind the wildly popular Winter Park Golf Course (aka "WP9") in Winter Park, Fla. Thompson played The Cradle at Pinehurst Resort and thought a short course would be great for his young grandkids. He gave Rhebb and Johns one goal: Make it over the top and unique.
"It's got to have a wow factor," Thompson says.
He envisions the short course being popular among guests that arrive late on a Friday and want to get some golf in before dinner or those who want to keep playing but their body doesn't have a second (or third) 18 in them. He also hopes it will encourage more young people to get into the game.
"Having a short course is the trend and we want to keep our customers happy," Thompson says. "We don't have a lot of other amenities around us so we've got to keep you entertained." 
That philosophy has been music to the ears of golfers. What a time to be alive.