Is this a bait-and-switch?
Admittedly, yes.
Sorry about that.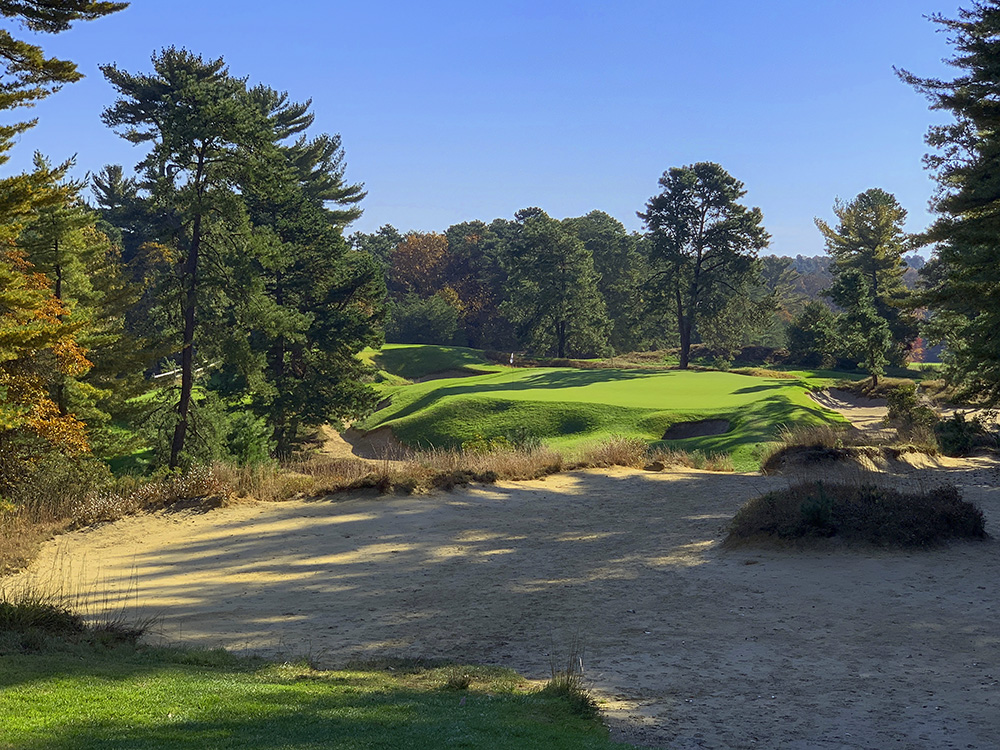 I'm a lifelong New Jersey resident who's always lived about an hour from the hallowed grounds of Pine Valley Golf Club and the nation's perennial top-rated course… and has yet to play it. Sure, I still hold out hope. That's what we do as golfers—hope and aspire—whether it's getting on to an exclusive and elusive private club or, for others, breaking 100, taming that slice, or making a hole-in-one.
Back in 2008, I covered the Summer Olympics in Beijing. Golf hadn't yet returned to the Games, but during my lone day off during a month-long stint in China I indeed played golf—at Pine Valley. I wrote a story about it, too; about going halfway around the world from New Jersey to finally play Pine Valley. In a way, at least. It was a uniquely memorable experience and I still have a logo shirt and logo ball from that day.
If you want to be able to say you played Pine Valley, just without the snapper soup in the clubhouse, you don't necessarily have to go to China. Or New Jersey for that matter. There are at least eight other golf courses named Pine Valley in the U.S. and, like the national average overall for golf facilities, 75 percent of them are publicly accessible.
With almost 16,000 courses from coast to coast, we shouldn't be too surprised that other golf courses settled on a name combining the popular "Valley" with "Pine." After all, we might also believe the one-and-only Cypress Point is on California's Monterey Peninsula, but don't forget about Cypress Point Country Club in Virginia Beach, Va., and—even better—the 9-hole Cypress Point Golf Club & R.V. Retreat in Osteen, Fla. Heck, Florida has three golf facilities that bear the St. Andrews name in some fashion and there are others with a similar moniker in Georgia, Iowa, Illinois, and New York.
That said, there is only one Augusta National.
As for Pine Valley, here's a look at others that are probably easier to play than the nation's No. 1.
Pine Valley Country Club—Rehoboth, Mass.
This no-frills daily fee course built on the site of a former dairy farm went from 18 holes to nine after being sold by its former owners to a real estate developer in 2020. Nine holes remain of the original Geoffrey Cornish design, and it costs just $24 to play on weekends.
It's only fitting that the state with more public golf courses than any other has one named Pine Valley. Less than an hour north of Detroit, this 27-hole daily fee facility that winds through a well-wooded property proudly boasts on its website that it serves Polish sausages all day.
Nestled in the heart of Wilmington for more than six decades, this private club not only has an 18-hole championship course, but all the other trappings of an elegant, family-friendly facility: fine dining, full banquet facilities, six clay tennis courts, and a pool.
This 9-hole semi-private course just minutes from the Massachusetts border has been family-owned and operated since 1961. With a $28 green fee and back tees that stretch just over 3,000 yards, the course points to "narrow fairways and small greens" as its primary challenge.
This 18-hole daily fee course, which opened in 1962, was saved when a local couple—Michael and Lisa Reynolds—stepped in to buy the property in 2018 and started a development company to preserve as much open land around it as possible. The course is within 15 minutes of the Akron metro area and a half-hour or less from most Cleveland suburbs.
Another 18-hole daily fee layout in the Midwest, this family-friendly Pine Valley tucked into the quiet landscape of central Wisconsin touts that it was voted the area's best public golf course by the readers of City Pages and the Wausau Daily Herald.
Pine Valley Golf and Disc Golf Course—Sherwood, Ark.
This unique 18-holer has the distinction of being the only course in Arkansas to offer traditional golf as well as foot golf and disc golf on the same grounds. The top price to play this par-70 is just $21.
On the outskirts of Fort Wayne in northeast Indiana, this private 18-hole facility sits on land that 60 years ago was simply a plethora of pine trees. Originally proposed as a site for an elementary school, shopping center, or church, it instead became a private country club and residential development.
Where have you played that shares a name with a prominent course or club in the world of golf?