Far be it from me to cross swords with the good doctor, but in this case, Mac, en garde!
Though I steadily creak toward Medicare, there are still a few activities in life that manage to keep my fires roaring, and one remains the sanguine dash up a hill, around a corner, or over the rainbow if necessary to find the outcome of a shot that's not only withstood the swing I put on it but has also stood up to the most maligned of golf's myriad challenges—the blind hole.
In the very act of watching a ball soar and then disappear, hope ignites the spark of youth within. Who isn't young in the face of adventure? Who isn't a child in the face of surprise?
But blindness on a golf hole—whether off the tee or in the approach—is about more than adventure and surprise. It's about trust and faith. It's about believing in ourselves and our swings and in what we don't have to see to know. Its implicit dare provokes us: Can we overcome uncertainty, exorcise doubts, exercise memory, and stir imagination? Blindness—by Big Bang or man's hand—is designed to test our core and golfing character. Which is why blind holes never get old for me. I didn't always think this way.
For ages, I recoiled from the thought that golf could play hide and seek with me. Whenever I battled—say Newport's 5th, the 3rd at Yale, the 8th at Pebble, and the finales at Riviera and Merion—I could feel the resentment and disdain bubbling up before I even reached the tee. By second visits, I knew what lay over the hill—the tectonic plates hadn't rebelled that much since the last time I dropped by—but I still launched my shots apprehensively, as if sailing with dread toward the ends of the earth. I had yet to train my mind's eye. I hadn't embraced the mystery.
Or the cunning.
Growing up in the game at Aberdovey in Wales, Bernard Darwin reveled in the puzzle of its 3rd hole, called Cader, a par three requiring a tee shot over a massive dune that Bernardo deemed "immortal and immutable" and "as good a specimen of the blind short hole as is to be found." At least part of what Darwin considered "the art of golf" consisted of "hitting a ball over a sandhill and then running up to the top to see what happened on the other side."
Because the thrill and fear at the heart of a blind shot is a visceral one. Dive into the psychological miasma we collectively share and we bump into its antecedent in all those regaling games of peek-aboo we began mastering in our cribs. In one instant, the universe beyond us vanished before thankfully reappearing in the next. How we would laugh, but we were learning, too: Just because we can't see something doesn't mean it's not there. It fostered our internal bearings and taught us to trust what was beyond ourselves.
For generations, golfers accepted that as they navigated through the Himalayas and Alps at Prestwick, the Sahara and Maiden at Royal St. George's, the Klondyke and Dell at Lahinch, and, of course, the Road Hole, with its tee shot over the railway sheds on the Old Course at St. Andrews. But with golf's migration to the New World, the game—and course design—would change. American golf didn't have dunes to play over, and we had bulldozers to take care of the rest.
By the mid-20th century, blindness became virtually extinct in design and remained that way for the balance of the millennium. Part of it had to do with liability issues, part with the alien concept Americans asked of an inherently capricious game: fairness. With our inbred sense of manifest destiny, we Yanks preferred the tour from tee to green as open as the prairies. Transparency, as we saw it, delivered justice, not bad bounces.
But at a price.
"For a long time, and to the detriment of golf course architecture," explains Gil Hanse, "there was a correlation between design and fairness, and both architects and golfers associated blind holes with being unfair and quirky. There was a loss of character in design because of that."
Not surprisingly, Pete Dye broke ranks on that. "I used to hate blind holes," he once told me. "Then I played all these golf courses in Scotland where it was fun to go over the hill and see where you went." Peek-a-boo. "But over here it was different. It was like fighting City Hall."
By late 2000, when Bobby Weed, an early Dye-sciple, was finishing the Golf Course at Glen Mills, a public track on an expanse owned by a reform school a few miles from where I live near Philadelphia, a new wave of architects—including himself, Hanse, Tom Doak, and the team of Bill Coore and Ben Crenshaw—had returned to the past to chart golf's future and blindness was back in the architect's vocabulary. Weed wasted no time with it at Glen Mills. The opening tee shot is blind.
"I know it creates a little apprehension," he says, "but that's fine. It brings a level of mystique and intrigue to an otherwise straightforward golf hole."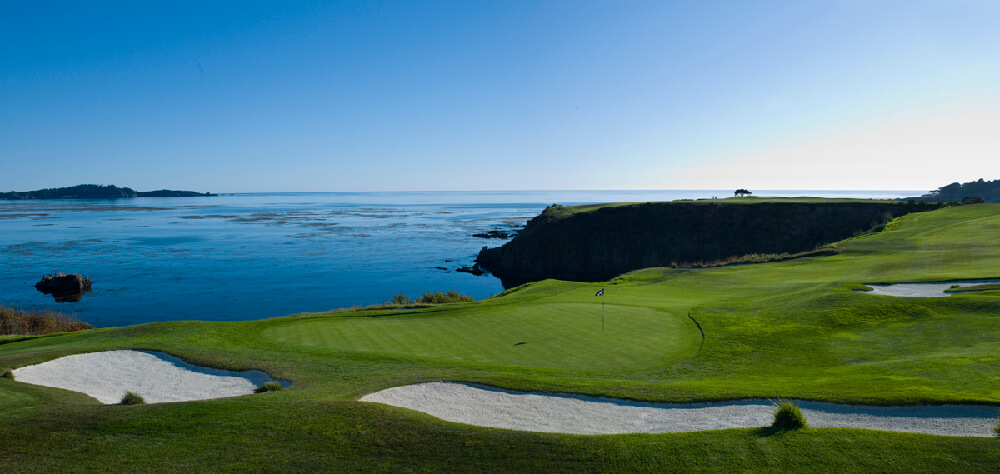 And? "It's only blind once."
Which is precisely what Tommy Armour explained to Dye himself decades ago, that a hole is only blind to a golfer with no memory, or without the wherewithal to climb the hill and see what awaits. That's what I'd failed to accept the first time I played Glen Mills hundreds of rounds ago, but, in time—and it took time—I came to look forward. Literally. And figuratively.
"I never want my courses to unleash all their secrets in one or two rounds," says Weed. "There's only one way to crack the nut, and that's to come back." Which we do.
Indeed, the more I have come back, the more I accept Weed's corollary: "Good shots on those holes create pleasure." And the more comfortable I've gotten with them, the more I've learned to accept their other gift. "Blindness," Weed continues, "sharpens intuition."
With intuition comes insight and with insight comes freedom. "If you can't see the target," Weed asks, "what do you concentrate on? Trust…trusting your swing."
And what better light in golf is there to see?